This post may contain affiliate links. Read my disclosure policy here.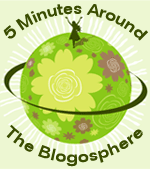 Aloha and welcome to the very first edition of 5 Minutes Around The Blogosphere.
Each Sunday, we'll be bringing you the best contests, informative posts, and interesting happenings throughout the Blogosphere. Why? We know how valuable your time is so why not make things a little easier for you?
This column will include things we come across in our daily bloghopping as well as recommendations from you. So, if you have anything you'd like to be considered for future posts, please feel free to let us know. We'll try to accommodate as much of your requests as possible but please keep in mind that we do have space constraints to consider.
So, without further ado, here is this week's round-up.
INTERESTING POSTS
With all the toy recalls going on lately, it's sometimes difficult to keep up. Thanks to a tip from Prontip, you can go to www.Recalls.gov to get a list of the latest recalls broken down into categories. If you prefer, you could also sign up on their email list and the information will be send to you automatically.

Jennifer of The Wilson Six has come up with a great idea. Why not show a random act of kindness to someone who really deserves it? Join her every Monday as she gathers up and shares the wonderful things that bloggers have done throughout the week.
The Carnival of Family Life is a popular blog carnival that receives over 70 submissions a week. If you're interested in submitting a family-related post for a future edition, you can find more information here.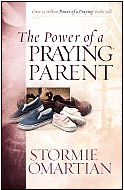 Shera has organized a group blog study on the book, The Power of a Praying Parent written by Stormie Omartian. Each week, the group will read one chapter and Shera will post a list of study and prayer questions for you to think about. If you'd like to participate, please visit A Frog In My Soup.
How would you like to see a photo of your home published in a coffee table book? Well, you are all invited to participate in "America at Home" by taking digital photographs of what "Home" means to you. This project has received multi-million dollar funding from IKEA, Google, and HP so you know it's a big deal. For more info, stop by the America at Home site between September 17th thru the 23rd. The book will be released in March 2008. Please let us know if your photo is included!
He's not a Mommy Blogger but Darren Rowse from ProBlogger always has some great pointers in bettering your blog. This particular post is aimed at new bloggers and discusses ways to help drive more traffic to your blog.
CONTESTS & GIVEAWAYS
The ABC's Children's Picture Book Competition starts today. One of the finalists in the 3rd round is The Doll Violinist – a heart-warming Christmas tale set in Victorian Europe. Author Mayra Calvani and Illustrator Amy Moreno, have decided to hold a contest where the winners will receive one of the following:
* An enchanting antique doll in Brussels lace
* $50 Amazon gift certificate
* Beautiful zirconium & sterling silver ring (size eight)
* A print copy of Mayra's latest paranormal thriller, DARK LULLABY
* A print copy of ANGEL IN A BUBBLE (children's picture book)
* A customized 11″ x 14″ pen and ink rendering of your house on acid-free paper, created from photos provided by you
To enter, just go to this website and vote for The Doll Violinist before Sept 30th. Then email Mayra at [email protected] and Amy at [email protected] and write "You've Got My Vote" in the subject line (don't forget to email them both). The winners will be announced at Mayra's Secret Bookcase and Chachibachis on October 1st.
Need clothes for the new school year? Mums The Wurd is giving away a $150 gift certificate to Zutano, a children's clothing store. To enter, just post something on your blog with a link back to Zutano and the giveaway post. Don't forget to leave a comment to let them know you're participating. Deadline to enter is September 29th.
If your daughter is anything like mine, she loves dressing up her dolls. This past week, American Girl debuted two new dolls – Julie & Ivy. To help celebrate, Charlene is giving away $25 to the Emily Rose doll clothes store. For more information, please visit Casual Keystrokes before September 18th.
Hey all you cooks out there! Karen is giving away $25 to Tastefully Simple and a special surprise gift to one lucky winner. All you need to do is order at least $35 worth of products from her MIL and you'll be entered. To get the link and info on other requirements, stop by Pediascribe before October 31st.
The Name Your Tune CD is sure to be a unique music experience for your child. It contains 14 popular children songs that your kids will instantly recognize. The best part is that these songs are also personalized with your child's name! How cool is that? To win this CD, stop by There's A Frog In My Soup before September 28th to find out how to enter this giveaway.
Michelle of Scribbit is holding her monthly group writing project. This time the theme is "learning". Deadline to enter is September 19th. You could win a cool button to display and a gorgeous bag made by Michelle herself!
Ever wished for a place where you could post something without the fear of your co-workers or in-laws finding out? Well, now there's Mom's Turn – place where you could anonymously say anything you want. If you help spread the word on your blog, you will be entered to win either a handmade quilt or one of four handmade notecard sets. Stop by Mom's Turn before September 17th to get more information on this giveaway.
GREAT DEALS
Ballyhoo Creations is owned by Tonya, a WAHM. Stop by her store and check out all the great custom made paper products she has to offer like Mommy Cards, invitations, birth announcements, as well as thank you and holiday cards. Use the code 5m4m at the time of checkout and receive a 20% discount.
COMMUNITY AFFAIRS
The Great American Eat Right Challenge is now in session and we would like to challenge all of you to start eating healthier. For more information, please visit the American Cancer Society.
Did you know that Ovarian Cancer is the #1 gynecological cancer killer in women with no effective early detection method? You can find more information about this at the Ovarian Cancer Research Fund site which also includes signs and symptoms of this disease. Since September is Ovarian Cancer Awareness Month, the talented Designing Diva has created the Love & Hope Necklace. 25% of all sales will be generously donated to the Ovarian Cancer Research Fund.
Ataxia-telangiectasia (A-T) is a rare, degenerative, fatal disease that affects children progressively and is described as combining the worst symptoms of five major illnesses: cystic fibrosis, muscular dystrophy, cerebral palsy, cancer, and immune deficiencies. To help raise funds and spread awareness, Tim Borland will be participating in the A-T Tour Cure by running in various marathons from Disneyland in Anaheim to New York City. They're looking for your help in supporting Tim by spreading the word on your blogs. For more information, please visit the A-T Children's Project or A-T Tour Cure sites.
Well, that's it for this week. Until next time, take care and be safe!
(Thank you to Karen for making my cute little signature!)
If you would like to have a post on your blog featured in 5 Minutes Around The Blogosphere, please send us an email at features5minutesformom at gmail dot com and we'll see if it can be arranged.
Kailani can be found at An Island Life and An Island Review.