This post may contain affiliate links. Read my disclosure policy here.
I'm addicted to yoga pants and it's hurting my health and my bank account.
You see, I work at home. And so everyday I wear… yoga pants.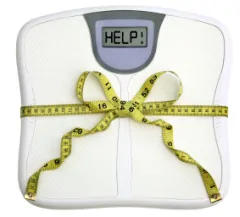 I sit on my butt, type at my keyboard and never feel the edge of denim — or even stiff cotton — dig into my waist. I go weeks without pulling on my favorite designer jeans. And as I work late and replace sleep with flavored coffee and distract myself with chocolate treats, my midsection slowly grows without me even noticing.
And then, a few weeks later, I pull on those designer jeans only to find they no longer fit.
What happened?
My deceitful yoga pants had let me sit comfortably, all the while my waist growing without me even knowing.
So now… since I refuse to give up the comfort of my yoga pants, I must face the only alternative… I must commit to using my yoga pants as they were intended. I must DO yoga more than once every couple of weeks!
I am making a pact with myself… On any given day, if I am wearing yoga pants, I must at least do 5 minutes of yoga.

(No… that's NOT me! LOL)
"Only 5 minutes?", you ask.
Well, what I'm hoping will happen is that after I start and do 5 minutes of yoga, I'll end up doing much more… because really it's getting started that's the tough part. So I'm telling myself I only HAVE to do 5 minutes, but I know that once I've done 5 minutes, I'll likely keep on going.
And maybe, I'll get these yoga pants working for me and not against me.
So what about you? Do you wear yoga pants regularly? Do your yoga pants deceive you too? Or are you using them as intended… for YOGA?