This post may contain affiliate links. Read my disclosure policy here.
After a four hour visit to the Emergency Room, my son had more than just his first set of stitches…
…While we sat with our new friends, the woman patient, and the daughter and elderly mother, we couldn't help but feel terrible for another woman who was sitting alone in a wheelchair down the hall.
She was wrapped in hospital blankets, shaking and crying. Sometimes she would wail in agony. She had been terribly beaten, her eye was purple and bruised. Below her bandaged knee her calf was red and swollen with an out of control, angry infection.
"I think we should go see if we can help her," I suggest to the daughter of the elderly woman. We make our way over and I ask her, "We are both Christians. Would you like us to pray for you?"
She looks up with grateful eyes and nods her head. She tells us her tragic story and we pray for her. I wish there was more we could do. I wish life weren't so cruel. (Jackson is out of ear shot, sitting with his Dad.)
As we talk to her, Jackson is called in. Jackson yelps with relief that it is his turn but begins to cry and tremble at the thought of the stitches.
While we wait for the nurse, the daughter of the elderly woman comes over and offers to pray for Jackson too. This woman is like an angel bringing God's touch to us all. Jackson welcomes her offer and we pray.
Soon the male nurse arrives and begins to prepare to clean the wound. Jackson is terrified and crying. The nurse is only able to drip a few drops at a time, trying to respect Jackson's pleas for him to stop.
But after only a few moments, the nurse has to put a cast on the skateboarder sitting next to us and gives me instructions on irrigating Jackson's wound.
"You want me to do it???" I am a bit horrified – but determined to get that wound as clean as humanly possible.
Jackson screams in pain as I push water through the syringe, trying to flush out the dirt. The daughter of the elderly woman comes over and helps Jackson breathe through the pain, like a Lamaze coach getting Jackson through his labor.

While she coaches Jackson and Phil holds him down, I irrigate his wound over and over. I clean it for 45 minutes until the doctor arrives.
Now the worst begins. The doctor must freeze his leg to do the stitches.
It takes a medical student, Phil, myself and the doctor to hold Jackson down. My son screams and pleads for the doctor to stop. I am not sure how many injections the doctor makes, but it is several. The whole emergency ward must hear Jackson's ear piercing wails. It seems to go on forever. He can scream like no other, let me tell you.
Finally it is time for the sutures. This long experience is going to soon be over. I will be almost as relieved as Jackson to get home.
Fortunately the anaesthetic did its job and the sutures are the easiest part. Jackson is in grateful shock that it really doesn't hurt.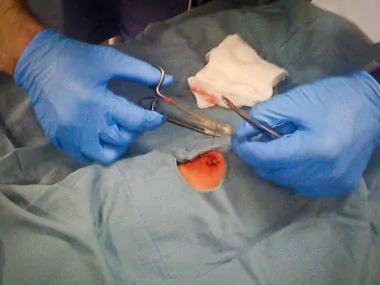 After eight stitches, bandages and instructions for wound care, it is time for us to leave. We say our good-byes to our friends who, except for the couple, still line the hallway waiting for treatment. We know we are the only ones going home for awhile.

It is amazing the range of human suffering my eight year old son witnessed in our four hour hospital visit. He saw parents lose their baby. He witnessed old age's cruel touch. And he caught a glimpse of brutality in the bruises on a shattered woman's face.
As I tuck him into bed and try to prop his leg on a pillow to ease his discomfort, he begins to cry. "I can't stop thinking of that woman with the bruises. I am going to have nightmares."
"No, sweetheart," I brush his forehead with the back of my hand. "No, sweetheart, what I want you to think about is how God was there tonight. How he had that woman there to pray for you and to help you breathe and get through the pain. How even though life can be cruel sometimes, God is there with us, comforting us and helping us make it through the pain."

Tonight my son had more than his first stitches. He had his first real life glimpses of suffering. They weren't pictures on the news. They weren't stories from a book. They were blood and bruises and bandages. They were tears and trauma right in front of him.
But most importantly, he saw a group of strangers bond together to help each other. He saw compassion and kindness. And he saw God's love in action.