This post may contain affiliate links. Read my disclosure policy here.
After a four hour visit to the Emergency Room, my son had more than just his first set of stitches…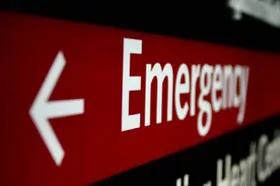 Jackson is shrieking in pain as I help him walk into the Emergency Room, blood still pouring down his leg as he tries to hold a towel over the gash on his knee.
He fell on a jagged rock while chasing our dog in the neighbour's backyard and his skin is gauged, exposing more than an inch of flesh.
I know he will need stitches. And I know it will be torture on my son whose anxiety and low tolerance for pain or discomfort makes even a fluoride treatment at the dentist impossible. (Jackson needed to go under general anaesthetic to get his cavities filled.)
After checking in, getting Jackson into a wheelchair, and having Jackson's vitals checked by the nurse, I wheel him over to the seating area in the waiting room. We are in Canada, for which I am forever grateful, but that does mean a long wait in the ER.
Jackson is crying, agonizing not just over the pain in his leg but the fear of what is to come. But we aren't there for more than a few minutes before the other patients reach out to help.
"It won't hurt at all," the man sitting next to us assures him. He points out his scars and shares some stories. We will find out soon that his wife sitting next to him is miscarrying, but still she kindly asks Jackson his name and what sports he likes to play.
Another woman who was there with her elderly mother, as well as a woman patient waiting for treatment, also join in to help ease Jackson's fears. They all tell Jackson about their stitches, show him scars and promise him he won't feel a thing.
The conversation and words of comfort are a salve for Jackson's pain. He begins to smile and even laugh. The minutes quickly pass.
Soon our conversation is interrupted by a priest arriving to pray for the couple who had been talking with us. We hear that she is bleeding and may be miscarrying her baby.
I gasp in shock, feeling terrible that this woman may be losing her child while she tends to easing my son's pain. I have been where she is and my heart rushes with empathy. I want to cry for her.
The priest and the couple move to another room to pray and our group continues to bond, sharing our stories and helping pass the time.
One by one, we are called into the next "waiting room," the hallway behind the glass doors. We are the last to be called and then we rejoin "our group."
It is nice to be back with the friendly faces. As we talk, we find out about the elderly woman's trials, how her daughter had to take off of work to try and care for her after she fell and sprained her arm in a dizzy spell from her diabetes. She shows us her bruise. It is like nothing I have ever seen, her whole arm and shoulder are purple and swollen. She is in a nightgown, wrapped in her daughter's bathrobe. She makes me want to never grow old and have my body betray me.
We talk with the couple who had had the priest come to pray for them. I ask about her other children. I tell her about my miscarriage and about Olivia, whom I thought I was losing twice and sat in this very hallway on two different occasions waiting for ultrasounds, sure she was gone.
I take a break from conversations and sit quietly with Jackson.
Then the pregnant woman suddenly starts to weep. She is miscarrying her child in front of us. Blood is gushing from her. The daughter of the elderly woman puts her hand on her shoulder and begins to pray as her husband runs to find the nurse. I sit down and join in the prayer with this stranger with whom I already felt a bond of friendship.
The nurses take her to another room and Jackson tries to make sense of what he has just seen. "But the baby isn't going to die, right???… And if it does… it is ok, right? Cause he will go straight to heaven, right?"
"Yes, sweetheart," I try to reassure him, in shock about what my son has just witnessed in this hospital hallway…
To Be Continued…