This post may contain affiliate links. Read my disclosure policy here.
One Corner at a Time…
I am attempting to reorganize my storage room in our basement. This is a huge task, exacerbated by the age old problem of too much stuff!
So right now my basement is covered in boxes, containers etc as I try to get to the bowels of the storage room to begin the process of removing items. Anyway, I am so far from done it is depressing, but I need some relief – something to celebrate for Tackle It Tuesday.
So, today I abandoned the storage room and I scrambled to restore order to the basement play room. One side of it has been in disarray for months. Stacks of books have been waiting (since a little flood we had) to be sorted and put on shelves etc. This pile has "collected" toys and become a huge pile! It is so depressing that I don't go down there and only my son and husband play down there.
Time to tackle it!!!
Try to not be too disgusted by the chaos, as I said, I have not let anyone see it in this condition.
My Project To Tackle
The Playroom – Before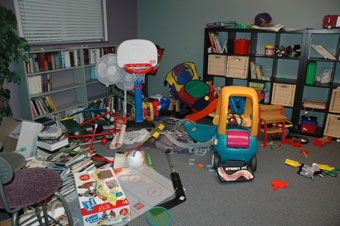 The Playroom – After