This post may contain affiliate links. Read my disclosure policy here.
I had a great time hopping around the blogosphere this morning and wanted to share some link love with you all.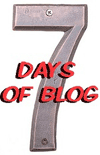 First of all, Carol at She Lives has a fun idea for the week called 7 days of Blog
(I may not make it all week, but she said we can do as many days as we choose.)
For me, one of the greatest parts of blogging is getting to know new bloggers and introducing each other to new friends. Since I am pretty new, I love links to new blogs – it feels like one of your first days at a new church and some kind friend drags you around introducing you to everyone.
Today, Diane at Partners in Prayer for our Prodigals had some great links in her 7 Days of Blog post. One of them was to Blest With Sons who wrote such an inspired post about her blogging "rules" that I just had to link to it. As Diane said in her comment, it should be required reading for bloggers.
To read more blogging about blogging, just head over to She Lives for more links.