This post may contain affiliate links. Read my disclosure policy here.
Crazy for Mommy Cards…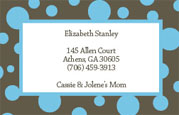 No need to find a scrap of paper to jot down your number or email address, Momager Calling Cards™ have got you covered.
Have you heard of Mommy Cards yet? They are the newest (and handiest) thing to hit a playground near you!
(We think Mommy Cards are such a great idea that this is actually the second company we have featured who makes Mommy Cards.)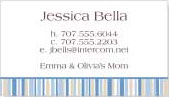 So what exactly are they? Well they are the modern mom's "business" card. With moms being the social coordinators that we are, constantly organizing play dates, parties etc, we need a quick and easy way to pass on our information. So when we are standing in a parking lot trying to arrange a play date with a new friend, it is much more convenient (and fun!) to pull out a Mommy Card than to dig around for a pen and paper.
These fabulous Momager Calling Cards™ are made by Paperlicious — a Mom-Owned company of course! Owner Amy DeRouen Nelson, mother of 1 year old twin girls, started Paperlicious in 2005 as a way to express her unique ideas for personalized correspondence and draw from her experience with entertainment and event-planning in the music industry.
Paperlicious is committed to affordable and stylish custom printing and offers a great selection of personalized wedding, baby shower, child birthday, and party invitations; birth/baby announcements, social stationery, Momager Calling Cards™ and even custom printed menu cards!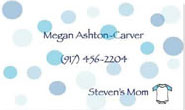 Paperlicious is giving one of you a package of 50 customized Momager Calling Cards™. You can select your design and Paperlicious will customize it to your desire, send a free proof, and ship via USPS Priority Mail. (Canadians are welcome too!)
So If you want to win this set of customized Momager Calling Cards™, leave a comment here at this post. We will be drawing the winner on July 4th. All the instructions are in our July 4th Giveaway sticky post (including the code to put our July 4th Giveaway button on your site.)
Here is the quick version:
Leave a comment on this post to be entered.
Post a link to this contest and/or link and post a button to our July 4th Giveaway post. (If you post the button and link to the July 4th Giveaway, you are qualified to enter in all the upcoming July 4th Giveaway contests. And we have many more contests to come!) Non-bloggers are welcome too – we understand you can't link – but feel free to pass the word on to your friends.

Canadians are welcome to enter this contest! 🙂

Good luck! And remember to check back for our next July 4th contest.