This post may contain affiliate links. Read my disclosure policy here.
(Note: this is a sticky post and will remain at the top of our site until July 4th. For all new posts please scroll down.)
Please Note: We have now published the final contest post for our July 4th Giveaway. Please scroll down and click on the links to the contests you wish to enter. (You must comment on the individual contests to be entered in them. Please note – this is not the place to comment for the ice cream maker. Please click on the link to that contest and comment there. Due to the number of contests, we want to ensure that people are only entered for prizes they want.) Entries for all July 4th Giveaway contests must be in by 12am EST, July 4th (that is Tuesday night!) We will be announcing the winners Wednesday morning on July 4th.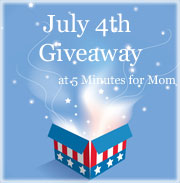 Summer is almost here — time to break out the barbecues and have a party! We are having a huge July 4th Giveaway celebration, featuring tons of contests with fantastic prizes! We Canadians celebrate our country's big day July 1st — but for the sake of majority, we are going to have the party on July 4th.
We will do it the same way as we did for our Mother's Day Giveaway:
From now until July 4th, we will be posting various contests. To enter the contests you just need to:
Add a comment on the contests you want to enter. PLEASE note: You need to enter each contest individually so we know who wants to be entered in what contest. So make sure you click over to each contest and leave your comment there.
Either link back to this post and include a July 4th Giveaway button in that post or on your sidebar (to get the code click on read more at the bottom of this post,) or link to the individual contests you choose to enter. (If you post and include the button, either in your post or on your sidebar, and link back here, you are good for all the contests. No more linking required.)
As always, non bloggers are welcome to participate! We know you can't link – but feel free to spread the word to your friends.
Some contests will be open to Canadians. Please check individual contests.
Remember to keep checking back for the latest contests – you don't want to miss any! We will be posting a dozen contests and updating this post with the links.
Click on each of the links below and comment on the contests you wish to enter:
PLEASE REMEMBER: You need to click over and comment on each contest you want to enter. We will be linking to all of the contests in this post and we need to know who wants to be entered in WHAT contest. Remember you can enter in as many of the upcoming contests as you want. And please only comment once on each post so that everyone has a fair chance. If for some reason you need to comment again – like you left an incorrect email or link, just note that in the comment and I will remove the first comment. Thanks!
PLEASE NOTE: Entries for all contests will be closed July 4th at 12am Eastern. I will post the winners for all the contests Wednesday morning on July 4th. (So make sure you have entered all the contests you want by leaving your comment on the individual contest posts before the deadline Tuesday night.)
To get the codes for the buttons (we have three sizes) click here.
Banner Codes: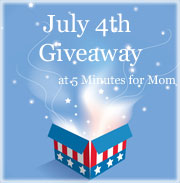 To include this wider banner (180 pixels wide) in your post or sidebar, copy and paste this code:

To include this banner (160 pixels wide) in your post or sidebar, copy and paste this code:


To include this smaller banner (120 pixels wide) in your post or sidebar, copy and paste this code: