This post may contain affiliate links. Read my disclosure policy here.
Living the Dream…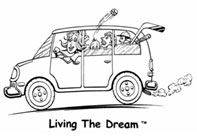 Our days aren't glamorous – actually, more often than not, they are roll-up-your-sleeves dirty! But we moms are "living the dream!"
After leaving the corporate world, Nina Frye and Cindi Schmitzer discovered first hand that motherhood, with all its joys and thrills, also brings a lot of work and chaos too. But not willing to surrender to the hard moments, Nina and Cindi look at motherhood and smile, realizing that even on the bad days they are truly living the dream!
I love the story behind Nina and Cindi's company LTDchix, so I asked them a few questions about it all…
Janice: You give a great background story on your site about how LTDchix was born – but could you tell us briefly here how you got the idea to start your company and why you decided to add "mom-entrepreneurs" to your already busy lives?

LTDchix: We were at the shore together, and as we were trying to wrangle all of our kids to go home, they were screaming and fighting, we couldn't find things, it was just chaos. Cindi and I looked at each other and asked, "Did you ever dream life would be like this? When we were younger and dreaming how motherhood would be, all this screaming and mass hysteria wasn't exactly part of it, was it?" We laughed because that's all you really can do in those situations, but then later, we were talking and said, hey, other mothers must feel the same way we do at times, but you never really hear a lot of talk about the not-so-glamorous aspects of motherhood. So why don't we take these emotions and try to market them? And that's how our slightly sarcastic tagline was created — "Living the Dream" — and LTDchix was born.

Janice: What is the most challenging part of being working-moms? How do you balance running your company with being moms?

LTDchix: The most challenging part of being working-moms is trying to balance work and the kids' schedules. The kids come first, and LTDchix gets worked in where it can. Cindi has 3 kids in school full time and one in preschool, half day — so her schedule is tight. She still manages to do a great job with all the accounting and inventory aspects of LTDchix. With all three of my kids in school full time, I'm able to handle our sales and marketing during the day. We try to work during school hours because as soon as the kids get home, we're off and running to all their activities. It's definitely a challenge for us, but we believe in our company and believe it's worth the effort. And when we hear our kids talking about our business with so much pride — who could ask for more?

Janice: Can you tell us a bit about your "Living the Dream" t-shirts. The designs are so fabulous and fun – who designed them? Where can moms buy them?

LTDchix: From the very beginning, Cindi and I knew exactly what we wanted our signature "Living the Dream" Mom to look like — completely frazzled but with a huge smile on her face. To create the t-shirt designs, we brainstorm about scenarios we and all moms find ourselves in every day — grocery shopping, carpooling, doing laundry, refereeing the siblings. We work with an illustrator, Steven Anderson, who is a stay-at-home dad, ironically. Our goal is to make sure the "Living the Dream" Mom is able to find humor amidst the chaos of everyday life. Like Cindi always says, you either have to laugh at life or bang your head into the wall, and laughing is much less painful. We try to introduce at least two new designs twice a year — each spring and fall. You can check out all our t-shirt designs at www.ltdchix.com and shop online or at the stores listed on our site.

Janice: Thanks so much for chatting with us today – and for being a part of our July 4th Giveaway!

LTDchix: Thanks so much for the opportunity! LTDchix is here to make moms giggle a little and realize that while we love being moms, sometimes our days can be crazy. Laughter is the only option! And we love to hear from other moms — so we invite everyone to share your thoughts with us throughout the ltdchix.com website. Thanks again!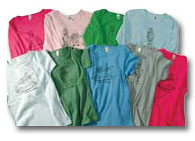 Two of you moms are going to get a "Living the Dream" t-shirt of your choice – so make sure you leave your comment here at this post to enter…
We will be drawing the winner on July 4th. All the instructions are in our July 4th Giveaway sticky post (including the code to put our July 4th Giveaway button on your site.)
Here is the quick version:
Leave a comment on this post to be entered.
Post a link to this contest and/or link and post a button to our July 4th Giveaway post. (If you post the button and link to the July 4th Giveaway, you are qualified to enter in all the upcoming July 4th Giveaway contests. And we have many more contests to come!) Non-bloggers are welcome too – we understand you can't link – but feel free to pass the word on to your friends.
Canadians are welcome to enter too!!! 🙂
Good luck! (And remember we still have more contests coming…)