This post may contain affiliate links. Read my disclosure policy here.
Wrap Up Your Baby…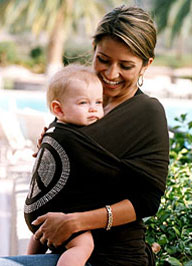 Keep your baby close and comfy — and add a little bling for fun…
Our next contest in our July 4th Giveaway is for the incredible MetroWrap™ by MetroMamma™.
The MetroWrap™ is a gorgeous, unique creation – we simply love this secure and comfortable baby carrier. It is made of soft, breathable and washable fabric that snugly wraps around you so that you can safely tuck in your little one. With the MetroWrap™ you can bond while carrying baby – and look chic while doing it!
The Founding Mammas behind MetroMammas, Carie McNeil and Leah Mamone, are busy moms from Las Vegas, Nevada who designed the wrap to keep their second babies close as they chased after the toddlers. Way to go ladies — we love to see Moms inventing new products that creatively address the needs of their families.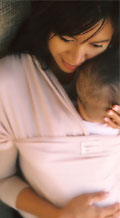 The MetroWrap™ is available in 4 colors and comes in The Original and the Bling MetroWrap.
The MetroMamma website also provides an excellent step by step demonstration of how to wrap your baby so that you can quickly become an expert in using your MetroWrap.
If you want to win a Bling MetroWrap™, leave a comment here at this post. (Note: we are unable to guarantee what color or design the company will provide.)
We will be drawing the winner on July 4th. All the instructions are in our July 4th Giveaway sticky post (including the code to put our July 4th Giveaway button on your site.)
Here is the quick version:
Leave a comment on this post to be entered.
Post a link to this contest and/or link and post a button to our July 4th Giveaway post. (If you post the button and link to the July 4th Giveaway, you are qualified to enter in all the upcoming July 4th Giveaway contests. And we have many more contests to come!) Non-bloggers are welcome too – we understand you can't link – but feel free to pass the word on to your friends.

Canadians are welcome to enter too!!! 🙂

Good luck! And remember to check back for our next July 4th contest.