This post may contain affiliate links. Read my disclosure policy here.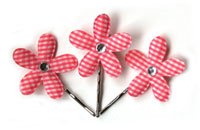 Lil' Sugarplum Sweetness
Delicate handmade clips that won't slip…
Last Christmas, we featured a stay-at-home mom's online store, Lil' Sugarplum.
With Julia having just a few wisps of hair at the time, it was such a treat to try out these adorable little no slip hair clips.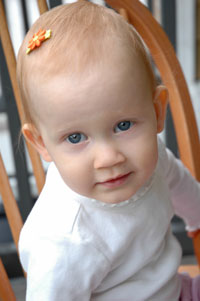 They were Julia's very first hair bows. (Here is the photo from December. She sure has grown more hair since then!)
So when Lil' Sugarplum wrote us recently, asking to have a contest for her store, we of course said "yes."
Lil' Sugarplum makes her clips with little pieces of Velcro to help keep fine hair in place. Her designs are simple and sweet and she lovingly makes them all by hand while working from home with her two children.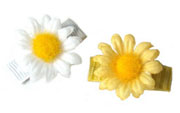 If you want to win a $25 gift certificate to Lil' Sugarplum, just leave your comment here at this post. (If you want, for fun you can tell us which clips are your favorites from her site.)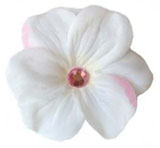 We will be drawing the winner on July 4th. All the instructions are in our July 4th Giveaway sticky post (including the code to put our July 4th Giveaway button on your site.)
Here is the quick version:
Leave a comment on this post to be entered.
Post a link to this contest and/or link and post a button to our July 4th Giveaway post. (If you post the button and link to the July 4th Giveaway, you are qualified to enter in all the upcoming July 4th Giveaway contests. And we have many more contests to come!) Non-bloggers are welcome too – we understand you can't link – but feel free to pass the word on to your friends.
This contest is open to Canadians too!!! 🙂
Good luck! (A couple more contests still to come…)