This post may contain affiliate links. Read my disclosure policy here.
Ice Cream – Made by You!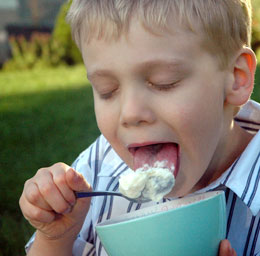 Celebrate summer with the kids by making your own home made ice cream — and then serve it up in the sweetest bowls…
In the heat of summer, nothing can beat homemade ice cream — so we are kicking off this July 4th Giveaway by giving away a Krups GVS1 Ice Cream Maker and a 4 piece set of Rosanna Sweet Dreams Bowls courtesy of SplendidLife.com.
If making your own ice cream sounds like too much work to you — no worries. I was pleasantly surprised by how easy the process is. Just whisk up the cream, milk, sugar and other optional ingredients, pour it into the frozen bowl and push the button. Then let the machine do all the work.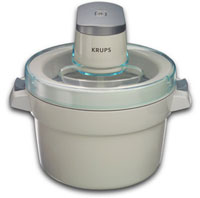 There is no cranking or stirring and no ice or salt required. This is low maintenance ladies. Even cleaning the machine is simple. (But Jackson still had fun "making" the ice cream by measuring and mixing up the ingredients and pouring it in the machine. For his short attention span, he sure thought he worked hard for his ice cream.)
And if you want to make it more elaborate, the Krups Ice Cream Maker comes with a recipe booklet full of gourmet ice cream and sorbet recipes. You will shock your summer guests with your elaborate creations like Pineapple sorbet with Creme Brulee flavour, Kiwi and fresh mint sorbet, or Sorbet of fresh and dried figs in brandy. You can be as fancy or as simple as you want – and the Krups Ice Cream Maker will do all the heavy work for you. (We made good old fashioned vanilla ice cream for our first run.)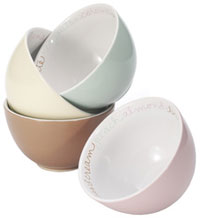 And then – to add some style to your dessert SplendidLife is giving the winner a 4 piece set of Rosanna Sweet Dreams Bowls. I love the colors and the writing along the inside rim of these stoneware bowls. They truly are some of the sweetest bowls I have seen. Jackson is "all-boy" so I didn't think he would give the bowls a second look. (I mean – there is endless amounts of ice cream involved!) But he loves them – and claimed the green one as his own.
SplendidLife.com, a new site started by Splenda, is a premium one stop shopping solution for women, especially moms. The site offers a carefully selected assortment of products – everything from espresso machines, to picnic accessories, to pedometers – in sections like cooking and baking, entertainment, healthy living and family fun. The site also offers fun ideas for entertaining and tips for healthy living.