This post may contain affiliate links. Read my disclosure policy here.
Do you need a weekend just for you?
"Mom" – it is the greatest word I could ever hear. I am honored to be a mom – and I love it when I am a "Mommy."
But that title isn't an easy one to bear…
As moms we have endless responsibilities and duties. Little lives depend on us for their survival – and their health and happiness! Our to-do lists are never ending and our days can be flat out exhausting. Yes I love being a "Mom," but it is hard work! And most often I am totally out of balance – working far too hard to meet everyone else's needs and ignoring my own.
So two busy moms, Teresa Bacal and Loree Bischoff, (who also happen to be sisters) decided to join forces and create a company dedicated to helping moms live more balanced and fulfilling lives for themselves and for their families. Together they created Mission Possible – a company that is "redefining motherhood."
I asked Loree a few questions about their company and their fabulous Motherhood Redefined weekend events.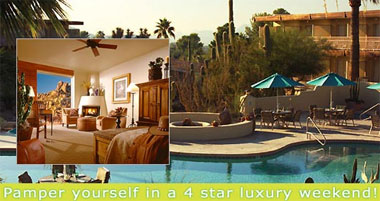 (Hint – we are giving one of you (and a friend!) free admission and 4 star luxury accommodation at the next Motherhood Redefined weekend event in beautiful Arizona! The prize is worth more than $1000!!! Read on to find out more…)
Janice: Thanks so much for joining us today Loree. You have developed a fabulous company with incredible events like the Motherhood Redefined weekend events. Can you tell us a bit about your mission and why you started this company?

Loree: We think it's critical that mothers realize the importance of nurturing themselves physically and emotionally. As moms we get into the habit of placing our family member's needs and desires before our own – all the time. We believe that moms need to understand that they are not doing themselves or anyone else any great service by constantly placing themselves last. This can have negative physical and emotional consequences. We created the Motherhood Redefined weekend events for moms to rediscover the parts of their identity that have been placed on the 'back burner' and to encourage them to be better to themselves, so that they flourish along with the rest of their family.

Janice: The Motherhood Redefined weekends are a key component of your vision for Mission Possible, correct? Can you give us a peak at what an event is like? Your lineup of speakers is amazing!

Loree: Yes, our company's primary focus is on elevating and supporting the wellbeing of mothers via the Motherhood Redefined weekend events. Moms attending the weekend event are going to experience 2 ½, blissful days of focusing on no one other than themselves!

They are going to start the weekend off by celebrating at our wine and cheese reception and browsing the exclusive vendor expo. There will be entertainment and a dynamic, comedic presentation to follow. Saturday and Sunday will be packed with more fabulous speakers, interactive workshops (everything from belly dancing to intimacy to parenting strategies for single moms!). We are thrilled the communication guru himself, John Gray, will be there to help us all understand how to better communicate with the Martians in our lives! Moms will also be treated to a fabulous fashion show and have an opportunity to meet and work directly with our celebrity mom, Sheila Kelley (S-Factor)! (see website for complete speaker line-up and bios)

Janice: What will moms get from this weekend event? How can it enhance – or even change – their lives?

Loree: Moms will leave the weekend re-energized with a fresh perspective, new skills and renewed motivation. If you're a mom who feels like you already have a good balance in your life, then you will have a fun, probably much deserved, weekend get-away with the girls and discover ways to enhance your life even more! Moms looking to make changes, no matter how big or small, will receive tools and strategies from our experts to help them figure out how to do that – and why they should!

Janice: Thanks again for sharing with us today and for providing the incredible prize for one of our readers! I imagine we will have one very excited winner!

Loree: It's our pleasure Janice! We can't stress enough how important it is for a mom to place the same value on her own needs as she does on everyone else's. That old saying, "When mama's not happy, ain't nobody happy" is true! The more fulfilled mom is, the better she is for her family – not to mention the healthy example she sets for her own daughters and sons!
Don't miss this contest – we are giving one of you (and a friend) a weekend at Motherhood Redefined in Carefree, Arizona – with free accommodations at the 4 star luxury resort, Carefree Resort and Villas. (This prize includes admission for two and a shared room for the next weekend event happening September 21-23, 2007.)
So choose a friend (maybe a fellow blogger with whom you have been dying to get together) and find a way to get to Arizona – cause the rest is on us – a value of more than $1000!!! Just leave a comment here at this post to be entered into the draw.
And if you register for the Motherhood Redefined weekend before we announce the winner, (to take advantage of their great early bird rates – over $400 off regular price,) and then you discover you won the contest – no worries! Teresa and Loree will give you a refund! So, head on over to read more about Motherhood Redefined and book your weekend at the early bird rate.
(Unfortunately Susan and I will not be seeing you at the event as we will both be about ready to deliver our babies! But we will be thinking of you.)
Also – to be included on the Mission Possible mailing/newsletter list to hear about the latest events and info – click here. (Theresa and Loree are also new bloggers. Head on over to check out their latest posts.)
So If you want to win this fantastic weekend for you and a friend, leave a comment here at this post. We will be drawing the winner on July 4th. All the instructions are in our July 4th Giveaway sticky post (including the code to put our July 4th Giveaway button on your site.)
Here is the quick version:
Leave a comment on this post to be entered.
Post a link to this contest (with a prize this cool – you might want to tell your readers and let them in on the fun!) and/or link and post a button to our July 4th Giveaway post. (If you post the button and link to the July 4th Giveaway, you are qualified to enter in all the upcoming July 4th Giveaway contests. And we have many more contests to come!) Non-bloggers are welcome too – we understand you can't link – but feel free to pass the word on to your friends.

This contest is not limited to the US — everyone is welcome to enter this contest! 🙂

Good luck! And remember to check back for our next July 4th contest.