This post may contain affiliate links. Read my disclosure policy here.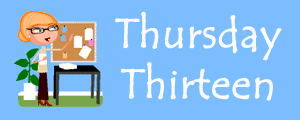 Banner by Chaotic Home
13 Funny/Cute Things My Son Has Said
"I had a tiger, but it died. It went to heaven and bit your Dad." – age 3 (He said this in total seriousness. I nearly fell over! He knows my Dad is in heaven and he talks about heaven quite a bit, but that was a riot.)
"Am I taller than Grandma yet? – Cause she is old and shrinking and I am growing. So I am going to be taller than her soon." – age 3
When I said something to him about how old he was getting, Jackson was concerned and stammered, "You mean go to heaven old?" – age 3
"I had a big brother named Kieric. He died on a cross."
– age 3 He said this to his preschool class on Family Tree day. (When Jackson was two he came up with an imaginary big brother name Kieric. He talked about him every day for a year and half. At first he was hit by a car, but at Easter time Jackson got a bit confused… Later he asked me, "Mommy – why didn't the teacher put Kieric on my family tree?")
"When I grow up I want to be an African." – age 2&1/2 (After watching the African Children's choir – over 100 times!)
In one of Jackson's French books the mom comes in and wakes up the little child. Jackson said to me, "See Mom – you are supposed to wake me up!" Now in the morning, Jackson will holler from his bed, "Mom…come wake me up!!" And if I do manage to then stumble in there to "wake him up" he will say, "No – in French." – age 4
"He hurt my heart." – age 3 and 4, if someone makes him sad.
"Man – there's just so many things I have never seen before!" – age 3, at a boat dealership
"Mommy can I please marry Julia, please? She is the one I choose." A few months before he said: "Can I please marry Julia? She is the one I love the most." (He used to ask if he could marry me, but since Julia came, apparently he loves her more! I think it is so funny how kids don't know yet about romantic love so they simply assume you marry the one you love the most – hence most little boys have asked if they could marry their mommies or, as in this case, their cousin. – age 3 (now at four he knows a bit too much to want to marry his cousin!)
When getting a piggy back ride from me, I told him it was not a good idea. "Oh yes it is. You just have to go the chiropractor so many times and then you will be all good like Daddy." – age 3
When I was trying to put him to bed and he was stalling, "I am going to hug you and keep on hugging you until morning." – age 4
When playing with our friends' new baby boy, "We need to get one just like him." – age 3
"I changed my mind – I don't want a baby brother or sister – I already have Julia. I want a dog instead." My son cries regularly for a sibling, but one day his desire for a pet overcame him and he sold that future sibling for a dog. Fortunately, that isn't how it works… – age 4
Get the Thursday Thirteen code here!
The purpose of the meme is to get to know everyone who participates a little bit better every Thursday. Visiting fellow Thirteeners is encouraged! If you participate, leave the link to your Thirteen in others comments. It's easy, and fun! Be sure to update your Thirteen with links that are left for you, as well! I will link to everyone who participates and leaves a link to their 13 things. Trackbacks, pings, comment links accepted!
View More Thursday Thirteen Participants