This post may contain affiliate links. Read my disclosure policy here.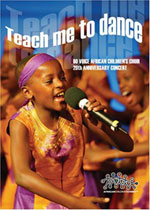 Have you had the chance to see
The African Children's Choir
perform?
It is an incredible experience. We have been so blessed to have them a number of times at our church during their North American tours.
My son Jackson adores the choir. He was two when he first saw the choir and became obsessed with the DVD. It was such a site to watch the little guy trying to do all the all actions and sing the songs.
When he was still two, my son told me that when he grew up he wanted to be an African and sing in the choir! He still loves them and has enjoyed this new DVD as much as the first.
In fact, this recommendation comes straight from Jackson. When I started this website and told him that I would be telling people about some of his favorite things, he immediately said, "Mom – you have to tell them about the African Children's Choir!"
So there you have it!
As for my perspective, as a parent I love the opportunity to have my son witness the children's infectious joy and love of God.
I highly recommend seeing the choir if they are coming to a venue near you and buying the DVD is a must. Not only are you supporting this incredible ministry to African communities, but your family will love the chance to see these shining, inspiring faces again and again. CD's are also available, but we prefer the DVD so we can see those sweet, beautiful kids.
Click here to purchase the DVD
and don't forget to check their website http://www.africanchildrenschoir.com for their latest tour information and to learn more about this unique group.