This post may contain affiliate links. Read my disclosure policy here.
We have several giveaways that closed this week as well as one that closed last week, that we forgot to announce our winner for. I am so sorry about that.
Please note, we will be announcing our winners for all of our giveaways in this post. So if you entered over at 5 Minutes for Giveaways, check here to see if you are a lucky winner.
First, here is our winner for a copy of the book, This Little Prayer of Mine.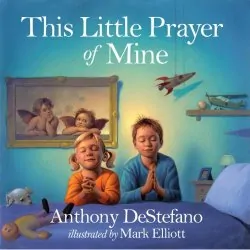 From being scared at night, to making wrong choices and asking for forgiveness, This Little Prayer of Mine is filled with teachable moments.
It assures children that God does hear your prayers, is easy to talk to, cares about your feelings and is always there.
Congratulations to Angela Bailey. Please email us at info(at)5minutesformom(dot)com to claim your prize.
Our next winner is quite a lucky one, winning a prize pack valued at $200.00
Coming to the big screen in Disney Digital 3D™ on March 5, 2010, ALICE IN WONDERLAND is an epic 3D fantasy adventure starring JOHNNY DEPP as the Mad Hatter and MIA WASIKOWSKA as 19-year-old Alice, who returns to the whimsical world she first encountered as a young girl, reuniting with her childhood friends: the White Rabbit, Tweedledee and Tweedledum, the Dormouse, the Caterpillar, the Cheshire Cat, and of course, the Mad Hatter.

ALICE IN WONDERLAND has been digitally re-mastered into the unparalleled image and sound quality of The IMAX Experience.

Comment #7, Clare is our lucky winner in our Mad as a Hatter IMAX Giveaway. She is receiving:

An 'Alice's Tea Box' set graciously donated by the famous New York-based store, Alice's Tea Cup. The box includes 1 Cardew Alice In Wonderland cup/saucer, 1 Box of tea sacs, 1 Swirly striped tea tin, 4 2oz. bags of tea (2 caffienated, 2 herbal), 1 Alice tea cup travel tea tumbler.
1 Alice In Wonderland: An IMAX 3D Experience poster
A 4-pack set of Alice In Wonderland: An IMAX 3D Experience bookmarks
1 Alice In Wonderland: An IMAX 3D Experience T-shirt
A family 4-pack of IMAX tickets
Next we have our grand prize winner and five runner-ups in our Tales 4 Tomorrow Giveaway.
Tales4Tomorrow has teamed up with Conservation International to produce stuffed animals that tie in with a gaming site (similar to Webkinz). Five percent of the proceeds go to Conservation International, and when the child first logs in to the site using the code from their stuffed animal, they can select for themselves which kind of animal the funds will work to preserve: frogs, pandas, elephants or tigers.
Our grand prize winner of Tunger the Tiger stuffed animal with an activation code to experience all the fun at Tales4Tomorrow, is #22 Debbie.
We also have five runner-ups receiving two week trial codes Congratulations to #57 sarah, #60 Mozi Esmes Mommy, #88 Erma, #16 From Diapers to Dorms and #44 Homemom3. Please send an email to info(at)5minutesformom(dot)com to claim your prize.
Our final giveaway that has closed this week is courtesy of Biddees and is for a $50.00 Target gift card.
Biddees offers an extensive selection of brand new gift cards in various denominations from national retailers such as Amazon, Best Buy, Costco, Gap, Home Depot, iTunes, Macy's, Nordstrom, Staples, Starbucks, Target and Walmart, as well as VISA and MasterCard prepaid cash cards.Each card is guaranteed to sell for less than face value.

The savings aren't generally huge — maybe 10% — but 15% of your LBT goes to the listed charity of your choice. Since we all spend money at places like itunes, McDonald's, Target, Best Buy, and Amazon (don't we??), why not use your budget allotment here and do a little good as well? That's right 15% of your bid fee goes to the charity of your choice.

Our lucky winner of a $50.00 Target gift card is comment #50 Aimee.
Congratulations again to all of this week's winners. Don't forget to claim your prize by emailing us at info(at)5minutesformom(dot)com.