This post may contain affiliate links. Read my disclosure policy here.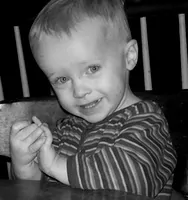 Nothing is sweeter than tiny hands clasped in prayer. Sometimes, during rushed evenings at the dinner table, it is my boys that remind me to take a moment to pray. They fold their hands and plead, "Pray, mommy. Pray."
Recently my daughter, who is 6, began asking questions about prayer and God. "Can God hear my prayers? What do I pray about? How does God help me?" Sometimes my answers seem to be perfect, but many times I can tell that she has still been left wondering.
This Little Prayer of Mine, the recent release from Anthony DeStefano, is the perfect children's book for teaching my children about prayer.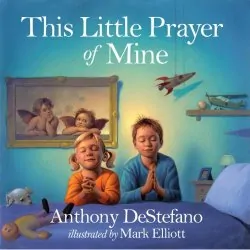 My sons were captivated by the beautiful illustrations, while my daughter easily placed herself into the story, relating to the various scenarios that the children found themselves in.
From being scared at night, to making wrong choices and asking for forgiveness, This Little Prayer of Mine is filled with teachable moments.
It assures children that God does hear your prayers, is easy to talk to, cares about your feelings and is always there.
One particular page in the book really made us giggle. It shows a daddy asleep on a couch and his two children in the kitchen making a huge mess, with flour, eggs and vegetables everywhere. My daughter had a bit of a guilty expression as she realized that she had done the same exact thing before. My middle child snickered and pointed out that his daddy falls asleep on the couch too.
We shared a good laugh, but then talked a bit about how the children knew that what they were doing was wrong and how we can always ask God for forgiveness, just as they did, when we make bad decisions. "And when I act a little bad, not like I know I should, forgive me, God. Please don't be mad, and help me to be good."
I am in love with This Little Prayer of Mine. It is such a sweet book that has already become a favorite in my home. I have a feeling that your family will love it too. In fact, we have one copy to give away to one lucky reader.
To enter please leave a comment below by Friday, March 5th. We will announce our winner on Saturday, March 6th.
You may earn additional entries for the following:
Spread the word to your friends via your blog, twitter, etc.
**NEW** Start or Reply to any video conversation at Say It Face To Face. Then leave a comment with the link to the conversation on Say It Face To Face. Your video conversation or reply can be about ANY topic.
If you are already subscribed and are on our newsletter list, you qualify for those two additional entries. Go ahead and leave your additional comments below.
This giveaway is open to US addresses.
Due to legal restrictions, this promotion void where prohibited. Please see our site's Terms and Conditions of Use for a complete list of our Contest and Giveaway Rules.

Be sure to check out our review and giveaway of This Little Prayer of Mine over at 5 Minutes for Books, for another chance to win.
* This giveaway is part of a paid campaign with WaterBrook Multnomah Publishing Group. I received a copy of This Little Prayer of Mine for review purposes.
Written by 5 Minutes for Mom Contributing Editor: Erica