This post may contain affiliate links. Read my disclosure policy here.
*** Monthly Feature Column ***
Positively Speaking
Building Assets in your Kids
by Kelly Curtis, M.S., author of Empowering Youth: How to Encourage Young Leaders to Do Great Things.
When you ask your kids, "How was your day today?" do you often get stuck with a one-word answer? Ahhh, the joys of parenthood!
Search Institute has identified Positive family communication as one of the 40 Developmental Assets. Research shows these are characteristics of healthy, caring, resilient kids. The more assets youth have, the more likely they'll resist risky behaviors in the future.
Here are some ideas for using active listening skills when your child is sharing their day with you.
• Paraphrase – restate what your child tells you in your own words, without a judging tone;
• Ask clarifying questions using how, what, when, why and where;
• Reflect feelings – guess at feelings your child has about the event he or she is talking about
• Use minimal encouragers – simple responses, or nodding your head to encourage your child to keep talking are often more effective than anything else. Often what you don't say is more important than what you do say.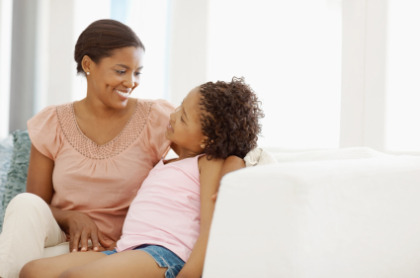 Remember that sometimes the best time to talk is when your child initiates the conversation. This may not happen immediately after school. When your child strikes up a conversation, try to stop and take a moment to pay attention.
Sometimes side-by-side activities that you do together tend to be ripe for beginning conversation – driving the car, raking leaves, washing dishes, cleaning a room, or going for a walk.
How do you keep open communication with your kids?
Thanks for joining in to build assets in your kids! I look forward to seeing you again next month for Positively Speaking.

Kelly Curtis is a Wisconsin school counselor and author of Empowering Youth: How to Encourage Young Leaders to Do Great Things. To read more about Kelly, please visit her Weblog, Pass the Torch or follow her on Twitter.