This post may contain affiliate links. Read my disclosure policy here.
Are you worried about your kids having too much screen time? We've found there are certain steps parents can take to ensure better quality screen time for kids.
This post is sponsored by Reading Eggs, but our opinions are our own.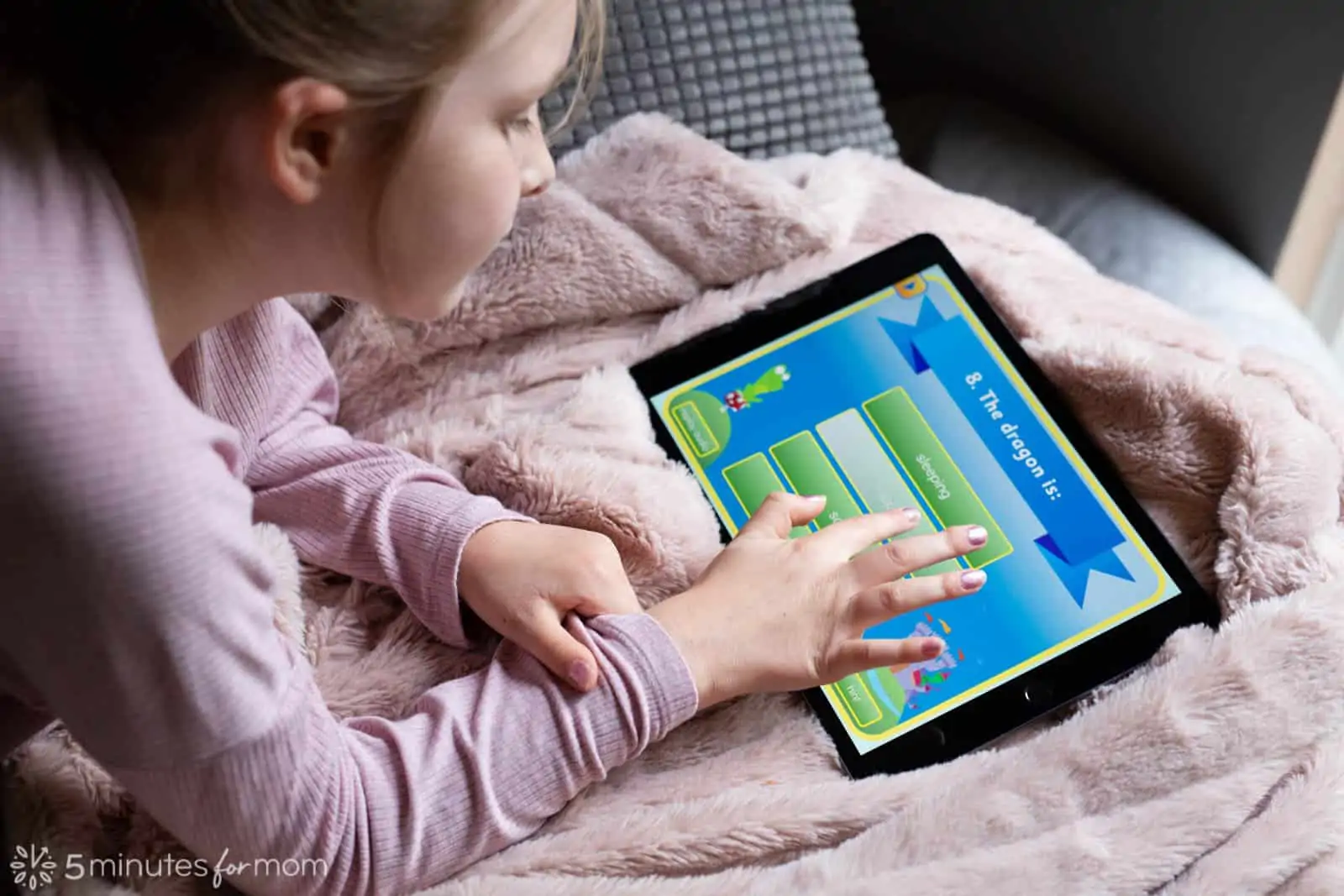 Stressing Over Screen Time
Most parents we talk to are worried that their young kids are spending too many hours each day on smartphones, tablets, or laptops.
And the fact is that these days screen time is going to be a part of most kids' daily lives.
But parents can still try to increase quality screen time, reduce passive video viewing, and end the transition meltdowns that come when asking kids to put down their iPads.
If you have young kids, follow these steps to make screen time work better for your family:
Step 1: Avoid giving kids their "own" devices.

Even if you want to buy your child an iPad and they will be the only one using it, I suggest you don't actually tell them it is "their iPad".

Keep ownership of any laptops or tablets at the family level so that kids don't feel as entitled to play on it anytime they want.

Step 2: Only install educational games.

The best way to relieve your stress about screen time is to ensure that screen time is learning time.

Instead of letting your kids passively watch videos online, make that screen time productive. Your kids can be learning to read and mastering their math facts with about 30 minutes a day playing on Reading Eggs and Mathseeds.

Get a FREE MONTH of Reading Eggs here…

When kids are really young, they won't even realize there are other games out there that they don't have. They'll simply be excited to play the educational games that you download and install.

As kids get older, you may have to widen the number of games you let them play. Fortunately, many online games do have educational elements to them. So try to be aware and informed about which games you want them to play and proactively install and introduce your kids to them.

Step 3: Avoid using games or apps that allow ads to show.

One of the biggest problems with kids downloading free games on their devices is those games show ads. You'll soon have your kids asking to download more and more games that they see advertised.

And if they watch videos on YouTube, they'll be seeing a constant stream of ads for all sorts of different products.

You'll find your kids suddenly "need" more and more toys and other products they otherwise would never know about.

By intentionally installing only a couple of programs that have a small monthly fee, you'll avoid having to say "no" to a thousand purchase requests from your child.

Step 4: Keep your child in the same room as you or another adult while they're connected to the Internet.

A smart family habit is to try and keep your kids nearby while they are on their Internet-connected devices. Try not to send them off to their bedrooms to play alone.

And you will find that you can have some wonderful bonding time with your kids while using the computer together.

I think it's really helpful to spend some time with your children using Reading Eggs and the various other learning apps because kids truly flourish when learning alongside their parents.

But it's great to know that you can spend some time with your child using Reading Eggs and then let them play it on their own when you have to go do your own work or your chores around the house.

Step 5: Plan a fun activity or personally engage with your child at the end of their screen time.

For most parents, the toughest challenge to screen time is when they have to take the device away at the end of a session.

Most kids aren't happy to hand over their device when their parent announces, "Screen time is over for the day."

We've found that the smoothest way to transition out of screen time is to distract them with an even more enticing activity. It can seem tough to beat "screen time"… but kids really do want "attention" from their parents more than anything else.

If you can plan a fun activity or some way of giving them your undivided attention for a few minutes, you can more smoothly transition your child off of the electronic device.

When time isn't tight, such as on weekends, this strategy can include a bigger transition activity such as like playing a board game or baking cookies.

But even a few minutes of attention can do the trick.

If you take a look at your typical daily routine and identify when it is most ideal for your child to spend some time online, you may be able to schedule a bit of quality time together right after their screen time.

For example, perhaps your child's usual after school routine includes a snack, some unstructured play time with toys and siblings, a little homework, screen time, dinner, and finally their bed time routine.

In this common schedule example, the challenge is that the child is on their screen right before dinner. Which makes sense because you're busy making dinner, so they are occupied by their device. But most kids aren't super excited to stop playing their computer game and come to the dinner table.

If you are able to allow a little time between screen time and dinner, you could play a quick game or activity together. It could be a quick round of UNO, read a book, make a little castle with play sand, or another of their favorite fun activities.

The key is to distract them from their device while you give them your undivided attention for at least a few minutes.
The more of those steps you can take, the more relaxed you can be about screen time.
Reading Eggs, Mathseeds, and more…
As we mentioned above, the best way to feel better about screen time is to make it educational.
One of the simplest screen time solutions for parents with young kids is Reading Eggs.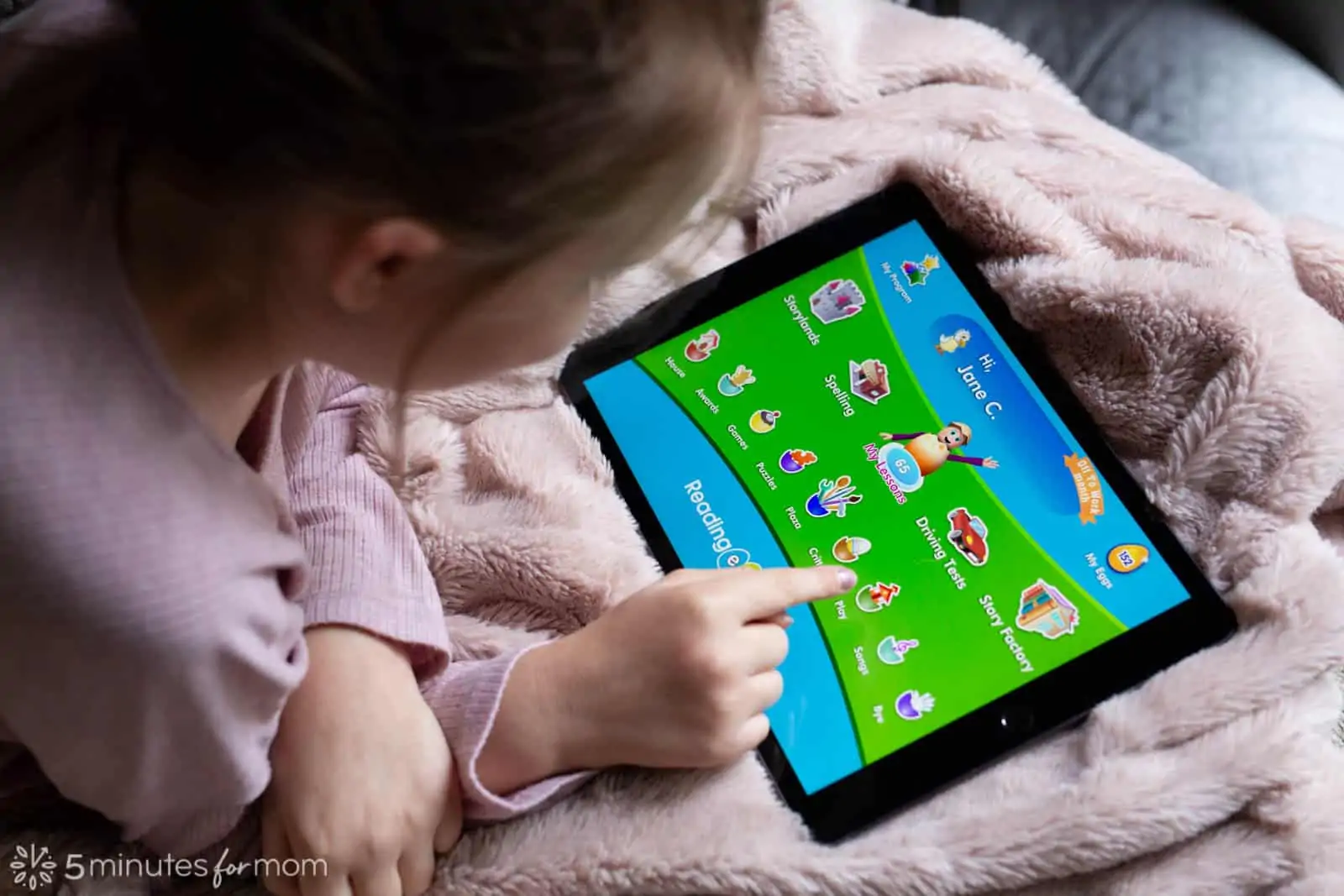 It's a fantastic learning apps for kids that we've written about before. You can also read our previous detailed Reading Eggs review here.
Now that summer is about to start and you may be looking for ways to "stop the summer slide", we want to invite you to use Reading Eggs for FREE for a MONTH!
While we usually refer to the program as "Reading Eggs", there is actually an entire suite of educational apps connected with it. We love how the different sections are divided by age. The games are educational but still fun for kids to play.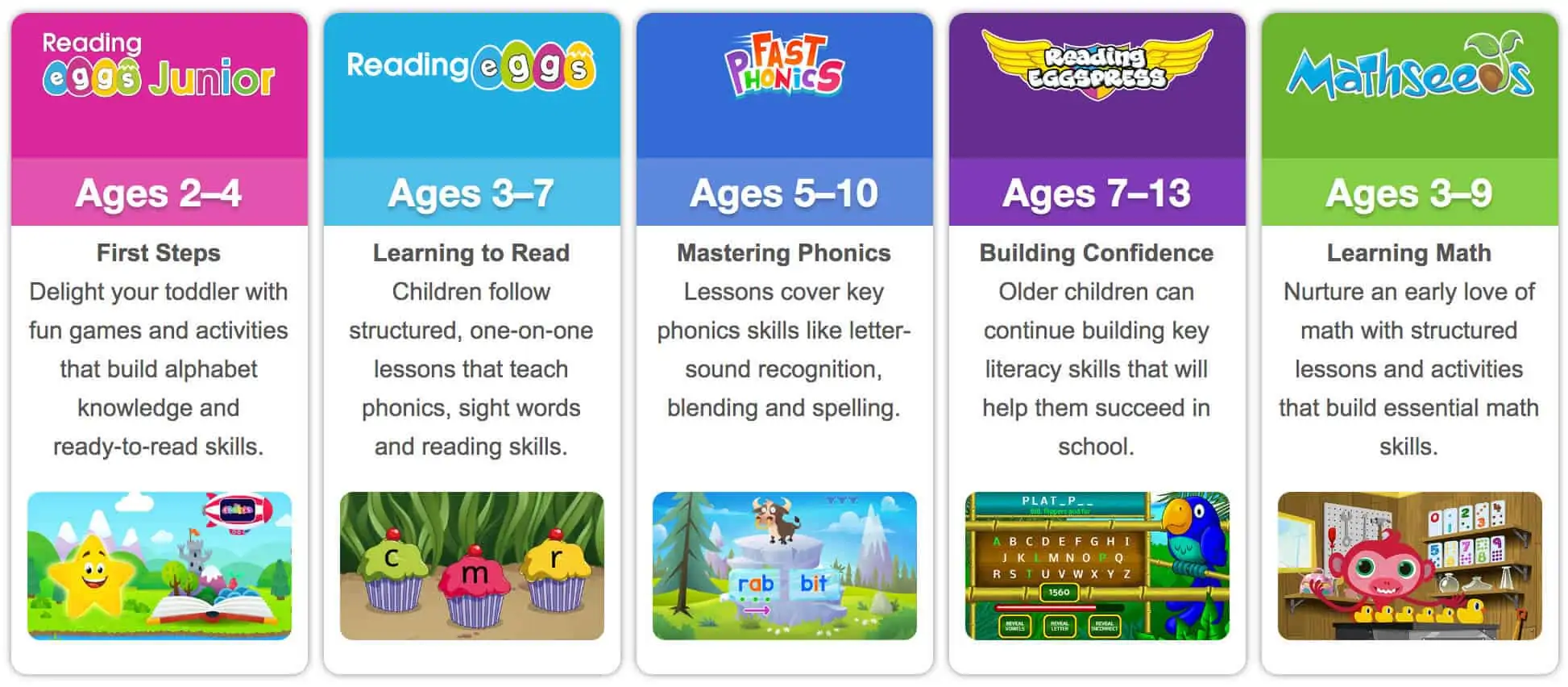 You can use Reading Eggs on the web or on apps that you download to a smartphone or tablet.
Get your FREE MONTH of Reading Eggs here…
Disclosure: This post is sponsored, so extra thanks for reading and sharing.
Written by Susan Carraretto, co-founder of 5 Minutes for Mom
Talk with me: @5minutesformom and Facebook.com/5minutesformom
Pin with me at pinterest.com/5minutesformom