This post may contain affiliate links. Read my disclosure policy here.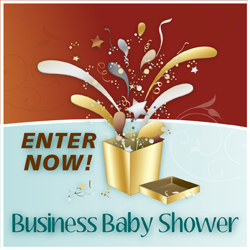 Launching a business is an enormous undertaking for anyone, but when you're also a mom juggling the never ending demands of family life… it takes Herculean effort to get a business started and growing.
One of the main reasons we created 5 Minutes for Mom back in March 2006 was to help promote mom owned businesses. As work at home moms ourselves we know how challenging it is to grow a business alongside a family.
When we heard about the Business Baby Shower, we knew it was the type of contest we'd like to support.
The Business Baby Shower Contest runs from January 1 – April 30, 2010 and "celebrates entrepreneurial moms and all they do to birth and grow a successful company while balancing family life."
The three winners (1st, 2nd and 3rd place). who will be selected in May by a panel of judges, will receive "thousands of dollars worth of media exposure for their business from Media Sponsors as well as gifts, services and bonuses from Contest Sponsors."
If you're a mom entrepreneur, find out more information at www.businessbabyshower.com.
And we'd like to give a shout-out to all moms who are giving all they've got to juggle a business and a family. It's a crazy road we're all on, but let's remember we're here to help each other.
Written by Susan, 5 Minutes for Mom co-founder.
(Susan and her sister Janice also own two online stores: Pedal Cars and Retro Collectibles and A Rocking Horse To Love.)