This post may contain affiliate links. Read my disclosure policy here.
Beautycounter says it is committed to making beauty products safer for people and the planet, but are Beautycounter products safe and do they work? We wanted to know — so for one month we researched and tested three different lines of Beautycounter skin care, as well as two Beautycounter foundations, to give you our unbiased Beautycounter reviews.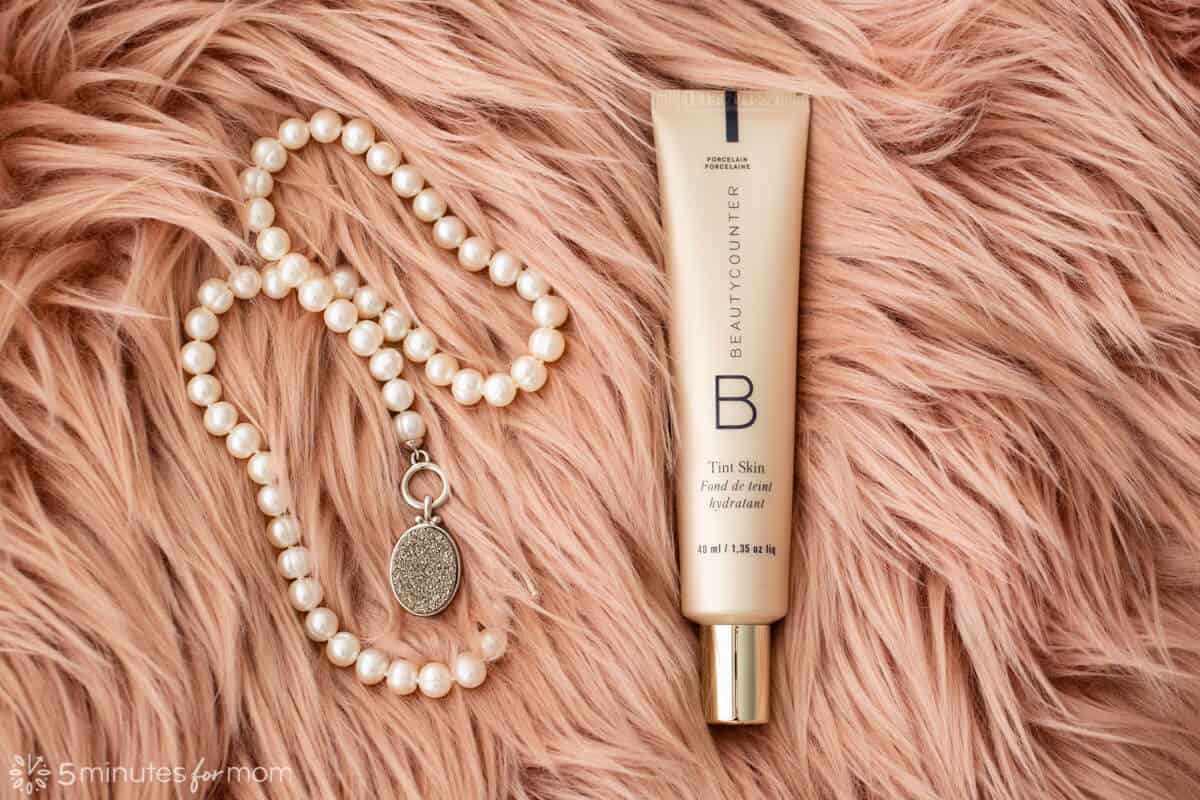 Has the Beautycounter buzz hit your neighborhood yet?
Are you considering making your first order of Beautycounter skin care, makeup, or bath and body products or wondering if Beautycounter products are as good and as clean as you have heard they are?
Or perhaps you are getting acquainted with this MLM beauty brand and toying with the idea of becoming a Beautycounter consultant?
If you haven't heard about Beautycounter yet or if you have some questions before you dive in and place an order or become a consultant, we are here to help get you up to speed and in the know about Beautycounter, including an overview of the Beautycounter controversy and how safe Beautycounter products are, our honest Beautycounter reviews and feedback after using Beautycounter for one month, and info about where to buy Beautycounter products.
Please note that we are NOT affiliated with Beautycounter, we are not consultants, and this is not a sponsored post. We did receive samples to test for this review from a Beautycounter consultant, Cynthia Liu, and, in this post, we have used her affiliate link. This post reflects our honest personal opinions and should not be taken as professional health or medical advice.
What is Beautycounter?
Beautycounter is a direct sales company, launched by Gregg Renfrew in 2013 with its headquarters in Santa Monica, California.
Beautycounter believes "beauty should be good for you" and Renfrew states that their mission is: "To get safer products into the hands of everyone."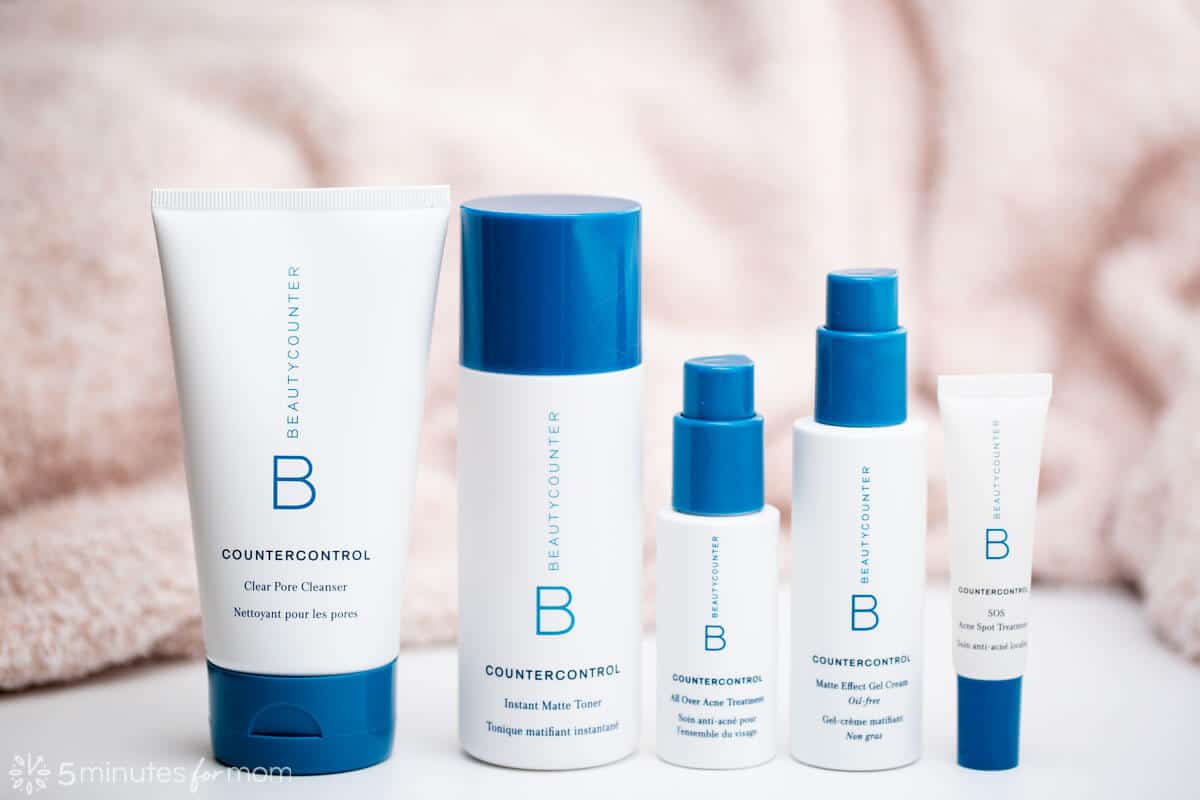 Shocked by the lack of government regulation and the prevalence of harmful and toxic chemicals in the marketplace, Renfrew started Beautycounter with the intention of educating consumers about their exposure to harmful chemicals, pushing governments to have stricter regulations and safety standards, and manufacturing safer "clean" beauty products.
Beautycounter products are manufactured primarily in the US, its pressed powders are manufactured in Italy and its cosmetic brushes are made in China.
It is important to note that Beautycounter is a luxury beauty care brand with luxury pricing. Beautycounter retail prices are similar to brands that you would find at Sephora or department stores, not grocery store or drugstore brands.
Where to Buy Beautycounter Products
While personally, I am not interested in signing up as a Beautycounter consultant or building a business with Beautycounter, you can see in the video above that after testing 14 different products for this Beautycounter reviews post, I do want to buy some of their products.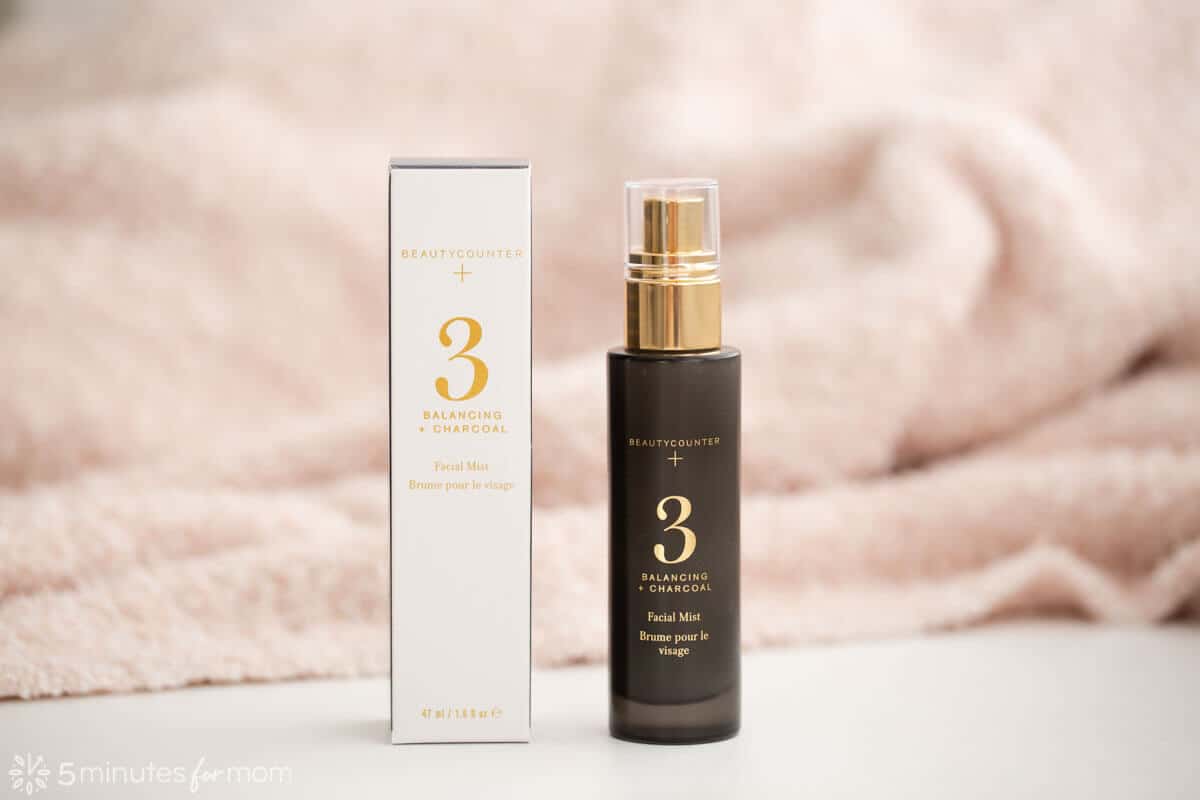 Fortunately, you don't need to sign up or pay a membership fee to shop for Beautycounter products, nor do you have to attend any Beautycounter parties or even leave your house to shop with Beautycounter.
Anyone who wants to shop can just go to Beautycounter's website. And if you don't already have a Beautycounter consultant, you can find a Beautycounter consultant on Beautycounter's website.
If you don't have a Beautycounter consultant, you can also connect with Cynthia Liu from CynaGlow.com.
Cynthia is the Beautycounter consultant who sent us the review samples we used for this post.
We are NOT financially linked to Cynthia. This post is not sponsored. We are not on her team, nor do we earn any money from Beautycounter.
When Cynthia approached us, we explained to her that we could link to her website CynaGlow and to Beautycounter, but we would not send her the post for approval AND our post would be our honest, UNBIASED review of Beautycounter and its products.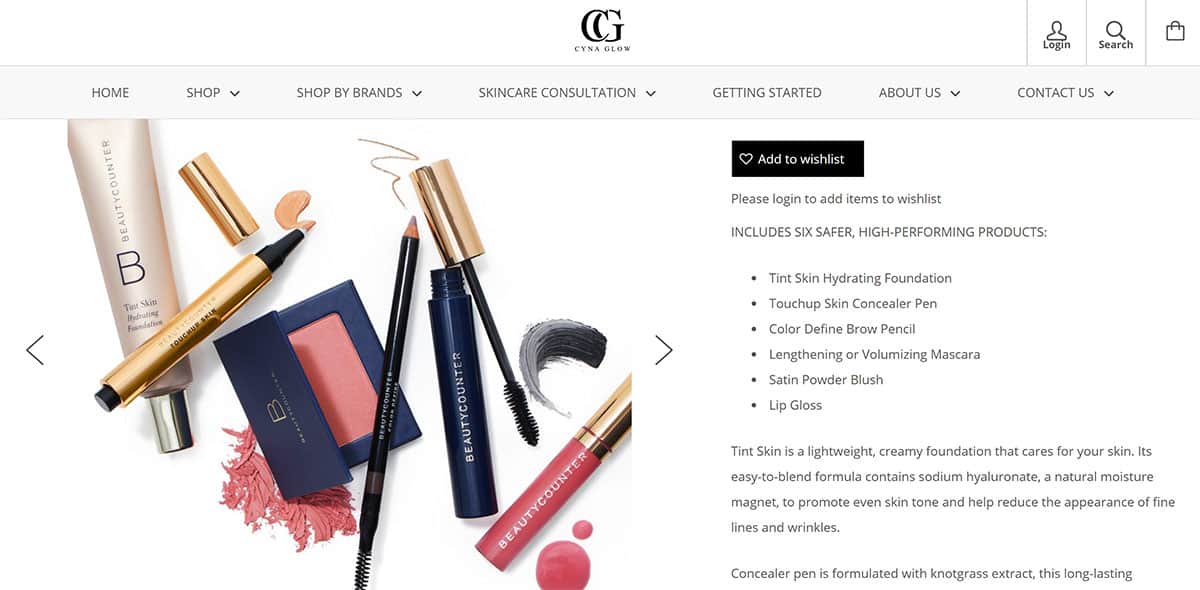 Cynthia is a great resource if you are looking for safer personal care options. And in addition to working as a consultant for Beautycounter, she also sells other natural beauty care products on her website CynaGlow.
Beautycounter Reviews – What are the best Beautycounter products?
Are you wondering what are the best Beautycounter products and what items you should order first?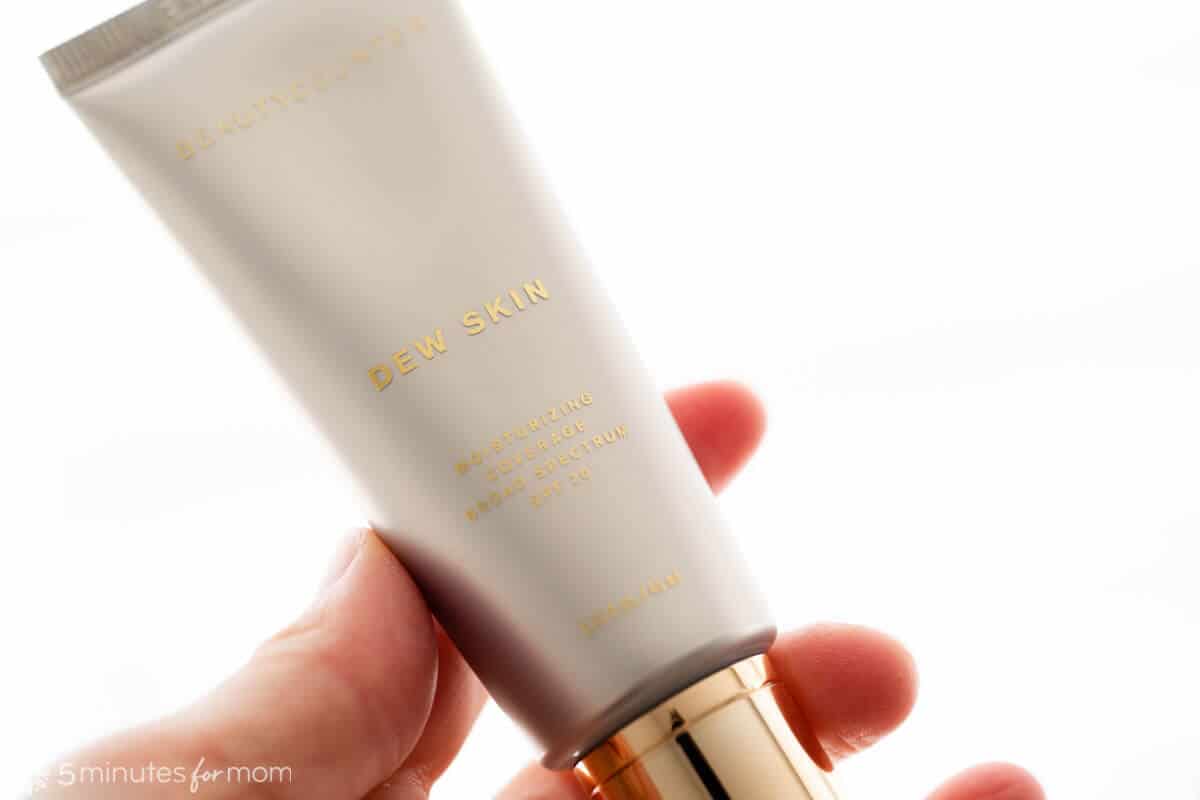 There are so many fabulous-sounding products from Beautycounter! Where do you start?!?
Well, first up, your Beautycounter consultant can help you find your way.
In order to make shopping easier, Beautycounter has divided its skin care lines according to skin type. For example, if you have acne-prone or oily skin you want to use the Countermatch line.
On CynaGlow.com, you can enter your skin type information and receive a personalized skin care plan delivered to your inbox.
Because we all have different skin issues and needs, it is important to understand that what may be a fantastic product to one shopper may be a total miss to another.
Reading online reviews of Beautycounter products can be confusing — some people rave over one product, while others rip it apart.
So when choosing your Beautycounter products, pay attention to your skin type, read up on the product, and ask your consultant for their recommendations.
My top three favorite Beautycounter products are Dew Skin, Countermatch Adaptive Moisture Lotion, and Nourishing Cream Cleanser.
But these products work well for me because I have normal to slightly dry skin. My twin sister struggles with oily skin and so the Dew Skin is too oily for her and she prefers the Countercontrol Cleanser to the Nourishing Cream Cleanser.
And speaking of our personal experiences with Beautycounter products, let's dive into our Beautycounter reviews.
(By the way, I was not the only person testing out Beautycounter for this post. Helping me with these reviews were my 11-year-old daughter Olivia, my twin sister (and co-blogger,) Susan, and my 13-year-old niece, Julia.)
Our Unbiased Beautycounter Product Reviews
I have some good news — we are really impressed with Beautycounter as a company and the quality of their products.
The only drawback is that since Beautycounter is a luxury brand with luxury pricing, we have to limit the number of products we can buy.
We wish the products were priced a little lower OR that Beautycounter increased the amount of product in each bottle, which we would also appreciate from an environmental standpoint.
We understand that it costs more to make products with high-quality ingredients and we understand that the company must be profitable to succeed and to pay its consultants.
But the fact that the company motto is "to get safer products into the hands of everyone" stings when you look at the prices of the Beautycounter products.
As a single mother on a budget, I simply can't afford to buy many of their products.
I WANT safer products for my family. I would buy all of their products if I could. But I can't because the luxury price point is too high.
If Beautycounter truly wants to get safer products into the hands of everyone, they will have to do that either by lowering their prices to give more people a chance at enjoying their safer products or by forcing governments to increase regulations so that one day ALL companies will have to be safer, even the grocery store and discount brands. Because obviously "everyone" can't afford luxury prices.
Of course, there is obviously a big market for high quality, expensive skincare and makeup and Beautycounter's prices are similar to many of the brands at Sephora and department stores. So, if we want to splurge on the good stuff, we will just have to be selective with what we choose to buy.
Beautycounter Countercontrol Collection
Let's start our Beautycounter reviews off with a skincare line that is targeted at acne-prone and/or oily skin called the Countercontrol Collection.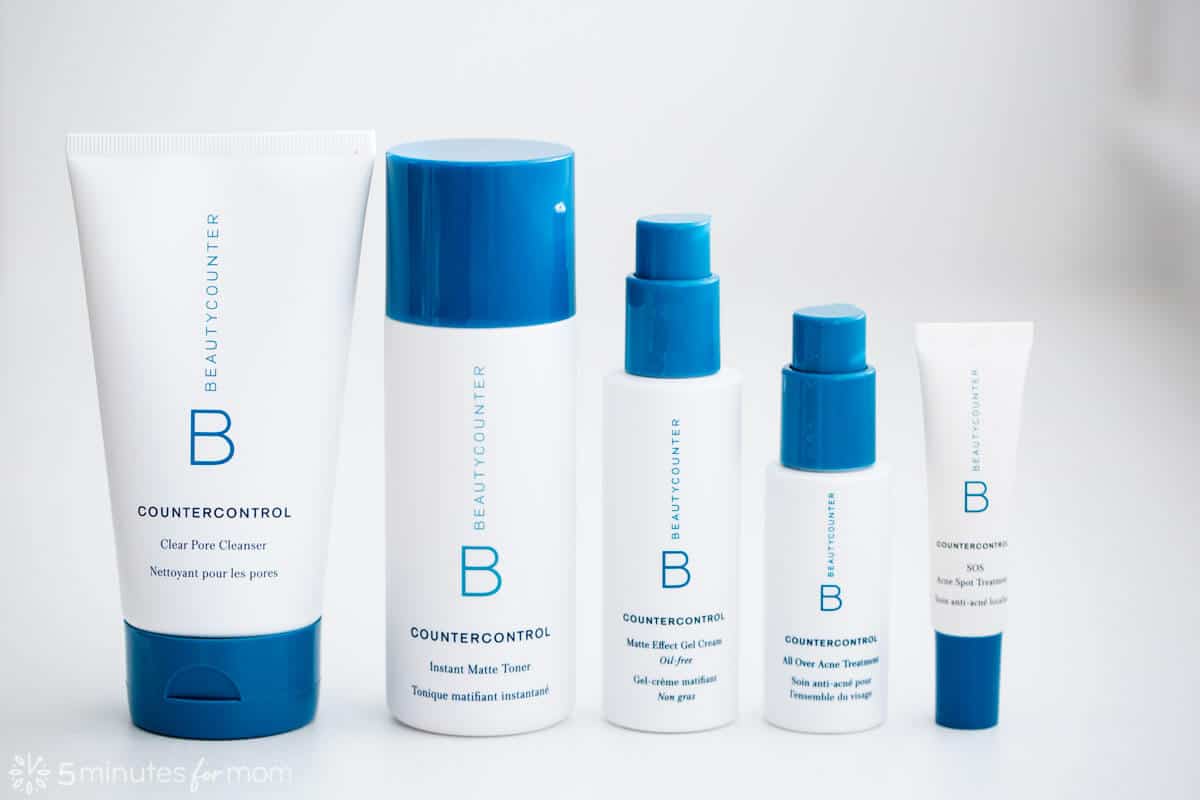 Susan and I have always had sensitive, acne-prone skin and we try to use safe and natural skincare and makeup. Now that we have tween and teenage girls, we want to be sure they are using safe skincare and makeup that helps to control acne and helps them feel good about themselves.
My daughter, Olivia, has been struggling with acne for the last year. While I know that her acne is hormonal and skincare alone will not make it disappear, I do want her to look after her skin as best as possible.
So, Olivia is using the Beautycounter Countercontrol Collection and I have also tested out the Countercontrol Collection to see what I think of it.
Overall, we are happy with the collection and would recommend it for anyone dealing with oily or acne-prone skin.
In Olivia's words, "I love it! And I want you to buy more when I finish it."
Our favorite product of the line is the Countercontrol Clear Pore Cleanser.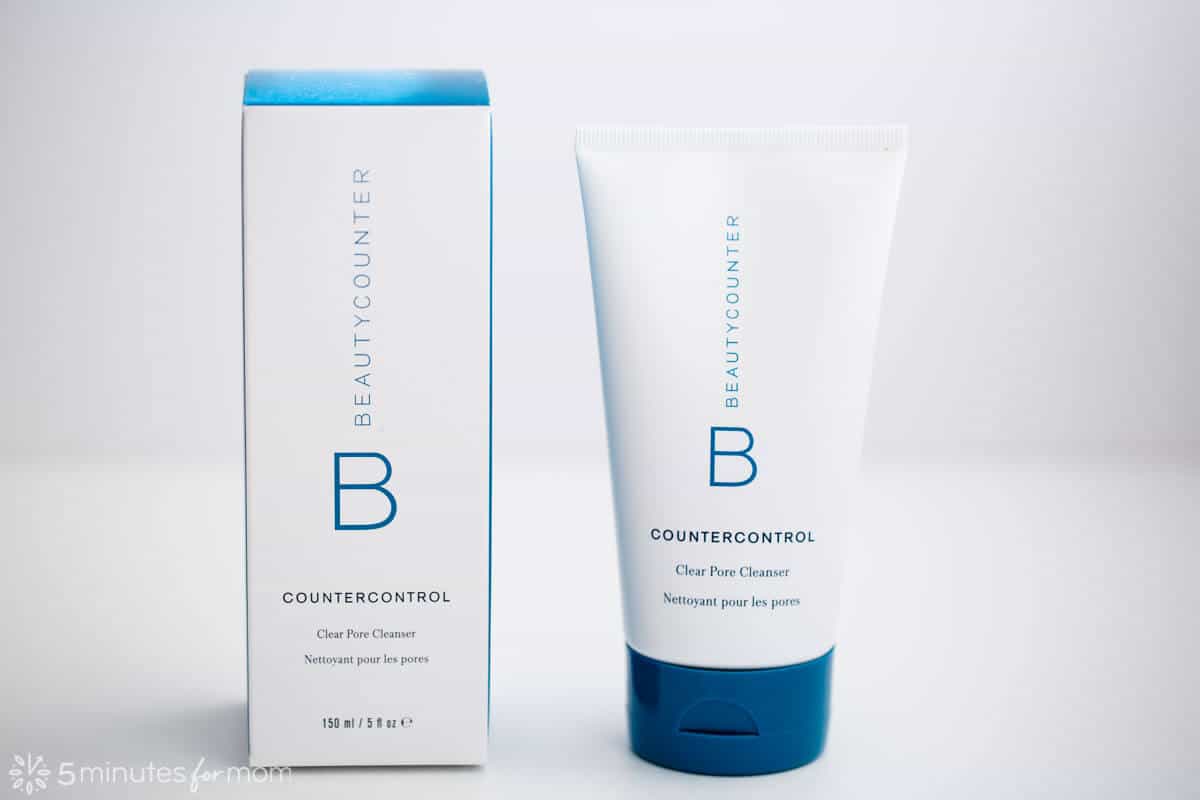 At $26 for 5 FL ounces, it is a reasonable price for a fantastic product. This daily exfoliating cleanser removes makeup well and leaves skin feeling clean and soft.
Susan, who also struggles with oily-skin, used the Countercontrol Clear Pore Cleanser for a week and it is her favorite Beautycounter product that she tried.
We all love the citrus scent, the aloe vera that helps soothe the skin, and the jojoba beads that slough away dead skin cells.
When the sample bottle we received for this Beautycounter reviews post is empty, we will definitely have to buy more of this wonderful skin cleanser.
The Countercontrol Instant Matte Toner is an alcohol-free mattifying toner for oily and blemish-prone skin which we found works well. It is always nice to use a toner after cleansing to remove any leftover makeup or oil and this toner says it helps control oil and minimizes the appearance of pores.
I have to admit, most of my life I haven't bothered with toner. While I do appreciate the benefits, often I skip the cost and the extra step. Of course, it is ideal to use a toner.
The Beautycounter Instant Matte Toner toner is $29 for 5FL ounces.
If you decide to go with the toner, you may want to buy the complete Countercontrol line so that you get a discount on the products. The entire collection costs $140 and is a $155 value if you were to buy the products individually.
Countercontrol Matte Effect Gel Cream is an oil-free cream-to-gel formula for oily and blemish-prone skin. This non-greasy cream hydrates skin with Beautycounter's signature SkinBalance Complex of wintergreen and rosebay willow and without silicone and other ingredients that can clog pores.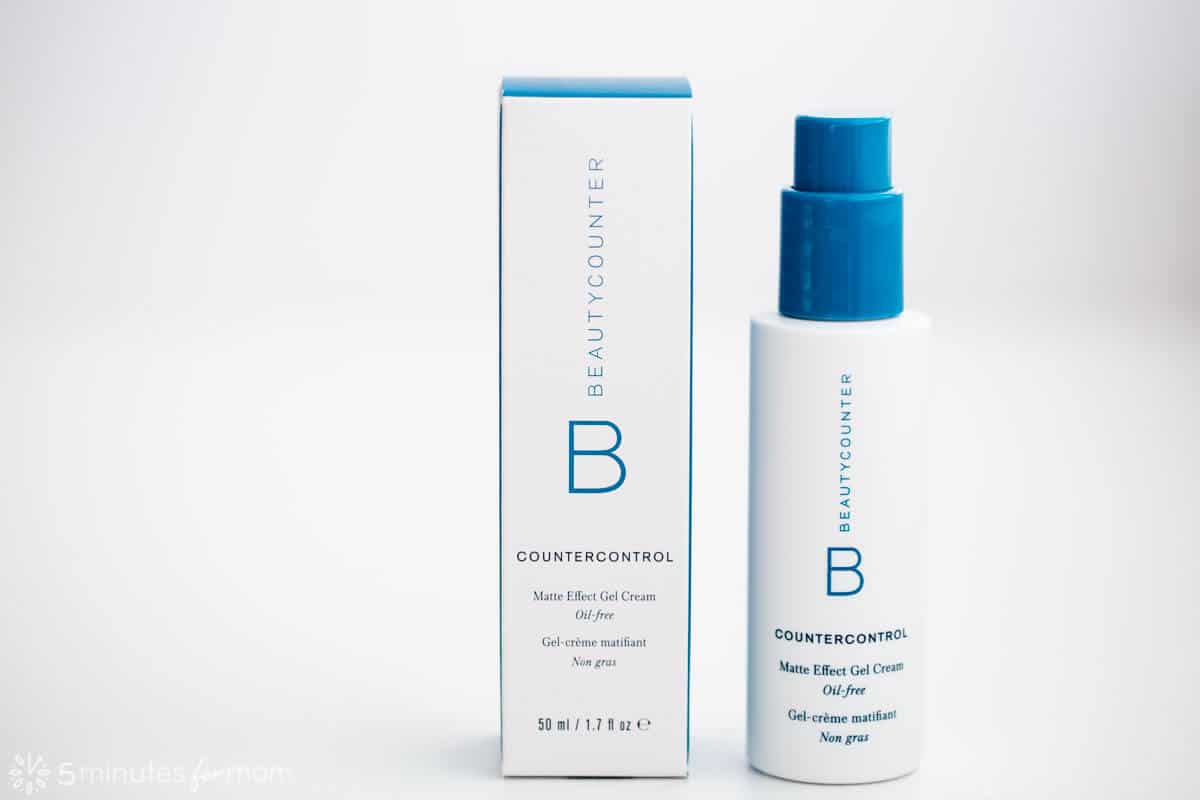 For most of my life, I had oily skin and avoided using any moisturizer. I found most moisturizers I tried felt too greasy and I worried that they would clog my pores.
Had I had the option of the Countercontrol Matte Effect Gel Cream, I would certainly have used it. It is a great option to hydrate skin without adding an oily or greasy feeling.
Countercontrol All Over Acne Treatment is a face lotion that uses Beautycounter signature SkinBalance Complex and plant-based salicylic acid to help clear existing blemishes and prevent future breakouts.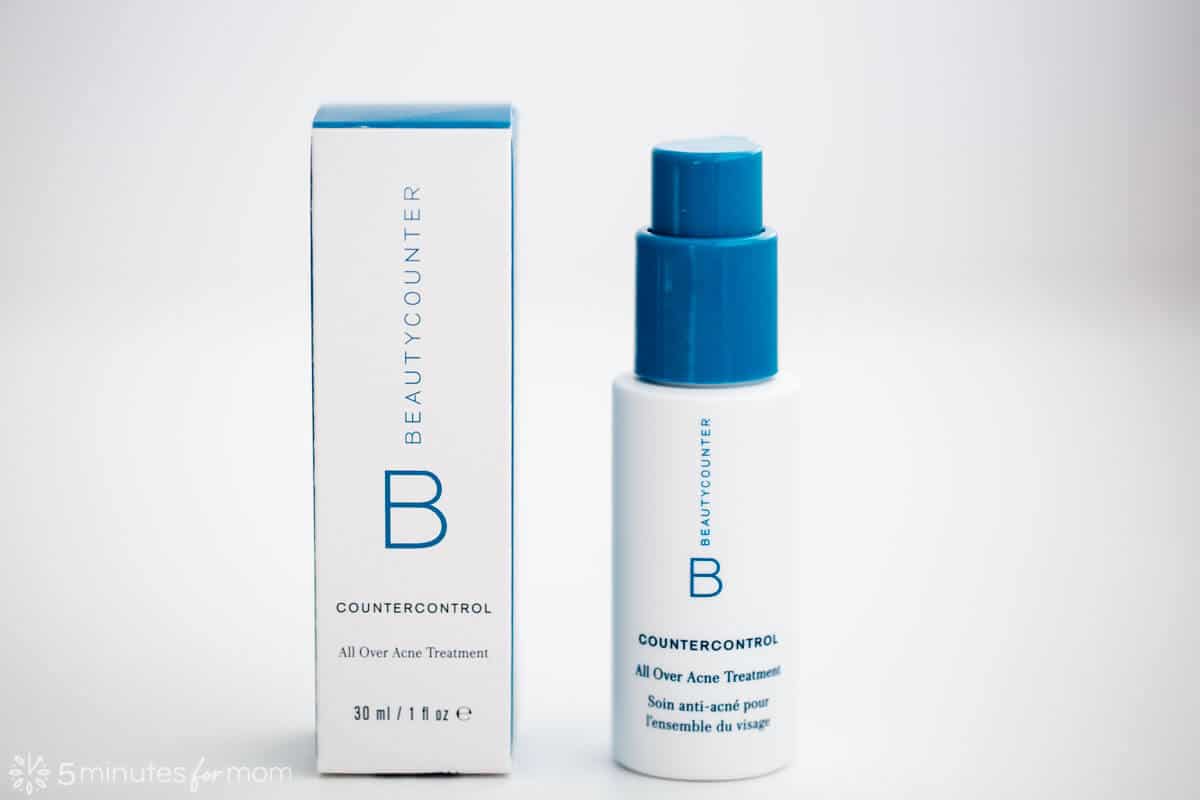 The Countercontrol All Over Acne Treatment wasn't too drying and seemed to work fine. However, since Olivia has hormonal acne, it didn't miraculously fix her acne, nor did we expect it to.
Countercontrol SOS Acne Spot Treatment is a maximum strength salicylic acid formula designed to penetrate pores to reduce blemishes and clear skin. Olivia has been using this on her blemishes. It has not been too drying and so she prefers it to the Retinol that her dermatologist gave her, which made her skin dry and flakey.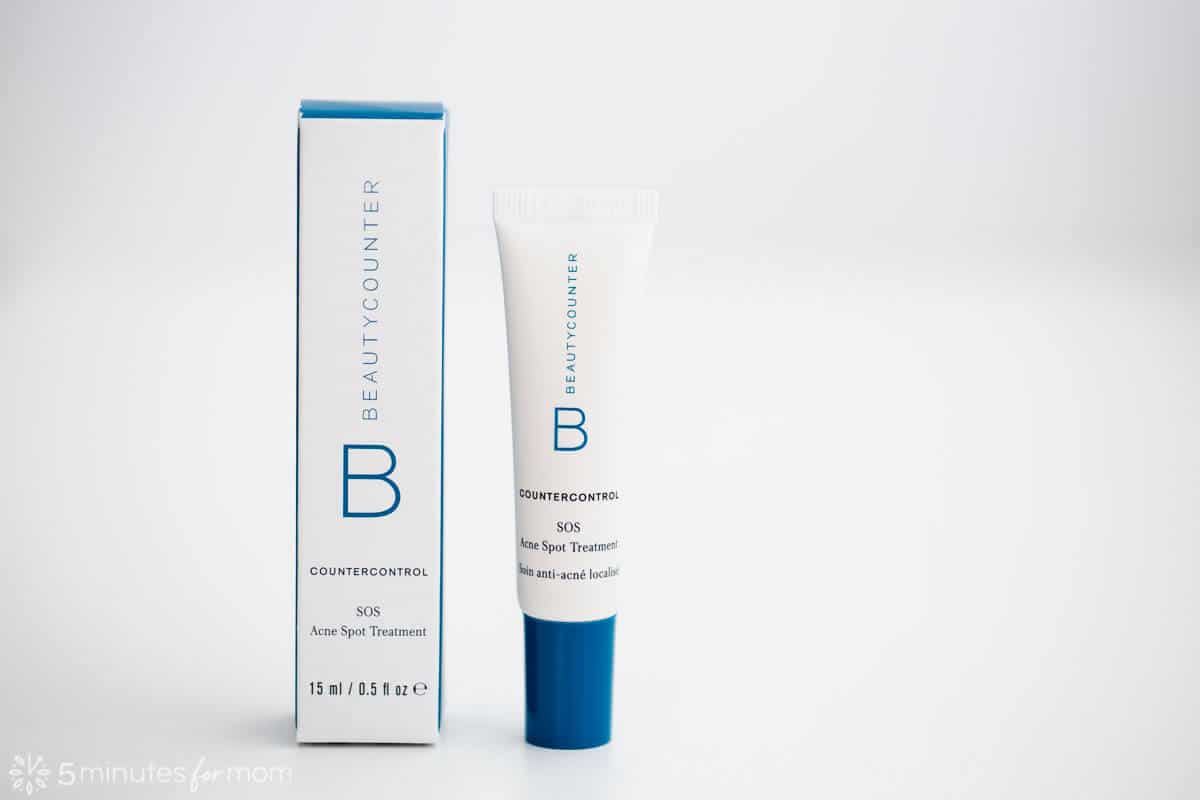 Overall, we recommend the Countercontrol line. It cleans and refreshes the skin, it is not over-drying, it feels non-greasy, and wears well under makeup.
Neither Olivia nor most people experiencing hormonal acne will have their skin completely cleared by topical treatments.
But Olivia really likes the Countercontrol line and didn't have any negative reactions to any product from the Countercontrol line.
For all of us, the standout product from the line is definitely the Countercontrol Clear Pore Cleanser. It is a wonderful, effective cleanser that removes makeup and oil and leaves skin smooth and not dried out.
Tip for Moms with Girls: If your tween daughter is upset about starting to struggle with acne, a fun way to introduce her to the steps of taking care of her skin could be planning a spa day at home and giving her a gift of the Countercontrol line.
Beautycounter Countermatch Regimen
At forty-five, my skin is changing. I have always had oily, blemish-prone skin. But since I have hit menopause early, I now am learning to live with drier skin — and wrinkles.
So for my skin, Cynthia suggested the Beautycounter Countermatch Regimen. So for me to test for this Beautycounter reviews post, she sent me the Countermatch Discovery Set which contains the same products as the Countermatch Regimen but in travel-sized containers.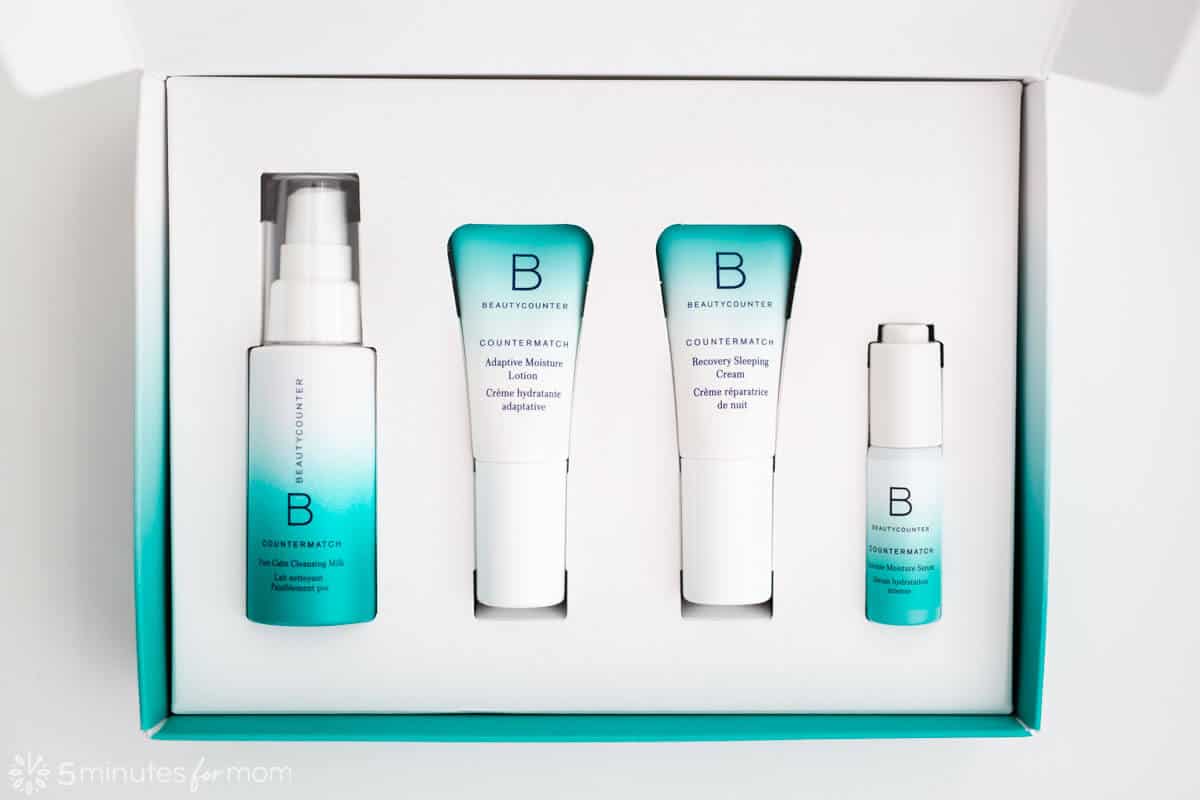 If you want to try out the Countermatch line, the Countermatch Discovery Set is a great way to go.
The set includes the Countermatch Pure Calm Cleansing Milk which is an ultra-gentle cleanser that features Beautycounter's Bio-Mimic Technology, a "unique life-giving properties of plants to match the composition of skin."
I found the Pure Calm Cleansing Milk to be a lovely milk cleanser. It is a silky, conditioning formula that I found worked well as a gentle face wash when I was not removing makeup. So I used this cleansing milk in the mornings or in the evening on nights when I wasn't washing off any makeup or needing a deep clean.
The Countermatch Intense Moisture Serum is infused with two forms of hyaluronic acid to deliver immediate and lasting hydration, while vitamins C (ascorbic acid) and E (tocopherol) provide antioxidant protection. With my dry skin, I really liked this extra hydrating boost.
The Countermatch Adaptive Moisture Lotion is one of my favorite products that I tested from Beautycounter. It is a lightweight lotion, but I found it very hydrating. According to Beautycounter, the Adaptive Moisture Lotion, "Helps skin adapt to the ever-changing aggressors of modern life by adjusting hydration and oxygenation levels throughout the day."
Finally, I was also happy with the Countermatch Recovery Sleeping Cream. Beautycounter describes it as a rich night cream, but I didn't find it too rich. In fact, I found it to be quite light and yet it moisturizes and replenishes well. The Recovery Sleeping Cream is made with With an advanced blend of hyaluronic acid, plum oil (Prunus Domestica Seed Extract), and tara gum (Caesalpinia Spinosa Gum).
Beautycounter Tint Skin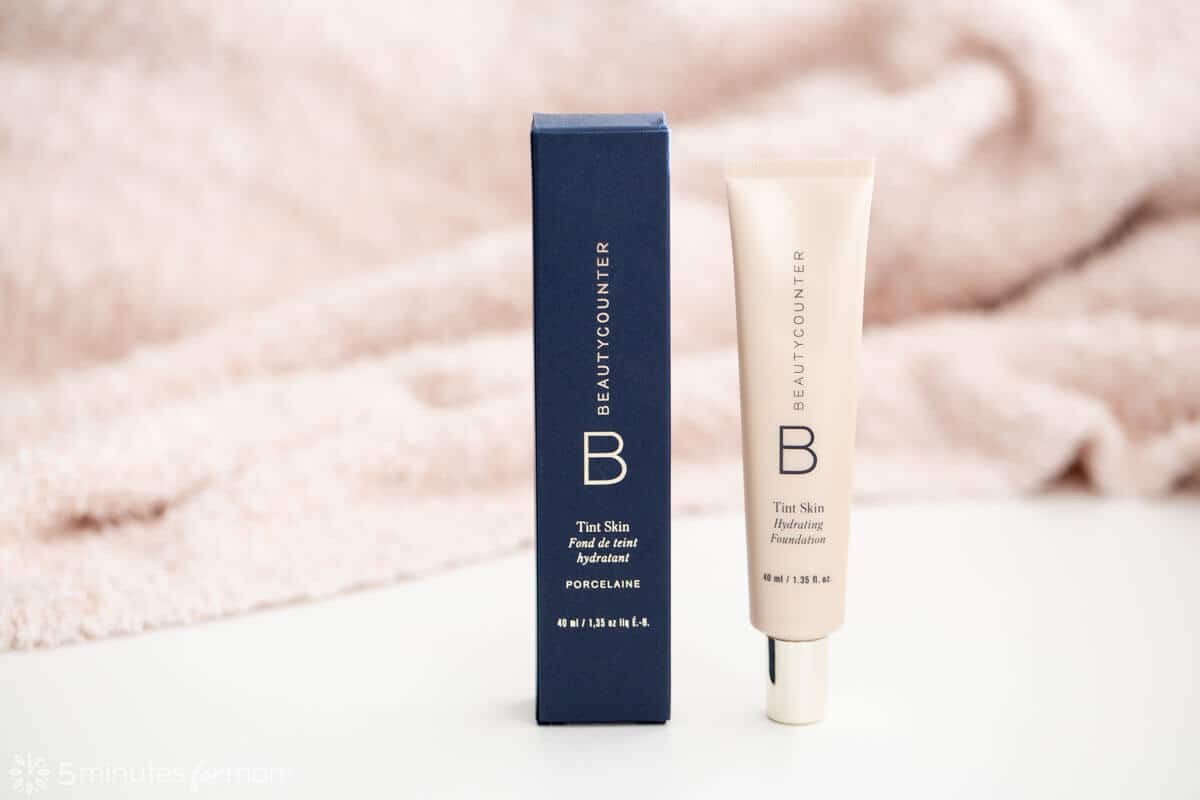 The Beautycounter Tint Skin Hydrating Foundation is a lightweight, creamy foundation that glides on smoothly and leaves a soft, powdery, matte finish.
I don't like cakey, thick foundation, so the Tint Skin Hydrating Foundation is a good option for both Olivia and myself. It is light coverage and blends well. If you want to increase the coverage, it is buildable.
It contains sodium hyaluronate, a natural moisture magnet, to promote smoother-looking skin and reduce the appearance of fine lines and wrinkles.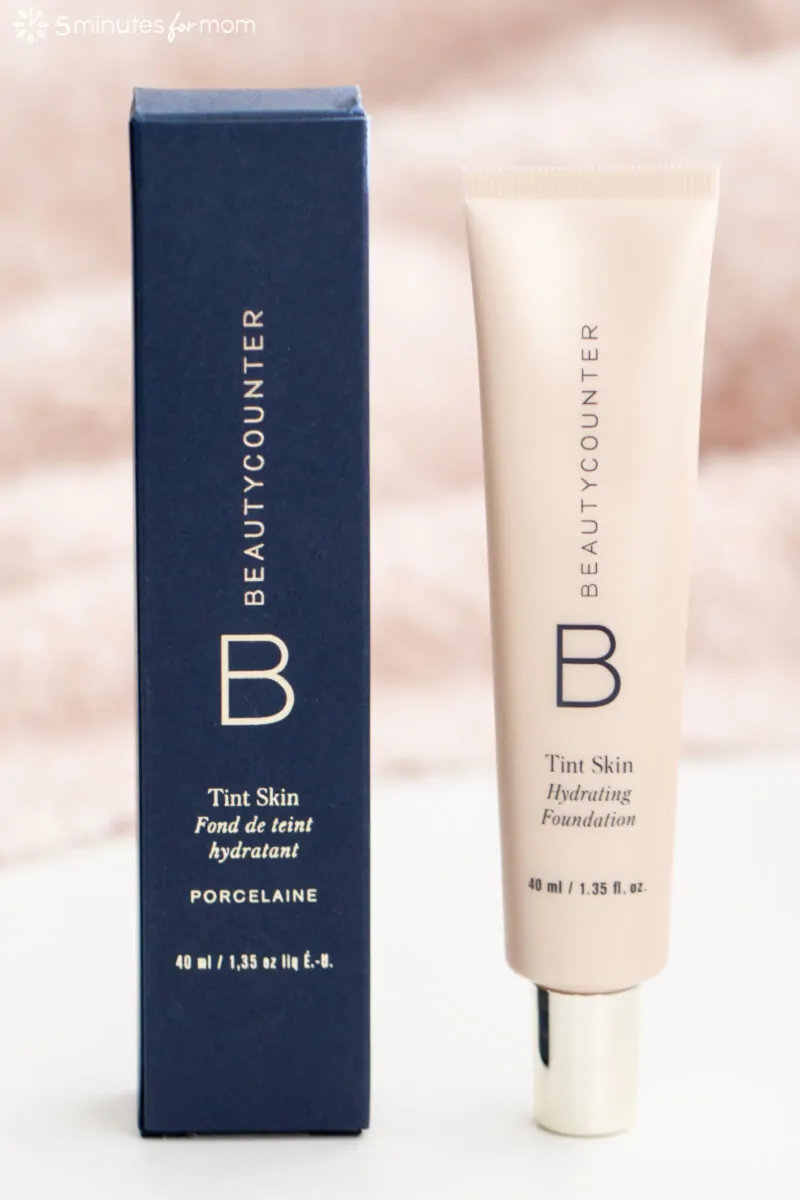 The Tint Skin doesn't have SPF, which I find is a nice option to have when I am putting on makeup to go out in the evening or when I know I will be indoors. I don't like to wear sunscreen if I don't have to.
It comes in ten shades, each of which is formulated to suit a range of skin tones, so Beautycounter says that you don't necessarily have to change shades as the seasons change.
Beautycounter Dew Skin Moisturizing Coverage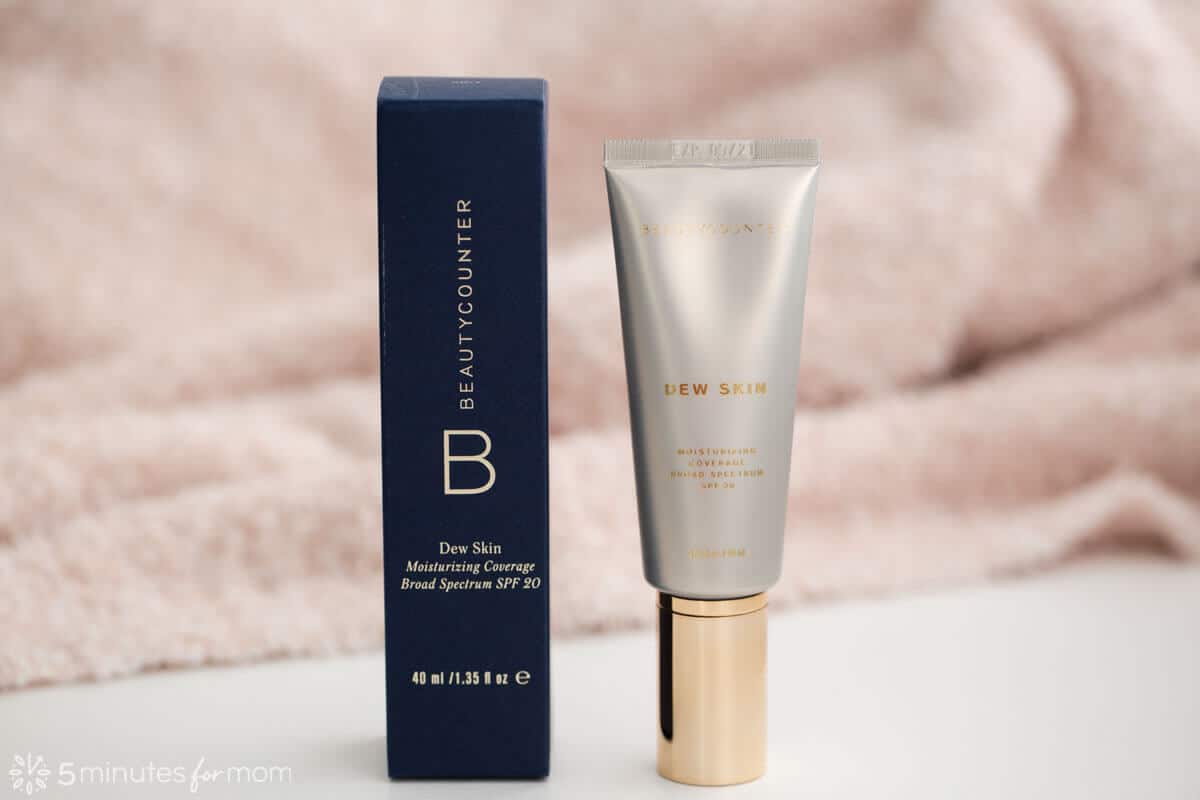 Beautycounter Dew Skin Moisturizing Coverage is a tinted moisturizer with sheer coverage and SPF 20 protection that delivers lightweight hydration and leaves you with a "luminous dewy glow."
It is made with black currant, peony flower root extract, and vitamin C to enhance skin brightness and sodium hyaluronate to promote firmer, smoother-looking skin.
I love the lightweight Beautycounter Dew Skin Moisturizing coverage with SPF 20 protection. In fact, after finishing this Beautycounter reviews post, I will be reordering it before my bottle is finished to make sure that I don't have to go a day without it.
I hate sunscreen and I have struggled to find a BB cream or a foundation with SPF that doesn't make me break-out. I like to keep my morning routine really quick, so a tinted moisturizer with SPF helps me get out the door quickly. So I am really excited about Dew Skin!
If you have oily skin or if you don't think you will enjoy the "dewy glow" this might not be the tinted moisturizer/sunscreen for you. But personally, I love it!
Beautycounter Nourishing Cream Cleanser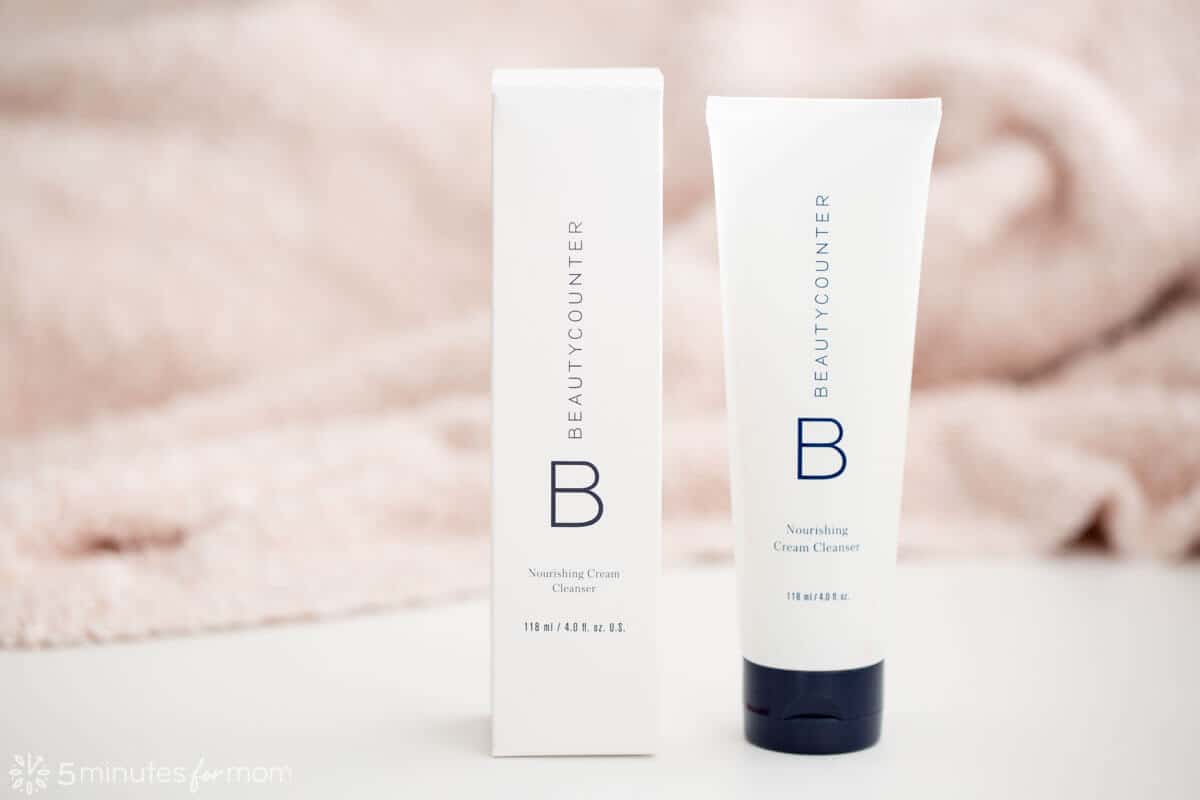 The Beautycounter Nourishing Cream Cleanser is another one of my top favorite Beautycounter skin care products. I felt this gentle daily cleanser removed my makeup well but it was also soothing and moisturizing.
I really appreciate that I can also use this lightweight, creamy formula to remove my eye make up. Also, the Nourishing Cream Cleanser doesn't contain any harsh surfactants or sulfates, and it tones skin with witch hazel and hydrates with coconut oil and aloe.
Beautycounter Nourishing Day Cream
At first, I thought that the Beautycounter Nourishing Day Cream might be too lightweight to deliver enough hydration. But I was wrong. While it is light and quickly absorbs, it does pack quite a bit of moisturizing power.
It is not greasy and works well under my makeup. It is unscented and contains a blend of organic coconut oil, safflower oil, and aloe to for hydration, plus antioxidant-rich acai to protect against dry skin.
Beautycounter No. 3 Balancing Facial Mist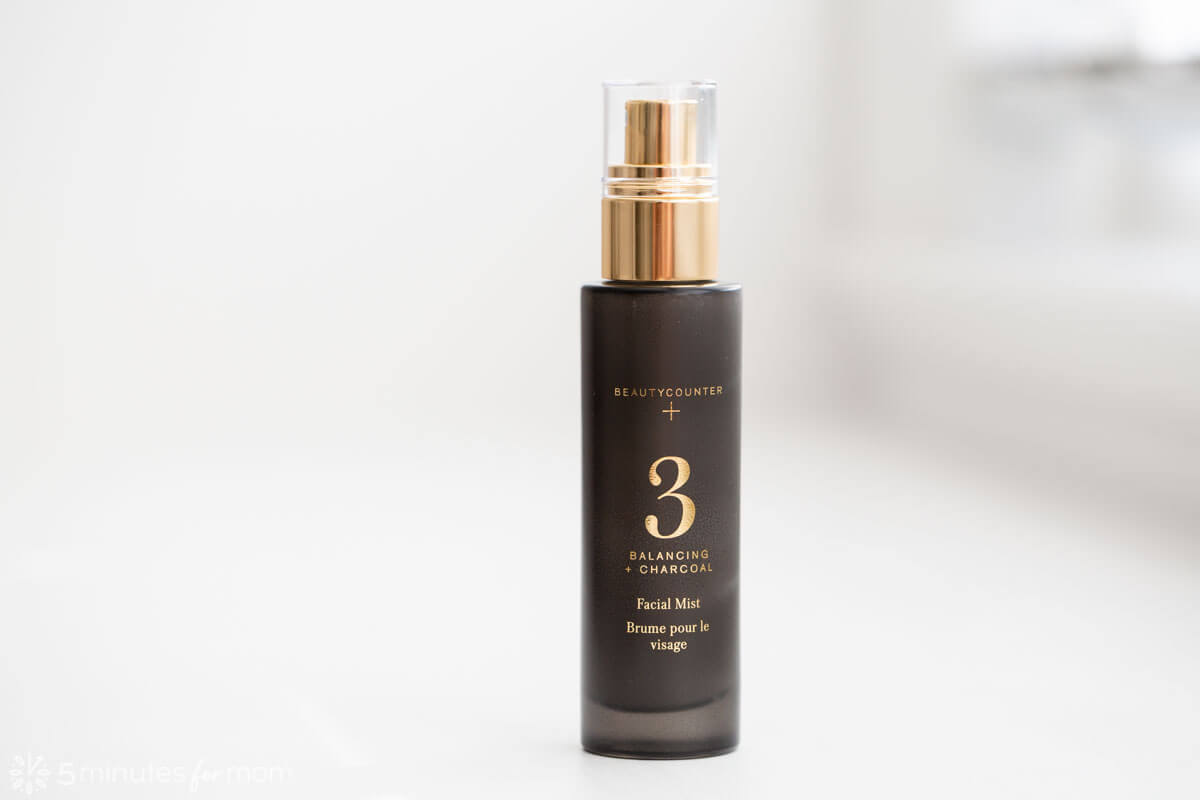 Everyone loves a refreshing, revitalizing facial mist!
The Beautycounter No. 3 Balancing Facial Mist with charcoal powder and kaolin clay absorbs excess oil, refines skin texture, and helps calm redness. You can use this mist to prep skin, set make-up, or refresh during the day.
Personally, I like to use the No. 3 Balancing Facial Mist after cleansing my face and before I put on my moisturizer.
My daughter loves this facial mist and we will definitely be ordering more.
The Beautycounter Controversy — Are Beautycounter Products Really Safe?
Now that we have covered the products part of our Beautycounter reviews, let's dive into a question that has been stirring up a bit of online controversy: Are Beautycounter products safe?
First, before I even begin to answer the question, "Is Beautycounter safe?", let's address how we are defining "safe." If by "safe" we mean that there is no chance, whatsoever, that a product or ingredient could potentially or inadvertently be, or become, harmful, then we are getting into tricky territory.
"Safe" can be a loaded word, a legal promise that could be almost impossible, if not impossible, to offer in the complicated development and manufacturing process of a large line of beauty and skincare products, where there are opportunities for unexpected product contamination, unforeseen ingredient side effects, etc.
There is an element of risk that we accept at all levels of product consumption, from the food we eat to the lotions we use. Unfortunately, it appears that the US and Canadian governments are failing all of us by allowing hundreds of harmful chemicals into the marketplace and not regulating the safety of beauty and personal care products adequately. By simply existing on our store shelves, we assume products are "safe" when many may be far from it.
But, it is interesting to note that Beautycounter itself appears to avoid using the word "SAFE" to describe their products. Instead, Beautycounter markets its products as "SAFER."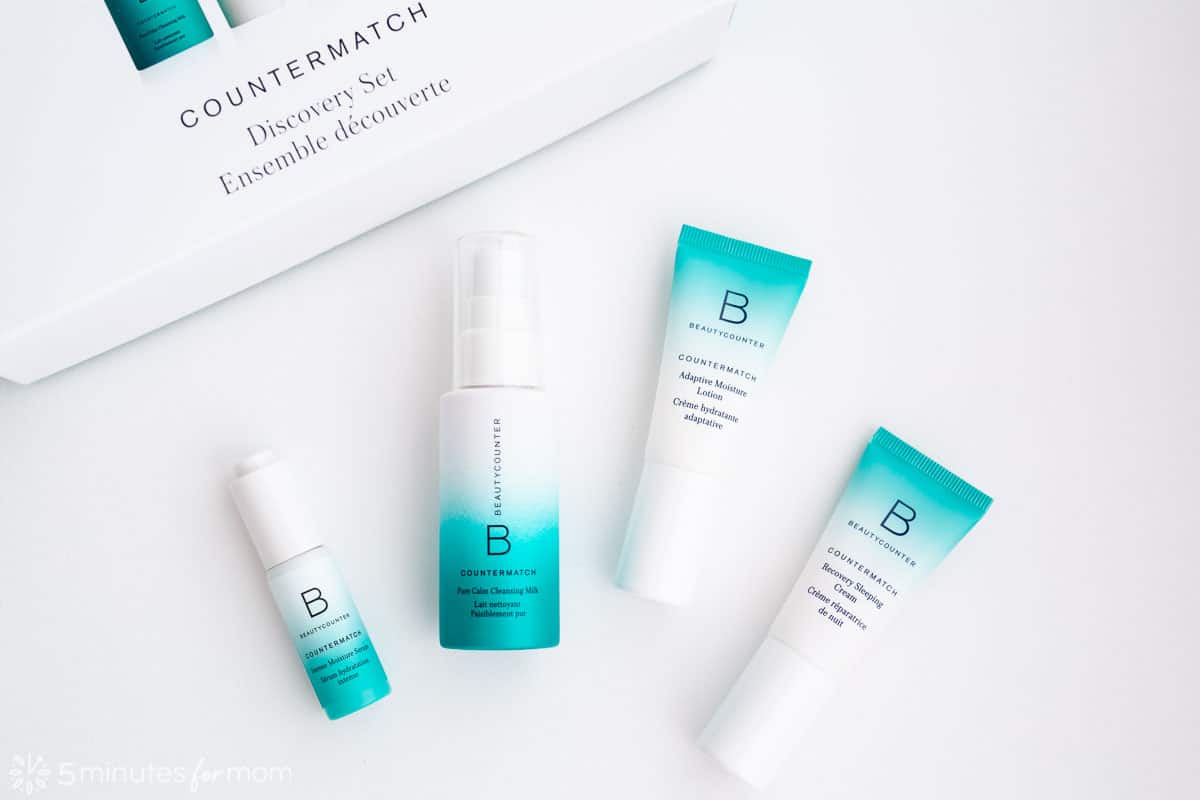 Regarding the safety of their products, Beautycounter asserts: "Using the best available sources, we screen every potential ingredient for information on specific hazards like cancer, developmental toxicity, hormone disruption, and infertility."
So Beautycounter does not promise its products are SAFE, but the company insists they are SAFER.
And no one can argue with that.
Beautycounter's vast lines of skin care, makeup, and bath and body products do indeed appear to be "safer" than the majority of beauty products available.
Beautycounter has created its own standards of safety for their products, creating The Never List™, a comprehensive list of over 1,500 questionable, harmful, or toxic ingredients that the company will never use in their products.
This list includes many ingredients that are commonly used in skin care and beauty products, some that are known to be harmful, and some that are only questionable in their safety, such as:
Formaldehyde – A preservative used in cosmetics that is a known carcinogen linked to asthma, neurotoxicity, and developmental toxicity.
Oxybenzone – A sunscreen agent and ultraviolet light absorber that is linked to irritation, sensitization and allergies, and possible hormone disruption.
Parabens – Used to prevent the growth of bacteria and mold, this a commonly used class of preservatives are endocrine (or hormone) disruptors, which may alter important hormone mechanisms in our bodies.
Polyethylene glycol (PEG compounds) – Used in cosmetics as thickeners, solvents, softeners, and moisture-carriers. PEGs may be contaminated with measurable amounts of ethylene oxide and 1,4-dioxane, which are both carcinogens, depending on its manufacturing processes.
Retinyl palmitate and Retinol (Vitamin A) – This nutrient may damage DNA and speed the growth of skin tumors when used topically.
Sodium Lauryl Sulfate and Sodium Laureth Sulfate (SLS and SLES) – these surfactants may cause skin irritation or trigger allergies. SLES can sometimes be contaminated with 1,4-dioxane, a byproduct of a petrochemical process called ethoxylation.
Synthetic flavor or fragrance – protected under federal law's classification of trade secrets, engineered scents or flavoring agents ingredient lists can remain undisclosed, yet they may contain any combination of 3,000-plus stock chemical ingredients, including hormone disruptors and allergens.
Triclosan and Triclocarban – these antimicrobial pesticides which became commonly used in soaps and toothpaste in recent decades have now been shown to be toxic to the aquatic environment and they may also impact human reproductive systems.
Furthermore, according to Beautycounter, the company is committed to protecting the planet, by minimizing the environmental impacts of their products, packaging, and footprint through sustainable ingredient sourcing and recyclable product packaging.
In addition to its own strict manufacturing and ingredient guidelines, Beautycounter is making a larger difference by advocating for stricter government guidelines and regulations in the personal care industry. Hopefully, as companies and consumers demand more transparency and regulations, all industries will have to move away from using harmful and questionable ingredients.
We did a huge amount of research while working on this Beautycounter reviews post to ensure we heard from all sides of the debate.
It seems to be that Beautycounter products are NOT the "safest" or the most natural and organic personal care products available.
There are some smaller companies that have exceeded Beautycounter's safety and ingredient standards and there are some products available that do not use any synthetic ingredients.
Beautycounter has faced criticism for its use of synthetic chemicals or controversial ingredients such as dimethicone, talc, synthetic colorants, and petrochemicals such as silicone or alcohol.
Beautycounter defends the use of these ingredients on their website in Beautycounter's FAQs section, explaining to consumers their ingredient dilemmas and choices, such as the critical function of preservatives in products that contain water.
Some consumers will decide that Beautycounter does not go far enough in its quest for product safety and that its ingredient standards are not stringent enough.
But for many consumers, the steps that Beautycounter has taken to offer safer beauty and personal care products and to improve the industry as a whole are welcome and appreciated.
As well, Beautycounter does appear to offer a significant amount of company transparency and does seem committed to listening to consumer feedback and working to improve areas of weakness.
In Beautycounter's FAQs, the company also explains to consumers which Beautycounter products are vegan, soy-free, gluten-free, etc.
Is Beautycounter a perfect company? Certainly not. I will argue that just as there is no perfect person, there is no such thing as a perfect company.
But if you appreciate a company that is working to improve the quality and safety standards of their products, as well as of the entire industry, then Beautycounter may be a great company for you to support.
Beautycounter stands by its company record: "We're proud to be a Certified B Corporation, and part of a global movement of brands using business as a force for positive change. We support nonprofits we feel aligned with, and invest in new forms of giving by partnering with leading scientists to find safer ingredients that will create the better products of tomorrow."
Are Beautycounter products cruelty-free?
Beautycounter never tests its products or ingredients on animals and to ensure compliance in their supply chain, the company requires documentation of no animal testing from each supplier from whom they source raw materials.
Is Beautycounter a Pyramid Scheme or a Scam?
Another concern you may have heard about Beautycounter is about its compensation plan. Is Beautycounter a scam or a pyramid scheme?
Pyramid schemes, by definition, are unsustainable and potentially illegal schemes where a company recruits members, promising money or services for enrolling others into the company.
Recruits have to pay large payments to join or buy large amounts of inventory. In pyramid schemes, the bulk of the earnings come from recruiting more members rather than selling products to the public.
Inevitably, as the number of recruits grows, finding more recruits becomes impossible and the majority of members do not profit.
Beautycounter is a Multi-Level Marketing (MLM) company.
The defining marketing strategy of a Multi-Level Marketing (MLM) company is a compensation plan based on non-salaried sales representatives recruiting more sales representatives and then earning commissions on their own product sales and the product sales of their recruited sales team.
While the lines between MLMs and Pyramid schemes can seem a little blurry, one of the key differences is if the focus of the company is on selling REAL products to the public, not building a business based on signing up more recruits/consultants/distributors.
One way an MLM company can work to ensure they do not fall into "pyramid scheme" territory is to not force sales reps to buy large amounts of inventory when they sign up to be sales reps.
Beautycounter does not require new consultants to purchase large inventories and the sign-up fee to become a consultant is only $98 and covers a consultant's website, training, etc.
Of course, consultants do need to buy Beautycounter products to test and use personally, so Beautycounter offers product Starter Sets, marked down by at least 40%, ranging in price from $285 to $765.
Beautycounter trains its consultants to focus on educating consumers about the health and safety of personal care products and emphasizes selling Beautycounter products to the public, not just the business opportunity.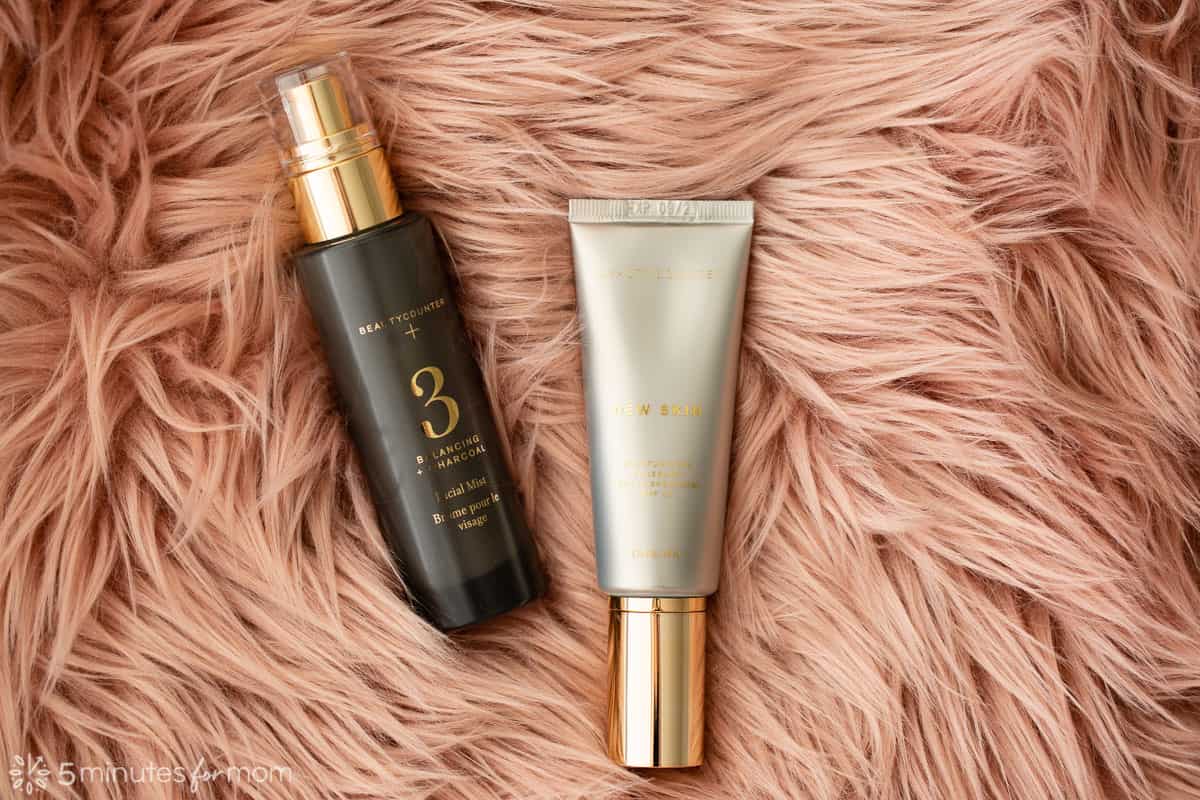 So the answer to the question is: No, Beautycounter is not a pyramid scheme, nor a scam.
Beautycounter is a legitimate, transparent company with a direct retail sales model and a Multi-Level Marketing (MLM) compensation plan.
However, it is important to note that the majority of Beautycounter consultants do not earn a large amount of money with the company.
If you want to pursue a business as a Beautycounter consultant, it is wise to proceed with your eyes open, being honest with yourself about how much money, time, and work you can invest and how hard it may be to return a reasonable profit.
Ultimately though, the opportunity to earn is available and success is up to each individual and their abilities and opportunities.
Have You Shopped with Beautycounter? Tell Us Your Thoughts
After one month of getting to know Beautycounter, testing out its products, reading the website and company materials, researching the company online, and reading other Beautycounter reviews, we are overall impressed with Beautycounter.
It is an MLM company and so if you are considering building a business with Beautycounter you need to decide if that is the right business model for you.
We appreciate that Beautycounter has a straight forward compensation plan, that the company focuses on selling high-quality products to the public, and that the leadership is working on many levels to improve safety and regulations for the personal care industry.
We really enjoyed Beautycounter's products. They are beautifully packaged and seem to be of high quality. We didn't have any negative experiences with any of the products and we fell in love with more than a few.
The price point for these products is in the luxury skincare and makeup price range. We feel like these prices are similar to what you'd find in Sephora or from other high-end skincare lines. Since these are such luxurious products, we think they are lovely gift ideas and the Countermatch Set would make one of the best Mothers Day gifts.
So after testing these 14 Beautycounter products, we plan to purchase several of them in the near future. Our overall top three favorites are the Countermatch Adaptive Moisture Lotion for a hydrating lotion, the Dew Skin Moisturizing coverage with SPF 20 protection, and the Countercontrol Clear Pore Cleanser.
Pin it for Later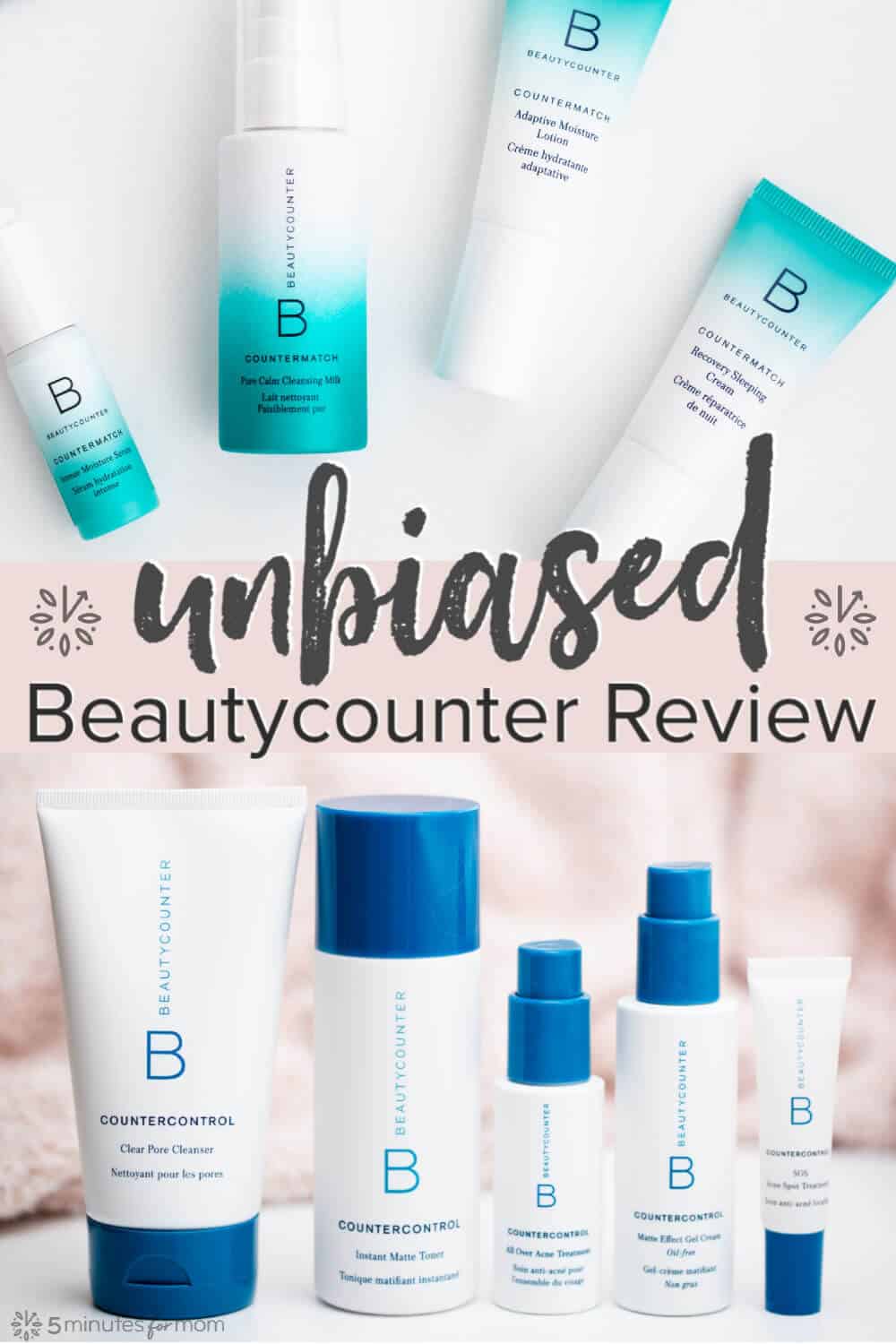 Please note: This post is NOT sponsored and we are NOT Beautycounter consultants, but we did receive sample products for this review.
Written by Janice Croze, co-founder of 5 Minutes for Mom
Talk with me: @5minutesformom and Facebook.com/5minutesformom
Pin with me at pinterest.com/5minutesformom