This post may contain affiliate links. Read my disclosure policy here.
Do you wish you could reduce the amount of sugar your kids are drinking… without a fight? Then you and your kids will love these tips to lower the amount of sugar kids drink and increase their water intake at the same time.
This post is sponsored by Oasis Canada.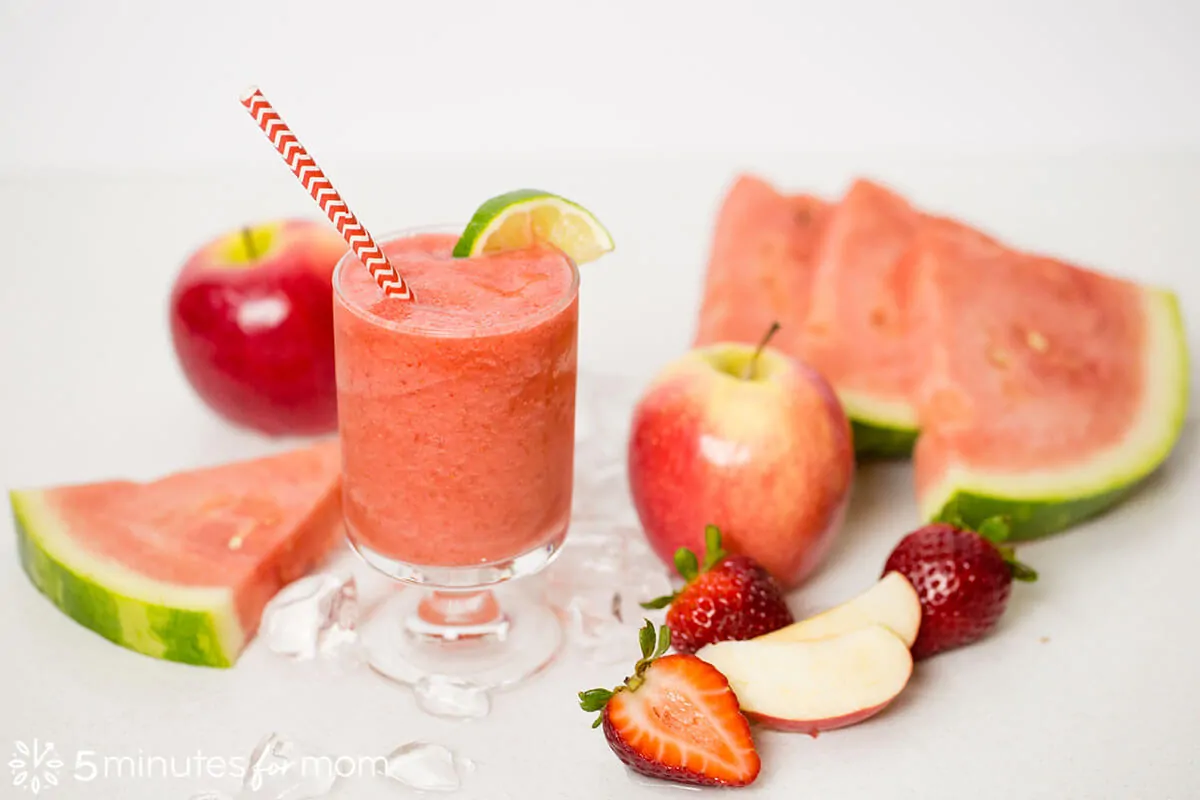 Do you struggle to get your children to drink less sugar and more water? Maybe you also tend to prefer a drink that has some sweetness to it.
Around here, getting our tweens and teens to reduce their overall sugar load is an every day battle.
Kids of all ages love sugar. They crave it. They want flavor explosions.
Unless you catch them in a moment of passionate thirst, that tall glass of water often just isn't talking to them.
Don't get me wrong. I am not giving up training my kids to love plain water as the life-giving, thirst-quenching miracle that it is.
They have water (or milk) at meals and we all always have water bottles with us, wherever we go. Water is our go-to drink.
But I don't want to ban all fruit juice from their lives. So I also have some tricks that I use to satisfy their desire for sweet fruit flavor while keeping their sugar intake under control.
5 Tips To Get Your Kids Drinking Less Sugar
1. Use a Beverage with Less Sugar But NO Sugar Substitutes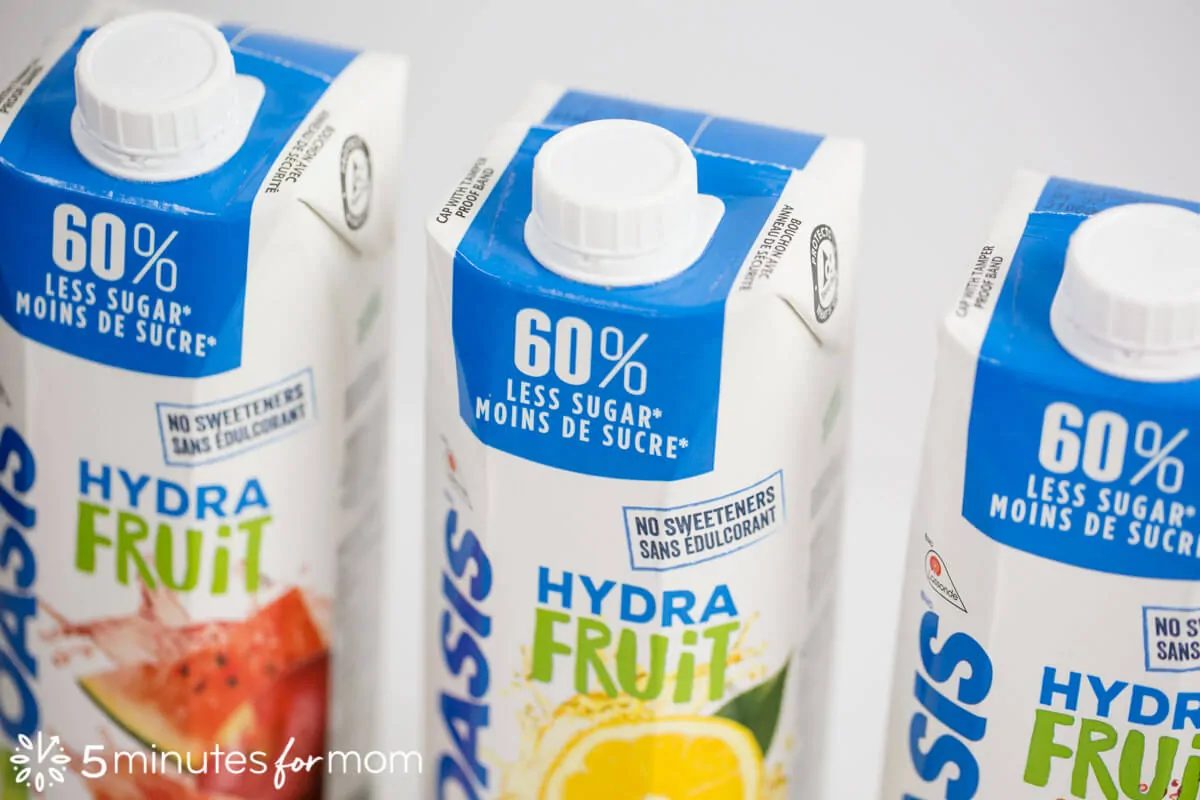 Remember when your kids were little and you could water down their juice and they had no idea what you were doing? With my first child, full-strength juice had rarely touched his tongue until he went to kindergarten.
Of course, my second child didn't have such a strict environment. Sadly, she had far more juice boxes and yogurt drinks than I care to admit.
Now that my kids are older, I can't fill sippy cups with watered-down juice.
So I was thrilled when I saw that Oasis (my kids' favorite brand of juice) has a new reduced sugar option that does NOT use any sugar substitutes.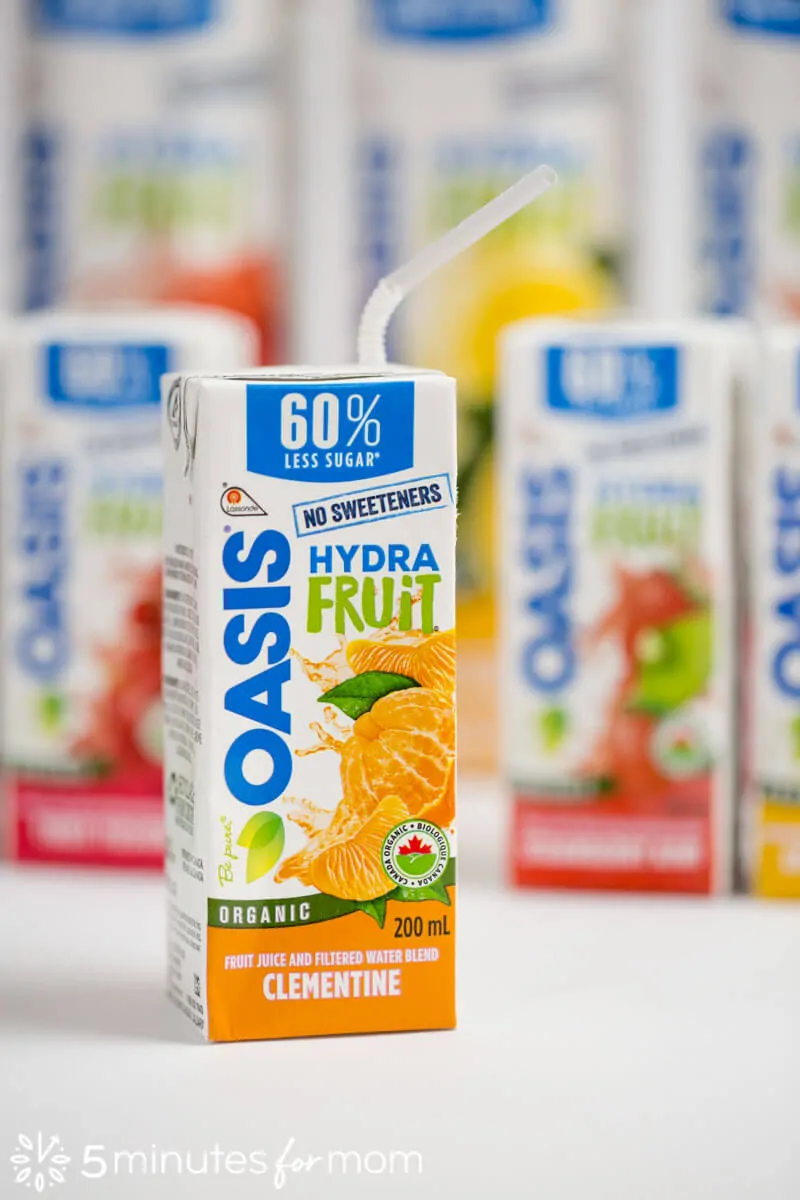 The new Organic Oasis HydraFruit juice and water blend has less sugar but tastes just as delicious as their regular juice. To make their new 60% less sugar recipe, Oasis reduced the sugar by using filtered water instead of a sugar substitute.
Because it has less sugar and more water, I thought it would taste like the watered down juice I fed my kids when they were little. But it doesn't!
We can't even tell the difference. It tastes sweet and satisfying. We have a new favorite drink! My kids told me not to buy anything else from now on.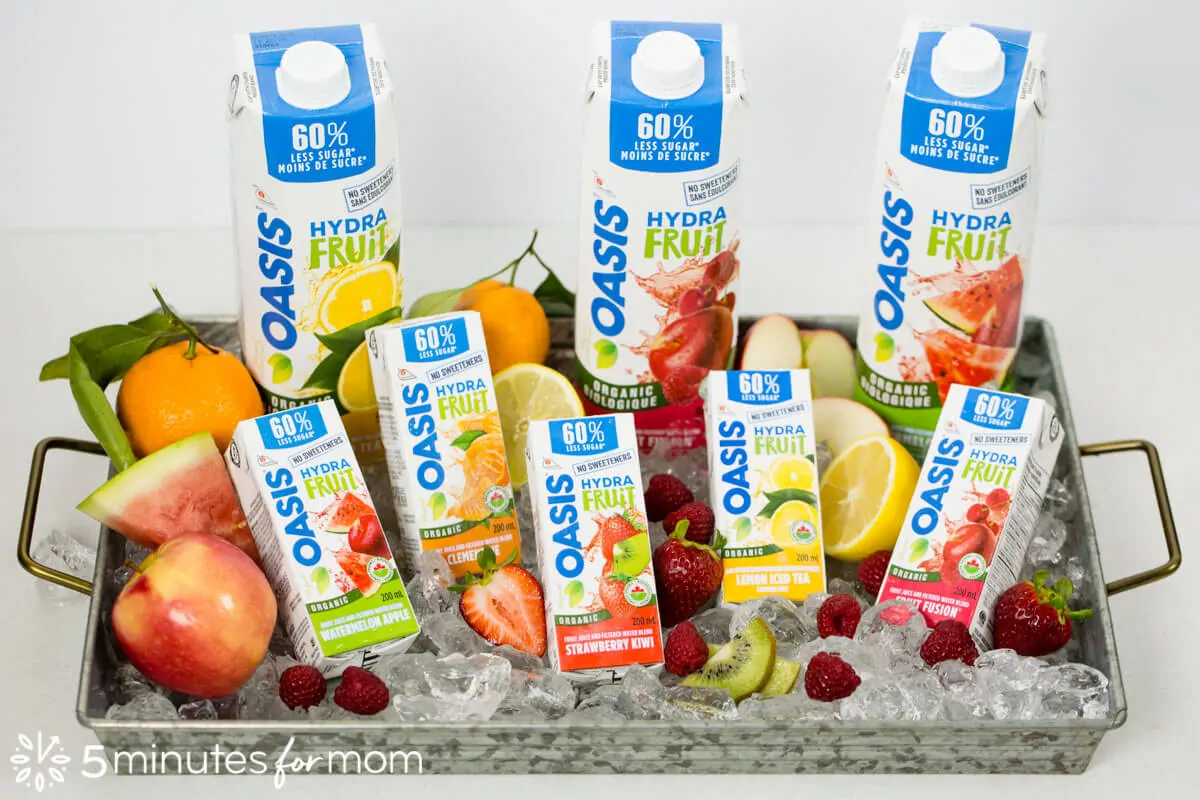 As well, the new Oasis HydraFruit is organic. We do our best to buy organic fruit and vegetables as often as possible, so it is fantastic that these are organic.
We are also all excited that Oasis HydraFruit comes in 200ml juice boxes. Now we can have a lower sugar juice box option for school lunches.
And don't forget you can use frozen juice boxes to keep lunches cold for school and snacks on the go.
2. Make tasty ice cubes
If your kids are just not impressed with the glass of water you hand them, you can add some extra fruit juice flavor fun to their glass with HydraFruit ice cubes.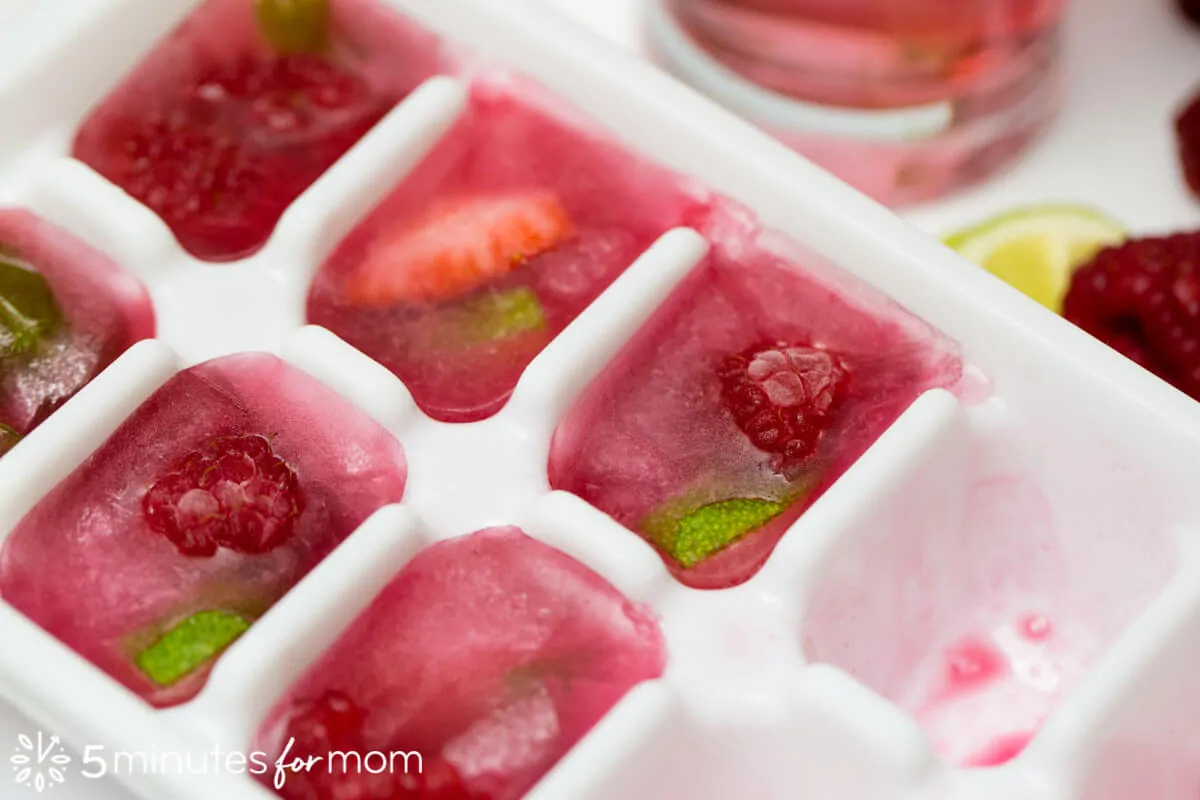 Simply fill up an ice cube tray with Oasis HydraFruit Organic, you can also add some fruit pieces for extra fun, and that glass of water will suddenly become much more exciting.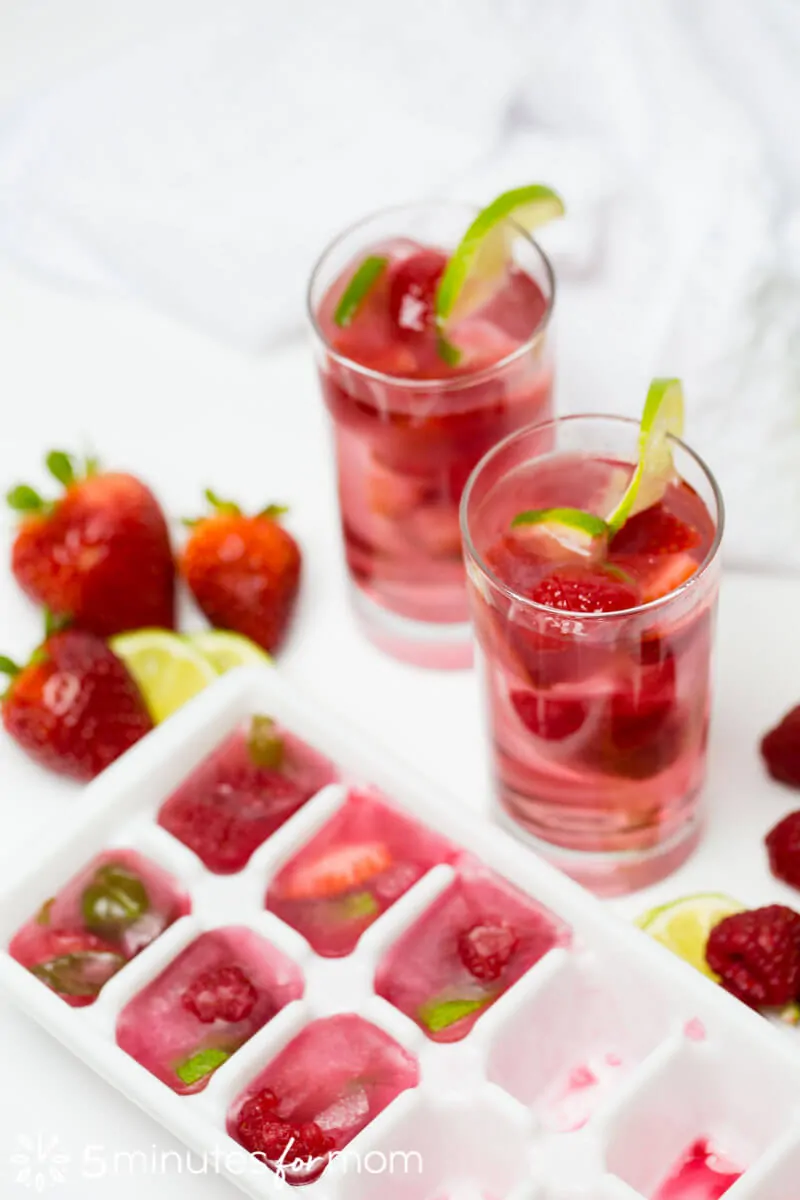 When I made these HydraFruit ice cubes, I was shocked at how much flavor they gave the water. It worked beautifully.
3. Make flavorful spritzers with carbonated water
I have fully converted my tween and teen to the joys of a Club Soda and Lime.
I regularly drink sparkling water with lemon or lime juice and now my kids do too. It is incredible how quickly they got used to drinking sparkling water with nothing more than a spritz of lemon or lime juice.
If your kids aren't quite ready for sparkling water with only lemon or lime juice, you can start them off by adding carbonated water to fruit juice — and add a slice of lime or lemon to make it feel extra fancy.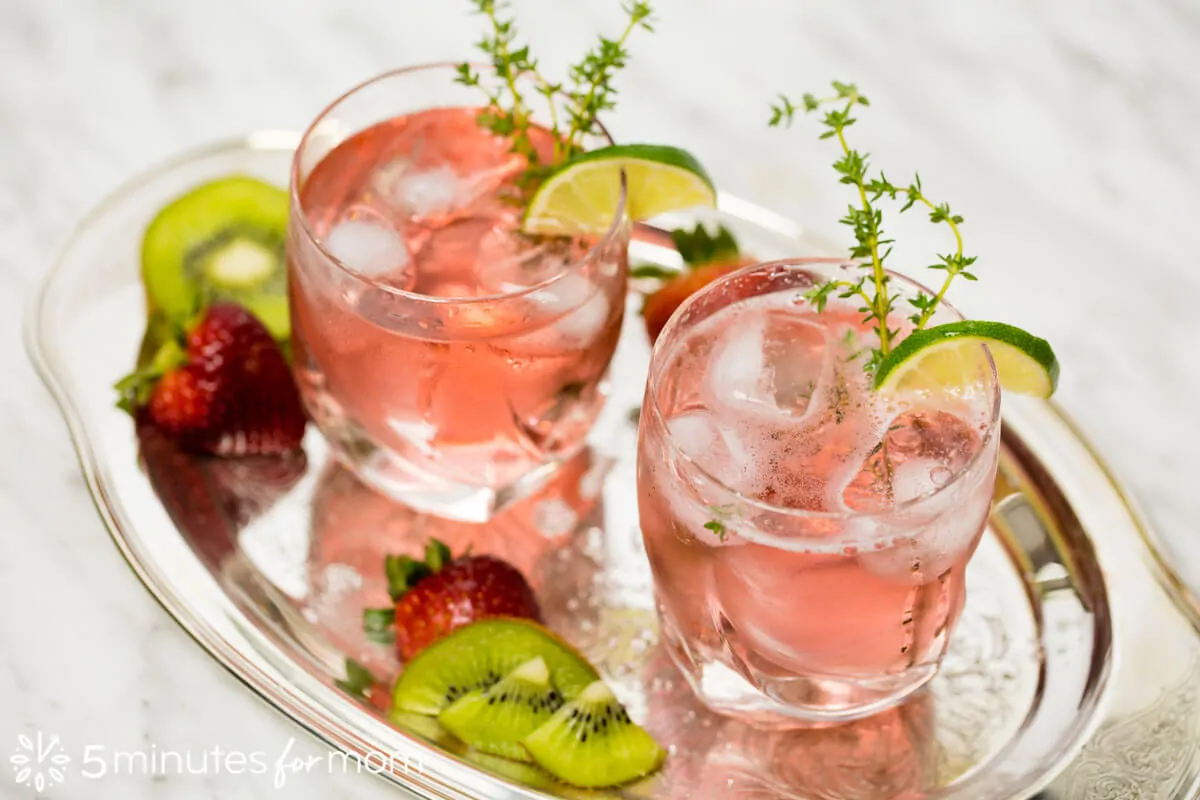 If you use Oasis HydraFruit to make your juice spritzer you will really win since the beverage is already a 50/50 blend of water and juice. (The brilliant thing is that the Oasis Hydrafruit is full flavor so your juice spritzer will still taste fruity.)
4. Make popsicles or cut lid off frozen juice boxes to eat it frozen
Skip the popsicle aisle and make your own.
You can make delicious popsicles with just straight Oasis HydraFruit juice and water blends or you can blend up some fruit and veggies with your juice and freeze.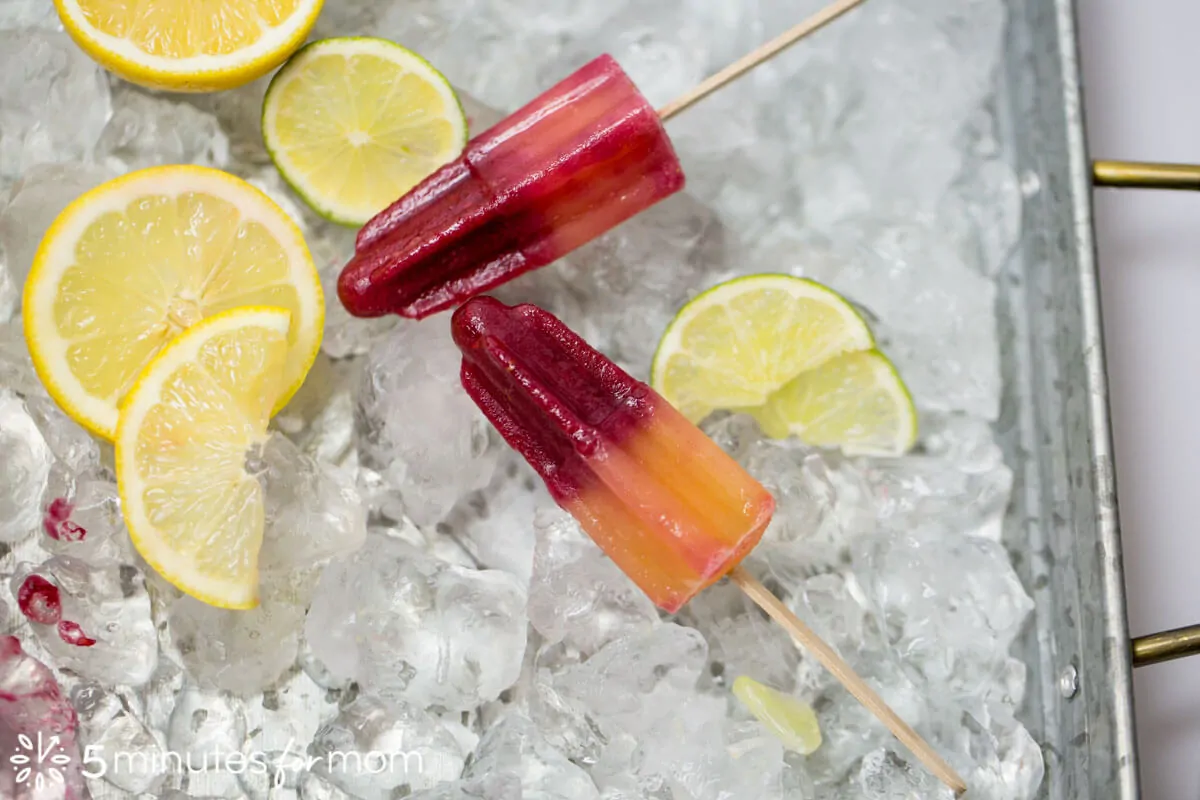 We made these popsicles with a mixed berry smoothie we made with HydraFruit Fruit Fusion and a frozen lemonade smoothie we made with HydraFruit Lemon Ice Tea.
5. Make slushies and smoothies
Everyone loves slushies and smoothies! You simply can't go wrong with a flavor-bursting blend of frozen fruit, veggies, and juice.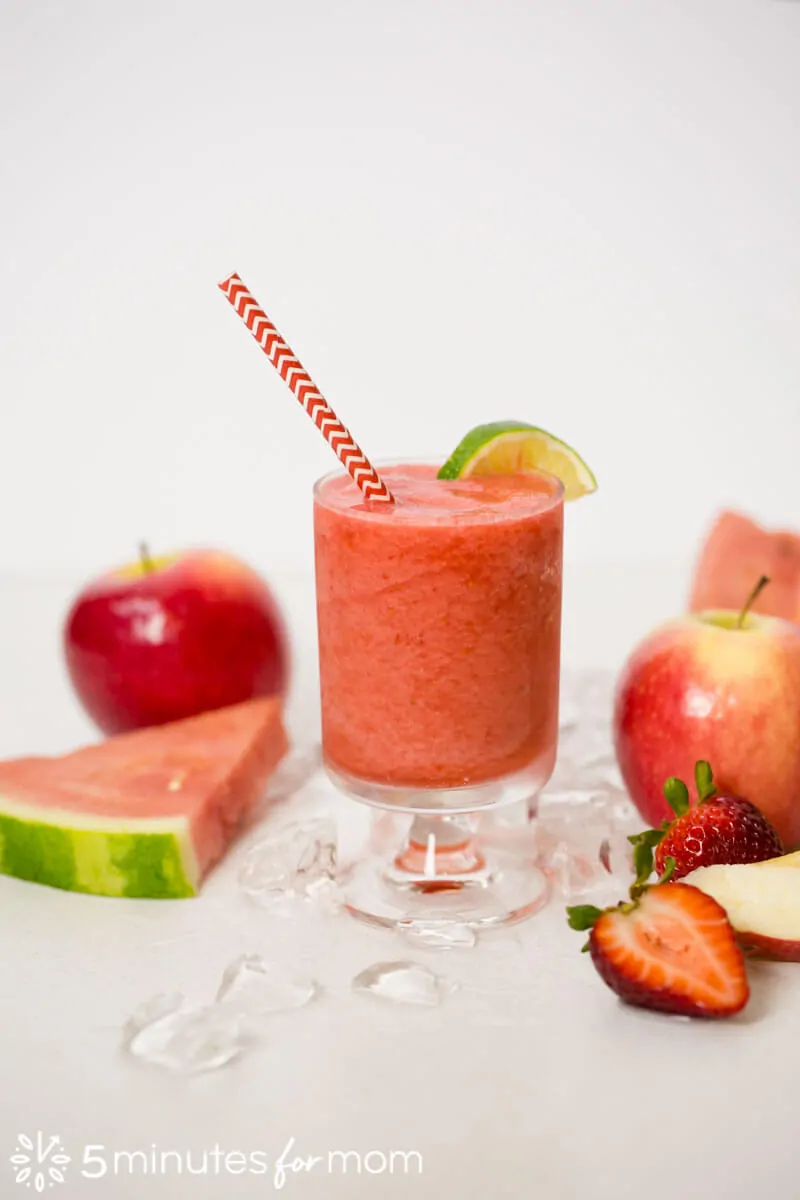 My kids and I are always testing out different blends of slushies, smoothies, and smoothie bowls.
While I often use plain water in my smoothies, my kids prefer when I add fruit juice to their smoothies. The extra bit of sweetness helps mask any bitterness of veggies we have also added.
So I am now always going to use Oasis HydraFruit when I make our smoothies. It only takes about 1/2 cup to 1 cup of liquid in most of our smoothie recipes and with the 60% less sugar in HydraFruit, I can feel good about using it instead of regular juice.
We made a bunch of different slushies and smoothies with our HydraFruit samples and they all were wonderful.
Here is one of our favorites — a Watermelon Slushie which is seriously SO incredible my mother stole this sample as soon as I photographed it.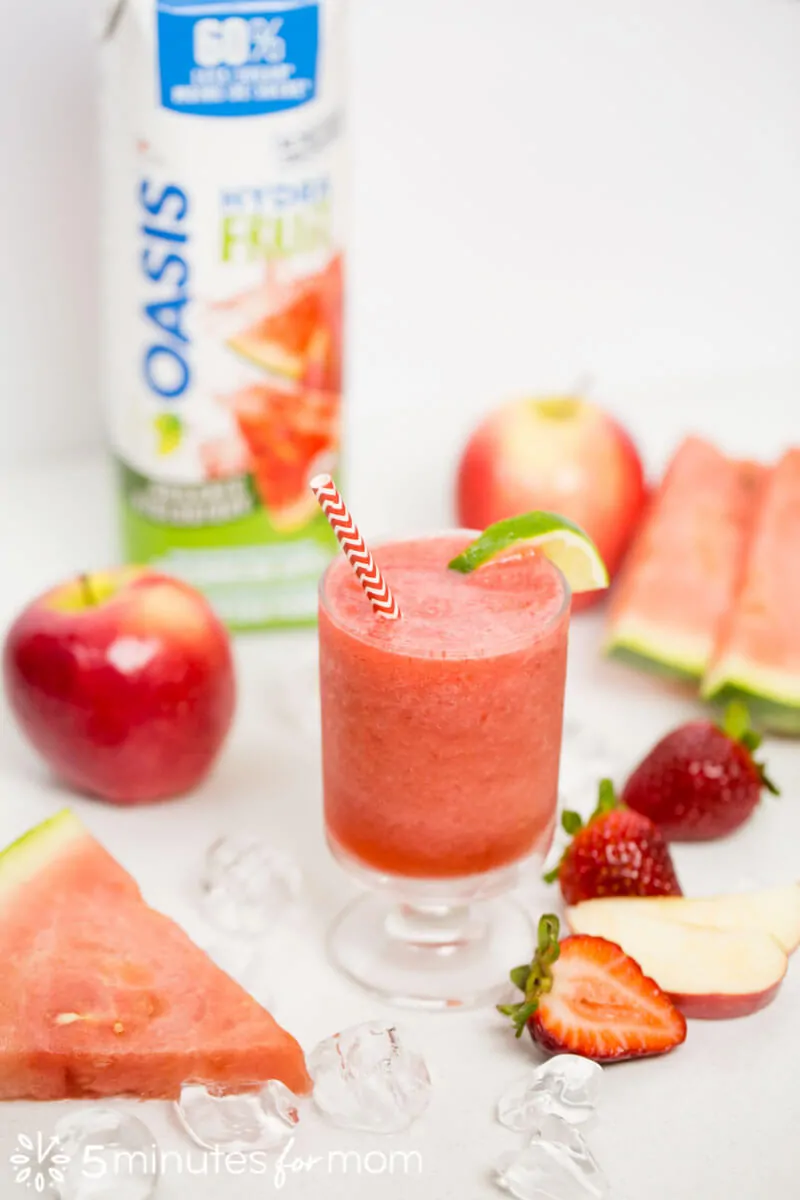 We both agreed it was better than any cocktail mixer that we have ever tasted. So feel free to add a splash of vodka, tequila, or rum, if you want to serve an adult version.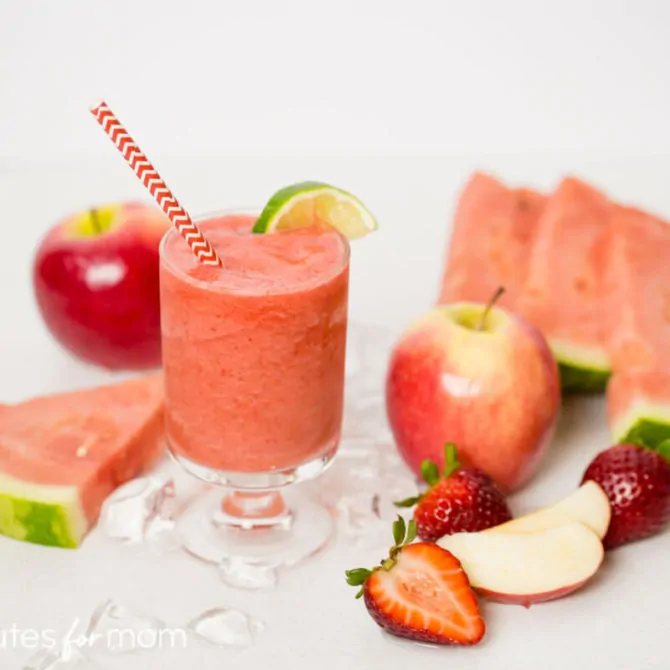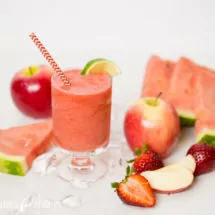 Watermelon Slushie
Flavor-bursting blend of frozen fruit, ice cubes and juice.
Print
Pin
Rate
Servings: 1 glass
Ingredients
1 cup Oasis HydraFruit Watermelon Apple
1 cup ice cubes
1/2 cup frozen strawberries
1 tsp honey optional
1 tsp lime juice optional
Instructions
Add ingredients to blender and blend until smooth.

Garnish with slices of lime or watermelon
Pin it for Later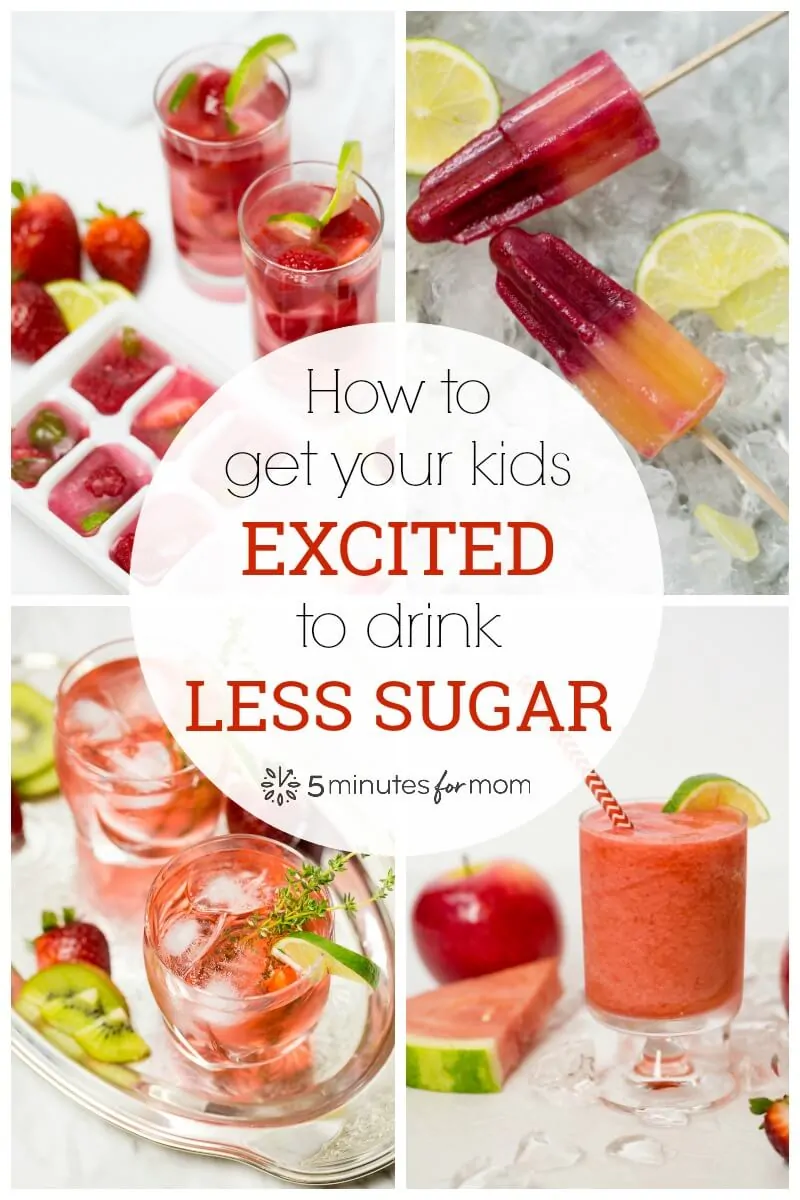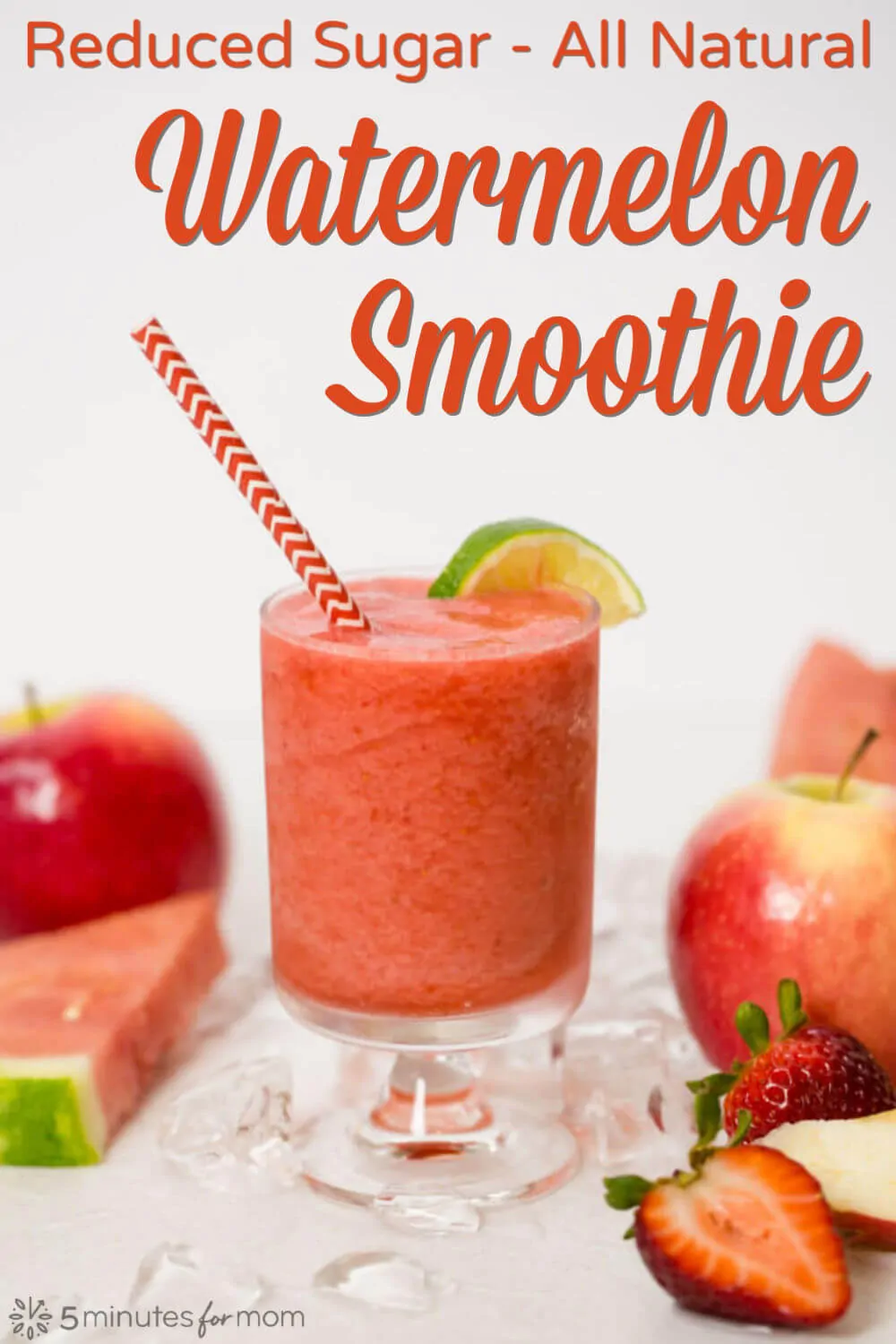 Disclosure: This post is sponsored, so extra thanks for reading and sharing.
Written and photographed by Janice Croze, co-founder of 5 Minutes for Mom
Talk with me: @5minutesformom and Facebook.com/5minutesformom
Pin with me at pinterest.com/5minutesformom