This post may contain affiliate links. Read my disclosure policy here.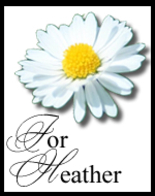 As most of you know, our dear friend Heather was diagnosed last week with a brain tumor.
And since our little neck of the blogging wood is such a loving, wonderful place – bloggers are rallying together to send Heather and her family some love! Jada and BooMama have organized a day of love for Wednesday, April 18th. Please head over to BooMama's post and read all about the special day.
And to add some extra momentum, I Should Be Folding Laundry, has added a huge prize giveaway to all the participating bloggers who link to BooMama's post on April 18th and add the For Heather button to their blog. Head over to I Should Be Folding Laundry to read more and sign the Mr. Linky. The list of prizes is growing with bloggers and businesses adding prizes. (We have donated a prize from one of our stores too.) It should be a great prize draw!
When I started blogging, I was so surprised to find such a wonderful community of caring friends. To know that we are not alone in the world – that there are people all over the world thinking and praying for us – means so much! I am so glad that Heather has this incredible support lifting her and her family up in this terrifying time.
A huge thanks to Jada, BooMama, and I Should be Folding Laundry for spearheading this project! (I also want to send thanks out to Jenn from All Natural Mommies, who although she barely knows Heather, also emailed us with the idea of organizing a fund raiser to help out with Heather's financial needs. But, thanks to the the other girls, the plan was already in process. Jenn that was really thoughtful of you!)