This post may contain affiliate links. Read my disclosure policy here.
Alice.com has partnered up with GoodGuide to make "green" shopping easier for you!

Ah, Christmas time! The busiest shopping season of the year! Honestly? I love it!!! I love being amongst the hundreds of other shoppers, taking in the holiday sounds and smells, searching for the best deals. And then…finding that perfect gift!!!
That's how I feel about my Christmas shopping this time of year, but my everyday shopping…that's another story! When I have to run out to the store to pick up more laundry detergent because, of course, I ran out and have two more loads to go, I really REALLY don't want to battle all of those people and all that traffic!
So this Christmas season I will definitely be utilizing the magic of Alice.com!!!
You've heard us go on and on about how much we love Alice.com but if you are still unfamiliar with what Alice.com is exactly, you can get all the details here.
In short, Alice.com is an amazing place to shop for those everyday costumer products like toilet paper, deodorant, and batteries.
In addition to all of the amazing features (like FREE SHIPPING, yay!), when you shop at Alice.com:

you can see how the products you are selecting rate on health, the environment and social responsibility

any coupons valid for your products are instantly applied

you automatically know if those products have good reviews
I often struggle, when shopping for household and personal products, with finding the best products for my family's health and for the environment without spending hours and hours doing research. Let's face it, I don't have a lot of extra time. Thankfully Alice.com has partnered up with GoodGuide to do all that work for me, and you!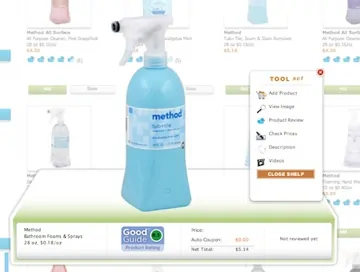 When you shop on Alice.com, you can now see the GoodGuide's independent health, environment and social responsibility ratings for everyday items such as cereal, cleaning products and baby shampoo! You can also learn about what's really inside the products you're shopping before you purchase them!!!
Check out an example of the GoodGuide rating on this Suave Kids Shampoo. Notice that all the ingredients are listed right there for you!
Just when you thought your online shopping couldn't get any better, Alice.com, with the help of GoodGuide, makes shopping green even easier! I can't wait to see what Alice.com comes up with next!!!
Note: We have affiliate links for Alice.com, but we are sharing this info about their work with GoodGuide because we thought you might want to know! 🙂