This post may contain affiliate links. Read my disclosure policy here.
Okay, ladies, we purchase so many products online these days, because admit it, it makes our lives easier.
So why is it that when it comes to things we really need, like toilet paper and diapers, we find ourselves making last minute trips to the grocery store, with our cranky kids in tow, after discovering that yes, the toilet paper is all used up and the only diaper left is the soiled one that the baby is currently wearing?

Or if you're like me, sometimes you even make your emergency Wal-Mart run at 11:00 P.M., while the kiddos are in bed, only to find yourself struggling to maneuver the shopping cart around the crates of items that are being stocked on the shelves.
But guess what? There is an easier way.
An incredible new site, Alice.com, is here to save us all. Think of it as Netflix, but for consumer packaged goods – things like toilet paper, toothpaste, dish detergent.
In fact here are 7 ways in which Alice.com will make your life a whole heck of a lot easier:

Get free shipping with every order
Manage and automate your life – Alice is a service, similar to Netflix, that makes it very easy for you to manage and automate this entire category of goods so you never run out.
Use budgeting and advanced planning tools – Alice let's you plan your purchases, helping you budget and focus your spending, and avoid impulse purchases at the store
Take advantage of competitive prices – In addition to always free shipping, Alice's prices are competitive with the traditional mass retailers.
Get coupons applied automatically – Alice has a completely new couponing system. They automatically find and apply coupons for you on thousands of products, making it easy to save even more without any extra effort.
Save time and eliminate store trips
Find all your favorite brands
I have to tell you, I was blown away by Alice.com. Their site design is perfect and very easy to navigate. I also love the little blue ducks on the site, seriously very cute (you'll see what I mean, once you head on over).
Once I set up my free account -all accounts are free – I started picking the products in each room in my house that I use the most – diapers, soap, laundry detergent, pens, cereal. I was able to select the items and brands that I wanted, searching by name, price and even coupons available. I then told Alice.com how often I wanted to be reminded to order each product (with options ranging form every 2 weeks, to every 6 months).
Once my cart was filled with the items that I needed right away, I began the check out process. And I LOVE that there is free shipping, always!
When I went back the next day, I was able to check on my order and also take a look at a budgeting pie chart so that I could see my average monthly spending broken down by room.
I am beyond impressed with Alice.com. It's ingenious, it really is. And really, doing my shopping with a few mouse clicks, beats emergency trips to the grocery store, hands down. Thanks to Alice, I will never run out of toilet paper again.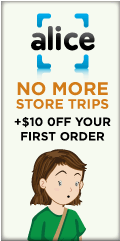 Now, you need to run, not walk, over to Alice.com and create your free account. Start selecting your favorite products, browse the available coupons and start managing your product planner, so Alice can remind you when certain things may be running low.
You're going to love Alice.com, I promise. Alice is going to become your new best friend!
You'll love Alice even more, when you receive a $250 shopping spree at Alice.com. Yes, two lucky readers will receive a $250.00 gift card to be applied toward purchases at Alice.com.
To enter just leave a comment below. Don't forget you can earn additional entries: subscribe to our Feed, sign up for our 5M4M Newsletter, add our 5 Minutes for Mom button in your sidebar, write a post and link back to this contest on your blog, and spread the word via Facebook, Twitter, or email! (Just make sure you leave extra comments letting us know. Your comments are your entries.)
Please see our site's Terms and Conditions of Use for a complete list of our contest and giveaway rules.
This giveaway is open to US shipping addresses only and will end on Friday, July 3rd. We will announce our winners on Saturday, July 4th.
And one more thing, as you shop at Alice.com, just picture all the moms in the grocery stores who are wishing that their kids would stop screaming, people in the aisles would move faster, and more registers would open up. Aren't you glad you have Alice?