This post may contain affiliate links. Read my disclosure policy here.
This post is sponsored by Sur La Table and brought to you through ShopShare Network. All opinions are always ours. Sur La Table stores and the Sur La Table website are the ultimate destinations to not only find unique kitchenware and cookware from around the world, but to find helpful advice, recipes and inspiration to create memorable meals.
Help your body fight off cold and flu viruses with this immune-boosting soup. Packed with the goodness of garlic, ginger, lemon, and coconut milk, this Lemon Ginger Chicken Soup not only tastes delicious on a cold winter day but is loaded with super foods to help you power through cold and flu season.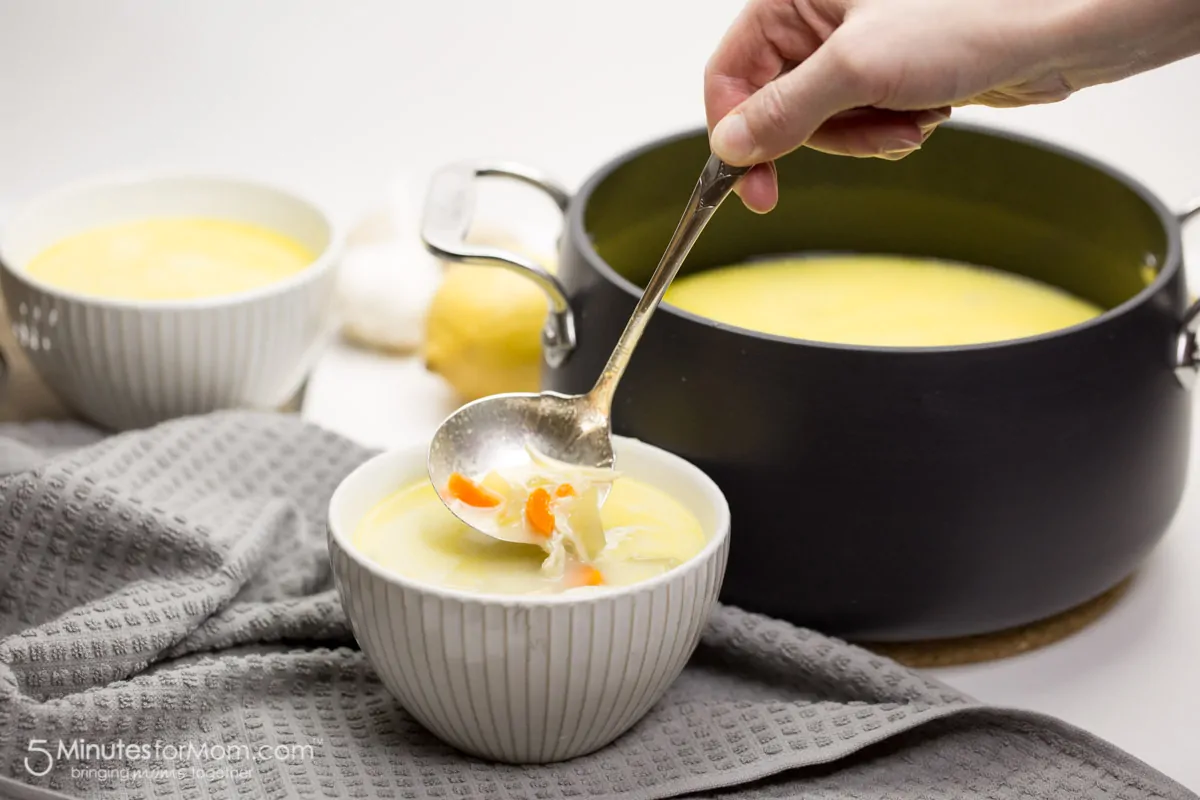 Right now, as I type this, I do not have a cold. In fact, it has been at least a few weeks since I was last stumbling around in a virus-induced fog.
And I am doing everything I can to keep this healthy run going.
But, it is going to be a challenge. I am surrounded by fresh colds. My daughter has started sniffling again and yesterday my teenage son was coughing and stuffed up.
"Are you sick?" I asked, trying to calculate if we had even gone one week without someone sick.
"It is winter, Mom — I am always sick."
Sigh. He is right. From playing football in the icy rain to hitting the rink for late night hockey games, my son doesn't stop to look after a cold. He just keeps going, refusing to slow down or even just put on a coat when he leaves the rink for the damp night air.
I don't know how kids can do it. They seem to be able to still roar through life whether they have a bad cold or not, albeit some of those days they are pretty cranky.
I, on the other hand, get pummeled to the ground by the viruses they share with me and it can take weeks to get back up to speed.
So I try to take precautions to stay healthy, giving my immune system the best chance I can to fight back.
Immune-Boosting Foods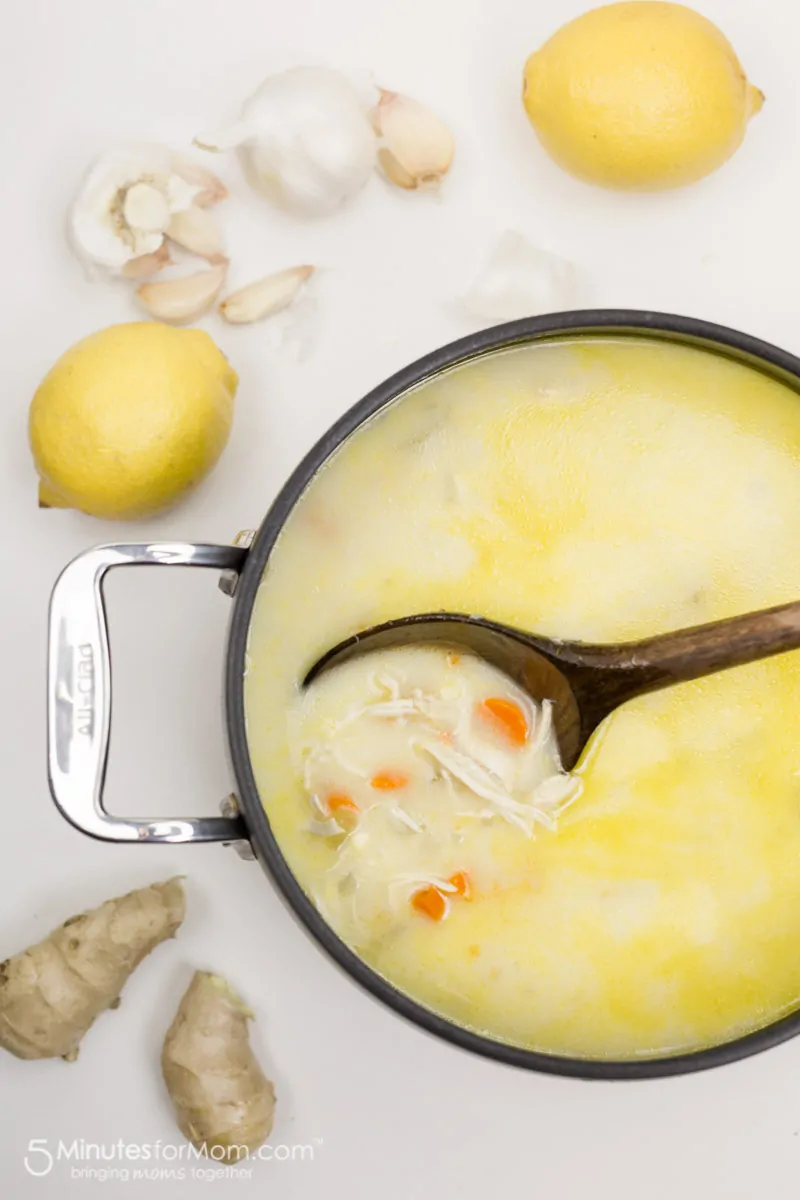 When you are under the weather, a bowl of homemade chicken soup is as comforting as curling up in bed with a fluffy duvet, a heating pad, and a DVR full of your favorite TV shows.
But if you are in cold-fighting, immune-system-strengthening mode, we have a winter chicken soup recipe that beats your regular homemade chicken soup…
Check out our Lemon Ginger Chicken Soup which not only has the vitamins, minerals and nutrients from the chicken and vegetables to keep your body strong, it is also made with the immunity-boosting power of garlic, ginger, lemon, and coconut milk. Yes, this soup puts everything it can into helping you fight back when those winter viruses come calling.

Garlic
Garlic has earned its reputation as a power food. Garlic is low in calories but full of nutrients, including manganese, vitamin B6, vitamin C, and selenium, and has been used for centuries for its medicinal properties.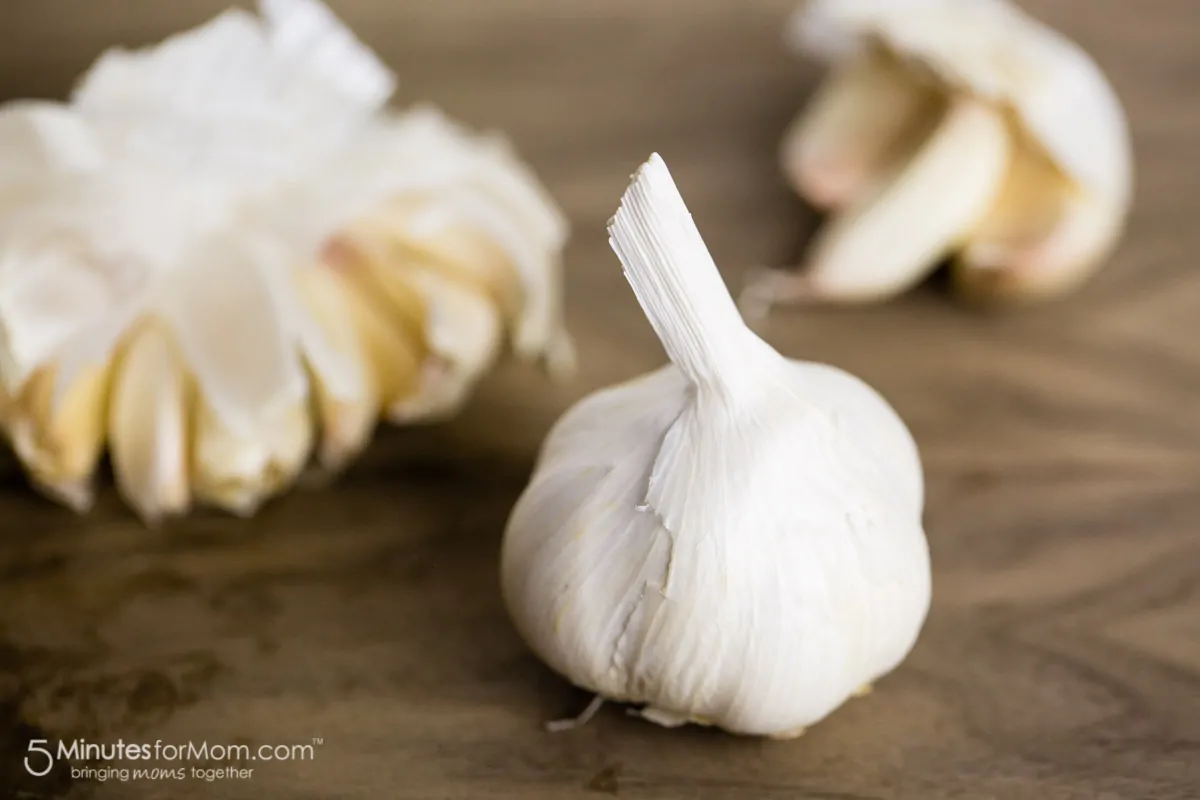 Garlic contains a molecule called alliin that, when chewed, sliced, or crushed, becomes allicin which scientists believe may be responsible for a variety of health benefits, including lowering blood pressure and cholesterol levels, reducing risk of heart disease, and enhancing immune cell function (1,2,3).
Ginger
From easing nausea to fighting cancer, ginger is another celebrated, nutrient-rich, superfood that has powerful anti-inflammatory and antioxidant properties.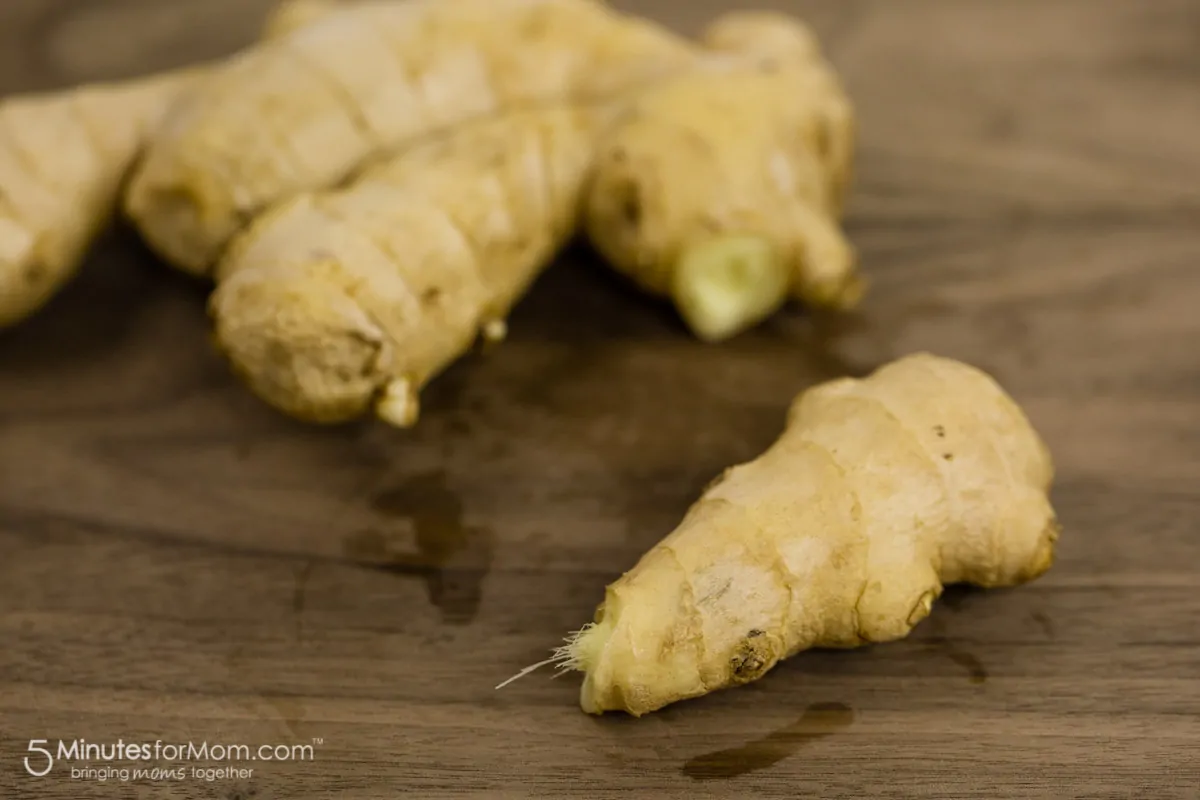 Ginger contains phenolic substances known as gingerols, which are responsible for ginger's healing properties (4). Ginger may help reduce nausea, fight infections, lower blood sugar, reduce pain and inflammation, help digestion, and more (5).
Lemon
Lemons not only add incredible fragrance and taste to our food, they are a source of vitamins and minerals, including vitamin C, potassium and vitamin B6, citric acid, potassium, calcium, phosphorus and magnesium.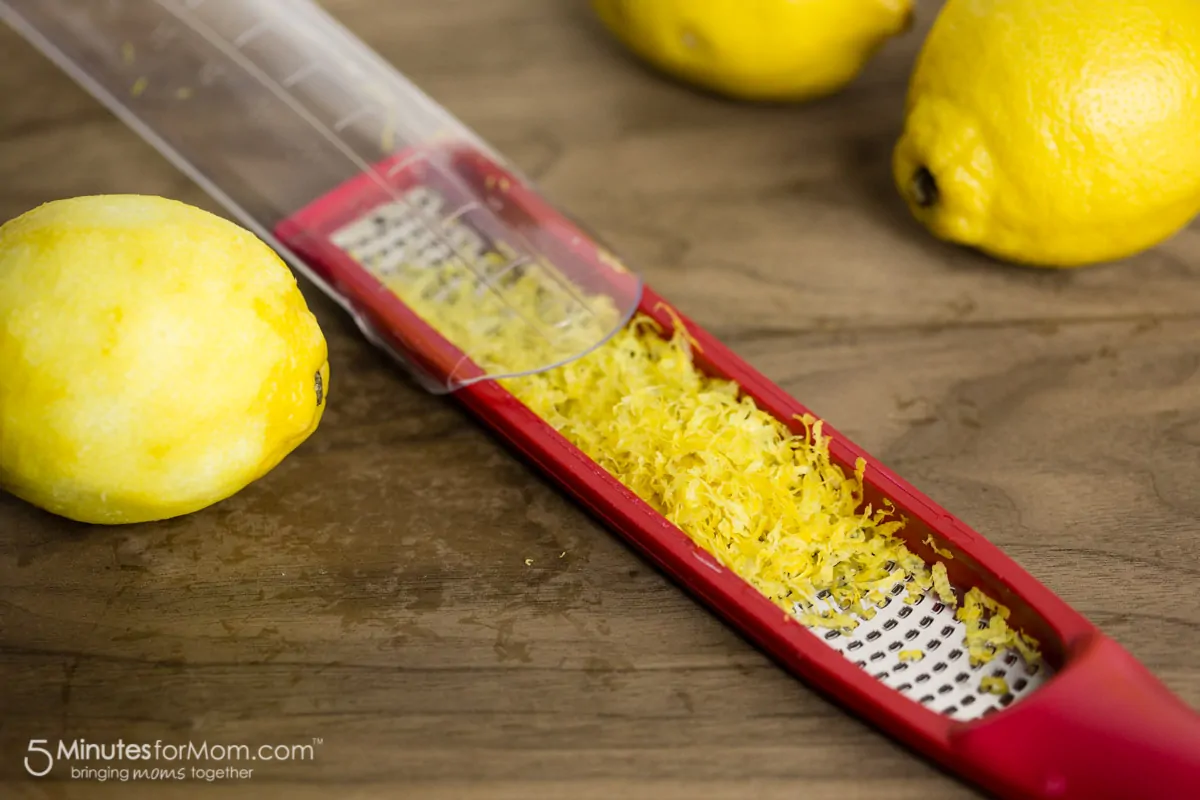 One lemon contains 31 mg of vitamin C, 51% of your recommended daily intake (RDI). Vitamin C is proven to enhance immune function (6) and increase our absorption of iron (7). Eating fruits and vegetables with vitamin C protects against coronary heart disease (8).
Lemons also have beneficial plant compounds, which may fight cancer, reduce cardiovascular disease and ease inflammation (9). The citric acid in lemons may decrease the risk of kidney stones (10) and the zest of lemons contains essential oils such a limonene.
Pictured above is the Microplane Elite Zester from Sur La Table. This hand-held grater features Microplane's trademark razor-sharp teeth and allows you to quickly and easily zest citrus fruits, grate nutmegs and spices, and more. I especially love the snap-on blade guard that catches and measures the grated zest.
Coconut Milk
Coconuts are the new superfood on the block — they are nutritious, high in fiber, and a rich source of vitamins, antioxidants, and minerals.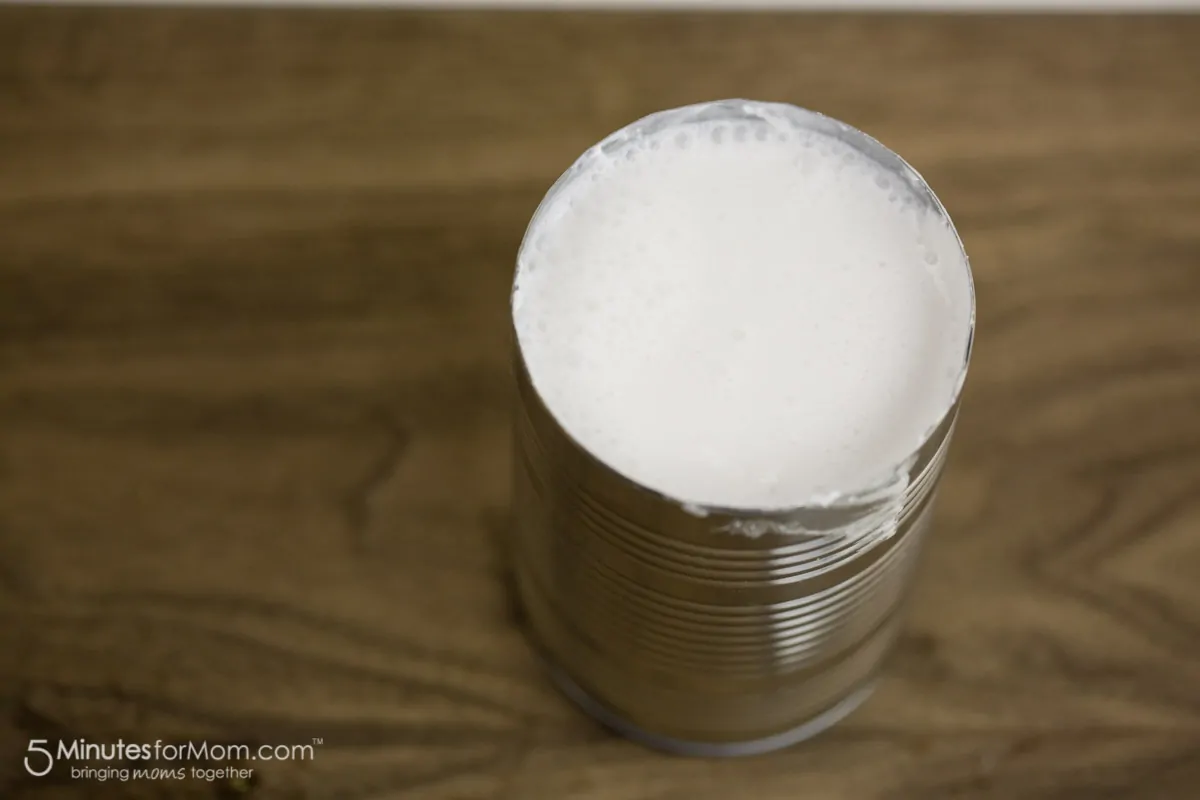 Coconut milk contains vitamins C and E, which improve the immune system, and vitamin B1, B3, B5 and B6, which increase cellular energy. Coconut milk also has iron, magnesium, phosphorus and potassium.
The fatty acid, lauric acid, is found in coconut milk. In the body, it converts into monolaurin, a compound that has antiviral and antibacterial properties and may protect against some diseases (11).
Healing and Delicious Chicken Soup Recipe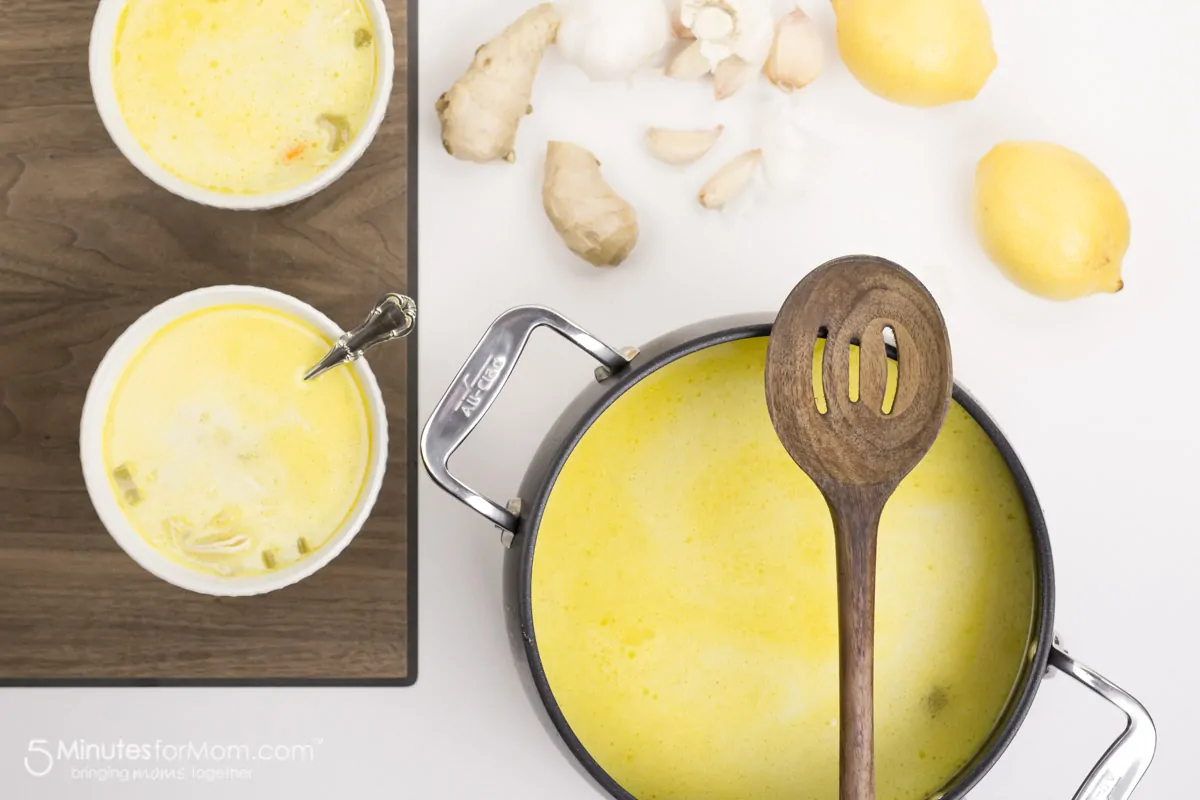 Pictured above is the All-Clad Nonstick Covered Soup Pot from Sur La Table and the Sur La Table Walnut Slotted Spoon. The pot is a 4 quart size and perfect for this batch of soup and the gorgeous walnut slotted spoon is made with natural walnut and won't scratch or damage nonstick cookware.
I have got some more great news for you — this nutritious, vitamin-loaded, immunity-boosting soup is actually really easy to make.
With just a few steps and a little bit of simmering, you can have a pot of healing Lemon Ginger Chicken Soup steaming on your stove and ready to enjoy.
First, chop up your veggies… 3 carrots, 2 celery stalks and one medium onion will do.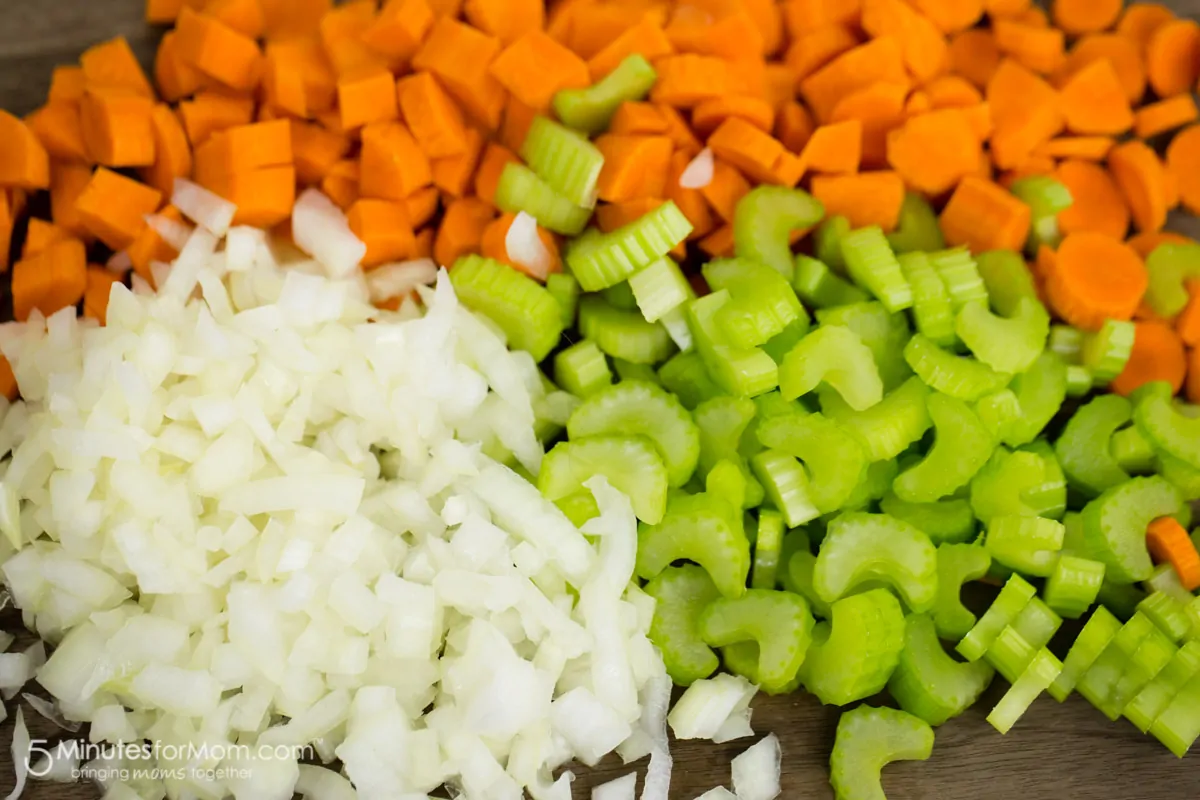 And finely chop a few garlic cloves.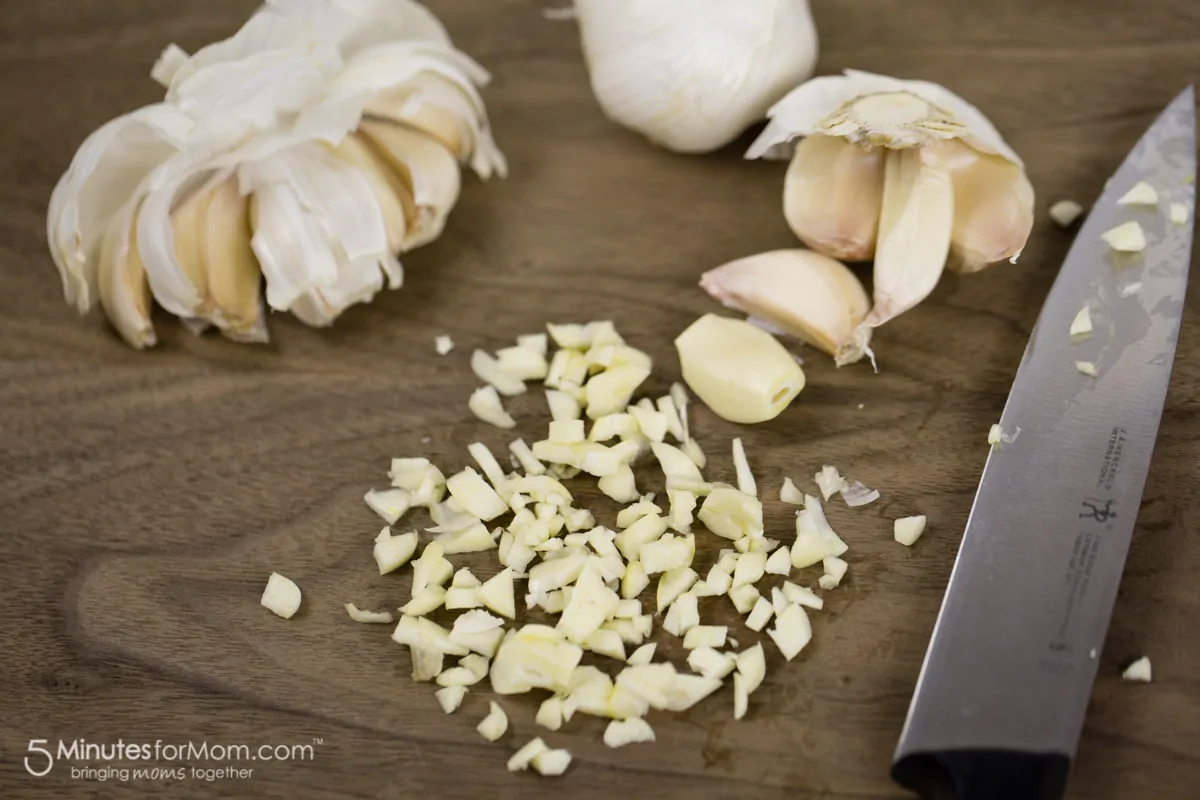 Next, heat up two tablespoons of olive oil over medium high heat in a soup pot and brown your chicken.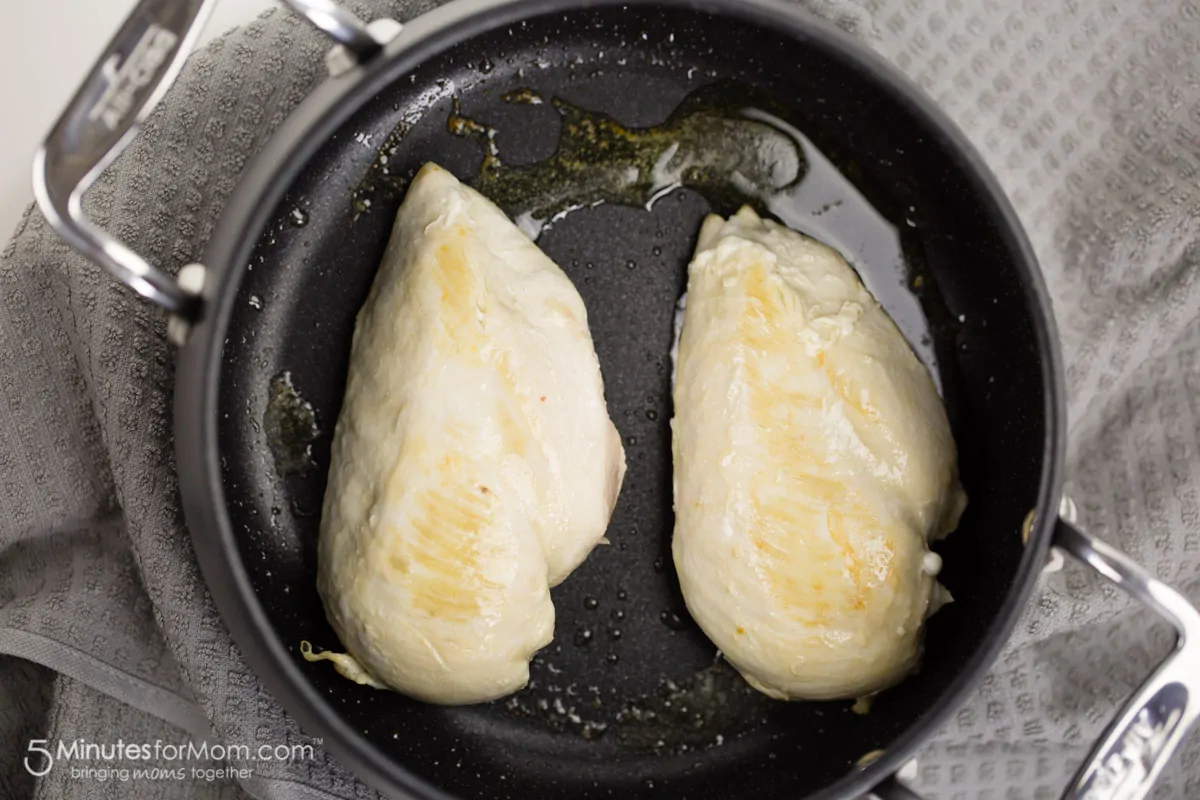 When your chicken is browned, add your veggies and garlic and allow to soften for 5 minutes.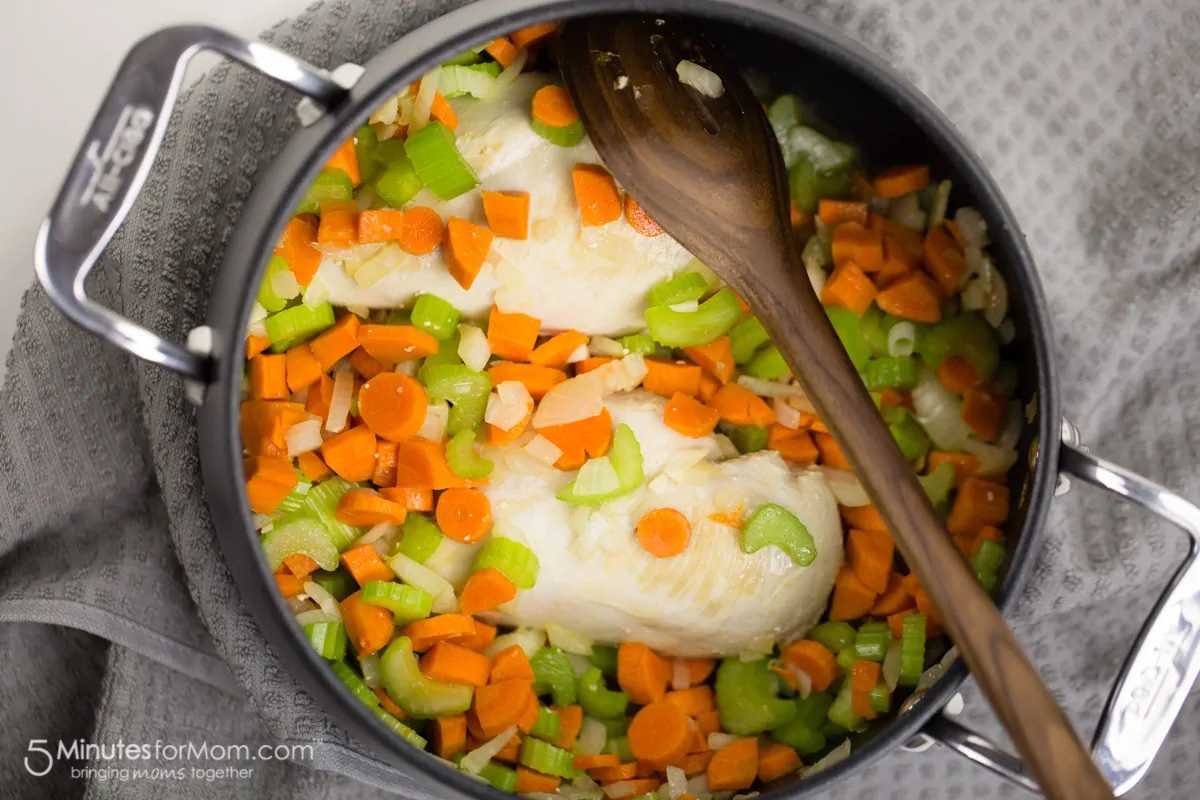 Add 2 quarts of chicken broth and ginger, with the skin on. Bring to a boil, reduce heat and let some for 35-45 minutes. The longer you boil ginger the stronger it is.)
Remove the ginger and discard. Remove the chicken, shred and set aside.
Add lemon zest and squeeze lemon to taste.
Continue to simmer for 15 minutes and then add shredded chicken.
Serve as is…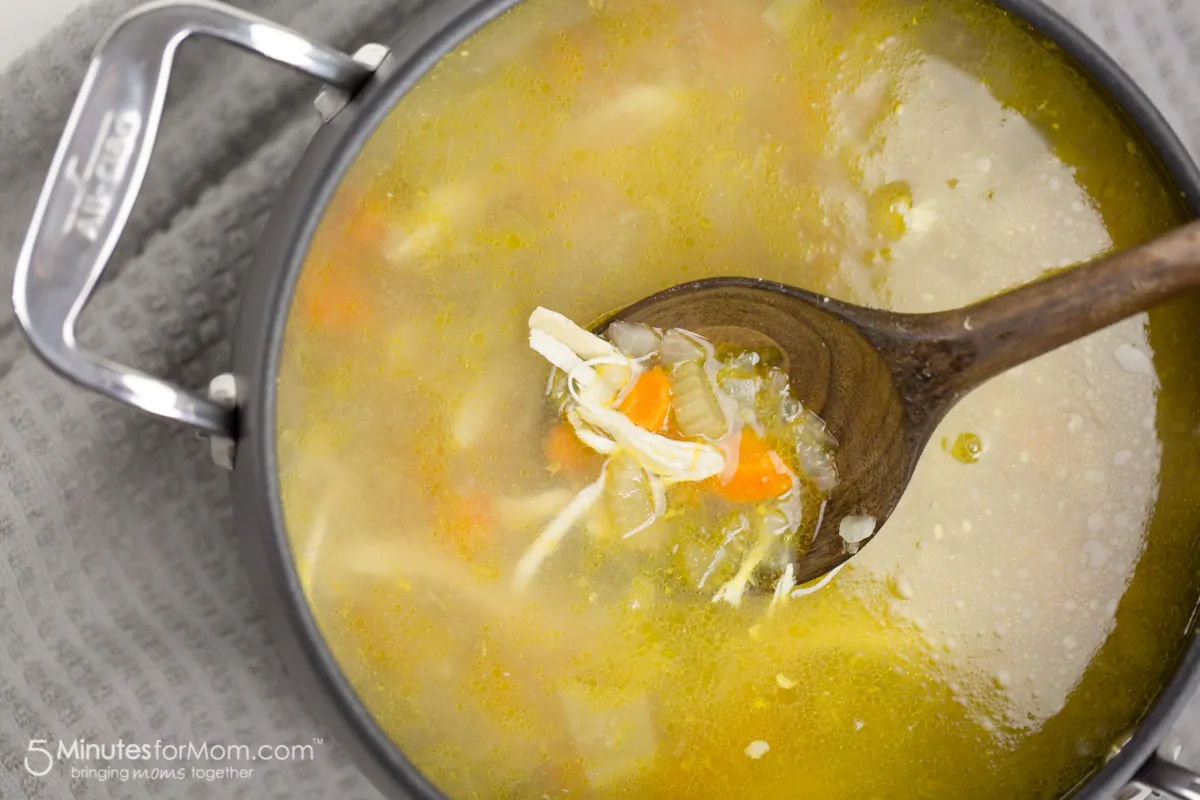 Or add in one can of coconut milk and stir to create a silky texture, amazing flavor and to harness the many healthy benefits of coconut milk.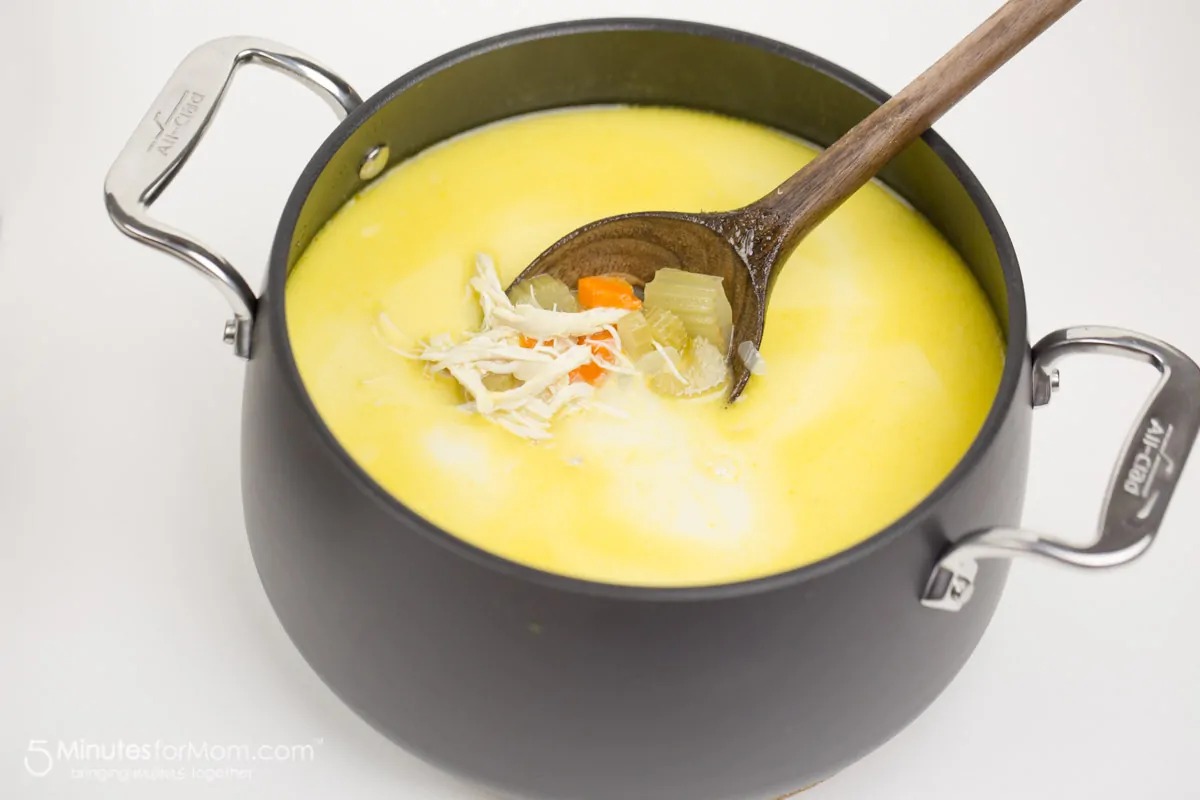 Recipe for Immune-Boosting Lemon Ginger Chicken Soup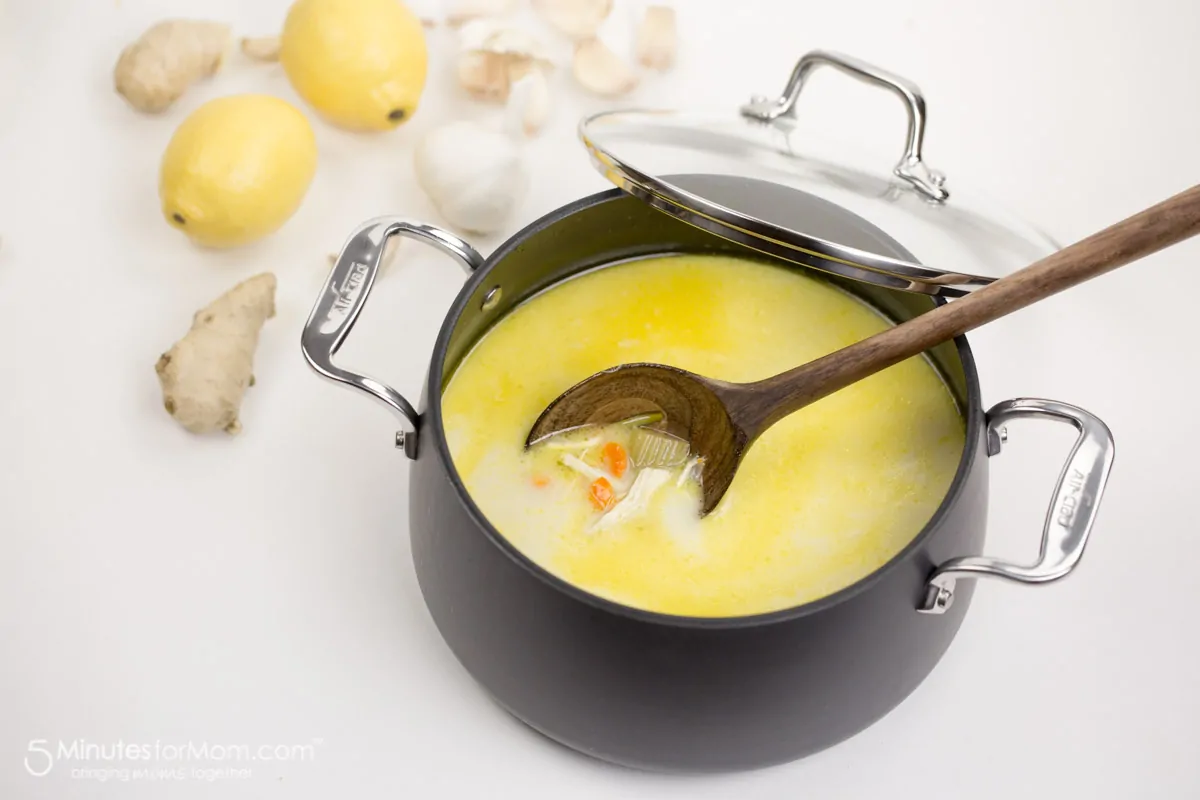 Please note: This post is not to be considered medical advice, but is our personal opinion only.
Written and photographed by Janice Croze, co-founder of 5 Minutes for Mom and Janice Croze Photography.
Talk with me: @5minutesformom and Facebook.com/5minutesformom
Pin with me at http://pinterest.com/5minutesformom/
Pin it for Later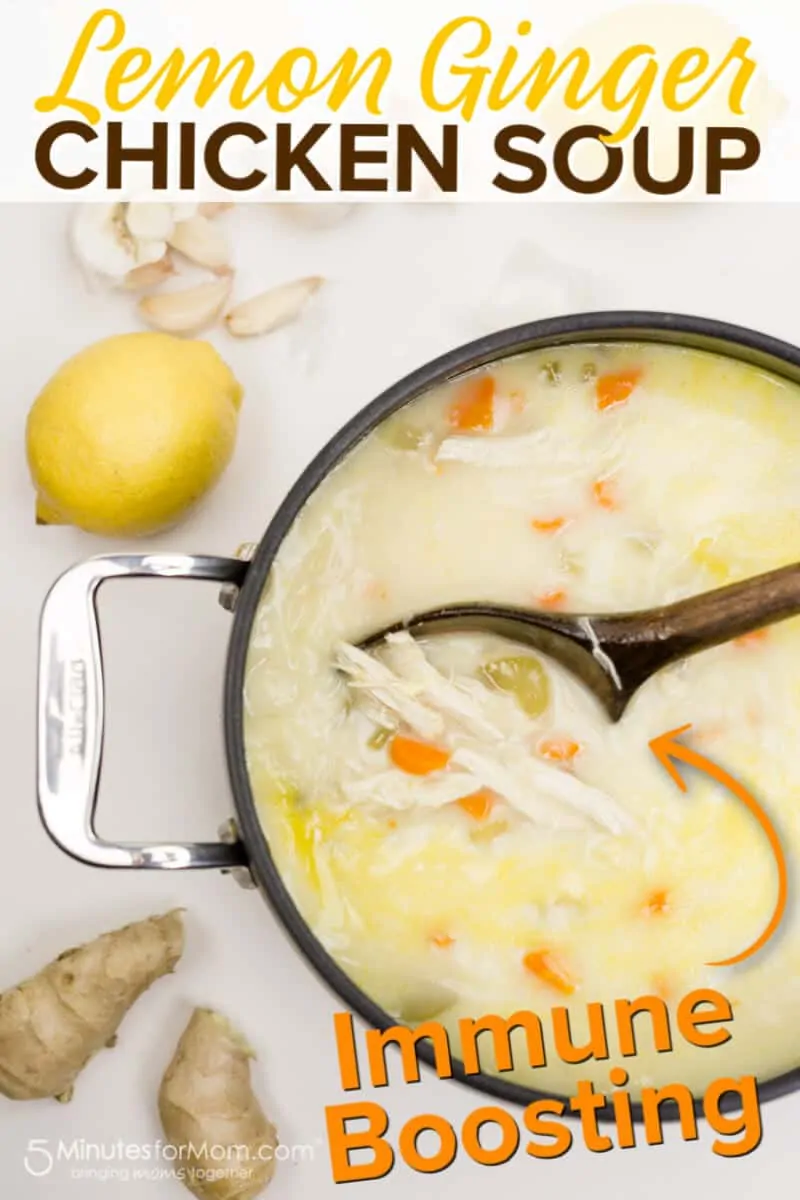 Holiday Gift Guide
Find fabulous Christmas gift ideas in our Holiday Gift Guide.