This post may contain affiliate links. Read my disclosure policy here.
Few meals can compare to the bright notes of homemade pesto tossed with pasta and grated cheese. Pesto packs such intense flavor that it tastes like you spent hours laboring over it in the kitchen. Yet, it blends up in less time than it takes to boil a pot of linguine.
My all-time favorite pesto comes direct from Italy: almonds, arugula leaves, garlic, lemon zest, olive oil, and Parmigiano-Reggiano. If you're not familiar with it, arugula is a peppery mustard salad green with a slight bitter edge. Or maybe you heard it called by one of its other common names, such as, rocket, roquette, rugula, and rucola.
Whatever name you choose, this healthy green needs to be added to your pasta-cooking repertoire. Not only is it deceptively easy to make, it's also rich in iron and Vitamins A and C, making it a win all around.
In this recipe arugula's spice adds just enough kick to make it a lasting memory. The cheese, nuts, and olive oil soften its peppery finish without trouncing on it. Somewhere in the middle, the lemon zest adds a citrus surprise alongside the garlic and salad greens.
Almond arugula pesto is a complex sauce to the very end. It's good enough to eat by the spoonful, just try not to forget about the linguine boiling on the stove.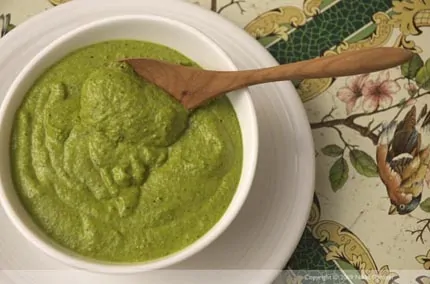 Almond Arugula Pesto
Yield 1 cup
½ cup raw almonds
3 cloves garlic (peeled)
zest of 1 lemon
2 cups packed fresh arugula leaves (tough stems removed)
½ cup extra-virgin olive oil
½ cup grated Parmesan cheese (Parmigiano-Reggiano)
a few pinches sea salt (to taste)
ground black pepper (to taste)
Place almonds, garlic cloves, and lemon zest in a food processor. Pulse until mixture is fairly finely chopped, then add the fresh arugula leaves and the olive oil. When smooth, add the Parmesan cheese and season with salt and pepper, to taste.
Serve immediately tossed with pasta and sun-dried tomatoes or on a warmed baguette topped with fresh tomatoes and goat cheese.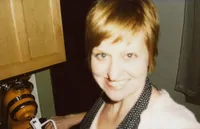 Nikki is a freelance writer and photographer who records the simple things in life: art, food, and story. She blogs at art and lemons.