This post may contain affiliate links. Read my disclosure policy here.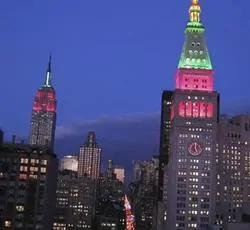 Hey Ladies, Erica here…
New York City has got to be one of my most favorite places! Sadly, I haven't been there in about ten years. But, you know what???
I'M LEAVIN' TODAY!
This morning I am boarding a plane and heading to the city that doesn't sleep. Can I tell you how excited I am!?!
It is a little funny that Janice is in New York City at this same time… but no, our paths won't cross. Janice is there talking about the flu with Dr. Mark Rosenberg, but I'm there for different reasons…
See right before Christmas, I turn the big 30, so I decided to celebrate in style with two close friends of mine. On our agenda is New York pizza, Junior's Cheesecake, ice skating at Rockefeller Center, Burn The Floor, taking in the sights and sounds of Times Square and a birthday dinner at Serendipity III.
We are also going to attempt to make it into Saturday Night Live. We will have to line up SUPER early Saturday morning to try to get standby tickets. But that darn Taylor Lautner is hosting, which means a million 18 year old girls will most likely camp out all night for those tickets. But keep your fingers crossed for me, okay?
I'll try to check in with you all over the weekend with a photo or two. 😀
If I can make it there, I'll make it anywhere. It's up to you, New York, New York.
Written by 5 Minutes for Mom contributing editor, Erica.