This post may contain affiliate links. Read my disclosure policy here.
This pasta salad is perfect for your spring and summer gatherings! It's fresh, light, and full of flavor. And since there's no meat or mayonnaise, it's safer to leave sitting out on warm warmer days. Actually, we think it tastes better at room temperature!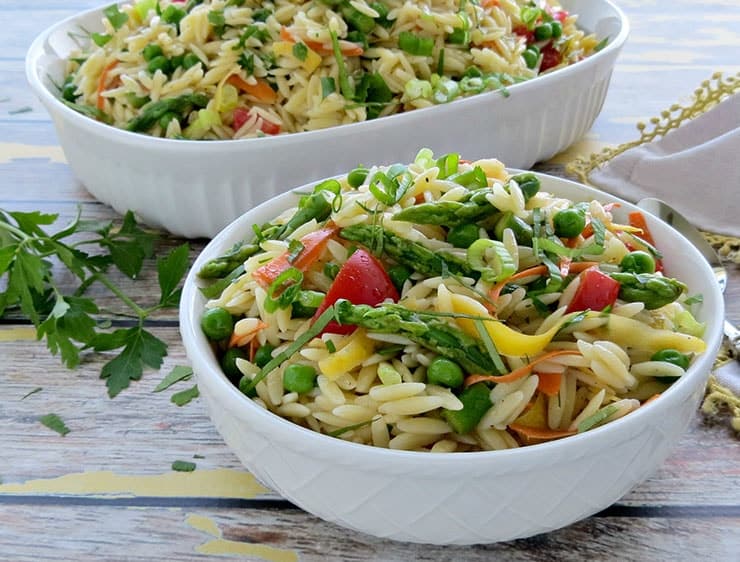 As with any pasta salad, it can soak up the vinaigrette and dry out a bit in the refrigerator, so you might want to make a double batch of the dressing to stir in as needed, especially if it sits overnight.
How to make Summer Pasta Salad with Lemon Vinaigrette
We used different colored carrots, but you can use whatever kind you like. Shaving them creates beautiful ribbons throughout the salad and is easy to do. Just use a potato peeler to create long, thin ribbons, and then run a knife through the ribbons once or twice to break them up.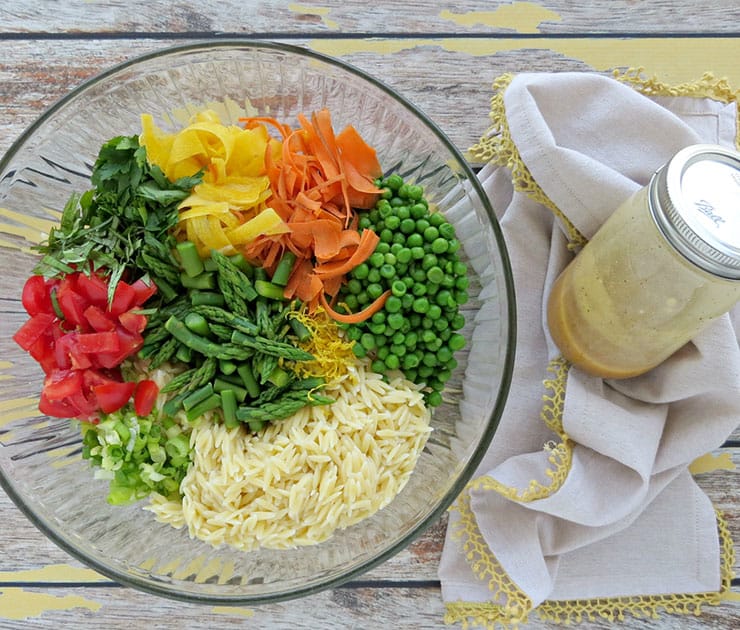 The great thing about any kind of pasta or vegetable salad is that you can change them up to suit your taste. You can add your favorite veggies, beans, or even some protein. Different colored bell peppers, edamame, or chickpeas would all add extra texture, color, and nutrition!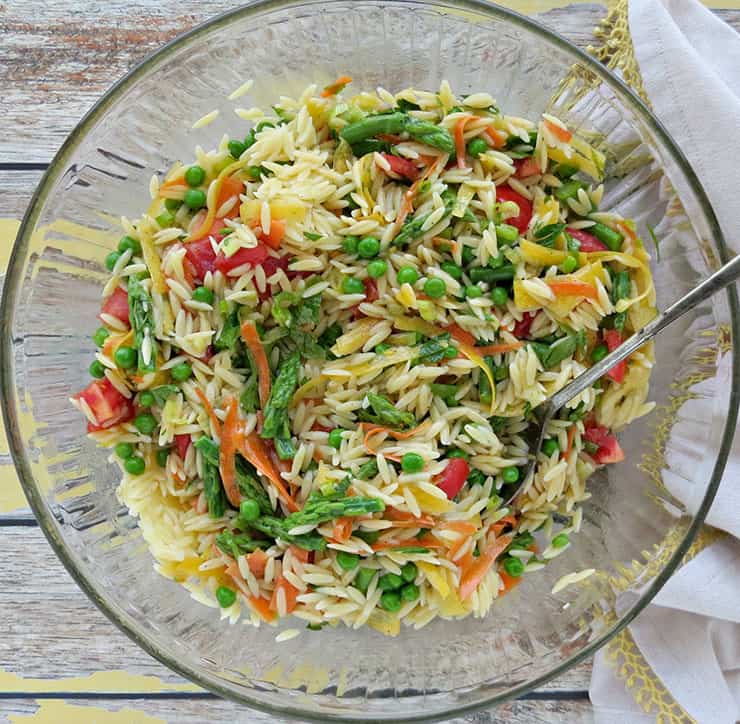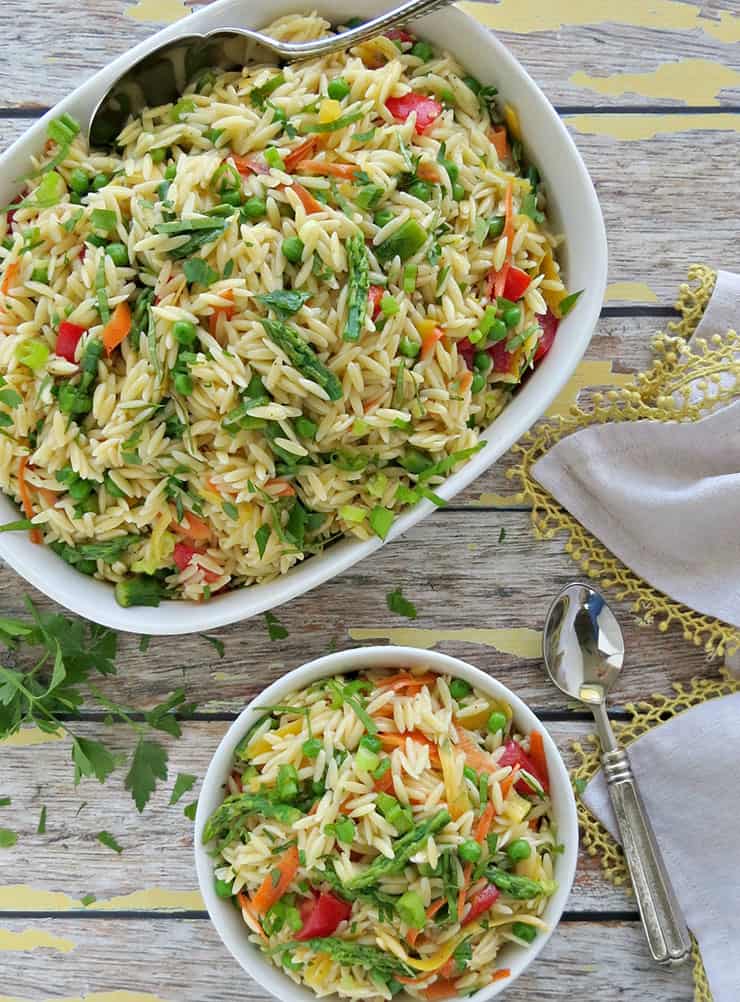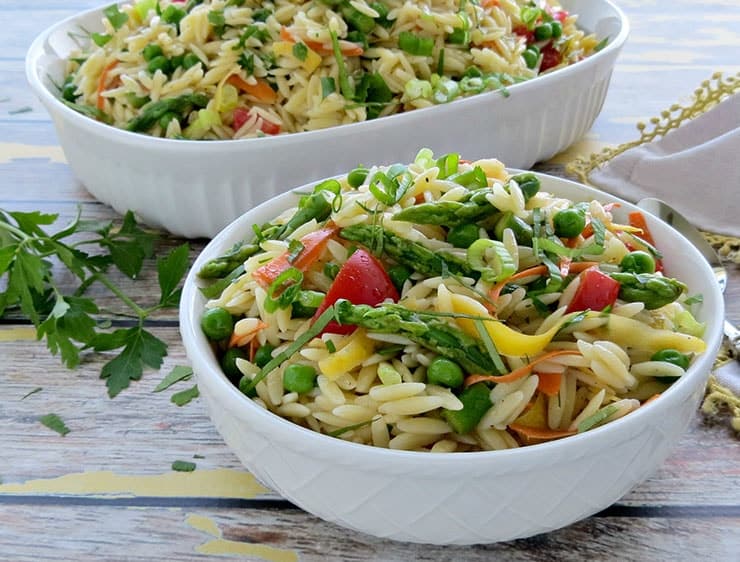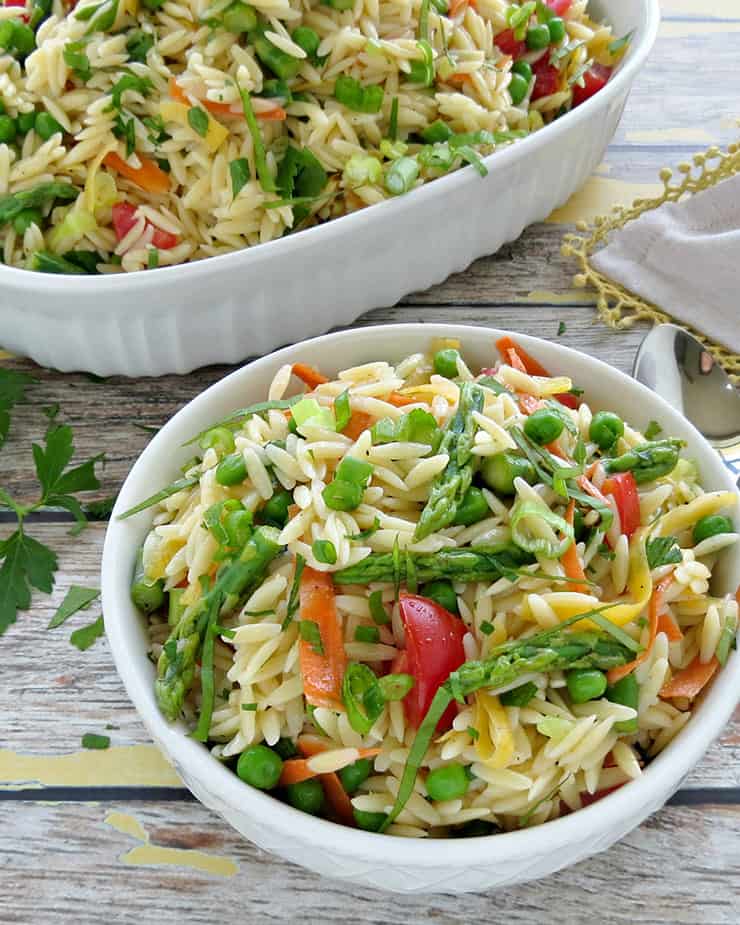 Summer Pasta Salad with Lemon Vinaigrette
This pasta salad is perfect for your spring and summer gatherings! It's fresh, light, and full of flavor.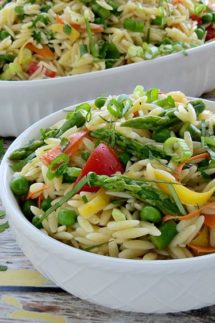 Ingredients
Pasta Salad
16 ounces orzo pasta
1 cup frozen petite peas (thawed)
1/2 cup shaved orange carrot
1/2 cup shaved yellow carrot
10 thin asparagus
2 green onions (thinly sliced)
1 cup chopped tomatoes
1/4 cup chopped Italian parsley
1/4 cup sliced basil leaves
1 large lemon (juiced and zested)
Lemon Vinaigrette
1/2 cup olive oil
1/4 cup fresh lemon juice + remaining zest (from above)
1/4 cup red wine vinegar
1 large clove garlic (minced)
1 tablespoon Dijon mustard
1 teaspoon sugar
1/4 teaspoon salt
1/4 teaspoon pepper
Instructions
Cook the pasta according to the directions on the package, drain and rinse well with cold water. Allow it to sit in the colander while you prepare the rest salad.

Add all of the dressing ingredients to a mason jar, cover tightly, and shake until thoroughly combined.

To prepare the lemon for both the salad and the dressing, use a zester and remove as much as the zest as you can without getting any of the white pith. Set the zest aside, and squeeze out all the juice into a small bowl.

To prepare the asparagus, trim off the tough ends, and then trim the remaining stalk into 1" pieces. Bring a small pot of water to a boil, add the asparagus, and boil for two minutes. Pour into a strainer and rinse well with cold water to stop the cooking.

Add the pasta, all the vegetables, herbs, and one tablespoon of the lemon zest to a very large bowl. Stir to combine.

Pour the vinaigrette over the salad and stir to combine.

Taste and adjust the seasonings to your liking. You can also add more lemon juice, vinegar, olive oil, etc...

Serve immediately or chill in the refrigerator.

To garnish, sprinkle the top with extra herbs or green onion.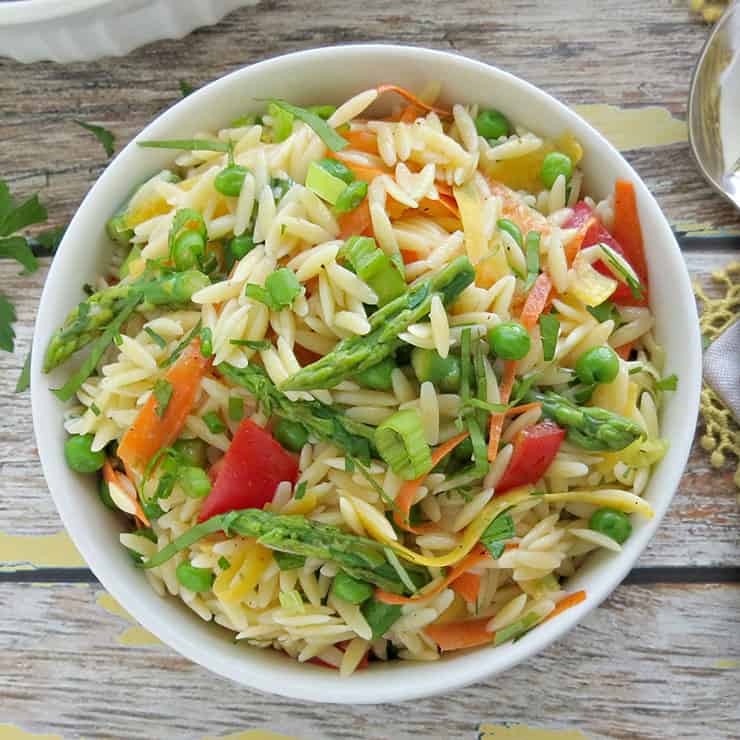 Pin for Later