This post may contain affiliate links. Read my disclosure policy here.
Middle Eastern food is becoming more and more popular in the United States. One has only to look at the myriad varieties of hummus available to see this! In spite of most people's love for hummus, tabouleh, and pita bread, many people's first reaction to a mention of Syria or Palestine is the thought of war, strife, refugees, terrorism, and houses left in rubble.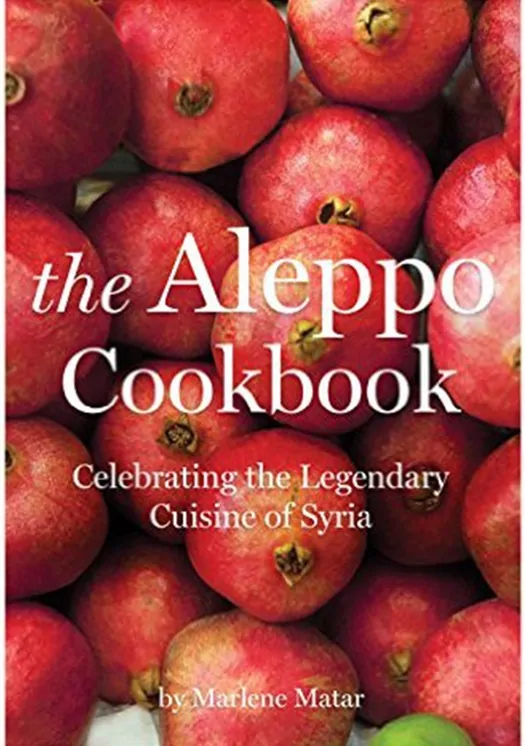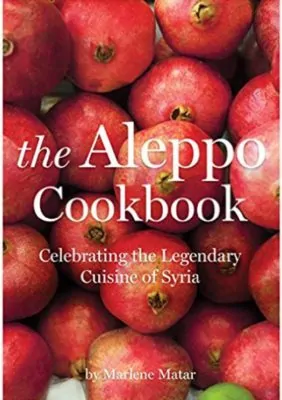 But of course there is so much more to that region of the world than current events! Aleppo was a food capital long before Paris or Rome. With parts of the city dating back to 2000 BC, Syria's largest city has profited from its location on the old Silk Road, and its cuisine draws influences from Arab, Greek, Persian, Ottoman, European and Asian flavors. Palestine's history, of course, goes back to before Abraham arrived from Ur. Countries across the region share similar cuisine, but each country has made them her own.
Interlink Books has recently published 2 cookbooks that showcase recipes from this region along with colorful pictures showing the streets and people of the area, the markets piled high with colorful spices and vegetables, and more. The Aleppo Cookbook: Celebrating the Legendary Cuisine of Syria looks specifically at recipes emanating from that city, while in Palestine on a Plate: Memories from my Mother's Kitchen, author Joudie Kalla has chosen recipes as a tribute to her mother, family and home, reflected in foods now popular in her restaurant. Both books are gorgeous, replete with pictures that make your mouth water.
I recently received copies of the two to review, and last night invited friends over and tried several recipes from each, to universal acclaim. I made 3 recipes from each book and without exception, they were all delicious–flavorful and complex, distinctive, delectable. I mean, not to brag, but this was some good food! Additionally, I made a couple of side dishes earlier in the week, like the salty, garlicky mint-yogurt (from The Aleppo Cookbook) that made a fantastic accompaniment to some curry and rice.
We started with appetizers. Both books contain recipes for potatoes that are cubed, either roasted (Palestinian) or fried (Syrian), and served at room temperature. Both were sooo good! Even my husband, who's not normally a fan of potatoes (I know! He'll eat 'em but much prefers rice) loved them both. The Palestinian version was my favorite, but only by a tiny bit. The potatoes were mixed with cilantro, cayenne, cumin and olive oil then roasted in the oven. I liked that texture better than the Syrian recipe, which fried the potatoes and then mixed them with garlic, cilantro  and red pepper paste. The flavor profiles of both versions were very similar, but I slightly preferred the texture of the roasted ones.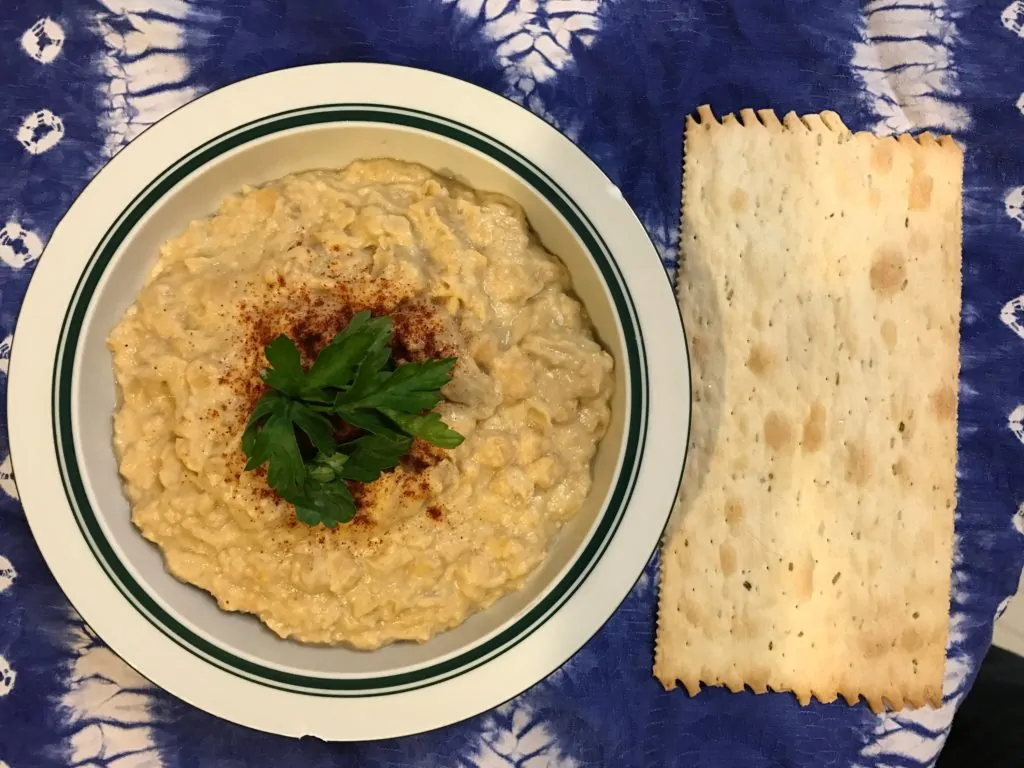 Both books also contained recipes for green beans–green beans in oil (The Aleppo Cookbook) and Green Beans with Spicy Tomato and Olive Oil Sauce (Palestine on a Plate). Again, both were very similar, containing onions and tomatoes as well as the beans, but I found the additional spices of the Syrian version more appealing. All this to say that I can't choose a favorite cookbook from the two.
I liked the warm garbanzo dip so much I made it twice. (from Palestine on a Plate; p 75) It's like a warm, chunky hummus, with an
irresistible punch of cumin. When I was making it the first time, I thought it would be way too much cumin–1 1/2 tablespoons!–but it's perfect, especially blended with garlic, yogurt and tahini. We ran out of bread and had to eat the second lot with crackers, but it didn't matter–the dip was the star! This dish is extremely easy and fast.
I made two main dishes, both quite fast and easy and both using ground meat. The recipes call for ground lamb, which is delicious but a bit expensive, so I substituted ground beef without any problems.
From The Aleppo Cookbook, I made Meatballs in Sour Cherry Sauce (p158). We were having a rare snow-and-ice day which meant I wasn't able to make it to my local Middle Eastern import store, so I substituted regular sweet cherries and the dish was delicious. Everyone loved it as it was.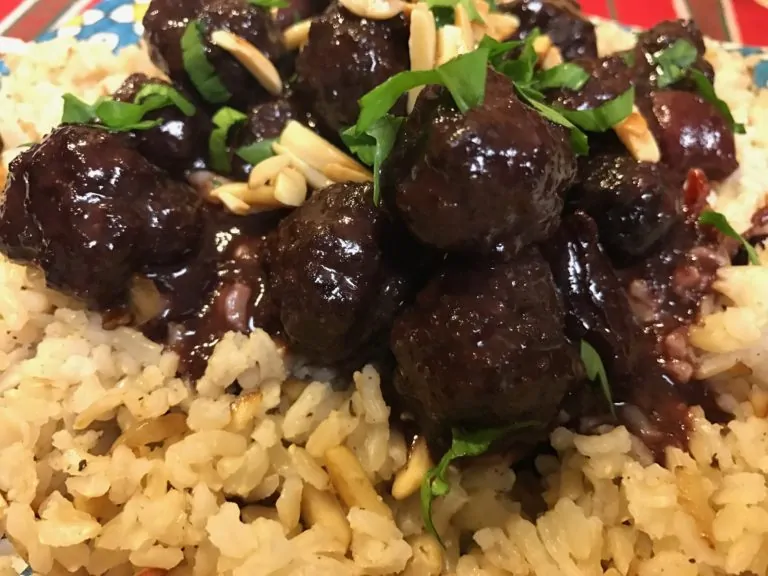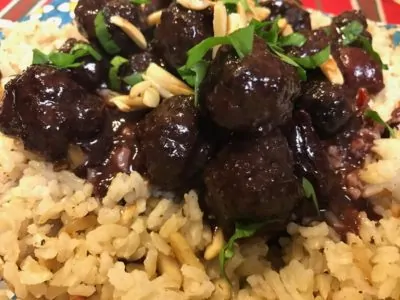 You form meatballs out of ground meat and spices, fry or grill them, and make a simple sauce out of cherries and sugar, and toasted almonds. The whole thing takes less than half an hour. The combination of the savory meat spiced with cinnamon and the sweet cherries was a big hit!
My second main dish (from Palestine on a Plate) didn't look nearly as beautiful as the picture in the cookbook (well, that's pretty much always true), but no one seemed to mind and the food disappeared rapidly. Kufta (ground meat) with Tangy Tahini Sauce was rich and flavorful and, again, really easy to make. I just added chopped onion and parsley to ground meat, patted it into an oven-proof dish, and poured a mixture of yogurt, tahini and lemon juice on it, popped it into the oven, and voila! 20 minutes later it was ready to eat.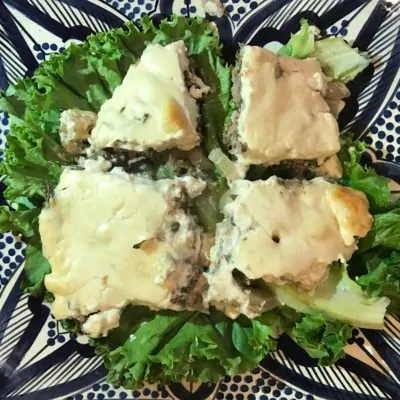 It doesn't look like much, but the combination of savory meat and tangy tahini sauce was a winner. This is the sort of dish that would work well in summer or winter–it's hearty enough for a cold night, but at the same time would make a great item for a picnic lunch, served with a salad.
I ran out of time, but there are many more dishes I'm excited to make. The za'atar scones, the sesame-fennel cookies, the smoky baba ghanouj and the walnut-red pepper spread…to name just a few.
Both of these cookbooks would make excellent gifts for anyone who enjoys cooking and maybe wants to expand his or her repertoire a bit. Or, if you're someone who enjoys trying new flavors, it's not too late to put these on your wish-list for Christmas. I highly recommend them both!