This post may contain affiliate links. Read my disclosure policy here.
Walt Disney Pictures invited 5 Minutes for Mom contributing blogger Dawn Cullo to Los Angeles, CA for the Moana Press Event. Dawn's expenses are paid for the trip but no other compensation was paid and all opinions are Dawn's.
I was excited for the full lineup of interviews with the cast and filmmakers of Disney's 56th Animated feature film Moana including legendary directors and Golden Globe Nominees John Musker and Ron Clements.
Their career at Walt Disney Animation spans 40 years and they have been at the helm of Disney's most beloved movies including The Great Mouse Detective, The Little Mermaid, Aladdin, Hercules, Treasure Planet, The Princess and the Frog and now Moana.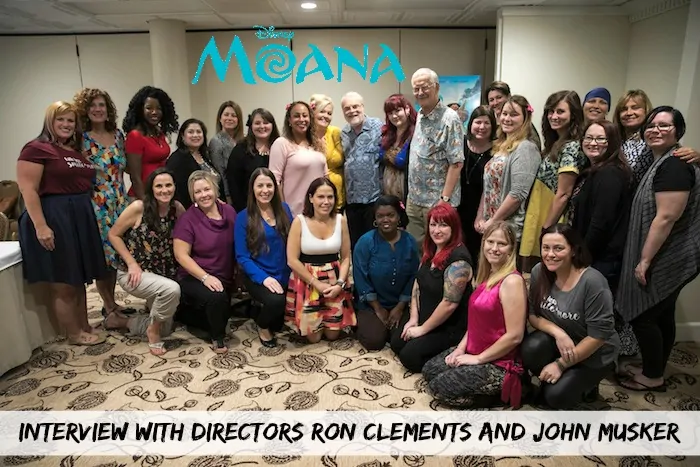 Embracing New Technology
The world of making an animated movies has changed since Ron and John first started their career with Disney 40 years ago.  During our interview they said that some things are the same in terms of the script, storyboarding and the voice actors but the actual production process is quite a bit different. They were excited to learn about the newest technology for their film.
The Evolution of Story
The original focus of the movie was about Maui but it eventually evolved in to Moana's story.  John said that he was always intrigued with the Pacific islands and that led him to read Polynesian mythology and that led to learning about the incredible Maui. He was a shape shifter with a magical fishhook and he could pull up islands. He had tattoos and was kind of a superhero.
John knew that this had never been done in a movie before and shared it with Ron. Together they pitched a simple idea to John Lasseter based on the myths of Maui, it was even called the Mighty Maui. John suggested they do more research and go to the islands.
When Ron and John went to the islands they heard about navigation and Ron had the idea for a character called Moana, which means ocean. They built the story around her as someone who wants to be a navigator like her ancestors. Maui's story line then became one of a flawed demigod, down on his luck who would help Moana on her journey.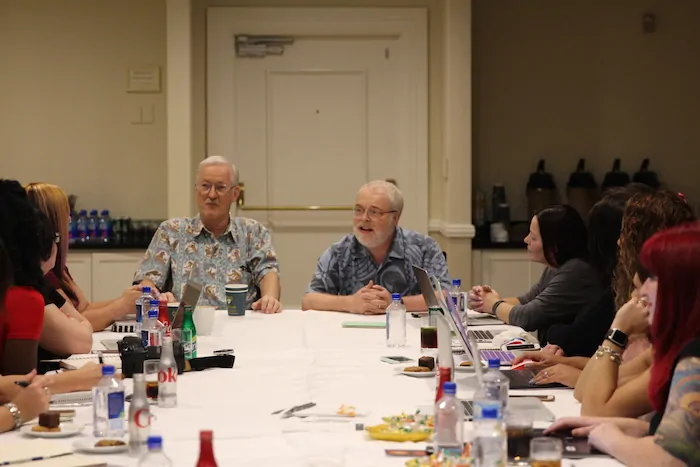 Keeping Culture Complete
Five years ago when they first pitched the movie they spent three weeks in Samoa, Fiji, Tahiti. They met with cultural ambassadors, linguists, anthropologists, sailors and chiefs. When they connected with the culture they learned about the greatest navigators the world has ever seen and knew they needed to weave that aspect into their story.
They formed an Oceanic Story Trust that they bounced story ideas off of, costume ideas and the way the characters looked throughout this process.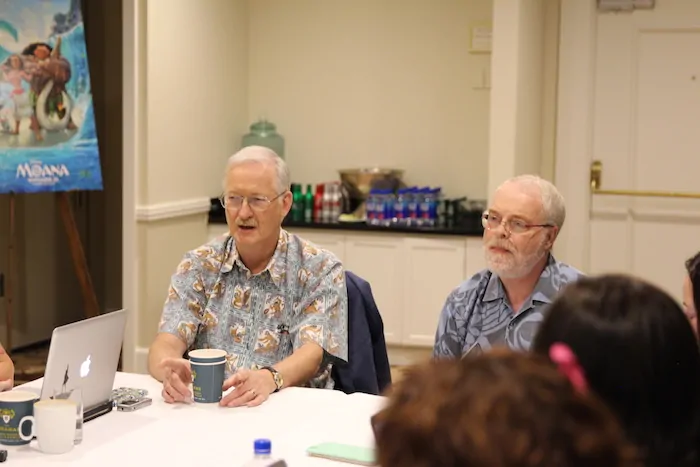 A Hero's Journey
The story eventually became what we know today as a hero's journey for Moana. She's on a quest to save her people. She faces numerous obstacles but she's resilient. She's also empathetic which is an important part of who she is and fearless. She finally proves herself and becomes the person that she's meant to be.
About Moana
"Moana," is about an adventurous teenager who sails out on a daring mission to save her people. During her journey, Moana (voice of Auli'i Cravalho) meets the once-mighty demigod Maui (voice of Dwayne Johnson), who guides her in her quest to become a master wayfinder.
Maui is voiced by Dwayne "The Rock" Johnson, he is a demigod—half god, half mortal that wields a magical fishhook that allows him to shapeshift into all kinds of animals and pull up islands from the sea.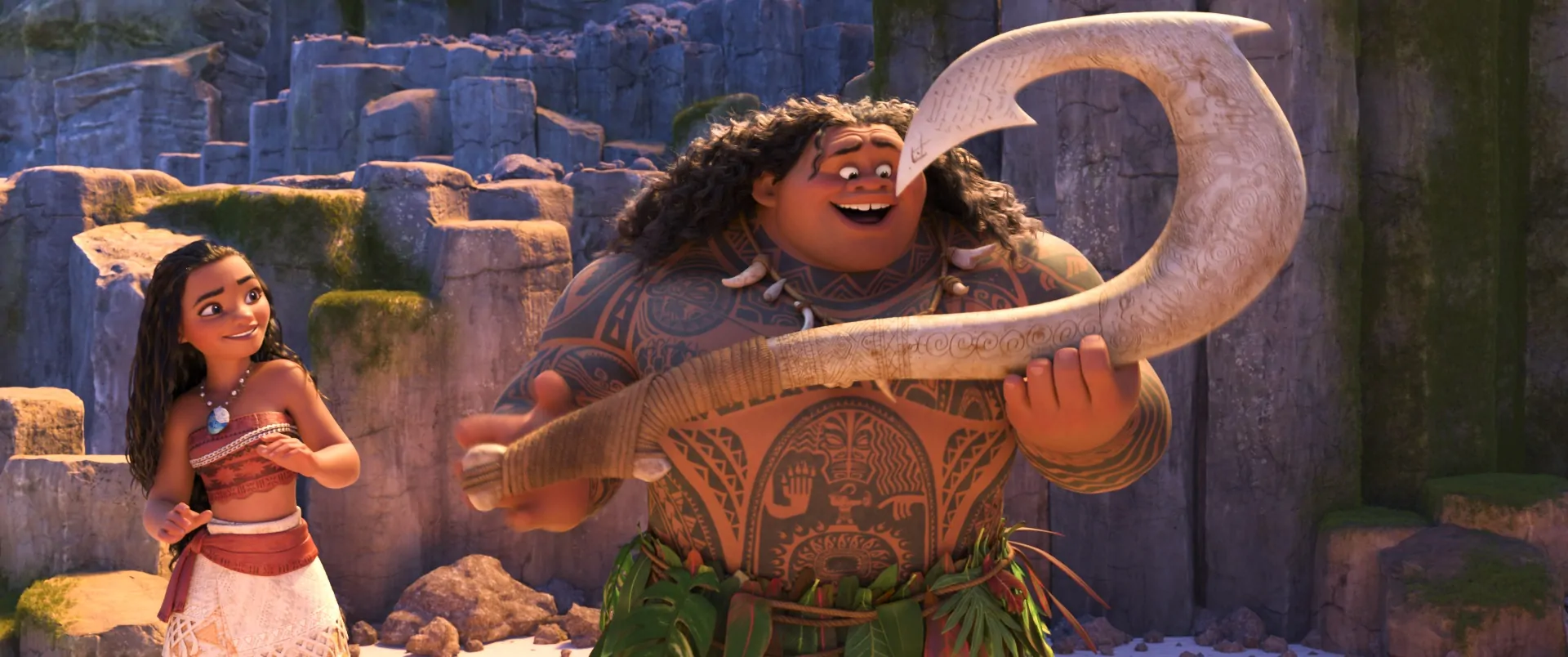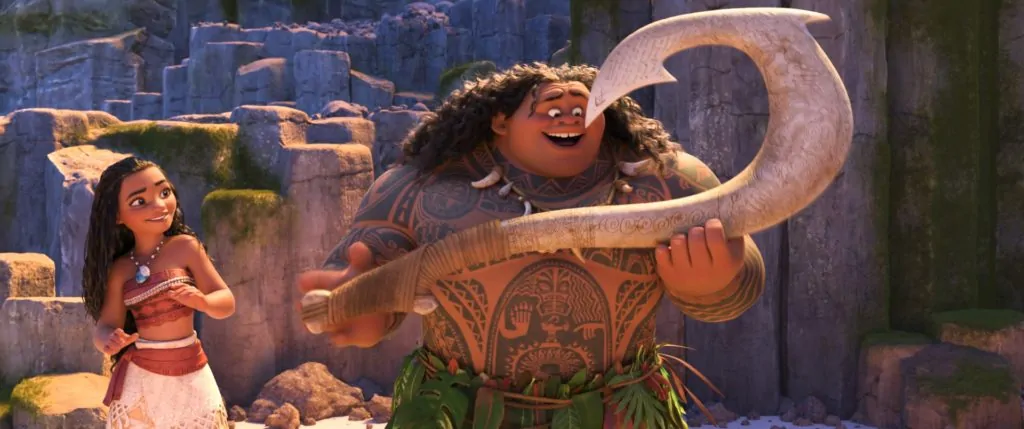 Together, they sail across the open ocean on an action-packed voyage, encountering enormous monsters and impossible odds, and along the way, Moana fulfills the ancient quest of her ancestors and discovers the one thing she's always sought: her own identity.
Moana Trailer
MOANA is now in theaters!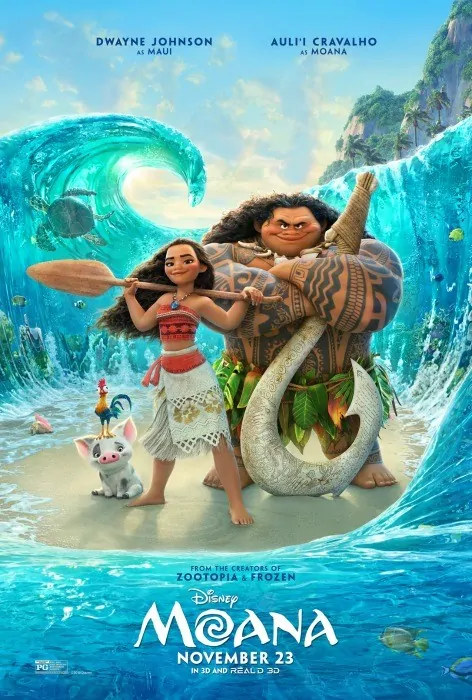 Like MOANA on Facebook, follow on Twitter, follow Disney Animation on Instagram
Visit the official MOANA website
Photo credit to Louise Bishop.
Written by 5 Minutes for Mom Contributor, Dawn Cullo