This post may contain affiliate links. Read my disclosure policy here.
Today we're featuring a guest post from Chidinma of Fruitful Kitchen. This delicious, easy to make Slow Cooker Apricot Chicken recipe brings together the flavors of apricots, lemon juice, onion, garlic, and Dijon mustard.
Since I love chicken and enjoy trying out new dishes, I was thrilled to discover the most delicious slow cooker meal that I've ever tried — Slow Cooker Apricot Chicken.
I wanted to share with you this amazing recipe, so you can make a lovely dinner and gather your family, like in good, old times. If you've never made Apricot Chicken in your slow cooker, now would be a perfect time.
Slow cooker Apricot Chicken is one of my favorite meals and when you try it, you'll understand why is that so. Sweetness of the apricots, acidity from the lemon juice, onion, garlic, and Dijon mustard creates a perfect combination that will sweep you off your feet.
Now, let's make this dish!

Slow Cooker Apricot Chicken
Number of Servings: 4-6 / Prep Time: 15 min / Cooking time: 6 hours

Ingredients
2 lbs chicken thighs
1 teaspoon olive oil
½ teaspoon black pepper
½ teaspoon salt
1 cup low-sodium chicken broth
Juice and Zest of 1 lemon
1 teaspoon dried thyme
3 Tablespoons Dijon mustard
4 garlic cloves (minced)
1 cup dried apricots
1 cup sliced onions
Are you ready for making this amazing dish with a smile on your face?
Step 1. Let's get started!
You're going to need a large saute pan, where you will heat olive oil. Just keep the temperature between medium and high, otherwise you will either wait for too long until oil is heated or you will burn oil.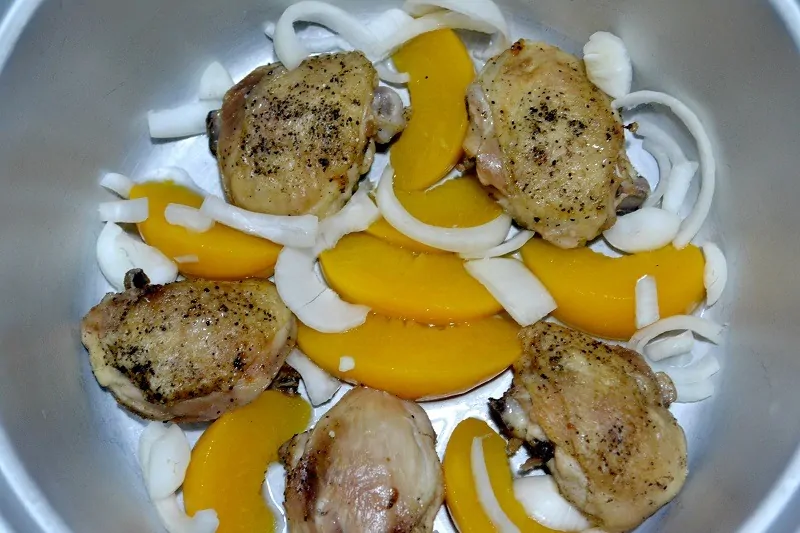 Step 2. Who doesn't love salt and pepper?
Now it's time to add some flavor to chicken thighs, so season them with a classic yet delicious combination of salt and pepper. After that, chicken thighs are ready for cooking. Add them to a pan and cook them for around 6 minutes, turning once. You'll know when they're ready, because they will have a lovely brown color.
Step 3. It's finally time for that slow cooker to do some work!
In a slow cooker, combine lemon juice, lemon zest, garlic, thyme and chicken broth and then mix all that. But, if you're like me and you'd rather stick to a good, old bowl, then mix all this in a bowl and add to a slow cooker. For those of you who enjoy the preparation, you'll love the second way since it's more interesting.
Step 4. Did you forget something?
Now you'll add more flavor so you can fully enjoy the perfect, sweet taste of this dish. Add apricots, onions and seared chicken thighs to your favorite slow cooker. Then cover and cook for 6 hours (or if you have more time, you can cook for 8 hours) on a low temperature.
Step 5. Here comes the best part — eating!
Serve the dish and enjoy the meal with your loved ones.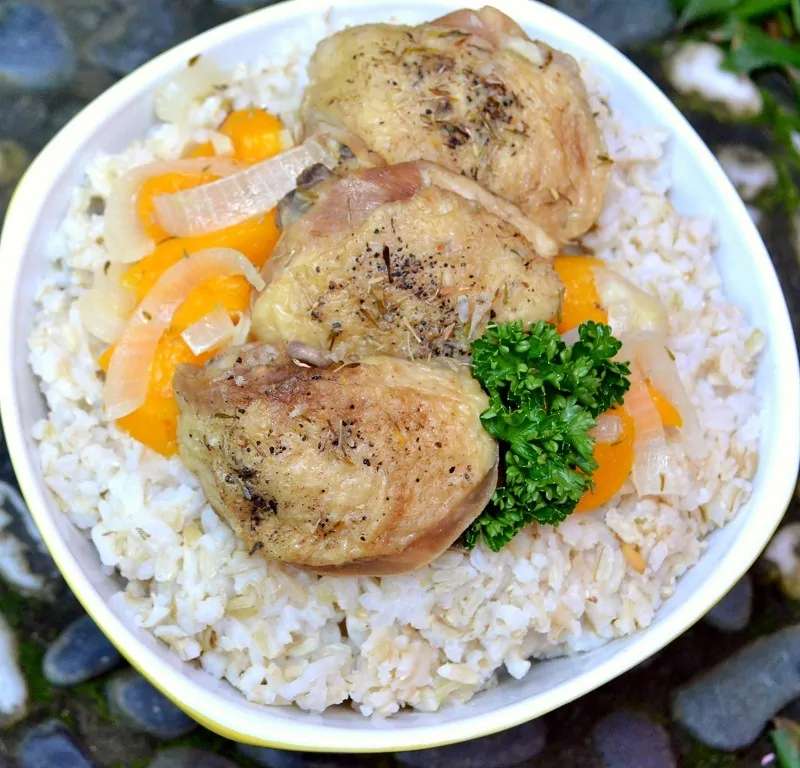 Eating this meal while it's still hot is the best way to taste all the flavors — from sweet to acid. Not only that this meal is a perfect way to spend some time with your family, it's also a healthy way to enjoy your dinner.
If you are interested in other chicken recipe, try this one I made: juicy roast chicken.
Now that you have this recipe it's time to make your own Slow Cooker Apricot Chicken and enjoy every bite of this finger-licking meal. Cooking for 6 hours, it isn't surprising that this meal tastes so good.
I hope you love it and feel free to share this recipe with your friends.

Author Bio: Chidinma is the founder of Fruitful Kitchen, a blog that shares delicious recipes and lifestyle tips. Most of her recipes help women with fertility issues, especially fibroids, PCOS, and Endometriosis. Sometimes, however, you will find other interesting recipes, as well as cooking tips and tricks there.
Pin it for Later