This post may contain affiliate links. Read my disclosure policy here.
Tonya here… We're deep into the holiday season now and it seems like there's never a quiet moment. So how do you get through the holidays with your sanity in tact, and what are your nuttiest moments? I'll be sharing a delicious recipe for Crunchy Thai Cashew Rice Salad, as well as my own nuttiest moments… This post is sponsored, so extra thanks for sharing.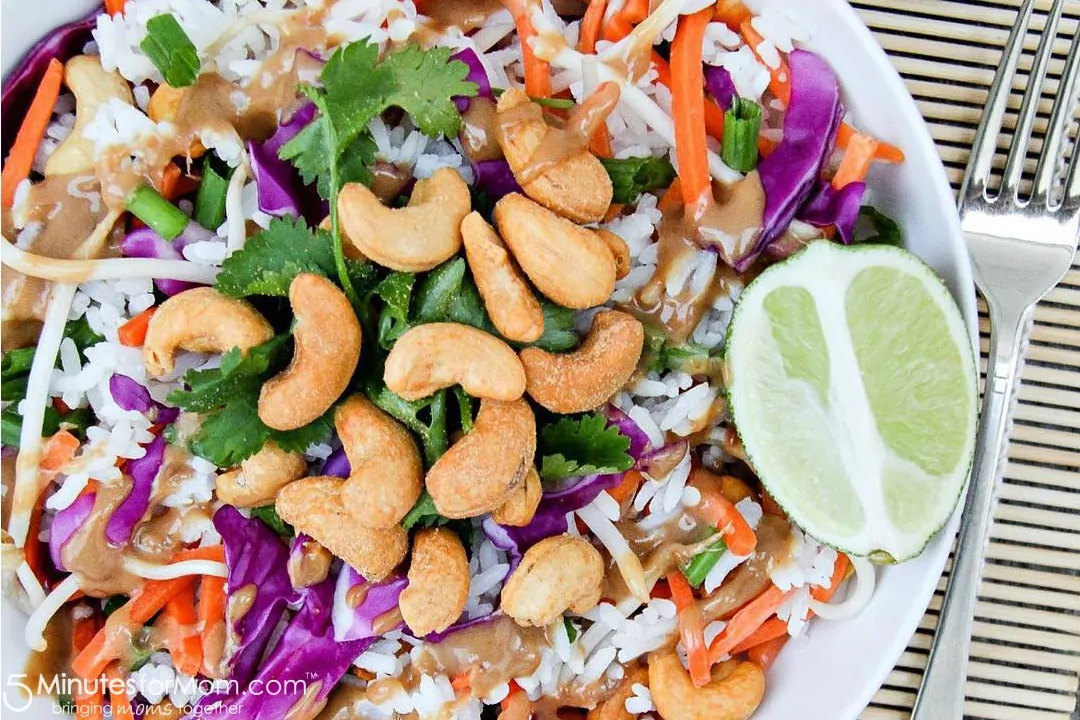 In between the holidays that are to be filled with roasts, baked goods, and casseroles sometimes you need something a little different. So above I've given you a peek at the delicious Crunchy Thai Cashew Rice Salad recipe that I'm going to share below.
Nutty Holiday Moments
But first, let's have a laugh over some of those nutty moments during the holiday season. Here are a few of mine… Can you relate to any of these?
I was halfway through an epic pre-Thanksgiving break play date with school friends. I was making all the kids hot chocolate, and the dog was dancing under my feet and I accidentally ladled hot chocolate straight over my hand from the pot on the stove. OUCH. That was fun (and yes the burns to my hand are healing nicely).

Since my oven is so tiny, the Thanksgiving turkey barely fit and I had to use a long hook to turn the roasting pan just enough so that I could grab the handle to pull it out of the oven.

I was me baking yet another apple pie and accidentally (okay totally on purpose) over-filling it and it bubbled right over the sides and smoke came streaming out of the oven. That will teach me for being greedy for big pies.

Then there was the paint incident when my daughter decided to make handmade painted pasta necklaces for all of her girlfriends for Christmas and accidentally dropped bright green paint with the lid off and it splattered EVERYWHERE!

I expect another epic nutty moment this coming weekend when we go to the tree farm to chop down a tree and load it up on top of my car to bring home. I'm sure there will be a story or two to be told.
So, with this in mind, I wanted to tell you about the new limited edition cashew flavors from CVS Pharmacy's exclusive Gold Emblem line. And they want to know about your "nuttiest holiday moments" (as we all know this can be a crazy time of year!).
As of November 1st, CVS Pharmacy's exclusive snack line, Gold Emblem, launched 3 limited edition cashew flavors (Thai Spice, Coconut and Dill Pickle) and they want to make sure your voices are heard and need your help to select a new, permanent cashew flavor. You can vote right now (until February 13th, 2017) by visiting www.cvs.com/GEvote and receive a redeemable $1 off coupon after voting.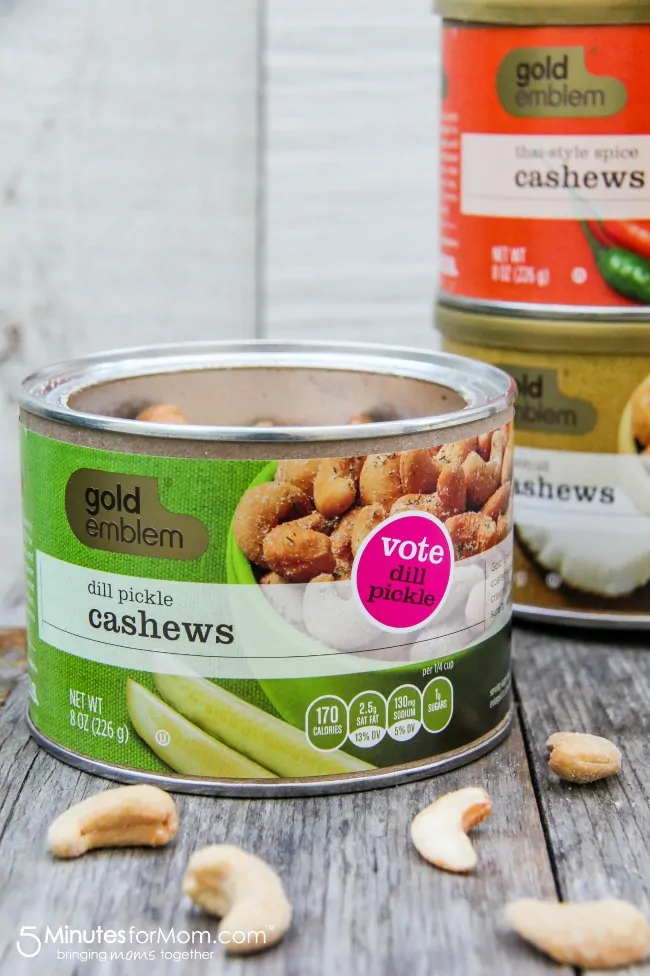 Gold Emblem contains more than 250 great-tasting snacks, beverages, and groceries with both crowd favorites and unique flavors – including nuts, trail mixes, chips, pretzels, dried fruits, candies, cookies, spices, juices, condiments, baking essentials and breakfast bars.
With these new and exciting flavor options, CVS Pharmacy is making it easier and more convenient for customers to opt for high-quality, flavorful choices nationwide, with tasty combinations to appeal to a wide variety of preferences.
Whatever you or your guests' taste preferences may be, Gold Emblem offers a variety of products to fit everyone's unique snacking preferences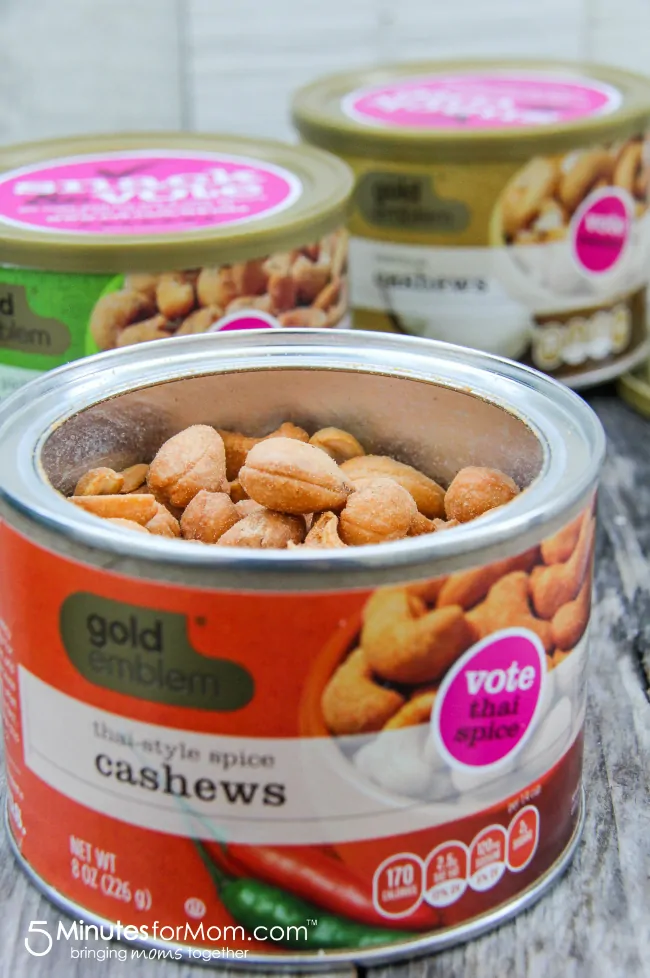 And now for that recipe I promised you…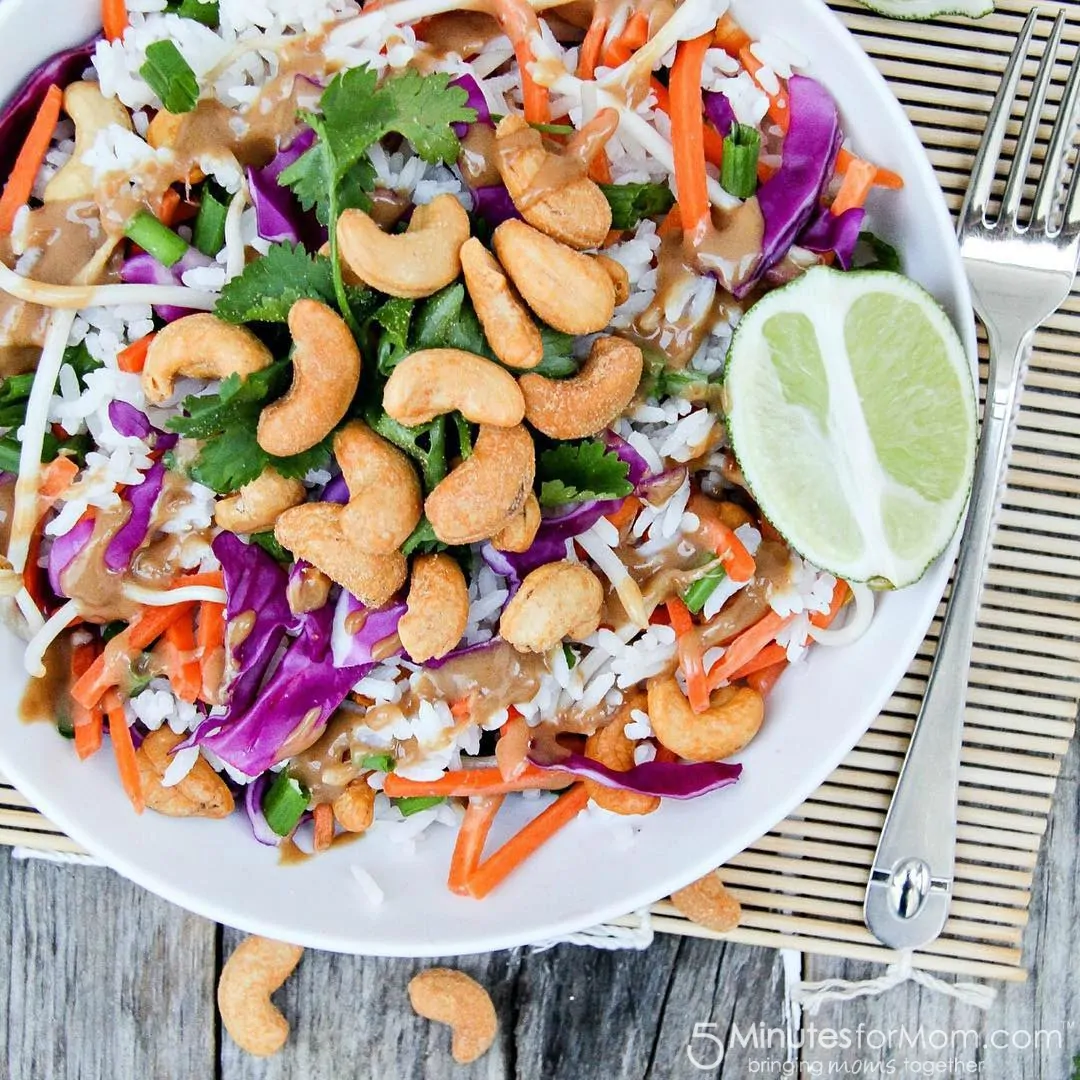 Try this Crunchy Thai Cashew Rice Salad Recipe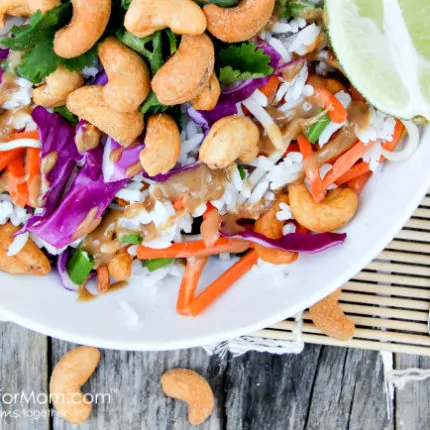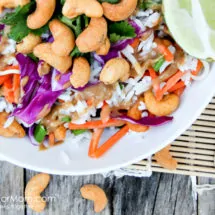 Ingredients
2 cups jasmine rice
1 cup coconut milk
1 cup water
1 cup carrots shredded
1 cup red cabbage shredded
1 cup Gold Emblem Thai-style spice cashews
1 cup bean sprouts
3 green onions thinly diced
lime for garnish
cilantro for garnish
Your favorite Thai peanut sauce
Instructions
Bring the coconut milk and water to a boil in a medium-sized pot.

Add the rice, stir, reduce the heat to a simmer, and cook covered for 25 minutes.

Allow the rice to cool while you chop and shred your vegetables.

Combine the coconut rice, cabbage, carrot, cashews, and bean sprouts in bowl.

Garnish with green onions, squeeze lime over the top, add cilantro, and top with your favorite Thai peanut sauce.
Coupon
Once you vote for your favorite flavor, you'll receive a $1 off coupon.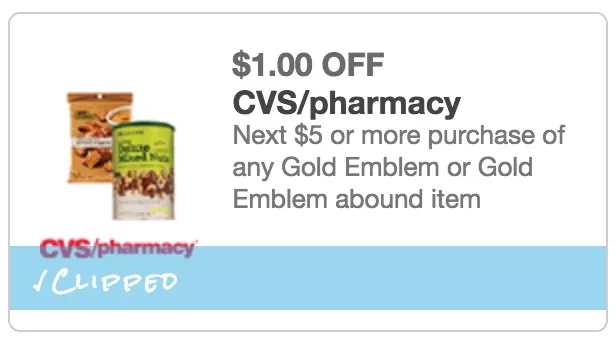 Pin it for Later

Disclosure: I'm proud to partner with CVS Pharmacy to promote their exclusive Gold Emblem snack line. I am being sponsored by CVS Pharmacy for my posts and activities, but all opinions expressed are my own, and all product claims or program details shared should be verified at CVS.com or with the appropriate manufacturers.
Written by Tonya Staab, contributor at 5 Minutes for Mom
Talk with us: @5minutesformom and Facebook.com/5minutesformom
Pin with us at pinterest.com/5minutesformom