This post may contain affiliate links. Read my disclosure policy here.
5 Minutes for Books' reviewer and children's literature super-fan Dawn is happy to be working with Scholastic to introduce you to a new picture book from the team of New York Times bestsellers Eric Litwin and Tom Lichtenheld. And… keep reading for an awesome giveaway.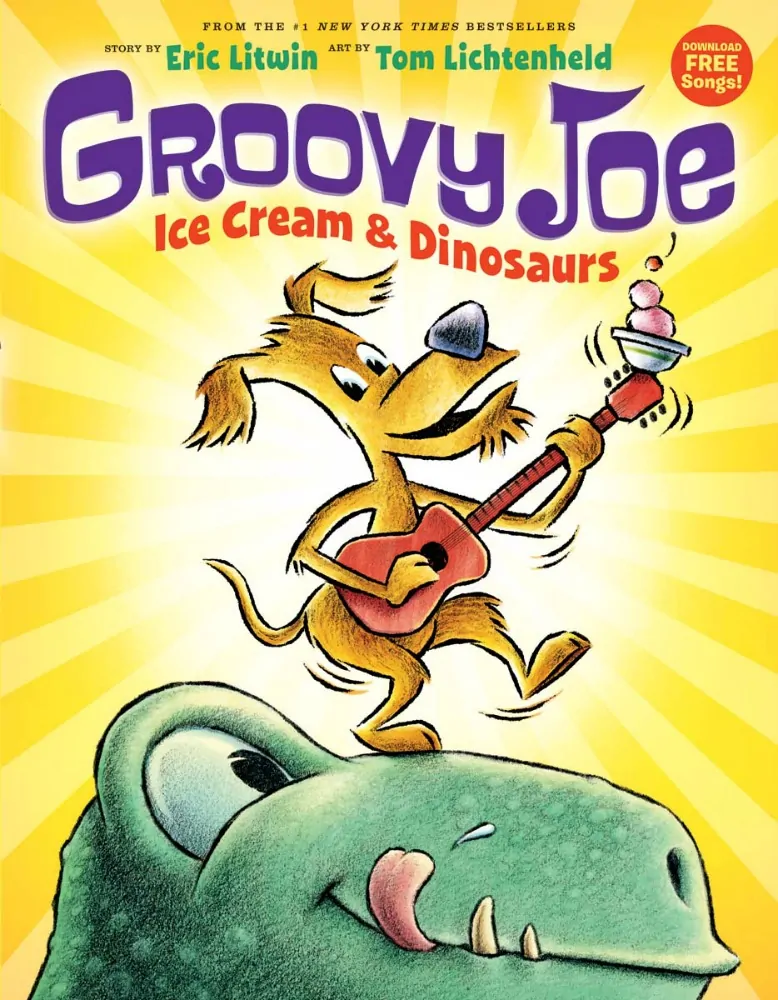 If you've got young children, the odds are that you're familiar with Eric Litwin's music-loving character, Pete the Cat. Litwin's talent lies in his ability to create imaginative stories that incorporate rhythm and music, encouraging kids to enjoy his books while moving and grooving. His latest offering is the first in a new series featuring an adorable guitar-strumming dog, Groovy Joe: Ice Cream & Dinosaurs.
Groovy Joe is a spirited dog, and his excitement for the things he loves can be seen in Lichtenheld's signature illustrations that are as fun as ever. Just before Groovy Joe digs into his tub of "Haagen Dogs" doggy ice cream, he gets in a musical mood. Picking up his guitar, he begins to sing and dance with joy. But, his song is interrupted by the arrival of a fierce looking dinosaur… who pulls out a spoon!
Groovy Joe, not missing a beat (ha!), scoops out some ice cream for his new pal and they sing and dance together. A pattern is created with the arrival of two more dinosaurs who also happen to love the chilly treat. Music notes fill the pages as the growing group continues the song. Even young preschoolers will quickly learn the repeated lines and be able to call along with the story, making this a perfect book for a read aloud with one child, or better yet, a group of energetic little ones.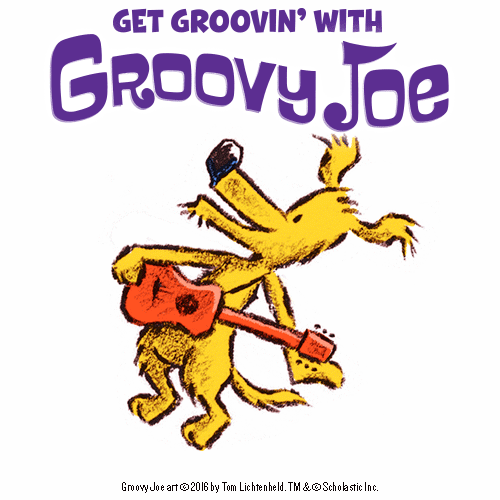 As with his Pete the Cat series, Litwin's Groovy Joe is made accessible to young children beyond the pages of the book. By visiting his website on Scholastic.com, you can listen and sing along to the book being read aloud in English or Spanish, or download it to your own device to revisit it again and again. The same can be done for Groovy Joe's "The Groovy Dance," in both languages, as well. Visit the site for other ways to keep the groove going!
Enter to win
Enter below for a chance to win your own copy of Groovy Joe: Ice Cream & Dinosaurs, along with a pair of Purosound kid-safe headphones, care of Scholastic, value of $120. Giveaway is open to US addresses only.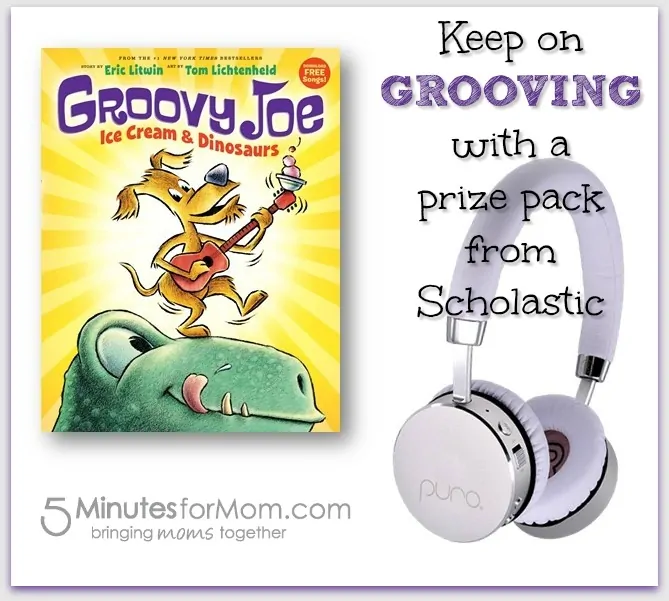 Be sure to check out Scholastic's social media channels on Twitter, Facebook, and Instagram to keep up with #GroovyJoe and #GroovyJoeStories so you can be #GroovyLikeJoe.
Disclosure: This post is sponsored by Scholastic.
Written by Dawn, contributor for 5 Minutes for Mom
Talk with us: @5minutesformom and Facebook.com/5minutesformom
Pin with me at pinterest.com/5minutesformom