This post may contain affiliate links. Read my disclosure policy here.

Do you have Wiggles fans in your home? Let me tell you, my boys are probably some of their BIGGEST FANS! Every morning my boys wake up Jeff, do the monkey and rock-a-bye their bear along with their favorite musical group.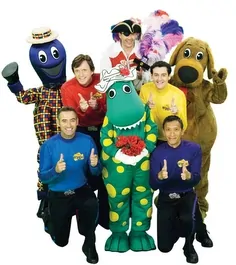 In fact my three-year-old, Isaiah, has a desire to play the guitar just like his favorite Wiggle, Murray.
Over the summer I surprised Isaiah by taking him to see The Wiggles in concert. My poor son was so awe-struck, that he sat in my lap, barely moving a muscle, for almost the entire show.
At one point Murray traveled around the audience, walked right up to Isaiah, and waved hello. My poor son just stared at him, with his jaw pretty much to the ground.
During their last song of the night, Isaiah finally got up and grooved along, just like he does every morning. I just HAD to capture it on video.
Wiggles are now on Sprout, weekday mornings from 6-9 ET. We are so thankful to have Sprout at our house. If Sprout isn't available in your area, please visit Wiggles Please to petition to get Sprout from your service provider.
Would you like to surprise your child with Wiggly fun under the Christmas tree?
Thanks to our lovely Wiggly friends, we have one Wiggles Prize pack to give away to one lucky reader. Let me tell you, this is one awesome gift too, with a retail value of $140.00.
The Wiggles Prize pack includes:


Backpack
Nursery book
Traveling Book
Baseball Cap
Canteen
Plush Dorothy OR plush Wags
2 mini-posters
Audio CD: Pop Go The Wiggles
DVD: Sing A Song of Wiggles
Here's how you can win:
See our Christmas Giveaway 2009 post to read more about
participating in our Christmas Giveaway

Either link back to this post and include a Christmas Giveaway 2009 button in that post or on your sidebar, or link to the individual giveaways you choose to enter. We have a ton of different buttons and styles for you to choose from. Click here to get the button codes. (If you post and include the button, either in your post or on your sidebar, and link back here, you are good for all the giveaways. No more linking required.)
Please leave one comment below to enter this giveaway and tell us your child's favorite Wiggles song. You may earn additional entries for the following:
1. Subscribe to our Feed
2. Sign up for our Newsletter
If you are already subscribed and are on our newsletter list, you qualify for these two additional entries. Go ahead and leave your additional comments below.
As always, non bloggers are welcome to participate! We understand you can't link – but please spread the word to your friends.
Entries are open until Friday, December 4th at 12pm EST.
Our winner will be drawn randomly and we will announce the winner Saturday, December 5th. Please make sure to check our site and your email address to see if you have won a prize. We must receive your reply within 5 business days. (If you want your prize to arrive in time — the sooner we hear from you, the better!)
This contest is open to US and Canadian shipping addresses. Due to legal restrictions, this promotion void where prohibited.

Please see our site's Terms and Conditions of Use for a complete list of our Contest and Giveaway Rules.
Don't forget to check out The Wiggles each weekday morning from 6-9 ET on Sprout.
*Thank you to The Wiggles for providing one prize pack for giveaway and one for an Under The Tree family. Please note that we did not review the Wiggles Prize Pack.