This post may contain affiliate links. Read my disclosure policy here.
Encouraging update from Anissa's husband…
Wednesday, November 18, 2009 5:32 PM, EST
Update from Peter, Anissa's Husband:

Neurosurgeon just stopped in.

We talked about the second bleed.

I mentioned in the past 30 minutes her movement had picked up:

* she was searching natalie's hand for a ring we think – she was moving her left leg and arm more deliberately
* she was having some facial expressions So, the doctor rubbed her sternum and said her name loud. She tried to open her eyes! Did it again, and the eyes opened wider.
* She keeps trying to reach the tubes and such.

Very encouraging!

KEEP PRAYING PLEASE!

Watch for updates on Anissa's Caring Bridge page.
——
I had one eye on Twitter while I was working this afternoon, and a tweet appeared with the hashtag #prayersforanissa and something about Anissa in the ICU!
I scrambled to click on the hashtag to find out what had happened to our dear friend Anissa Mayhew.
I scanned the tweets in total shock — Anissa had a stroke and is in the ICU. There were no more news or updates from the hospital. All afternoon and evening, all we could do was tweet our frantic prayers, thoughts and hopes.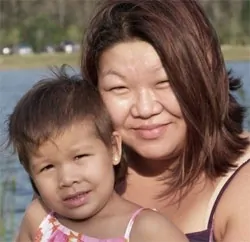 The outpouring of love on Twitter, Facebook and blogs is reflecting the INCREDIBLE spirit of Anissa!
If you haven't had the blessing of getting to know @AnissaMayhew, Anissa is a beautiful mixture of passion, love, empathy, irreverance, and humor, (she is simply hysterical!)
Susan and I adore Anissa!
We have been blogging friends with Anissa for years, as she fought her daughter's cancer at Hope4Peyton, as she celebrates their cancer-free life at Free Anissa and as she makes the blogosphere laugh over at Aiming Low.
For the past couple years, Anissa has also written and worked behind the scenes at our sister site, 5 Minutes for Special Needs. While Peyton was sick, Anissa shared the struggles of a family dealing with cancer with the 5 Minutes for Special Needs' readers. But once Peyton recovered, Anissa still continued her work at 5 Minutes for Special Needs, working both in front and behind the scenes.
We are SO grateful for EVERYTHING that Anissa has done for 5 Minutes for Special Needs and for every smile, hug, and laugh she has brought the blogosphere.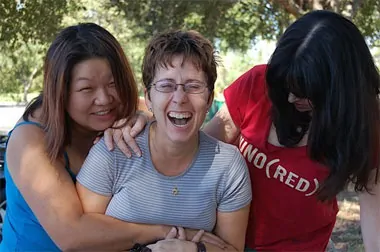 Everyone who knows Anissa loves her. It is simply impossible to NOT love Anissa!!!
So tonight, we are still shivering in shock and praying, praying, praying that Anissa will have a complete and quick recovery and that her precious children and beloved family will feel the arms of God holding them as they face the days and nights ahead.
You can go to Anissa's site Aiming Low to find a post with information about what has happened to Anissa and a link to a form if you want to offer help. This form was created in response to the many people in the Atlanta area who have offered help to the Mayhew family. But even if you are NOT in the Atlanta area and still want to help, you can also leave your information on that form. (Please be assured your information will be kept private). If you have questions, please email helpforanissa @ gmail dot com.
At Aiming Low you will also find a Mr. Linky to add a link to your own post if you have written a post for Anissa. We trust she will very soon be reading and laughing at our gushing posts — and feeling the LOVE!
WE LOVE YOU ANISSA!!!!
Photo credits: I grabbed the photos from Anissa's Facebook profile pics! Hope you don't mind Anissa!🙂
——
UPDATE: At 12 pm Eastern, Anissa's husband updated the post at Aiming Low:
"What we know is she had a massive stroke.
She bled into the brainstem and pons areas of the brain. She is no longer sedated but still unconcious and unresponsive. Vitals are mostly stable except for a lowgrade fever most likely due to the damage to the pons. The pons control the bodies ability to regulate temperature. She is still on a vent and it is unclear if she is capable of breathing on her own. She has had an mri/mra/ct today. An eeg is pending. We're in a waiting game now for survival first, and ultimately for her to wake up."
The list of posts dedicated to Anissa is growing at Aiming Low. There are over 140 posts right now. Head over to read some beautiful posts about our inspiring and fabulous friend Anissa!
P.S. In her post for Anissa, Rachel included a link to a post Anissa wrote this summer about recovering from her first stroke. This is Anissa's second stroke.