This post may contain affiliate links. Read my disclosure policy here.
This stroganoff recipe comes together in about 30 minutes, but it tastes like it's been cooking all day!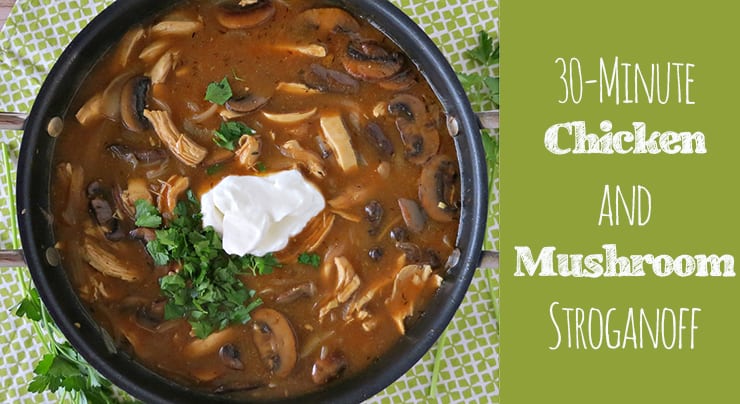 Preparing the dish
If serving this with rice or pasta, get them cooking before you start the stroganoff, so everything is done about the same time 😉
Using cooked and shredded chicken makes this quick and easy. When chicken goes on sale at a stock up price, a great tip is to buy an extra package and boil it up. Once it's cooled, pick the meat off of the bone and freeze it into dinner-size portions. Cooked chicken thaws incredibly fast which makes it perfect for weeknight meals.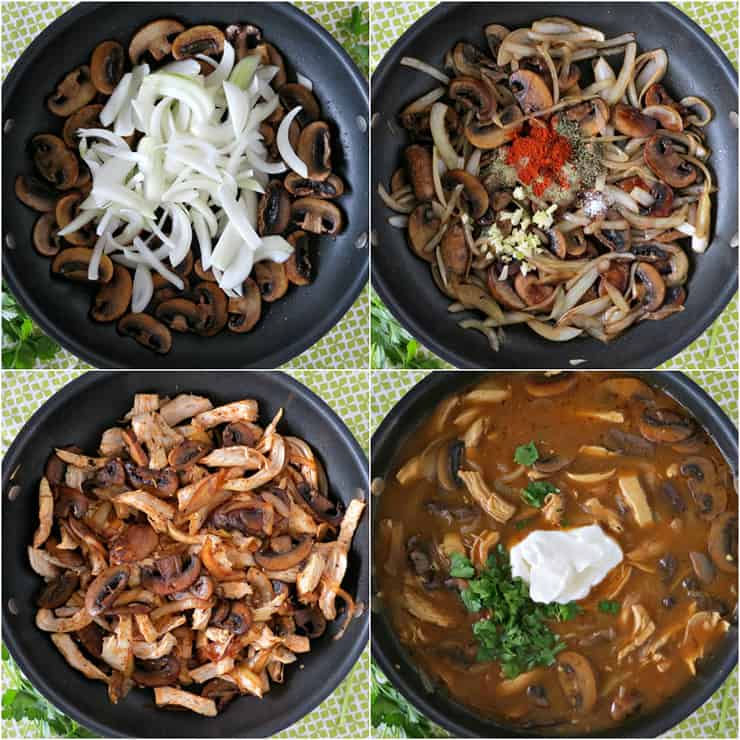 We love using baby bellas because they have great flavor and an almost meat-like texture. But, of course, you can use any kind of mushroom you like or leave them out altogether.
The paprika, Worcestershire, Dijon, and thyme give the sauce a unique and delicious flavor! And no stroganoff is complete without a big spoonful of sour cream stirred in at the end. I suggest starting with 1/4 cup and adding more to your liking. We LOVE sour cream, so we add the full 1/2 cup. You can also serve extra on the side.
Pepper also goes really well with the flavors of stroganoff, so we add a healthy amount. If you don't love black pepper, just add less. Keep in mind that the Dijon mustard will also add a little bit of spiciness.
As always, we recommend using a good quality LOW-sodium chicken stock. It makes any homemade sauce or gravy so much better! Low-sodium stock is a must. Some brands are incredibly salty and can ruin your dish.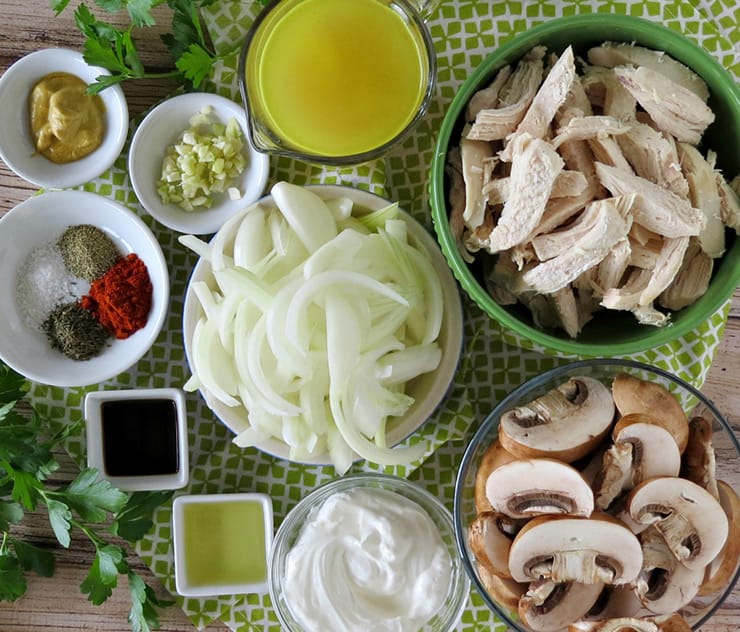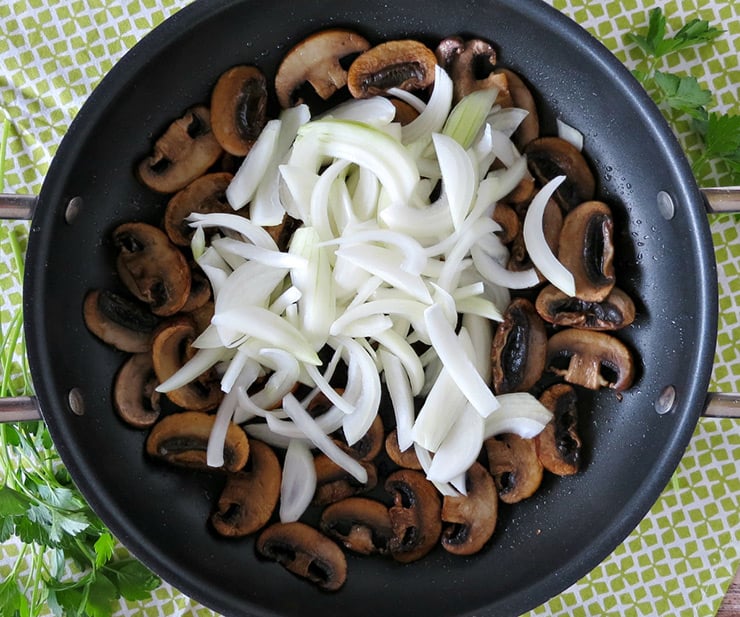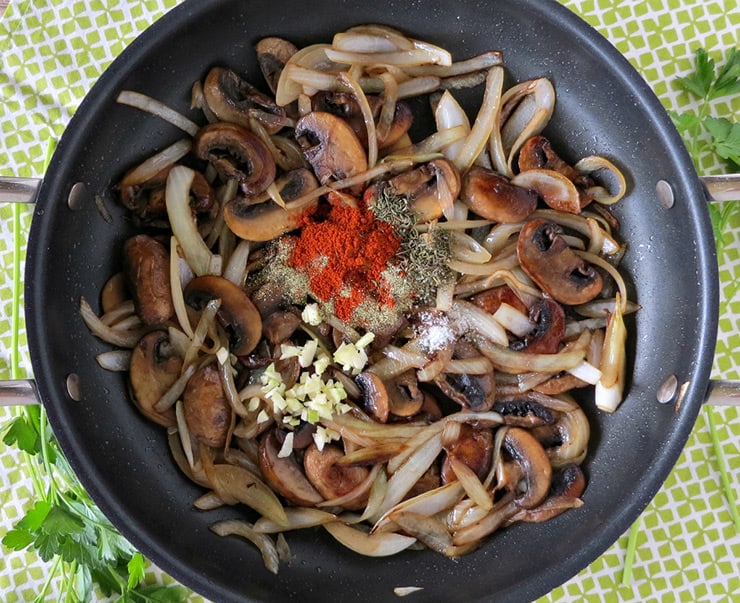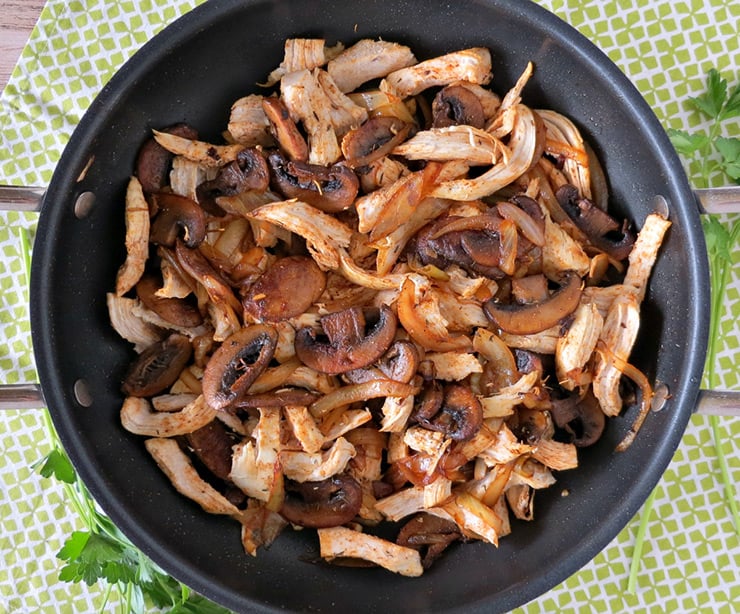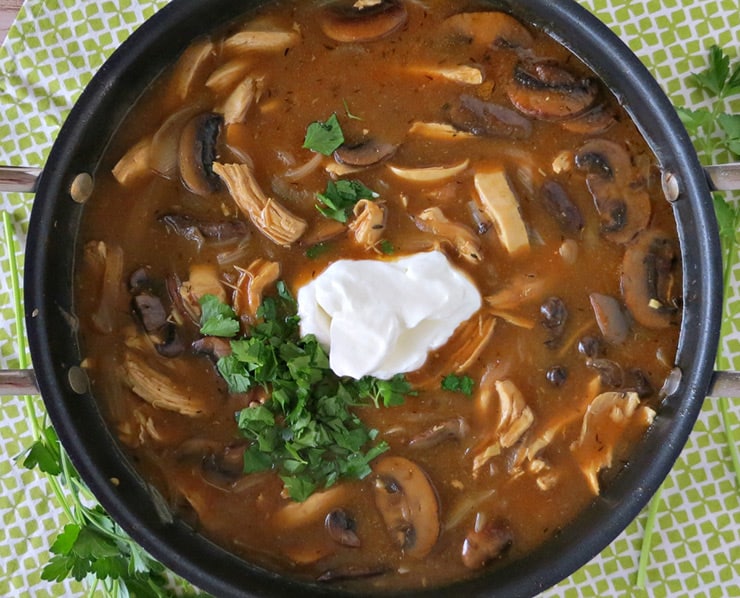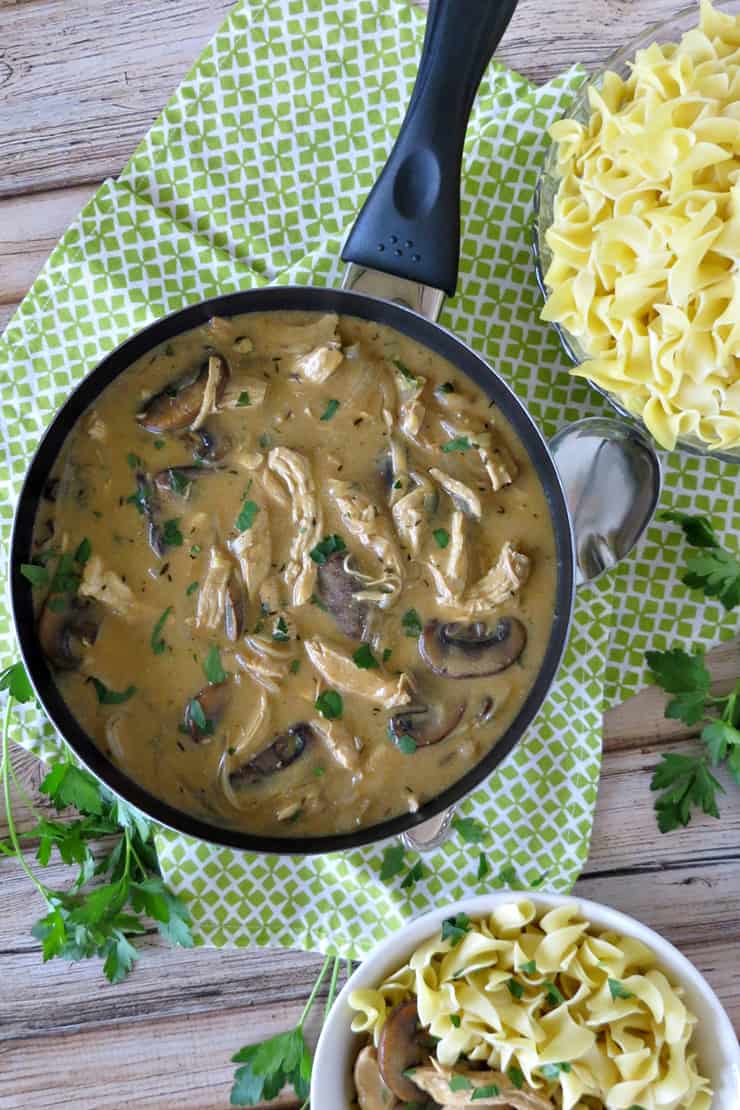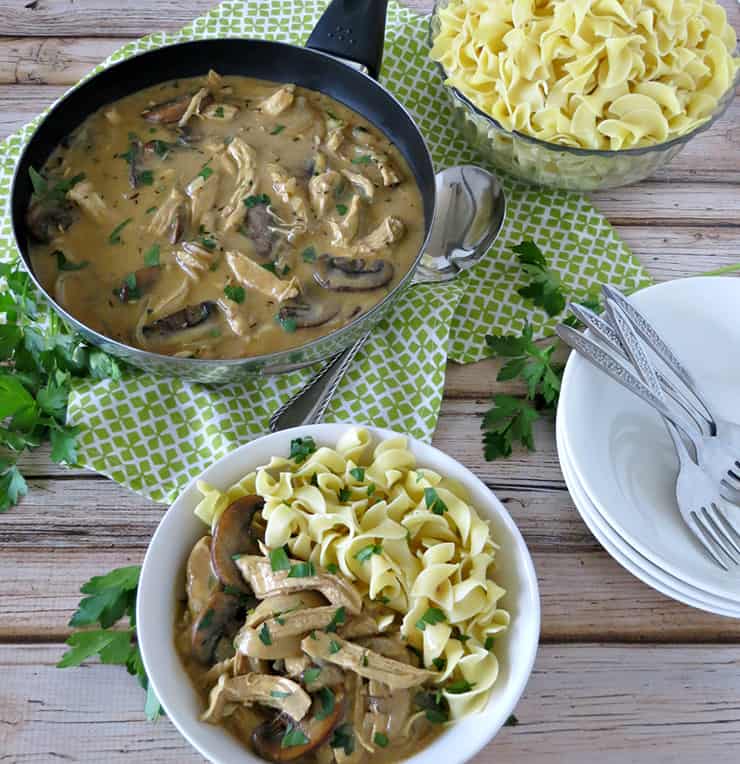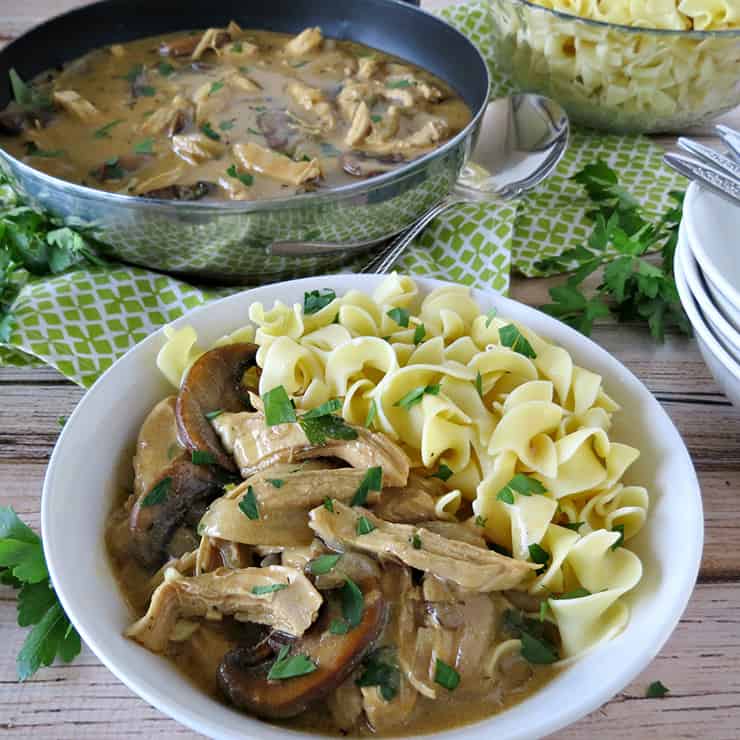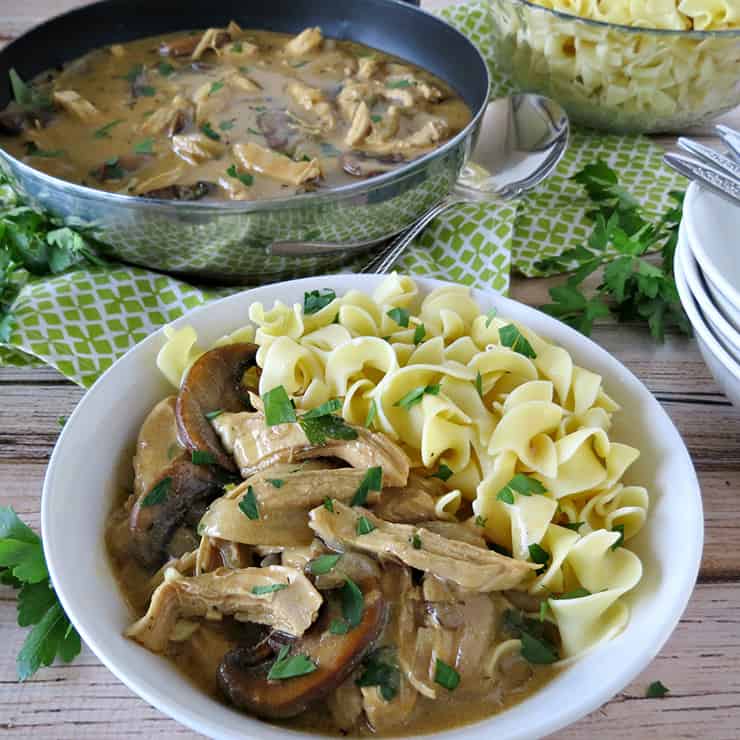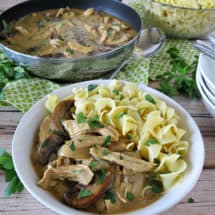 30-Minute Chicken & Mushroom Stroganoff
This stroganoff recipe comes together in about 30 minutes, but it tastes like it's been cooking all day!
Print
Pin
Rate
Ingredients
3 cups cooked chicken breast shredded
3 tablespoons olive oil
1 large onion sliced
3 cloves of garlic minced
8- ouncs baby bella mushrooms sliced
1 teaspoon paprika
1/2 teaspoon dried thyme
1/4 teaspoon salt
1/2 teaspoon pepper
1 tablespoon Worcestershire sauce
1 teaspoon Dijon mustard
32- ounces chicken stock
1/4 cup water
2 tablespoons cornstarch
1/4 - 1/2 cup sour cream
1/4 cup fresh Italian parsley chopped
Instructions
Place a large skillet on the stove over medium-high heat, and add the olive oil.

When the oil is hot, add the mushrooms and sauté for 2 to 3 minutes or until lightly browned.

Add the onion and cook for 3 to 4 minutes or until the onion is lightly browned and softened.

Add all of the seasonings and the garlic, and cook for 1 to 2 minutes or until fragrant.

Add the chicken, and toss well to combine.

Add the stock, and bring to a simmer.

Simmer for approximately five minutes to blend the flavors and slightly reduce the liquid.

While the sauce is simmering, whisk together the cornstarch and water until smooth.

Slowly pour the cornstarch mixture into the pan, stirring constantly.

Turn the heat down to medium-low and continue stirring until the sauce has thickened.

Remove the pan from the heat, add the sour cream and parsley, and stir to combine.

Taste and adjust the salt and pepper to your liking.

Serve over egg noodles, mashed potatoes, or rice.
Pin for later!
Pinning & sharing is SO appreciated!