This post may contain affiliate links. Read my disclosure policy here.
In a world where our children's lives are dominated by screens and technology, camping with kids can truly be a blessing in creating family memories that will last forever. They are always going to look back on those camping trips with fond memories and appreciate what you did for them.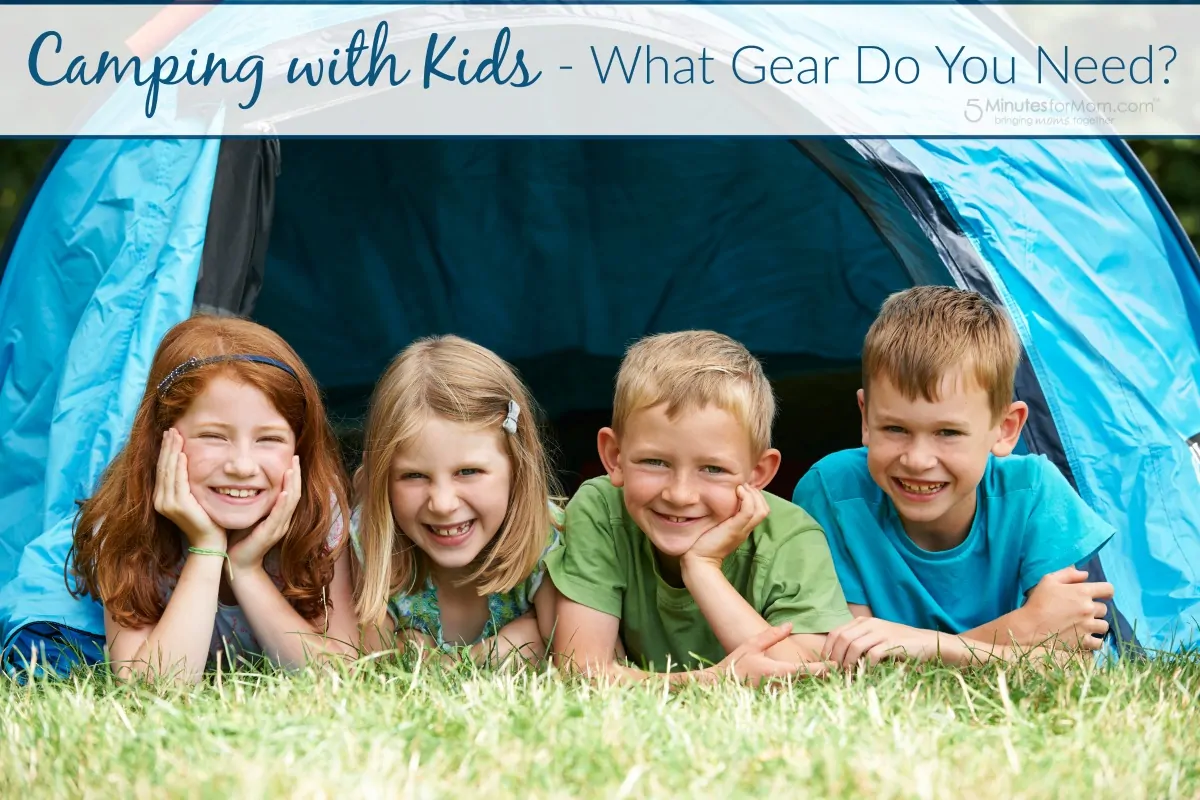 Are you considering taking your kids on a camping trip? If this is your first time, do not be afraid. Be prepared, but not afraid.
Without proper preparation, camping with kids can be difficult and it can sometimes be a complete disaster. Let's make sure you know exactly what gear you will need to make your trip with the kids as memorable and fun as possible.

Essential Gear for Camping with Kids
Family Sized Tent. Chances are your kids are too small to be in their own tent.  Make sure you have a tent that will comfortably sleep your family. I love the Coleman Montana 8 because it is big enough for a family, plus their clothes and gear! You might not want a tent quite that big though and there are quite a few options out there for you.

Sleeping Bags.  I cannot stress this one enough. Make sure that you have adequate sleeping bags for your environment. Sleeping bags have temperature ratings. If you are going camping somewhere that gets cold at night, spend the extra couple of dollars on a sleeping bag that will keep them warm at lower temperatures. When kids get a good night's sleep, they are much more agreeable the next day. No one wants a sleepy, grumpy kid on their camping trip.

Kids Chairs.  Do your kids have their own camping chairs? They should. They are reasonably priced and your kiddo will feel included if they have their own seat around the fire instead of having to sit on the ground.

Lightsticks or Flashlights. Kids will feel more confident and relaxed at night if they have their own source of light. These light sticks or glow sticks come in fun colors and are an easy way to provide a little extra light after dark. We also like to get a low cost set of mini flashlights, so that each person has their own little flashlight right next to them at night.

Food. Food is food right? Wrong. Make your trip go more smoothly by packing foods that are easy to eat and condiments that are easy to use. Don't bring the big jar of mayo for sandwiches and burgers, make sure your get squeezable bottles or better yet, bring condiment packets with you. Not only are these the easier choices, but you are going to see less messes this way.

Entertainment. When I say entertainment, I'm not talking about phones or tablets. I'm talking about a deck of cards or dice. Maybe consider bringing a book to read or a coloring book for kids who like to color. It's great for kids to have something to do, and I prefer those things either be together with the family or creative.  

Their own gear. Are you camping for fun or are you combining it with a fishing, boating or beach trip? Make sure you bring the kids their own gear for these adventures. If you are fishing, make sure they have their own rods and reels. If you are boating, they need life jackets (of course) and if you are at the beach, make sure to bring their beach toys. Whatever you are there for, make sure the kids are included and they will enjoy it a lot more.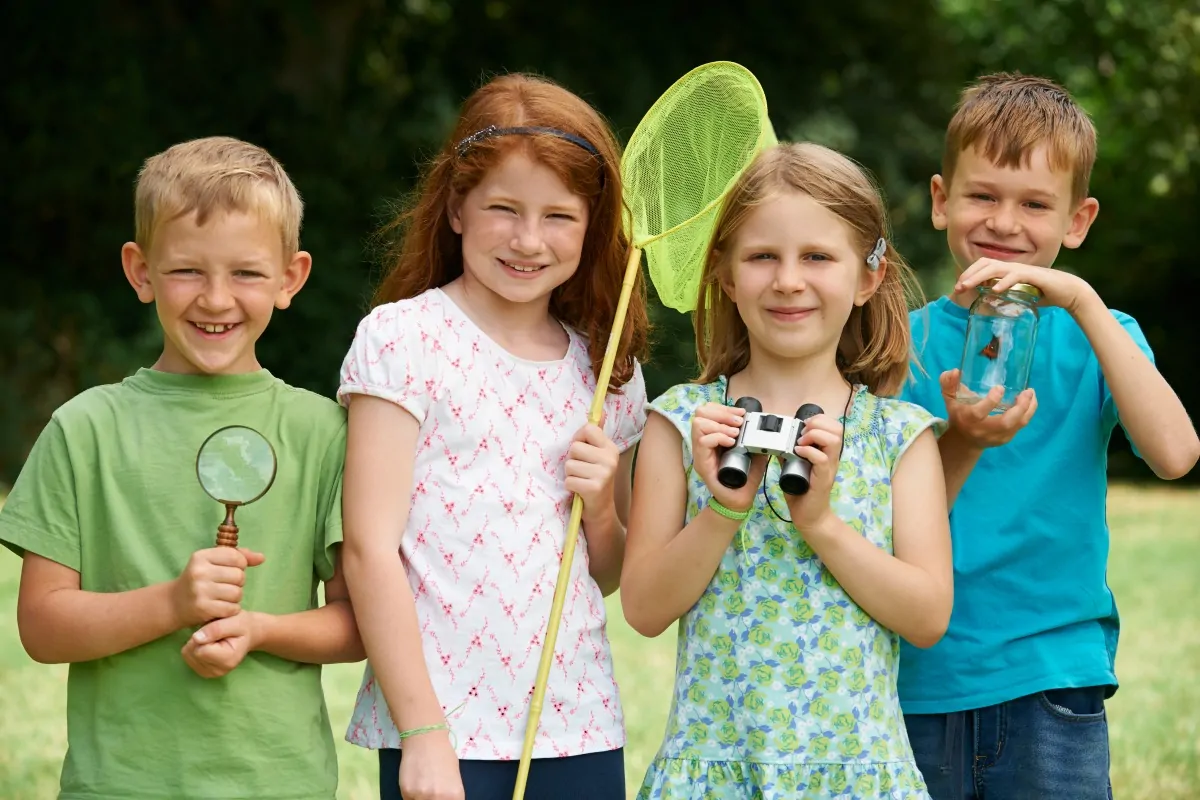 The fact is that as long as you are properly prepared for a camping trip with the kids, the trip will go much more smoothly.  So, pack wisely and have fun making memories!
Share With Your Friends
We'd love, love, love a tweet or a pin… Thanks so much! 🙂
[Tweet "Planning a camping trip with your kids? Here's the gear you need…"]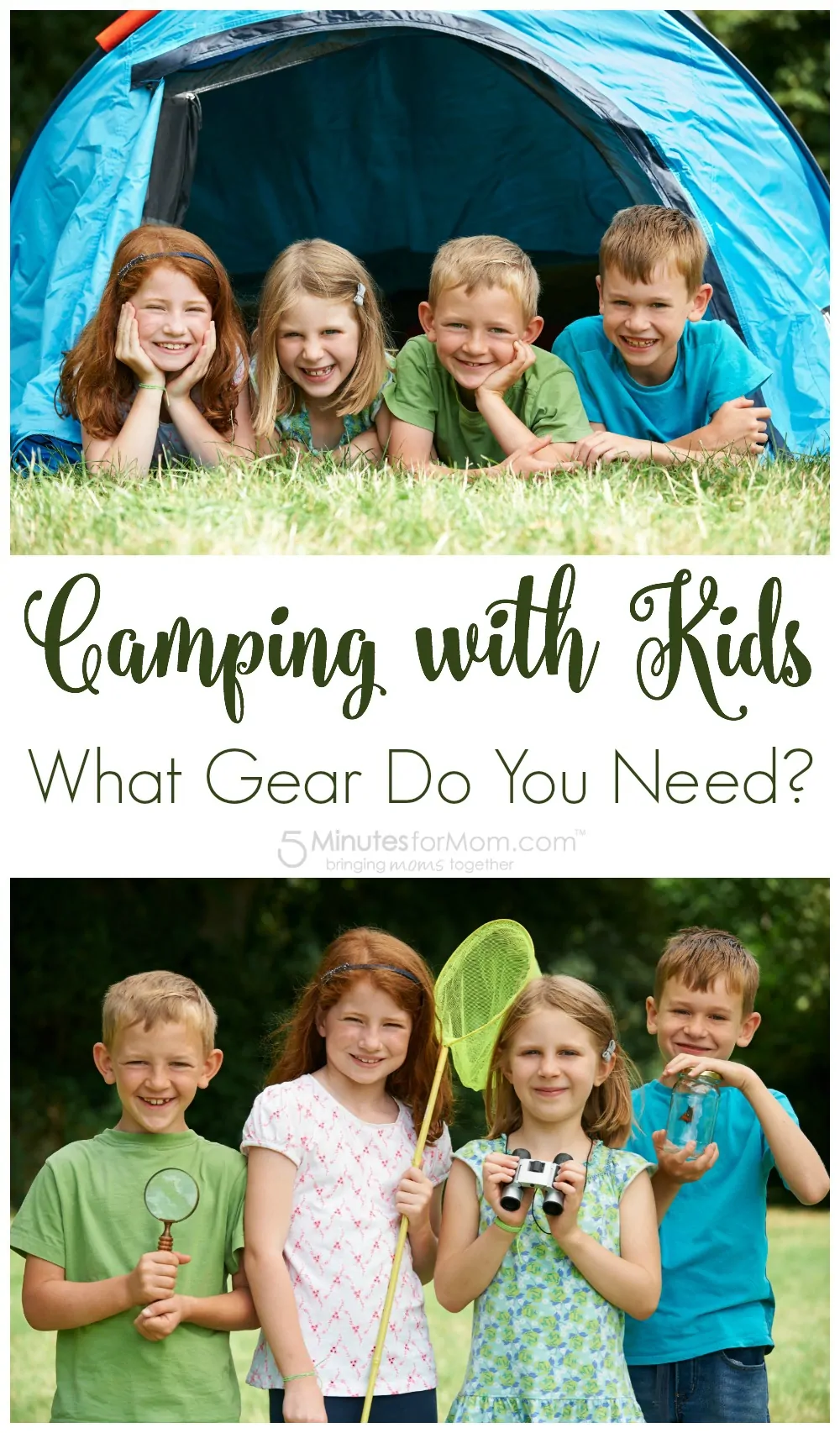 Disclosure: This post includes some affiliate links so extra thanks if you happen to shop through them. We truly appreciate your support.
Written by Susan Carraretto with suggestions from the team at 5 Minutes for Mom
Talk with me: @5minutesformom and Facebook.com/5minutesformom
Pin with me at pinterest.com/5minutesformom