This post may contain affiliate links. Read my disclosure policy here.
Hi "5 Minutes for Mom" Readers. It's Patti from Sincerelyjean and today we bring you a DIY fabric painted bedroom bench makeover.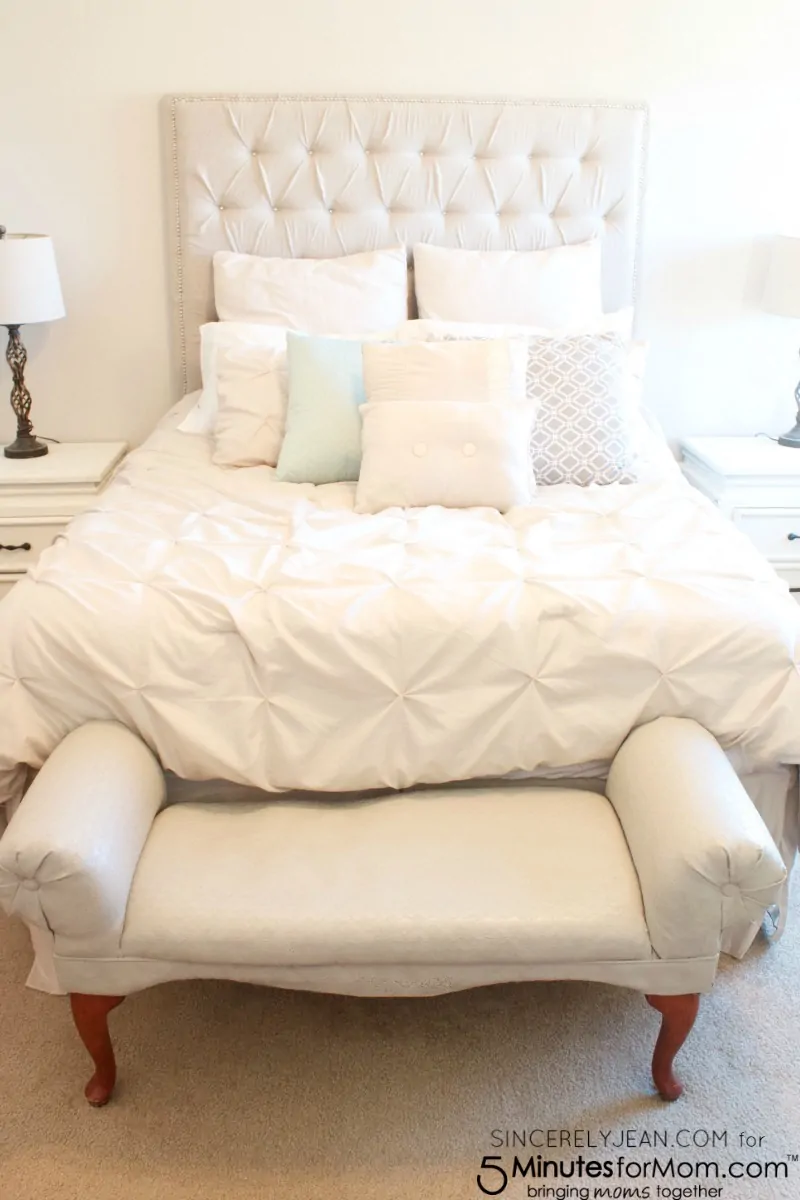 I have always wanted a bedroom bench at the end of my bed but I also didn't want to spend a pretty penny on it. I was at a garage sale a while back and I found an ugly green sofa bench for $15 dollars. Score! So I bought it, promising myself that I would do a makeover on it.


Well six months later is was still sitting at the foot of my bed. Still green and ugly. It has some indentions in  the cushion and every time I walked into the room I cringed at the sight.
I finally decided it was time to give this poor thing a facelift. I knew I didn't want to re-fabric it, I've done that before and it just takes me too long.
So I decided to fabric painted it. I was a little nervous about it at first but then I thought hey, it can't get much worse then it is now and if I ruin it, it was only $15. I am so glad that I did it.
I knew I wanted to go with the color scheme in our master so I decided on a gray. I absolutely love the color. It is one of those perfect grays thats not to much green or blue. I wish I would have found it while I was painting my house. Maybe I'll have to come up with a new project hehe.
These are the materials I used:
Water

Sample Paint of Sherwin Williams Dorian Gray (I used 2)

Textile Medium 80z bottle (I used 2)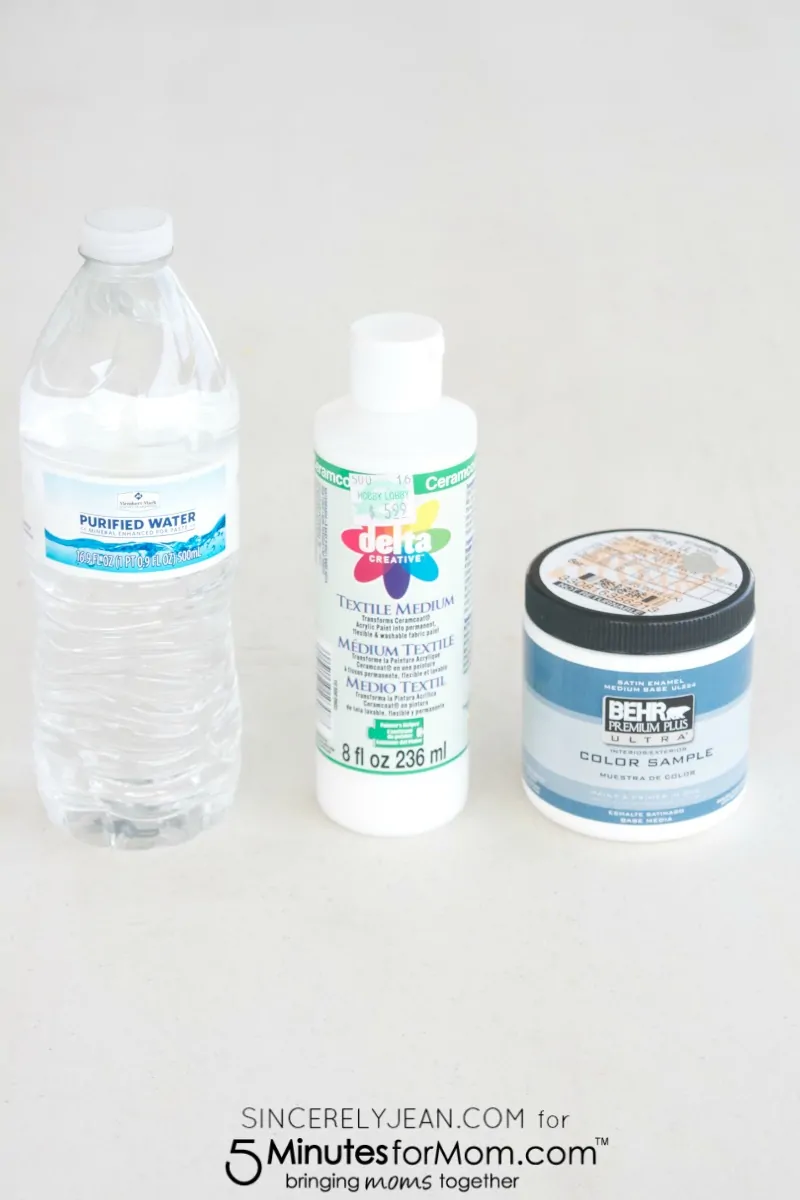 I bought the sample paints from home depot and the medium textile at hobby lobby with a 40% off coupon.
I used a 1:1 ratio for all three and mixed it together. I sprayed down the fabric with some water so it was damp before I started. With a 3 inch foam brush I painted the mixture on just like I would any normal paint project. Let completely dry before you do another coat. I did about 4 coats on this. The darker your fabric is to begin with the more coats you will have to do if your painting it a lighter color.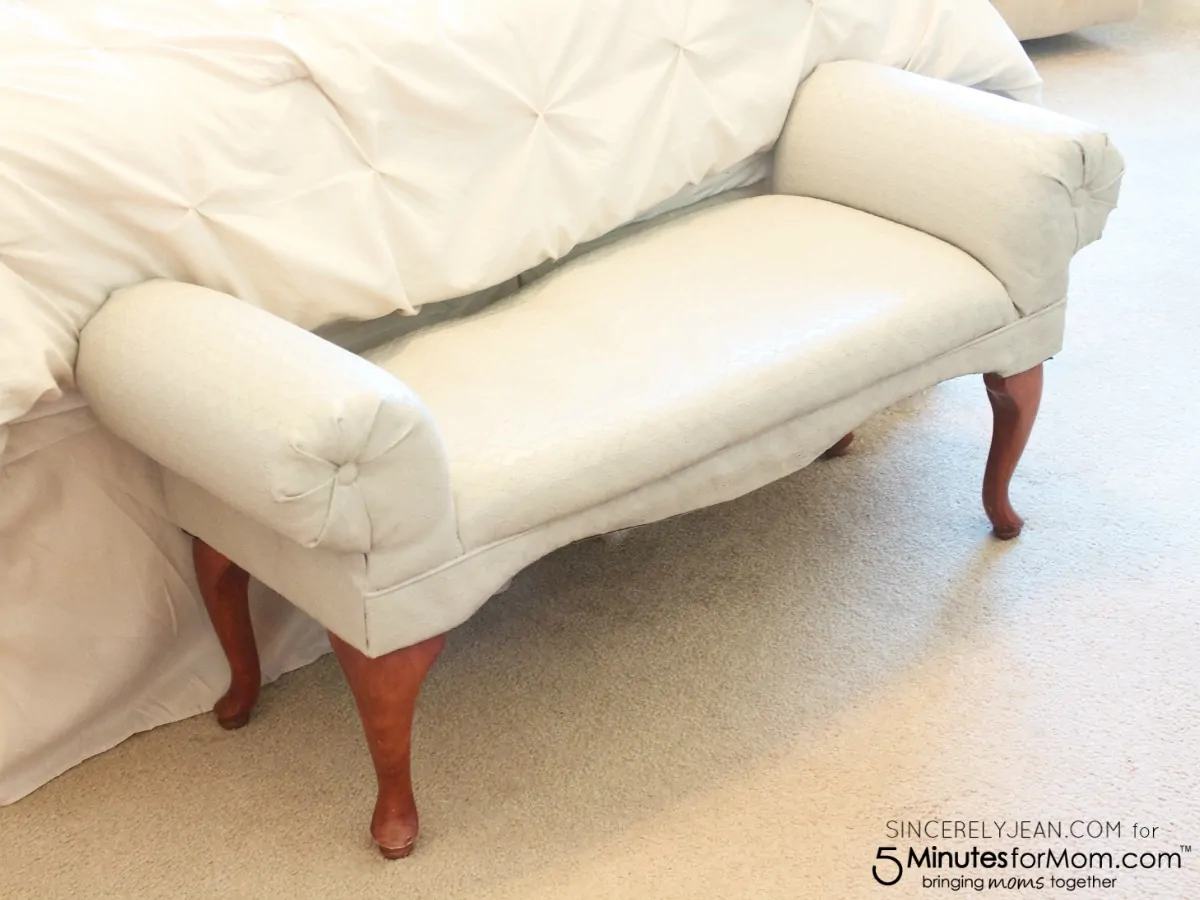 I absolutely loved the turnout! The color matches perfectly with our color scheme and my with diy tufted headboard. It was inexpensive and added a perfect touch to our master bedroom.
Sincerely,
patti jean
Share With Your Friends
We'd love, love, love a tweet or a pin… Thanks so much! 🙂
[Tweet "Check out the Before and After photos of this DIY Fabric Painted Bedroom Bench Makeover…"]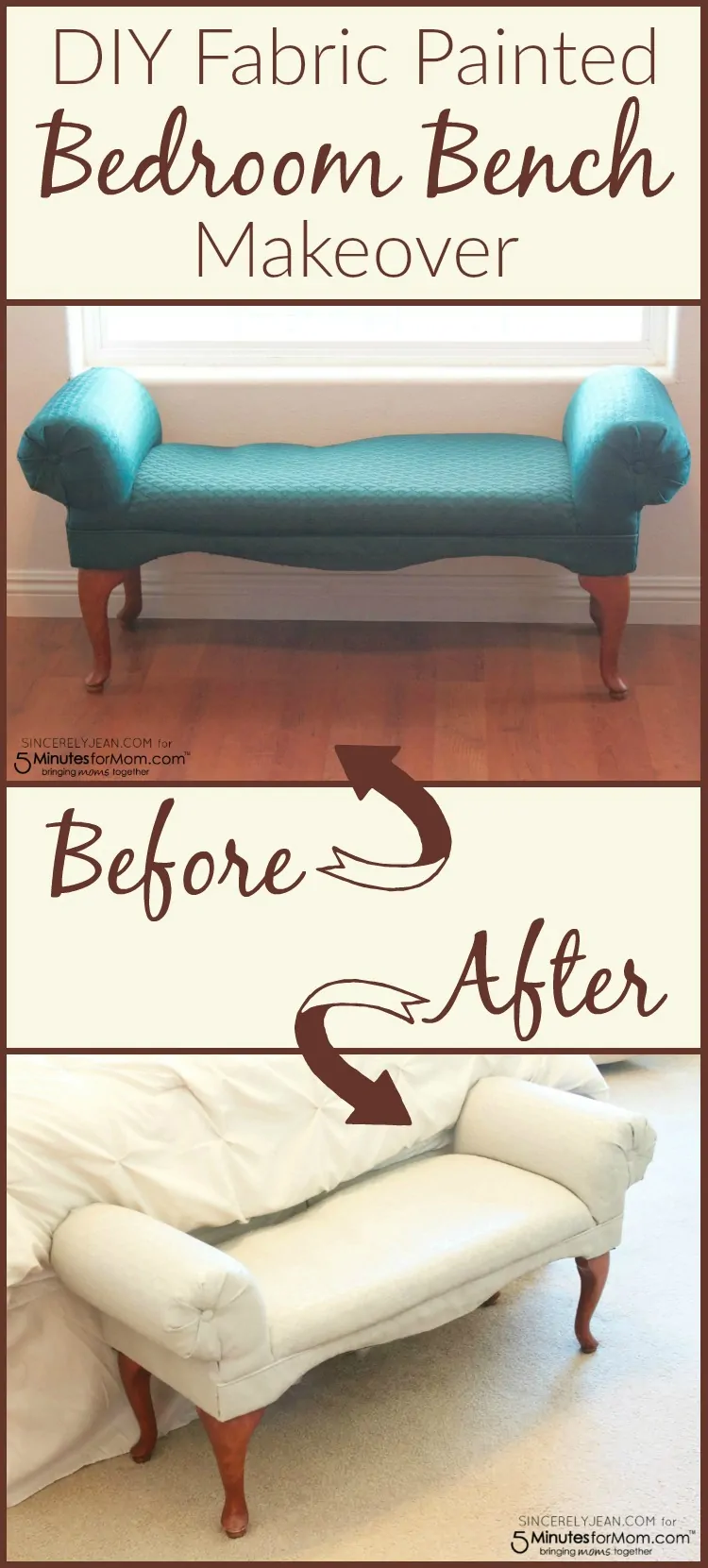 Written by 5 Minutes for Mom contributor Patti Jean. Patti and her two sisters (Shari and Tami) share helpful DIY projects, recipes and style tips on their blog Sincerely Jean to help women make time for themselves and for their "sistas".