This post may contain affiliate links. Read my disclosure policy here.
Today, we are so busy in our lives with everything in hyperdrive. From long days at school to after-school activities and sport, kids need a break… And so do mom and dad!
Parents, work hard all day then they have to usually shuttle the kids to activities and let's not forget cook dinner and keep up with the house. Creating time for some unplugged activities should be on everyone's to-do list.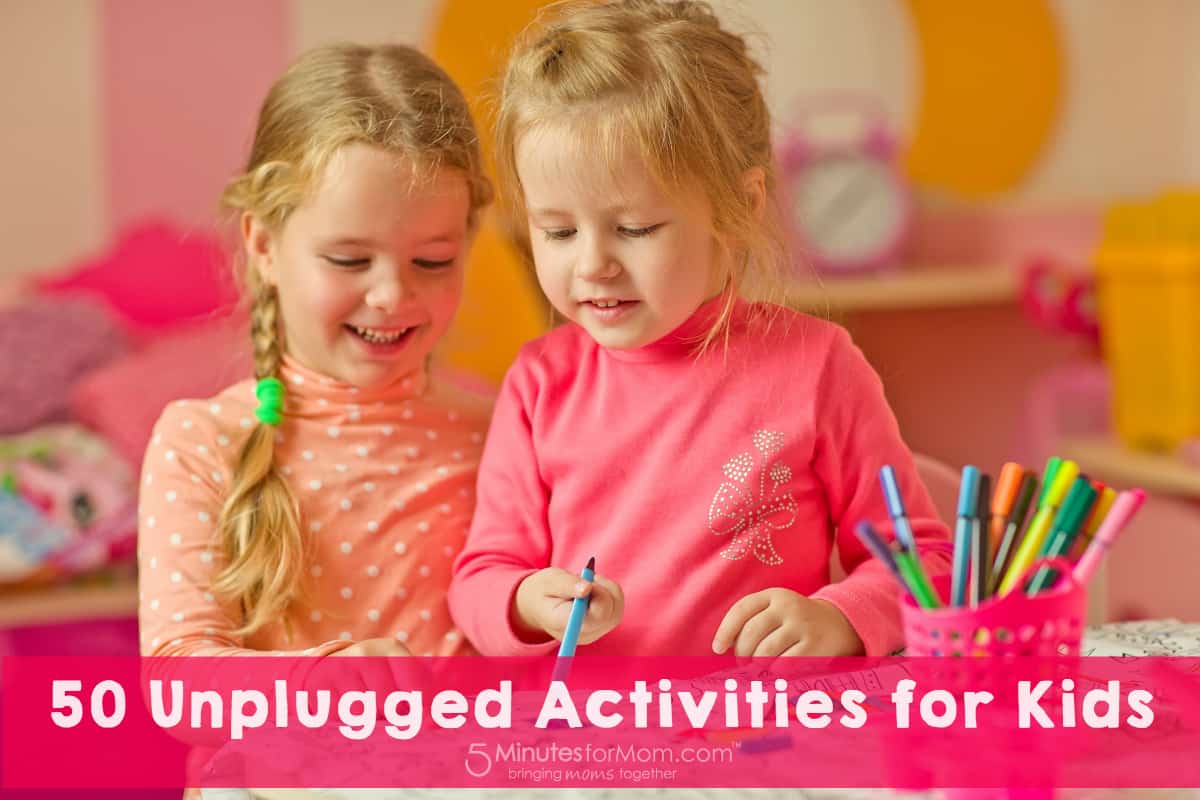 It is so important to make sure you have downtime each and every day.  It can be hard because kids prefer to be busy. It's a good idea to have some unplugged activities to not only get them off the devices but to also relax a little.
50 Unplugged Activities for Kids
Print a free set of paper dolls color and decorate.
Do a jigsaw puzzle.
Take a walk.
Climb a tree.
Collect rocks and paint them. Use these rock painting ideas to get inspired.
Play with kinetic sand.
Write a story.
Make a bedtime sensory bottle, and count the stars in the dark to unwind.
Have a DIY spa day.
Blow bubbles.
Skip stones.
Learn to knit or crochet.
Go on a nature hike and then make nature crafts for kids.
Have a scavenger hunt.
Jump rope.
Make some play doh and play!
Build a fort.
Bake chocolate chip cookies.
Do yoga.
Make a sensory tub.
Pick flowers and make a flower press book.
Lay in the grass and look at the clouds.
Make dinner together.
Make puppets and put on a play.
Get creative with cardboard boxes, like these Cardboard Playhouses.
Build a house of cards.
Make coffee filter flowers.
Go to the playground and swing!
Start a scrapbook with your own DIY book.
Play dress-up.
Have a tea party.
Build with blocks or Legos.
Have a picnic.
Go to the library.
Make pipe cleaner creations like these Pipe Cleaner Ninjas.
Dig in the dirt.
Lay in a hammock.
Write a letter.
Plant a garden.
Dance in the rain.
Play flashlight tag.
It's important to take time away from technology including cell phones, computers, televisions and devices so that everyone can truly have real downtime. Any distractions will interrupt your downtime, and it's best to avoid them as much as possible! Unplug and have some family fun with these activities.
I find that my kids easily put down their devices when I suggest one of these fun activities. And it's crazy how fast kids grow up… you really want to take every opportunity to spend quality time together.
Share With Your Friends
We'd love, love, love a tweet or a pin… Thanks so much! 🙂