This post may contain affiliate links. Read my disclosure policy here.
Have you heard the song, Blessed, by Martina Mcbride? Here are some of the lyrics: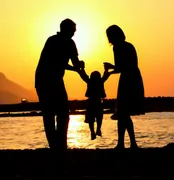 I get kissed by the sun each morning
Put my feet on a hardwood floor
I get to hear my children laughing
Down the hall through the bedroom door
Sometimes I sit on my front porch swing
Just soaking up the day
I think to myself, I think to myself
This world is a beautiful place

I have been blessed
And I feel like I've found my way
I thank God for all I've been given
At the end of every day
I have been blessed
With so much more than I deserve
To be here with the ones that love me
To love them so much it hurts
I have been blessed
This morning I watched my daughter open up her birthday presents. She is six today, and I can't believe it. As I watched my boys partake in the excitement of the day….all three of them laughing and clapping, the song, Blessed, came to my mind. I am so very blessed and so very thankful for all that I have in my life!
What are you thankful for? Please join us this evening for a Thankfulness Twitter Party, sponsored by Libby's. You can find all of the details here. Be sure to RSVP.
Everyone who attends will receive a product voucher. We also have two fun prizes to give away.
Let's share our blessings, our favorite Thanksgiving recipes and our tips for giving back this holiday season.
I look forward to seeing you there.