This post may contain affiliate links. Read my disclosure policy here.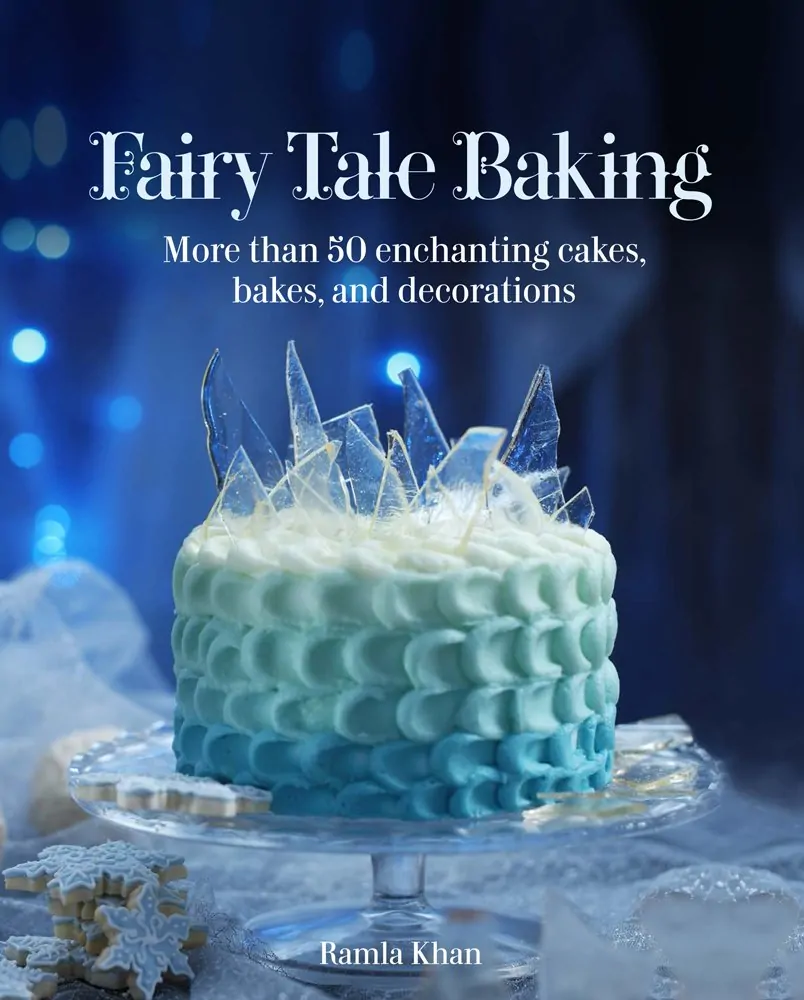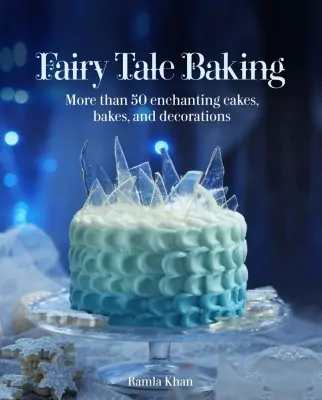 Elizabeth here to share some lovely thoughts on this fun new book, along with some amateurish photos. Believe me, the pastries look and taste better than I could capture.
A question every mother of young children faces this time of year: how to keep kids happy and busy for 2 weeks of home time? A perennial favorite is always baking. I actually love baking, and miss doing it with my kids (who have somehow gotten all big and busy and off to college). Baker Ramla Khan has always loved fairy tales and with the help of a little pixie dust (these cakes are so gorgeous I'm pretty sure she had to have had help), she's put together a cookbook so that anyone can create these at home.
This is a gorgeous cookbook full of fantastic ideas. It's organized around 15 of Khan's favorite stories. Each fairy tale theme contains some very complicated ideas–like making a Snow White out of gum paste or a cake shaped like a teapot. Although they come with detailed instructions, with each step well-illustrated, I am pretty sure I can't make a cake that looks like a pirate ship, with edible sails, for Peter Pan. I have yet to be discovered by my fairy godmother, so I can typically produce things that taste good but look a bit like they were decorated by a 5 year old. But each chapter also includes some things that mere mortals can make in the kitchen, and make look good. I was initially very skeptical about this book's claim that certain things could be made by anyone, but I was game to try. I invited a six-year-old friend over and chose two options–Queen of Hearts tarts and Bramble Tartlets with Chocolate Thorns (from Sleeping Beauty). I even had all ingredients already in the house.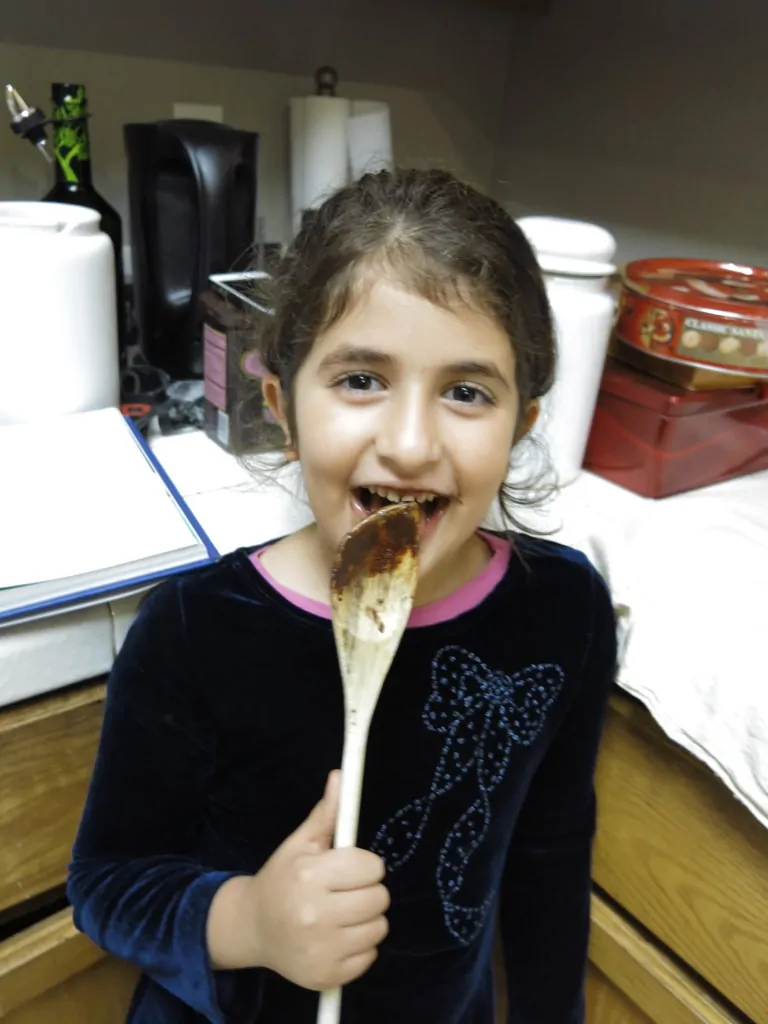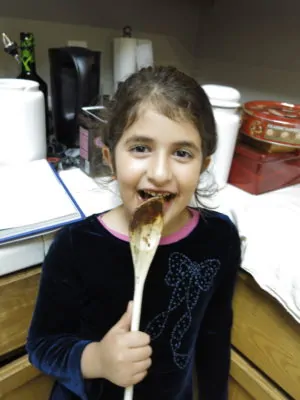 Each fairy tale unit starts with a short version of the original tale from the Brothers Grimm or other sources, followed by a brilliant collection of ideas to put together a party round that tale. There's always a show-stopper–an incredible cake–plus 3 or 4 smaller elements to pull the party together. For example, The Snow Queen chapter features the glass shard cake from the cover (those glass shards are made from sugar, water and cream of tartar), Snowball Cakes (round mini cakes covered in shredded coconut), snowflake cookies (no two would be alike if I decorated them!) and frozen cheesecakes in a jar. Snow White has a cake decorated with apples, mirrors, and even a little black-haired princess made out of gum paste, edible glue and something called "rejuvenator spirit" which sounds like black magic to me but apparently you can buy it at a cake decorating store or on amazon. I don't think the princess will actually come to life though. There are also red lip cookies, dwarf hat cake pops, and candy apples. Alice in Wonderland has a teapot-shaped cake decorated with vines and sugar flowers, pocket watch cupcakes, marshmallow white rabbits, and Queen of Hearts tarts.
We followed the instructions to the letter. I dug out all 4 of my heart-shaped cookie cutters and we experimented with sizes. We tried to make chocolate decorations and failed miserably, so we ate the chocolate and I left some to cut into crude thorn shapes later. My little friend kept saying, "I really don't mind how it looks as long as it tastes good!" which cracked me up, as I'm pretty sure she got that from her mother or possibly Peppa Pig, since she sounded slightly British when she said it.
And lo and behold, several hours later and after viewing Charlie Brown's Christmas twice, our creations came out beautifully! They both taste wonderful. I mean, really good and kind of, dare I say, professional. The chocolate ones are rich and creamy and decadent, and the raspberry ones are just delightful. And, strange to say, they even look pretty darn good, except for possibly the thorns.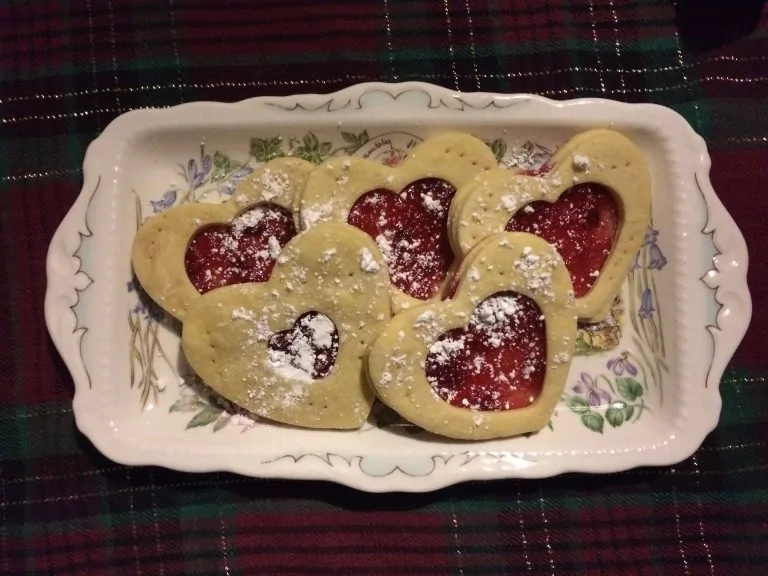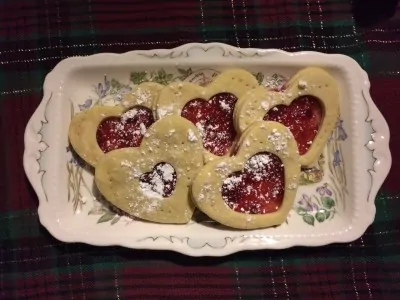 I am totally in love with this cookbook. My daughter Ilsa is home for Christmas vacation, and I'm pretty sure a good fairy came and blessed her with excessive creativity at her birth, since she certainly didn't get that from me. So we are going to keep trying various recipes. I really want to make the gorgeous magic carpet cookies from Aladdin, but I know my limitations when it comes to freehand squiggles with gold-coloured royal icing in a pastry tube! Ilsa, on the other hand, can produce things like this in her sleep.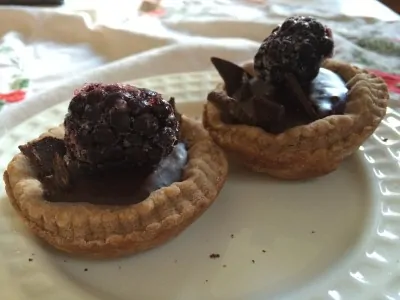 I highly recommend Fairy Tale Baking
. It would make a fantastic present for someone too because it's so pretty. But if it can teach me to make pastries that both look and taste terrific, without anyone waving a magic wand over me, it can teach anyone!