This post may contain affiliate links. Read my disclosure policy here.

I love this time of year. I love the music, the food (oh, the food…) the sights, the sounds, the family time – I just love the holiday seasons.
I also love walking to my mailbox each day and pulling out Christmas cards and catching up on the lives of dear family and friends. I usually disply my Christmas cards proudly for several months after the holidays have passed – or until my husband raises his eyebrows and reminds me that the Fourth of July is right around the corner. They are just such a sweet reminder of the important people in life.
Many of you are likely in the same boat I am, scouring pictures, trying to decide what to use for this year's Christmas card. Do you pick the picture where everyone is smiling perfectly or the one where your toddler is wacking his sister on the head with a look of pure malice in his eyes?
Not that I have any pictures like that…ahem.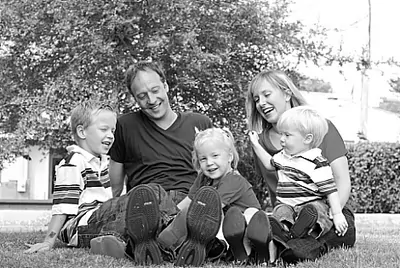 5 Minutes for Mom has teamed up with Snapfish to offer our readers a chance to receive a Snapfish photo card worth up to 50 prints. We have 5 to give away!
So, if you're like me and your Christmas card list keeps growing every year, you could get a good headstart on your Christmas prints. Or, you could simply print out a few pictures to give to family members as Christmas gifts.

No matter how you use it, the fact remains that all of us would likely love a reason to print out a few pictures and Snapfish is a great place to do just that. With their quick and easy system, you can upload your pictures, choose what size prints you want and within a few days, your photos show up on your doorstep, all shiney and packed with love and memories.
So you know the drill – simply leave us a comment for your entry to win this fabulous prize! For more information, read below:
See our Christmas Giveaway 2009 post to read more about
participating in our Christmas Giveaway

Either link back to this post and include a Christmas Giveaway 2009 button in that post or on your sidebar, or link to the individual giveaways you choose to enter. We have a ton of different buttons and styles for you to choose from. Click here to get the button codes. (If you post and include the button, either in your post or on your sidebar, and link back here, you are good for all the giveaways. No more linking required.)
Please leave one comment below to enter this giveaway. You may earn additional entries for the following:
1. Subscribe to our Feed
2. Sign up for our Newsletter
If you are already subscribed and are on our newsletter list, you qualify for these two additional entries. Go ahead and leave your additional comments below.

Of course, if you are not a blogger but would like to enter, you may still do so. Leave us your email address and let us know if you have promoted the contest via Facebook or Twitter for additional entries.

This contest will be open from November 13 to December 4th. A winner will be selected and announced on December 5th.

Christmas will be here before we know it, so enter to win today and get working on those holiday cards!