This post may contain affiliate links. Read my disclosure policy here.
When the Smucker's company invites over for a two-day visit, don't hesitate and check your calendar, simply nod and say 'yes.' I mean it. From the minute you walk in the door, you are welcomed into the family.
I cleared my schedule for November 4th and 5th and even brought my toddling son and husband along and joined a few other bloggers for the first Inside the Smucker Pantry event in Orville, Ohio. They visited the nearby Akron zoo and shopping centers while I went behind the scenes at Smucker's.
We arrived at the hotel Wednesday morning and before I could make a cup of much-needed coffee, a plate of sugar and chocolate chunk cookies made from Pillsbury mixes (a Smucker's brand) arrived at the door. I took a bite of each and dashed downstairs to catch the shuttle for lunch at Crop Bistro & Bar located in Cleveland's warehouse district.
Crop specializes in innovative American food sourced mostly from regional small farms. We ordered the Hot Balsamic Popcorn appetizer for the table and I ordered a Caesar salad covered with homemade cornmeal croutons for my entrée.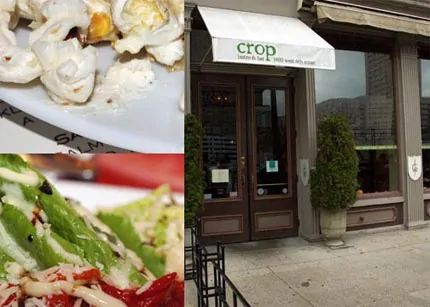 I'm still trying to come up with a recipe for these unforgettable croutons, slightly sweet and chewy and packed with the flavor of fresh sweet corn. Lunch was just the first of many courses of food to come, however, we were warned over and over to pace ourselves. You'll soon learn why.
After lunch we had a VIP tour of the Rock and Roll Hall of Fame and were invited to see their special collections stored inside the vault.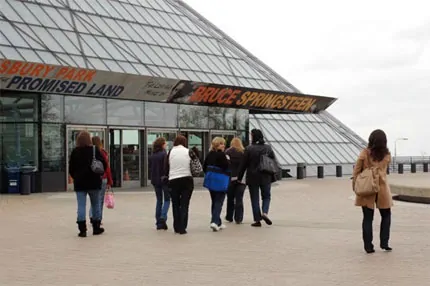 We saw one of Bob Marley's dreadlocks and John Lennon's hand written song lyrics with drawings and cross-outs for Lucy in the Sky with Diamonds and My Life. Other exhibited artifacts of note included bluesman Elmore James' guitar, Neil Young's fringe jacket, Jimi Hendrix's hand written song lyrics for "Purple Haze," and recording equipment from the legendary Sun Studio in Memphis. Outside the building, you can't miss Johnny Cash's tour bus. If you're a music fan, a trip to this museum is a must!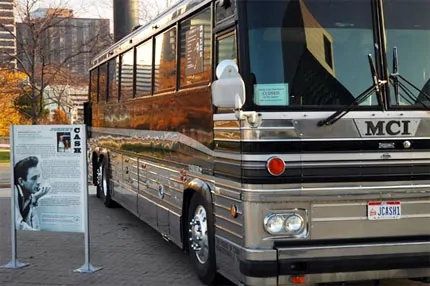 We met for dinner at Ken Stewart's Lodge in Bath, Ohio. Unable to decide on a main course, I ordered several side dishes: mixed beet salad, Parmesan truffle fries, almond green beans, and a sweet potato soufflé.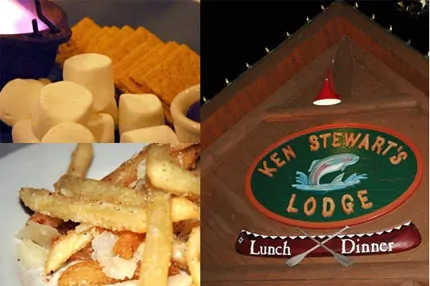 The truffle fries were a hit! Dessert began with cook your own s'mores and ended with a sampler platter that included warm chocolate cherry bread pudding with whiskey sauce, carrot cake with coconut crème anglaise, chocolate mousse, crème brulee, and cheesecake with raspberry sauce.
That was all on Wednesday. The next morning we went to the Smucker's Store and Café for breakfast and shopping. Here we all are from left to right (back row): Erin @5dollardinners, Shannon @ themommyfiles, Tanya @mommygoggles, Jenny @pickypalate, Jennifer @jentifa, Amanda @mommymandy, Stacy @MomCentral, (front row) Nicole @bakingbites, and me. I'm also standing with the Pillsbury Doughboy on the right.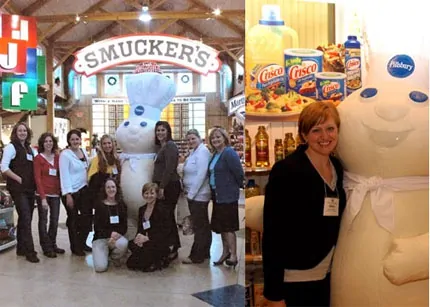 Richard and Mark Smucker shared some of their family history before we helped ourselves to a breakfast buffet with fresh fruit smoothies, breakfast bars, yogurt and granola, all made from Smucker's products.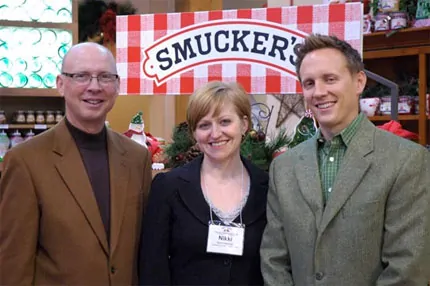 I was surprised to learn that Smucker's brand family is made up many other pantry staples: Crisco, Folgers, Hungry Jack, Jif, Natural Peanut Butter, Nature's Peak Frozen Fruit, Pillsbury baking, Smucker's Toppings and Preserves, and Uncrustables. More of their domestic and International brands are on the Smucker's web site. I drank a mango fruit smoothie and ate a Cinnamon Butternut Squash Muffins from Erin's recipe.
Family is at the core of the Company's heritage and it shows. We walked through Smucker's on-site museum and learned about the Company's history. In 1897, Jerome Monroe Smucker gathered some apples planted by legendary Johnny Appleseed then pressed them into cider from his own mill. He used the apple cider in a family recipe for apple butter. The company officially began when he sold his first crock of apple butter from the back of a horse-drawn wagon. He signed his name to each label as a quality guarantee.
We went back to the store and shopped. I picked up Smucker's apple butter and organic apricot and berry fruit preserves, White Lilly all-purpose flour and self-rising cornmeal mix, Eagle Brand sweetened condensed milk, R.W.Knudsen Family Pineapple Coconut Juice, and Jim Dandy regular grits. We only had a short time in the store and café, yet I kept lingering beneath the glass wall and chandelier constructed from jars of Smucker's preserves.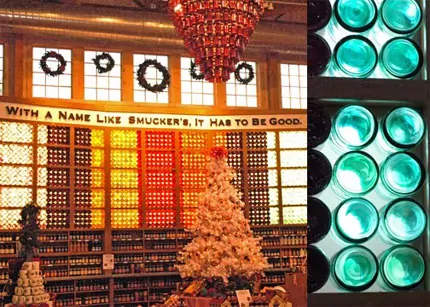 An olive oil tasting followed. We sampled Crisco's extra-virgin and light olive oils, which went like this: pour, warm, smell, swig, inhale, and spit.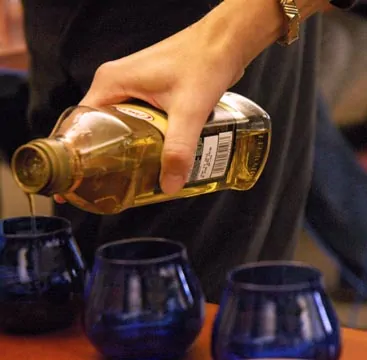 Next we went downstairs to Smucker's kitchen and found a Thanksgiving feast. We sampled turkey, stuffing, salad, and dessert. We also tried Nicole's recipe for Jelly muffins, inspired by the jelly doughnut.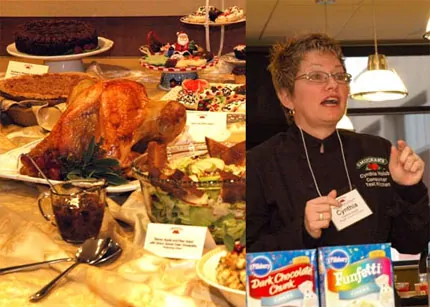 The Kalman & Pabst photo group taught a session on food photography and styling. We set-up food shots using natural window light and a gold foil cake liner to give the food warm highlights. If you find yourself photographing food, this tip is priceless. This is how Melissa, the food stylist, uses these everyday household tools to bring life to food: wet a small paintbrush to give food a nice sheen, fix food gaps with a bamboo skewer, clean edges and slice food with a knife, and adjusts runaway bits with a pair of tweezers. Genius!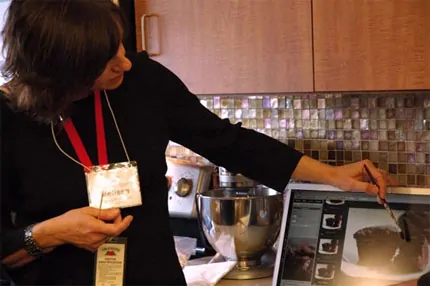 Then they put us to work on our own dessert photo shoot. After we decorated cookies and cupcakes with frostings, sprinkles, chocolate, coconut, and more, we set-up our own food shot using the techniques from our lesson.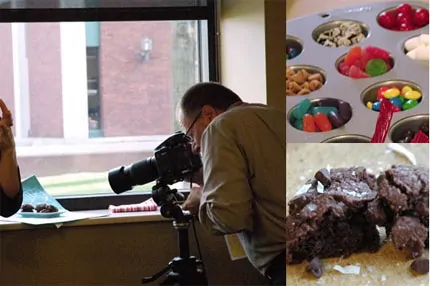 Somehow my food styled dessert turned out to be an almost devoured chocolate cookie. I was so wrapped up in the reflector technique that I ran out of time to finish decorating my dessert. Here is the pro-shot.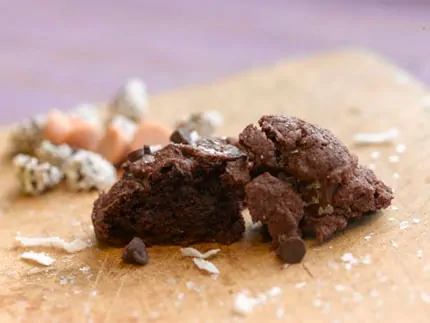 Still full from all the food sampling, we walked over to the original Smucker family house for lunch. I tried roasted potatoes, fettuccine with sun-dried tomatoes, roasted red peppers, and feta cheese (my recipe), mixed green salad, and biscuits dipped an array of Smucker's preserves: strawberry, apple butter, blackberry, and cherry.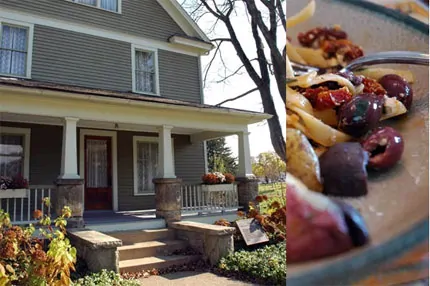 When lunch ended we walked around the restored Smucker house before we walked across the Smucker's campus to taste some of their line of healthy reduced-sugar desserts and snacks. We also tried butter pecan ice cream made with sweetened condensed milk, and by then, I wished my stomach could expand to fit more in, because one bite of the sweet caramel cream was not enough. If I could have found a way to bring the ice cream on the plane with me, believe me, I would sink my teeth into a bite right now. The ice cream was made in this test kitchen.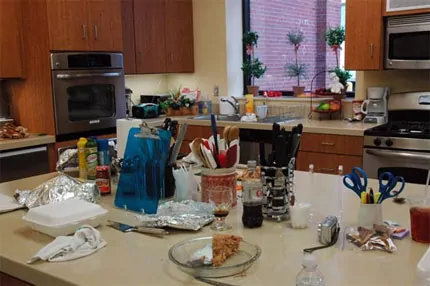 Our last event of the day was a tour of the Smucker factory. We left our cameras behind and dressed in a white coat, safety glasses, and hairnets and looked like we were going into a science lab instead of a factory. Cinnamon, apples, berries, and maple swooned over the rising heat. We smelled the fruit bubbling inside stainless steel mixers before it was poured, labeled, and sealed inside the gingham topped jars. Apples rolled from kitchen size storage bins onto a conveyer belt to be inspected and sent on their way. We followed the apple trail back into the building, thinking again about Johnny Appleseed planting those first apple trees.
We snapped a few more photos after the tour ended and I said goodbye to my new family. If Smucker's calls again, I think we both know what I'll say.
Smucker's sponsored this all-expenses paid event which included product samples.
Written by Nikki, 5 Minutes for Mom's new Food Editor. Nikki is a freelance writer and photographer capturing the simple things in life: art, food, and story. She blogs at art and lemons.