This post may contain affiliate links. Read my disclosure policy here.
5 Minutes for Books reviewer Dawn is happy to share a bookish holiday tradition that is easy and can be low-cost or even totally free!
While Americans are preparing for Thanksgiving dinners and family gatherings this week, some of us are already at least glancing ahead at the coming holiday season. Gift buying may be put off a bit longer, especially thanks to online shopping and fast shipping. Some traditions, however, need a little time and planning in order to go off smoothly. As the month of December approaches, this is a fun and completely easy tradition that can seamlessly blend into a family's routine and add a little holiday charm.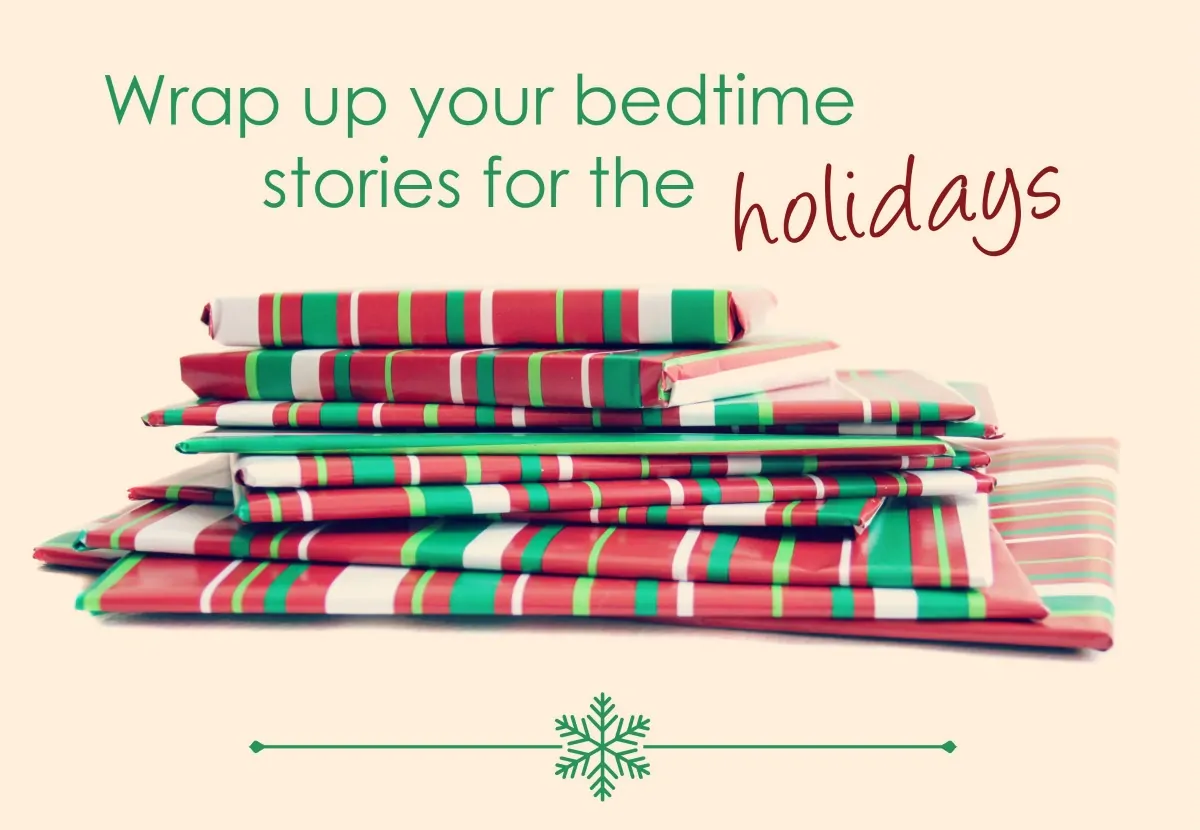 Several years ago, I was first introduced to the idea of "12 Days of Christmas Books" by a good friend's blog post. As Corinne of Littlest Bird explained, families can opt to wrap twelve holiday-themed books for reading in the days leading up to Christmas Day. By the time I got my act together enough to follow her lead, my children were two, three-and-a-half, and eight, and we had amassed a pretty sizable collection of picture books relating to various winter holidays and the season. I selected some of those, and also grabbed a few new-to-us selections from the library to add to the mix. Each night, one of the children had a turn to select one, unwrap it, and present it to everyone for a group reading time before bedtime.

Since my children were still pretty young, I explained from the beginning that some of these books already belonged to us, and others were just borrowed for a little while, so there was never any confusion about them being "presents" for each person. The wrapping simply served as a decorative way to display the books over the twelve days, helped build some suspense leading up to each night's reading time, and made for a fun revealing process. Twelve days of the tradition made sense for us, as it related to the carol that the children were becoming familiar with, but that part is certainly adaptable for families depending on their own celebrations. Perhaps you want to go for 24 or 25 days, like an Advent calendar. Maybe eight nights would more closely match your Hanukkah celebrations, or seven nights for the Kwanzaa holiday.
My family celebrates a secular Christmas, so our book selections over the years have been mostly about the secular traditions this time of year or winter classics. I've also tried to include some books that introduce them to holidays that may introduce them to traditions shared by other families during the winter months. Here are some suggestions for books that you may like to include in your own collection of wrapped holiday books, some old, some new, and hopefully all easily accessible through your public library if you want to keep this a super low-cost tradition.
Babies and toddlers
The littlest ones want board books for short attention spans, and you can start to introduce your family traditions to the next generation with these titles: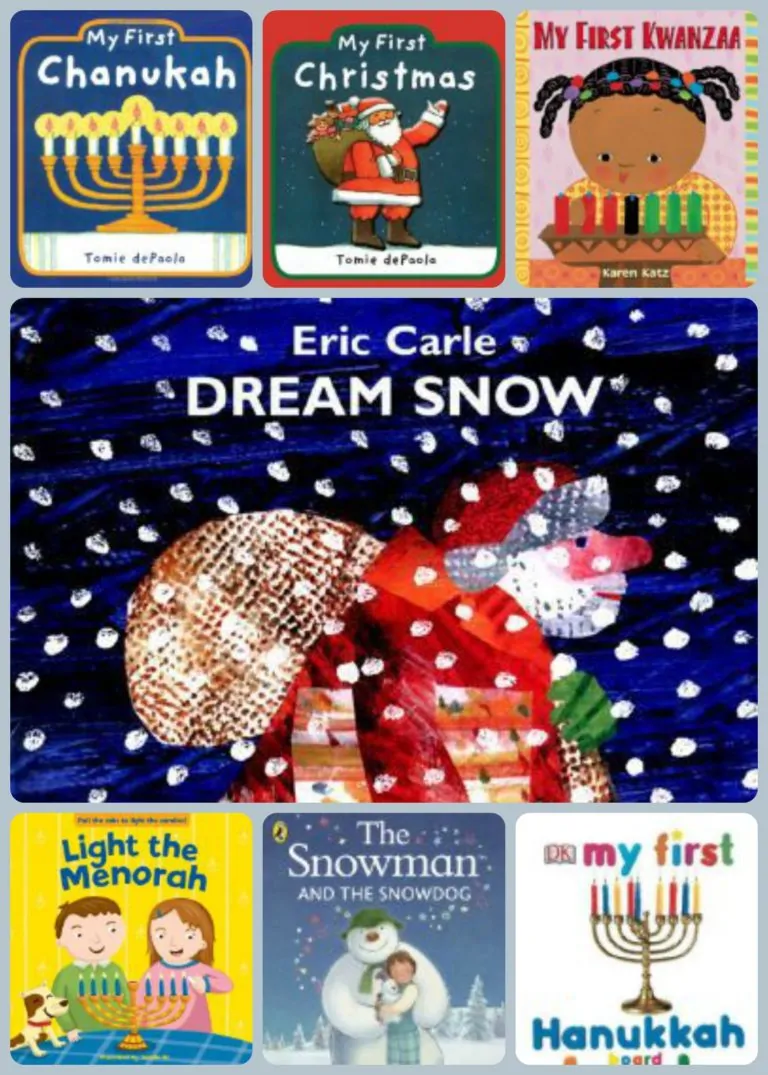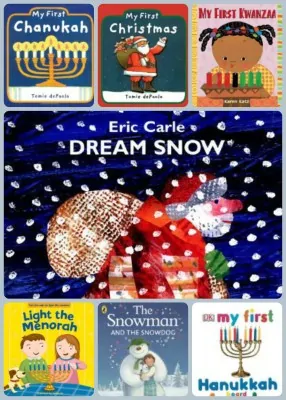 My First Christmas by Tomie dePaola
My First Chanukah by Tomie dePaola
My First Kwanzaa by Karen Katz
Light the Menorah by Jannie Ho
Dream Snow by Eric Carle
My First Hanukkah Board Book by DK Publishers
The Snowman and the Snowdog by Raymond Briggs
Preschoolers and Early Elementary
Picture books that have simple story lines and engaging illustrations will keep the four-seven year old crowd entertained this holiday season.
Bear Stays Up for Christmas by Karma Wilson
The Mitten by Jan Brett
Hanukkah: A Counting Book by Emily Sper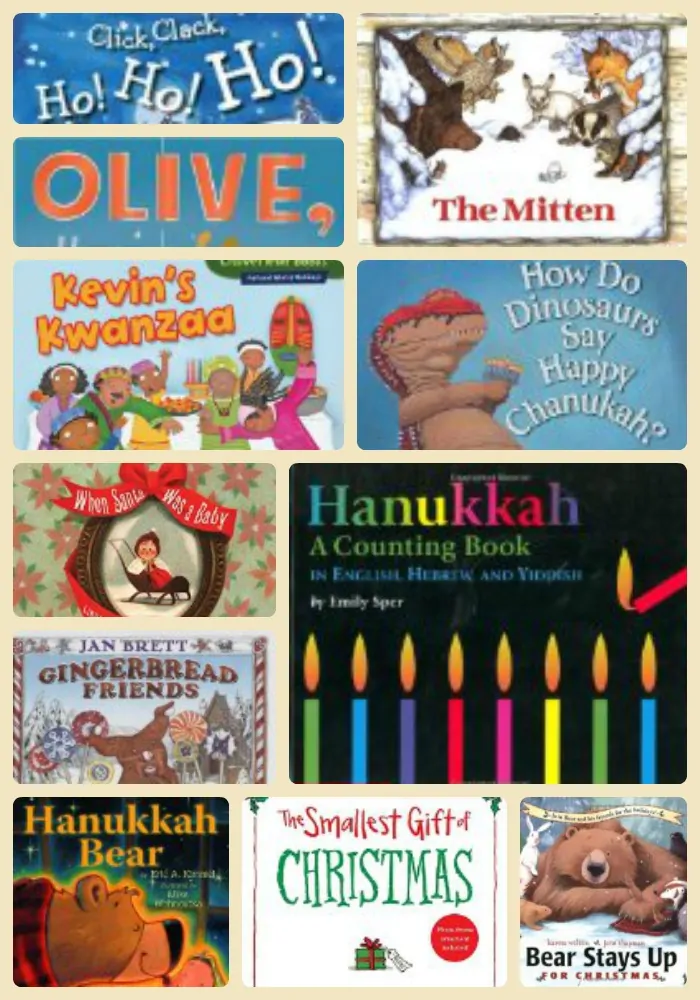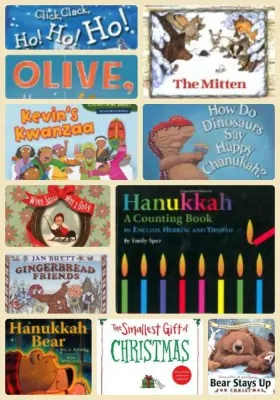 The Smallest Gift of Christmas by Peter H. Reynolds
How Do Dinosaurs Say Happy Chanukah by Jane Yolen
Kevin's Kwanzaa by Lisa Bullard
Gingerbread Friends by Jan Brett
Olive, the Other Reindeer by Vivian Walsh
Click, Clack, Ho! Ho! Ho! by Doreen Cronin
Hanukkah Bear by Eric A. Kimmel
My First Kwanzaa Book by Deborah M. Newton Chocolate
When Santa Was a Baby by Linda Bailey
Older Elementary
After about eight years old, children can comprehend more complex stories and holiday traditions can be explained in more detail. The depth of significance can increase, allowing for more deeply meaningful conversations about what the holiday celebrations represent in our hearts, in our faiths, and in our families. (Also, intricate pop-up books are less likely to get damaged!)
Waiting for Christmas by Monica Greenfield
One Candle by Eve Bunting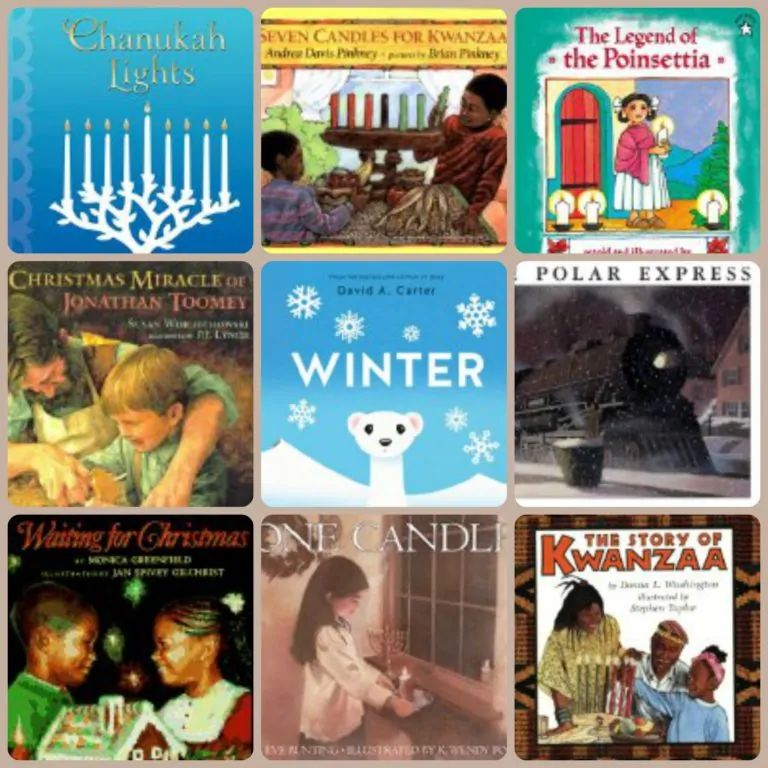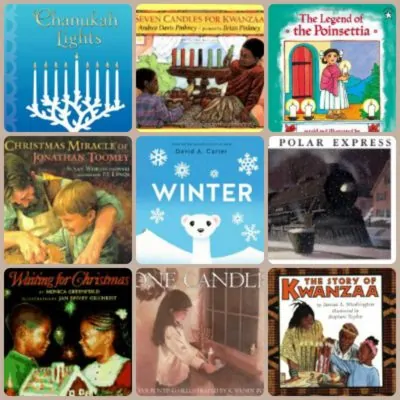 The Polar Express by Chris Van Allsburg
Seven Candles for Kwanzaa by Andrea Davis Pinkney
The Christmas Miracle of Jonathan Toomey by Susan Wojciechowski
The Legend of the Poinsettia by Tomie dePaola
The Story of Kwanzaa by Donna L. Washington
Chanukah Lights by Michael J. Rosen
Winter by David Carter
To be completely honest, I'm not sure that my children are interested in this ritual anymore now that they're a bit older, so I'm not sure if I'll be wrapping any holiday picture books this year. For that reason, I'm even happier to pass along the idea with hopes that more little ones will find family reading joy this holiday season. Happy holidays, and as always, happy reading!