This post may contain affiliate links. Read my disclosure policy here.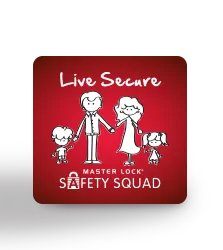 I'm a member of Master Lock's Live Secure Safety Squad and have been compensated for my time in writing this post. My opinions are my own.
The kids are settled back in school, the days are getting shorter and we're all getting used to our new routines.
So now is a great time to take a look at those routines and see if there's anything you can do to improve your family's safety.
It's unfortunate that any of us must concern ourselves with thinking about safety and security, but the better we prepare ourselves, the more peace of mind we will have.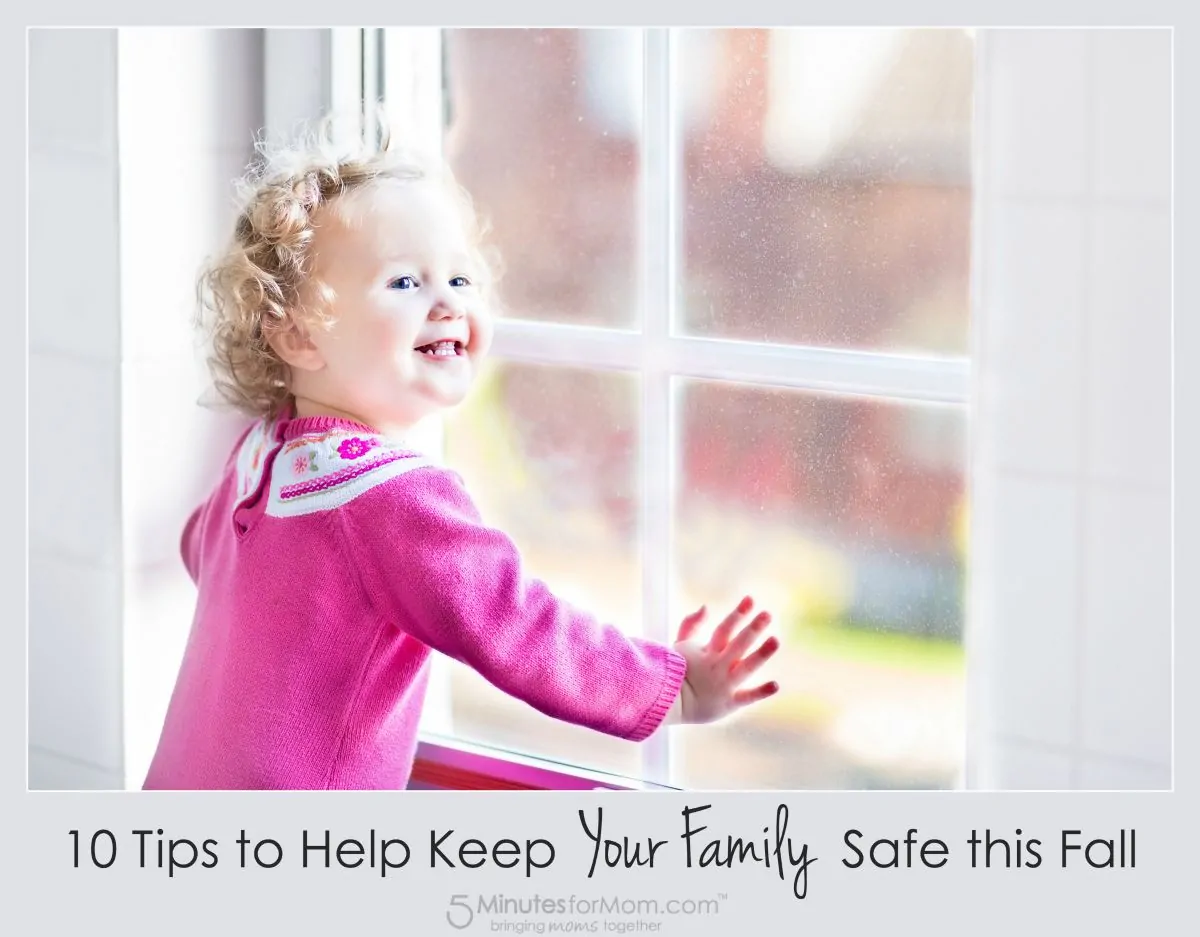 Here are 10 tips for keeping your family safe…
Always lock your doors.
That may sound obvious, but I think many people casually leave their front or back doors, and especially patio doors, unlocked while they're home… or even out on a quick errand.

Reinforce patio doors.
Patio doors can be made more secure with a Master Lock 265DCCSEN Door Security Bar to resist forced entry.

Teach kids not to open the door without a parent in the room.
If someone is at the door, go see who is there instead of sending your child to answer it.

Ensure your children aren't playing near cars as the sun is setting.
During the summer, kids often play in their driveways, cul-de-sacs or even on the road late into the evening. But as the sun starts to set earlier, drivers may have decreased visibility. Get kids to come in for dinner and then stay inside.

Have teens who are riding bikes or walking home past sunset wear reflective gear.
The short days mean older kids are often out after dark. Make sure their coats or other outerwear have reflection. Dark clothes are hard for drivers to spot.

Store and secure any expensive backyard toys or gear.
One option for locking outdoor valuables is a Master Lock Magnum M175XDLF Padlock. It's Tough-Cut™ shackle is 50 percent tougher than hardened steel which makes it great for protecting the items in sheds and storage lockers, as well as locking fences and gates.

Talk to your kids about safety.
We need to teach our children about ways to stay safe and secure. Don't assume they'll instinctively know not to share passwords or even your house alarm code. Show them how to use a password management site such as Master Lock Vault to store their passwords and critical information. Remind kids not to tell their friends your wifi password and ensure you change it often.

Create or review your emergency plans.
If you don't yet have a plan for what each family member will do in case of an emergency, write one up together as a family. If you've already done so, take this time to review it.

Get serious about gun safety.
If your household does not possess firearms, still talk to your kids about guns and what they should do if they see guns accessible in a friend's house. If you do own guns, lock up those firearms and store them in a safe and in an out-of-sight location that is also out of children's reach. You can use a deadbolt locking mechanism such as the Master Lock 107DSPT Gun Lock that can only be opened and closed when the key is inserted and turned for added security measures. The Sentry Safe Quick Access Pistol Safe provides readily available access when needed in an emergency, but its pry resistant solid steel construction helps prevent unauthorized access. Remember to always remove ammunition before storage, and keep ammunition in a locked location separate from firearms.

Lights on.
Ensure your outside lights are functioning properly and keep your property well-lit. Motion sensor outdoor lighting may be a good option for your home.

Bonus Tip: Get and use a house alarm.
Have a working house alarm and remember to turn it on!
Share With Your Friends
If you found this post helpful, we'd love, love, love a tweet or a pin… Thanks so much! 🙂
[Tweet "10 Tips to Help Keep Your Family Safe this Fall"]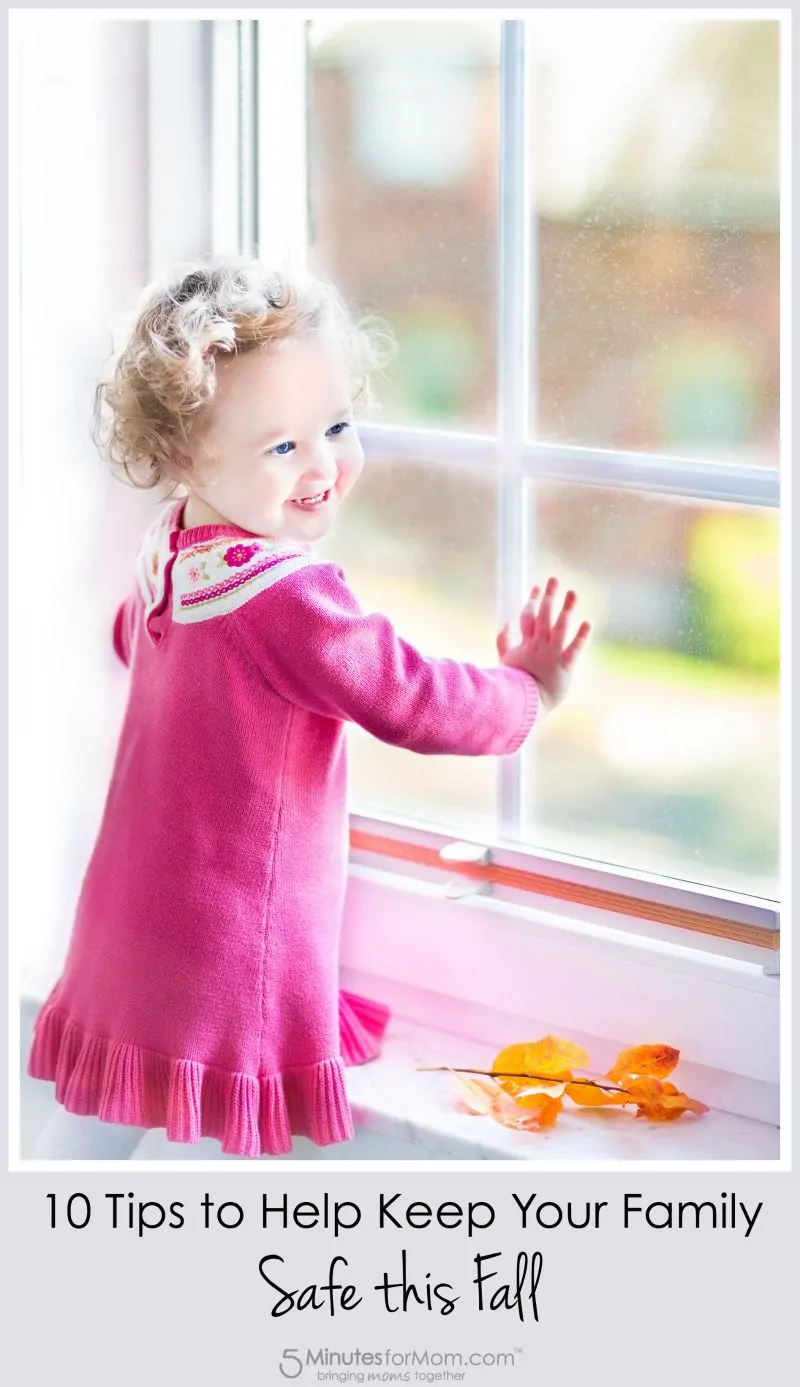 Written by Susan Carraretto, co-founder of 5 Minutes for Mom
Talk with me: @5minutesformom and Facebook.com/5minutesformom
Pin with me at http://pinterest.com/5minutesformom/