This post may contain affiliate links. Read my disclosure policy here.
Susan here with some tips to help you get ready for your family's Spring Break vacation. This post is sponsored so thanks for reading, sharing and supporting our site.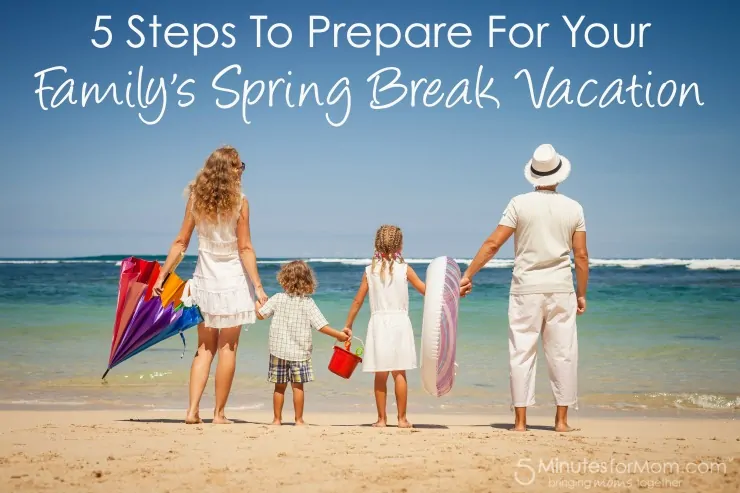 Spring Break is a wonderful time to take your kids on a vacation to escape the cold and the school routine. But for moms, packing up the family to go on a trip can be an overwhelming job.
So we've come up with 5 steps for you to take before you pack up the car or get on an airplane…

Buy an external battery for your smartphone and other devices.

The biggest problem with the way we all depend on our smartphones to take photos is that when you run out of charge, you can't take any more photos.

I love my phone, but the charge is gone so fast it drives me crazy. Recently when I was at a theme park with my girls, I had to stop taking photos because I ran out of charge. Next time, I'll make sure I have a couple external batteries with me.

Check that your kids' bathing suits still fit and aren't worn out.

If you're depending on the same swimwear your kids wore in the summer, make sure you get them to try it on ahead of time.

It may only be a few months ago, but kids grow so fast and residue chlorine can eat through the fabric.

Pick out a couple new books for each of your kids.

If they have a favorite series, you're in luck. Otherwise, look online or ask their friends' parents for suggestions.

Consider a graphic novel for something that feels less like schoolwork. The first book that my daughter Julia actually would NOT put down was a graphic novel. It was such a wonderful feeling to say, "Please put down your book and eat your breakfast."

Pack lightly and strategically.

Overpacking means more work for you and it makes it difficult to find what you need while you're on the trip.

Keep a change of clothes for every family member easily accessible in a "carry-on bag"… even if you're on a road trip.

Ensure you pack your kids' favorite clothes and not just what you think they'll want to wear. I learned this lesson the hard way on a recent trip where my daughter only wanted to wear ONE of the dresses I packed for her. I was washing it out each night in the hotel and the suitcase full of clothes was barely touched.

If you're traveling to a hotel or another destination where you can have baby supplies delivered, look into a local service that delivers bulky necessities for kids. Consider renting baby gear such as car seats and strollers. If you're going to a theme park, you definitely want a stroller, but it might be easier to rent one while you're there.

Sign up for a Mobile Share Value® plan with Rollover Data through AT&T.

You can sign up for an AT&T Mobile Share Value® plan and get Rollover Data. With Rollover Data, your unused plan data rolls over for one month.

It's nice to have data that you might have left over from your prior month to use while you're traveling this month to post your photos to your social accounts and download movies to keep the kids busy on long car rides.

All AT&T Mobile Share Value Plans automatically come with the Rollover Data feature.
Find out more about rollover data here…
I hope these tips help you get ready for your family's trip.
Happy Spring Break!
Pin It For Later
Remember to pin this post for later…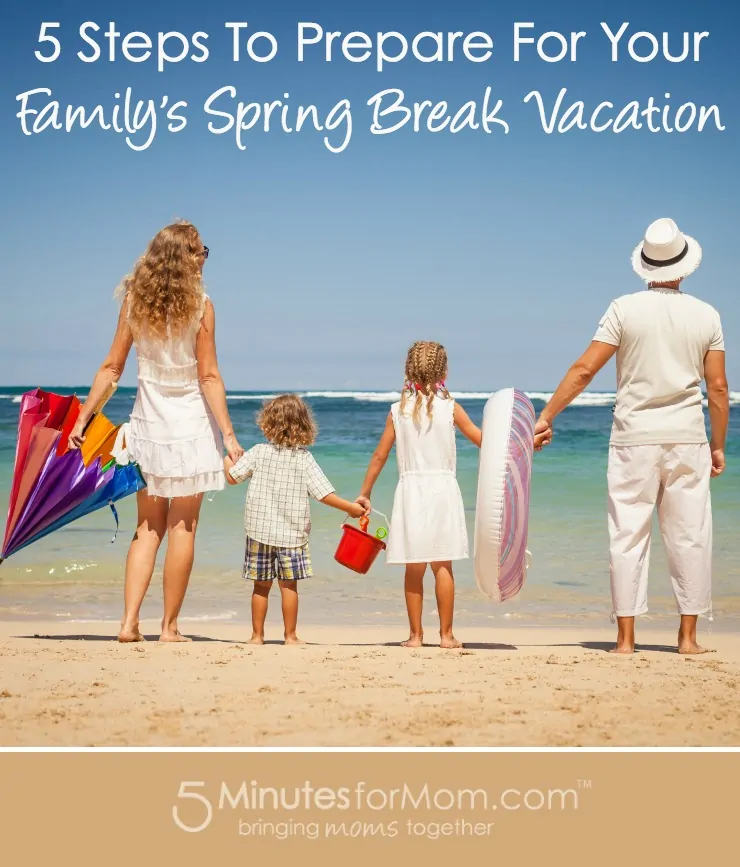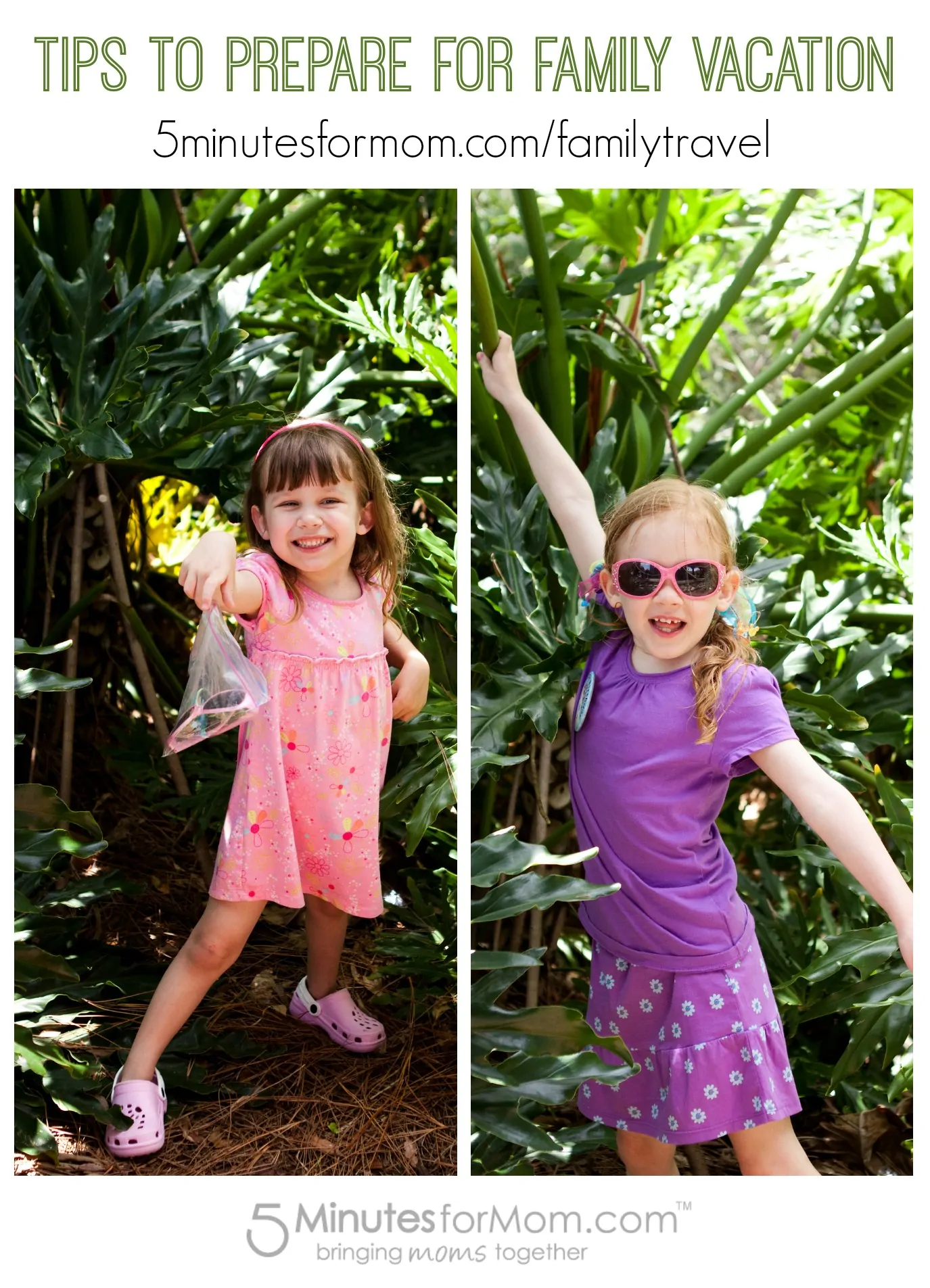 Disclosure: This post is sponsored by AT&T. Thanks for reading, sharing and supporting our site.
*Rollover Data is only available on Mobile Share Value® plans. Rollover Data expires after one month or with any plan change and is used after monthly plan data. Additional restrictions apply. Visit att.com/rollover data for details.
Written by Susan Carraretto, co-founder of 5 Minutes for Mom
Talk with me: @5minutesformom and Facebook.com/5minutesformom
Pin with me at http://pinterest.com/5minutesformom/