This post may contain affiliate links. Read my disclosure policy here.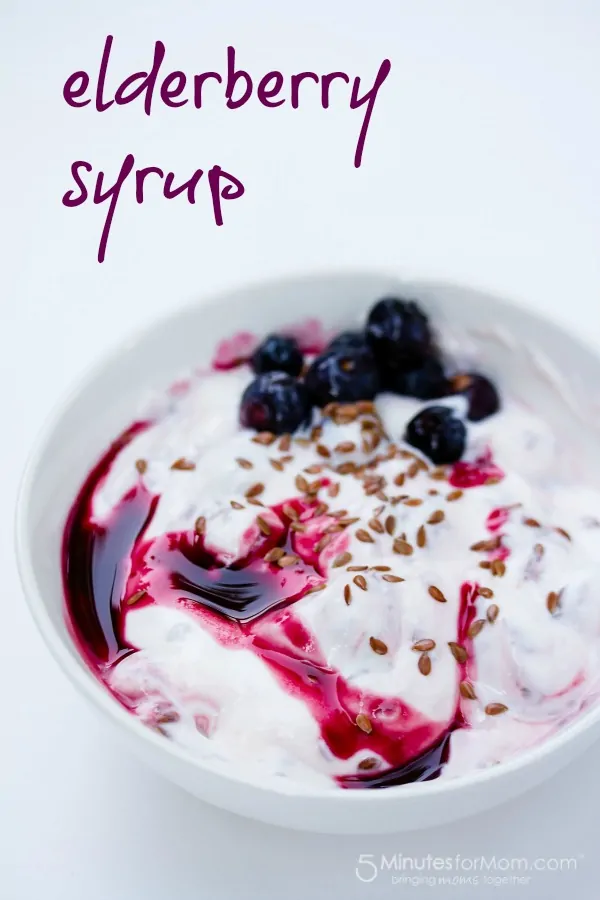 My mom calls it her magic potion. She takes it whenever she feels "a bug" coming on.
I used to laugh at her — until elderberry syrup seemed to bring me back from the other side more than a few times.
Now, I understand her devotion to this sweet, purple syrup.
Not only does elderberry give me some extra fight when viruses try to break me down, but it is delicious.

So, in the name of good health, for an immune system boost, I add a potent shot of fruit sweetness to my plain Greek yogurt.
Next, I add in some flax seeds and blueberries, (I freeze organic blueberries in the summer so I have them all year long,) and I am in breakfast harmony.

If you haven't heard of elderberry syrup before, it is a supplement made from the fruit of the elder tree.
While the healing properties have been applied for centuries, recently studies are popping up supporting the claims that elderberry syrup may indeed boost the immune system and help reduce the severity and/or duration of colds and flu.
Not only are elderberries a rich source of vitamins A and C, some sources claim the bioflavonoids in elderberry syrup boost the body's immune system by increasing antioxidant levels.
Elderberry, or elder, has been used for centuries to treat wounds, when applied to the skin. It is also taken by mouth to treat respiratory illnesses such as cold and flu. In many countries, including Germany, elder flower is used to treat colds and flu. Some evidence suggests that chemicals in elder flower and berries may help reduce swelling in mucous membranes, such as the sinuses, and help relieve nasal congestion. Elder may have anti-inflammatory, antiviral, and anticancer properties.
So, I guess the scientists will eventually prove that once again my mother was right.
And in the meantime, I will enjoy some more elderberry syrup…

Written by Janice Croze, co-founder of 5 Minutes for Mom
Please Note: This post was NOT sponsored by any company and merely shares my personal opinions. I am not a doctor and this post should not be considered medical advice. I am just a mom blogger, listening to her own mother, and taking pictures too.
We first published this post on January 8, 2015, but we wanted to remind you to give your immune system a boost now that your kids are back in school collecting germs.
Share With Your Friends
We'd love, love, love a tweet or a pin… Thanks so much! 🙂
[Tweet "Have you ever tried Elderberry Syrup for a sweet immune system boost?"]