This post may contain affiliate links. Read my disclosure policy here.
Nancy (and my boys) here to bring you the latest from Dav Pilkey in this sponsored post from Scholastic.
Captain Underpants, along with his two least favorite students, George and Harold, have been through a lot over the last 18 years and 11 books. They've time traveled, fought various bad guys, and misspelled a lot of words along the way, all while keeping potty humor the basis for the plots.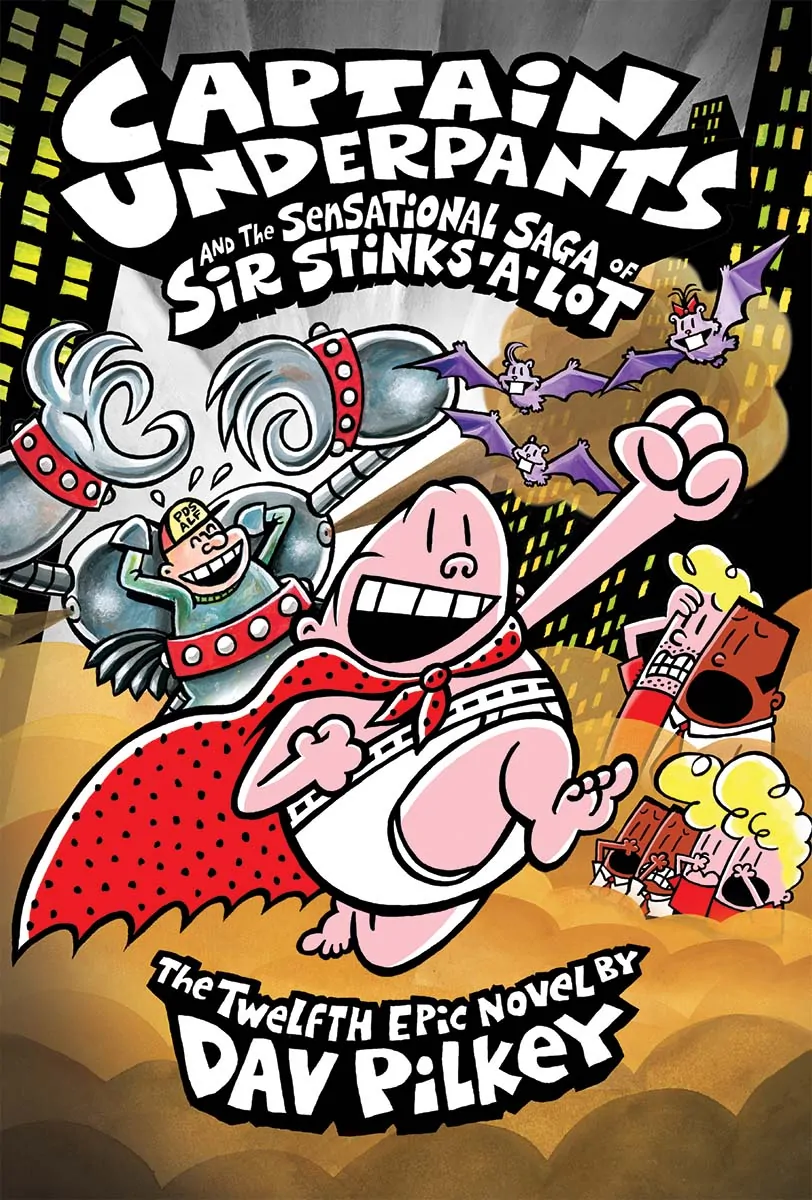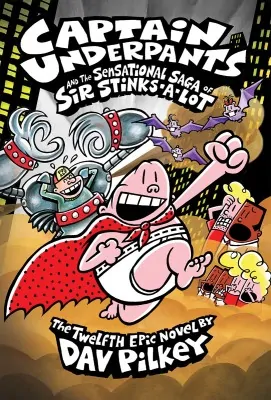 Captain Underpants and the Sensational Saga of Sir Stinks-a-Lot — a title I can never remember, no matter how hard I try — is the 12th and possibly final book in the series. These books are always hard to summarize, so here's Scholastic's summary:
About the Book

There's something rotten in the state of Ohio, and it's smellier than a pile of putrid gym socks! Steer clear–it's Sir Stinks-A-Lot!

George, Harold, and their doubles, Yesterday George and Yesterday Harold, have a good thing going. Two of them go to school, while the other two hide in the tree house and play video games all day–then they switch! But when their malicious gym teacher, Mr. Meaner, creates a method of mind control that turns their fellow students into attentive, obedient, perfect children, the future of all humanity will be in their hands!

About the Captain Underpants series

Best friends George Beard and Harold Hutchins are the unofficial class clowns of fourth grade. There's nothing they love more than making comic books about a silly superhero named Captain Underpants. But now they've accidentally transformed their mean school principal, Mr. Krupp, into Captain Underpants himself! Join George, Harold, and the Waistband Warrior as they fight for Truth, Justice, and all that is Pre-Shrunk and Cottony – and save the world, too!
This is not a professional video by any means, but I love capturing my boys and me on screen. Here's a short video of my kiddos, ages 12 and 8, attempting to explain the plot and what they love about the Captain.
There are a few interesting things about this book. First, there are no more misspellings, and actually George and Harold's spelling has been getting progressively better over the course of the series.  Also, while it's not clear in my son's summary, it's not so much that the kids become "good," but they stop exhibiting the symptoms of ADHD and become automatons. For more on author Dav Pilkey's reasons behind the ADHD link, click over to the Captain Underpants page on his website,
pilkey.com
.
This review was sponsored by Scholastic, who provided us with a copy of Captain Underpants and the Sensational Saga of Sir Stinks-a-Lot to add to our collection.