This post may contain affiliate links. Read my disclosure policy here.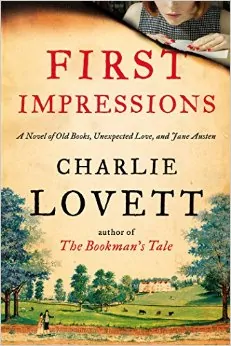 First Impressions is a novel of a romantic love triangle, a mystery that is centuries old, a murder that is fresh, book collecting, and Jane Austen.
The story goes back and forth from the early years of Jane Austen's writing to the present day new college grad Sophie, trying to figure out what she's going to do with her life and how to honor her uncle's legacy. Sophie's decision-making is something that anyone can relate to as we've all moved through different phases in life. But then the addition of the mystery that she's trying to figure out adds a less relatable — but more exciting — twist to the story.
The Jane Austen parts dovetail with the present-day to an extent, as Sophie find out more about the rare book that she's trying to find for a buyer. We are reading about Jane Austen's special friendship with an older gentleman, and learning about how he might have influenced Sense & Sensibility and Pride & Prejudice.
This is a fun, fast-paced book that I really enjoyed. You don't have to be a Jane Austen fan to enjoy it, but you probably do have to love and honor books and stories. Or maybe if you don't, the love and honor that Jane and Sophie have for them will rub off and convert you!
The full title of Charlie Lovett's novel is First Impressions: A Novel of Old Books, Unexpected Love, and Jane Austen, which sums it up pretty well, except I'd definitely add mystery to the mix.
Enter to win
Follow the instructions below to earn one — or more — entries to win this book. United States and Canadian addresses are eligible. Start off by leaving a comment telling me your favorite Jane Austen novel (or movie adaptation) if you have one.